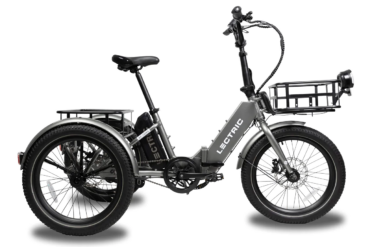 Electric tricycles are becoming increasingly popular, as they offer a number of advantages over traditional...
When it comes to car replacement, there is no better suitable type of ebike than...
We recently had the chance to review the newest generation of the Ride1Up LMT'D. The original LMT'D was one of the first ebike reviews we completed here at Ebike Escape. Here are are almost 3 years later and we continue...
Lectric XP Trike Review: The Most Affordable Electric Trike!
Aventon Aventure 2 Review: One Of The Best Fat Tire Ebikes, Just Got A Little Better
Ultimate Comfort on Your Ebike (Suntour NCX Suspension Seatpost Review)
Lectric XP 3.0 Review: $999 Folding Ebike That Just Keeps Getting Better!
High Capacity, Affordable Ebike Rack (Northern Tool & Fultyme Ultra-Tow Fat Tire Bike Rack Review)
Talk While You Ride! Sena R1 EVO Review
Get Updated Monthly on the

Latest Electric Bike Deals, News and More!
Electric Bike Accessories
Weight does not matter when it comes to ebike options! Whether you're a heavier rider...