There are ebikes for just about every purpose these days, but commuter ebikes are probably the most common. And for good reason too, ebikes are great for getting to work, the store, the gym, or wherever else you need to go because they help solve the problems of regular bikes. You no longer need to arrive a sweaty mess, hills are suddenly no problem, and fewer destinations are too far away to bike to. Ebikes are the ultimate commuter machine. But what's the best commuter ebike?
We look at seven of the best commuter ebikes to get you where you need to go. Be sure to check out our other best of ebikes as well: Best Fat Tire Ebikes
Ride1Up Core-5 ($1,195)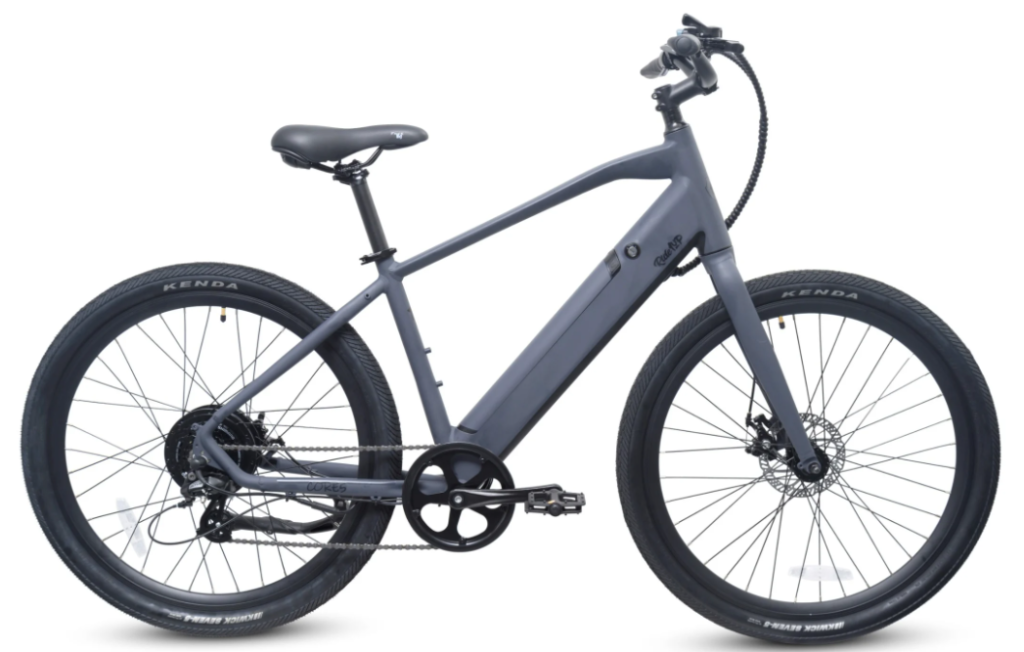 You'll notice a trend with the first three ebikes on the list, all from Ride1Up. This is for good reason since Ride1Up focuses solely on commuter ebikes. In fact, you won't find a fat tire, folding or any other style ebike in their lineup. Note that the step through Ride1Up models will better accommodate shorter riders.
The Ride1Up Core-5 is a great entry-level commuter ebike that still comes with some nice features. With step-through and regular high-step frame options and two colors (the blue is particularly nice), the Core-5 is a stylish choice. What sets it apart is that it is an affordable Class 3 electric bike that will reach up to 28 miles per hour. It runs on a 500-watt nominal, 750-watt peak rear hub motor which is plenty of power for most riders. The Core-5 will get about 20-40 miles per charge, plenty for your daily commute. It also includes a lightweight frame with much of the electronics including the battery covered and protected. Learn more in our full Core-5 review or check out the Ride1Up Core-5 commuter ebike today.
Ride1Up 500 Series ($1,295)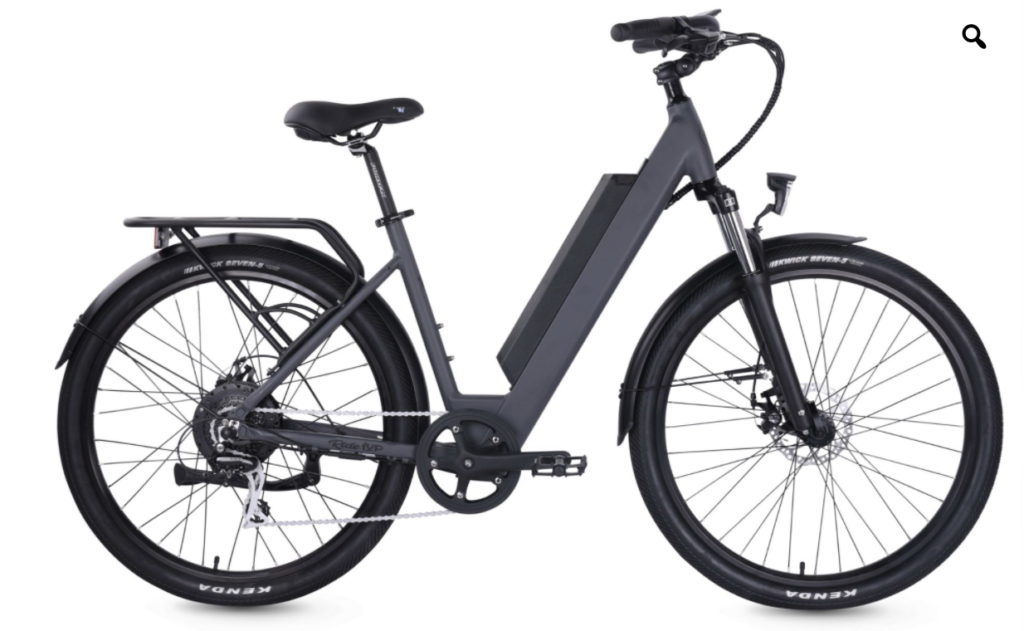 This is Ride1Up's best-selling model and one of the most popular commuter ebikes out there period. It's easy to see why. The 500 Series has been a staple in the Ride1Up lineup and has been updated for 2021, making it one of Ride1Up's top models. The 500 features the same 500-watt nomincal, 750-watt peak rear hub motor as the Core-5, but adds some battery range with a claimed 25-45 miles per charge. Adding to the slightly heavier weight is the larger battery and front suspension fork. A rack and fender package can be added for an extra $100, making the 500 Series a great all-around commuter at an affordable price. Learn more in our full 500 Series review or check out the 500 Series today.
Ride1Up 700 Series ($1,695)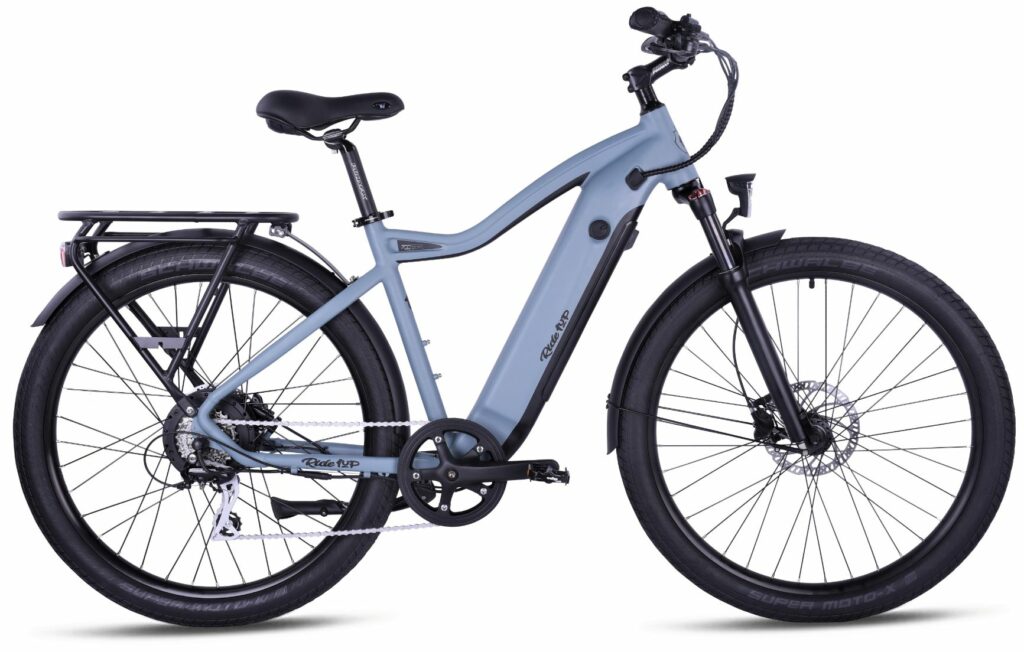 When battery range is really important to you, you can step up to the Ride1Up 700 Series. It boasts a 30-50 mile range along with all the same goodies as the 500 Series. It also adds hydraulic disc brakes which feel better than the mechanical disc brakes found on the lower priced models. The 700 Series also includes nicer Schwalbe Super Moto X tires instead of the Kenda tires the other Ride1Up commuters come with. All that in a 65-pound ebike sounds like a dream come true. Check out the 700 series today.
Aventon Level ($1,799)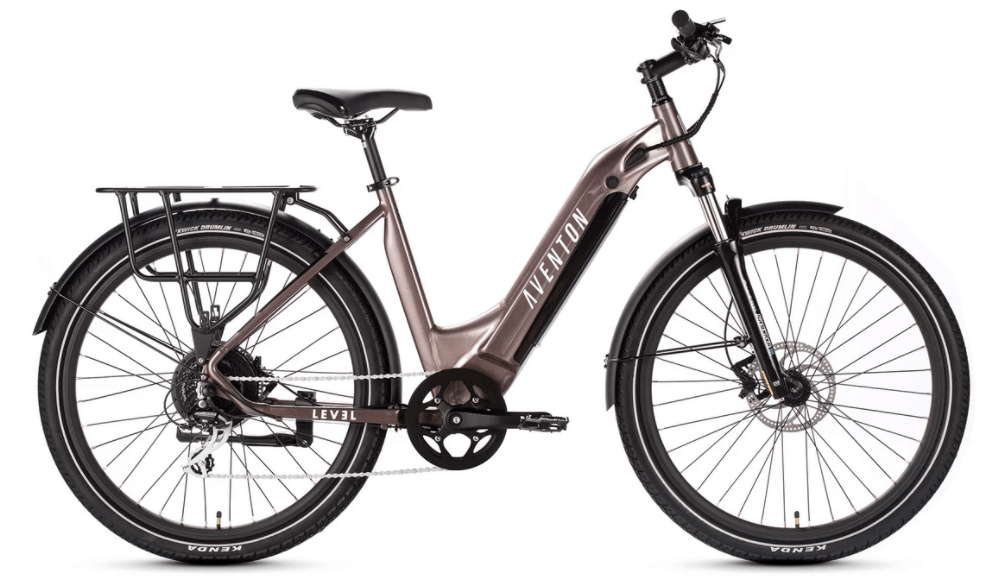 Ebike company Aventon is a popular choice in the market today. The Aventon Level is built for commuting, and is comparable to the Ride1Up 700 Series above. It has a 28 mph top speed, a range of about 40 miles, and rack and fenders are included. One cool thing about the Aventon, is it comes in three different frame sizes (2 sizes for the step through), eschewing the idea that one size fits all. The shock fork helps make your commute a comfortable one and people rave about the attention to detail on the smooth welds holding the frame together. Also setting Aventon apart is their vast ebike dealer network, so it's worth checking if one is nearby so you can ride before you buy. Check out the Aventon Level (high step) or the Aventon Level Step Through.
Espin Sport ($1,329)
A lot of the features on the Espin Sport look similar to other commuter ebikes listed here. It's got an integrated battery and electronics, a 500-watt nominal motor (800 watt beak) and a battery range of 30-50 mph. That puts it in the same camp as the 700 Series while saving you a few bucks. The bike comes equipped with fenders and a rear light. Add in comfort with its suspension fork and hydraulic disc brakes and you've got a lot of features packed into a great price. The bike comes in cobalt blue, a bluish/purple color that looks fantastic. And if a high step model isn't your preference then check out the Flow currently priced at $1,569. Check out the Espin Sport today.
RadCity 4 ($1,599)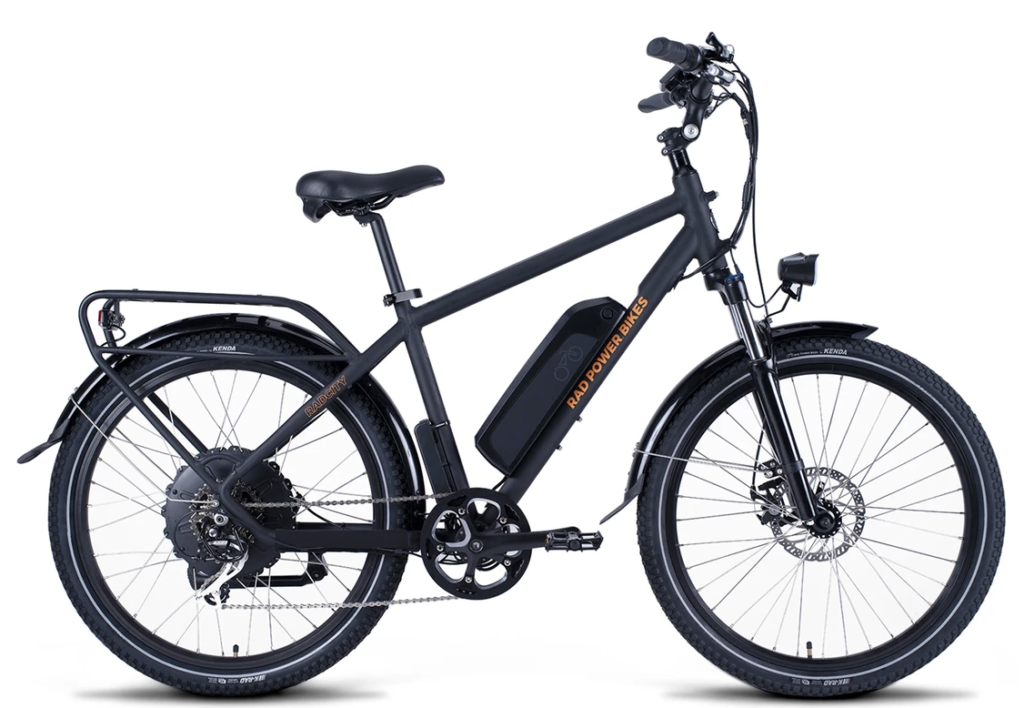 One of the first things that jumps out to me about the RadCity is that it, well, looks like a bike I would like to ride around the city. It looks the closest to a commuter-designed bike than most of the bikes mentioned in this post. Boasting a 750-watt direct-drive rear motor, up to 45 miles per charge, and a 275-pound carrying capacity (with a pretty cool looking rear rack, I must add) the RadCity 4 will meet your commuting needs, whether it's a trip to work or the grocery store. With puncture-resistant tires with reflective sidewalls and integrated brake lights, Rad is pushing this as the ultimate commuter, and it's hard to argue with that. Unlike many ebikes on this list, the RadCity has an externally mounted controller and battery which doesn't look as clean but will make any maintenance (or swapping out components altogether) much easier down the road. We're also fans of the RadCity Step-thru which offers similar features, but in a step through model with swept back bars. Because of the position of the battery on the step-thru version it is also easier to remove. We're huge fans of Rad at Ebike Escape and it's no surprise that the company is the largest seller of electric bikes in North America. Check one out today.
RadMission ($999)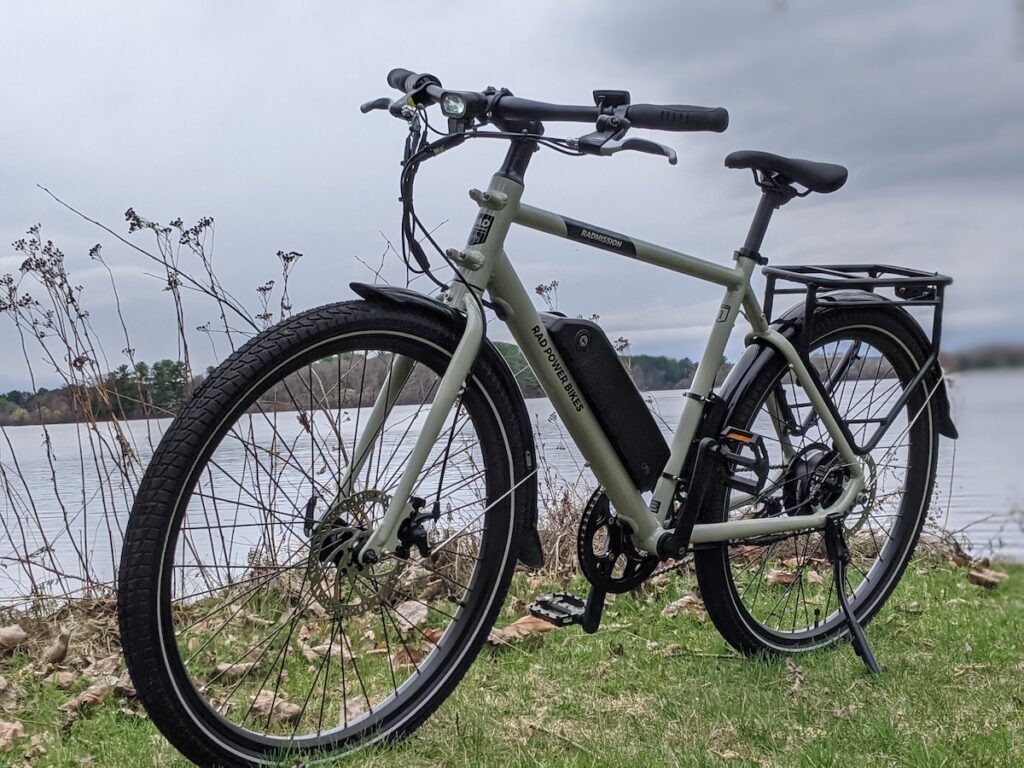 The RadCity is one slick commuting machine, but if it's a bit above your price range, you might consider the RadMission instead. The RadMission could almost be mistaken for a fixed-fork mountain bike, if not for the attached battery. Who needs gears anyway? This is like the electric version of the single-speed you had in college, but much faster and less hard on your legs, with its 500-watt rear hub motor and 45 miles of battery life. With several color and frame options (regular or mid-step) just about anyone should be able to find the RadMission they want. Ebike Escape, in its earlier review of the RadMission found its drivetrain to be just right – not over or undergeared for a single-speed, meaning you can get up to speed with ease and still have push at higher speeds. The price point is hard to beat and if you decide to add accessories down the road Rad Power Bikes offers a bunch of different great options. Check out our favorite RadMission accessories here. If you're looking for an affordable ebike, go check this one out.
Ariel Rider Rideal ($999)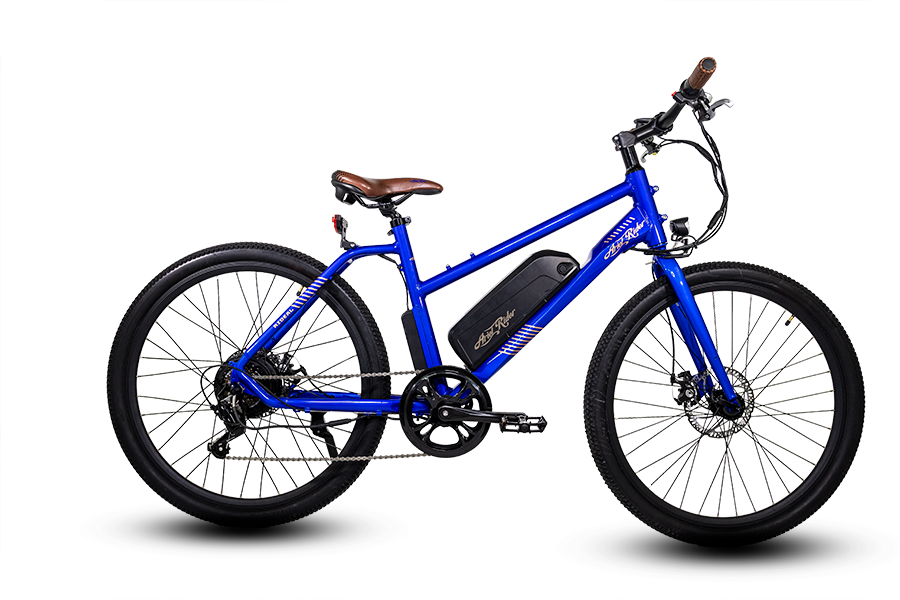 You probably know Ariel Rider as the company that specializes in moped style electric bikes (like the X-Class and D-Class), but they've decided to take a serious run at the commuter crowd as well with the Ariel Rider Rideal. The result is a pretty slick commuter that competes and perhaps outdoes the RadMission. Boasting a 750-watt motor (which reportedly peaks much higher), and a large 14 Ah battery at the exact same price point (though marked down from $1,099) this might be the best value commuter of the lot. You also get some gear options with a six-speed drivetrain, unlike the RadMission. The Rideal is offered in both high step and mid-step variations in blue, black, or red. Pay close attention to the recommended heights for each frame style as shorter riders will want to opt for the mid-step. And if you want to fully outfit your Rideal check out the accessories from Ariel Rider. We were downright impressed with the value the Rideal provides during our Rideal review. Check out this beauty today.
Best Commuter Style Ebikes Wrap Up
There is a reason commuter-style electric bikes are so popular. They are versatile and fill the important gap before you get to fat tire electric bikes. Commuter ebikes are efficient with their narrower tires. These ebikes will feel much like riding a regular electric bike, only with an extra boost to get you riding further and faster (if you choose). Other selling points include versatility as these ebikes include or offer optional accessories such as fenders and rear racks. Even more, you can find a commuter electric bike on almost any budget. If you want a do-everything type of electric bike you can't go wrong with a commuter.