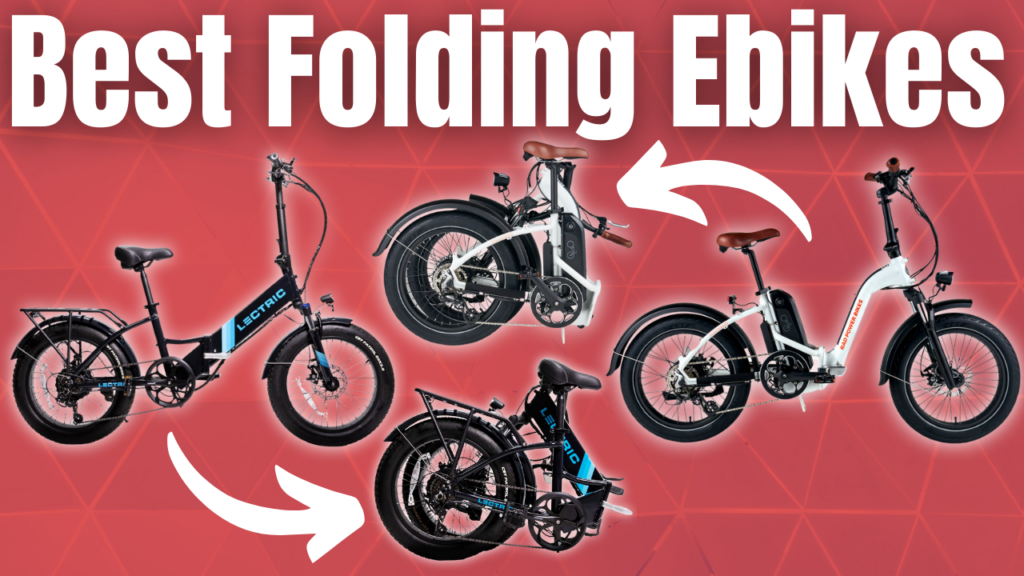 If you're in the market for a folding ebike, there are quite a few options out there. They come in a number of price points and styles. Lucky, we've tried many of them and have put together this guide to help you find the best one. Keep this guide handy when you are searching for the best ebike that folds.
Of course one of the main benefits of a folding ebike is that it is easier to tuck away in your apartment, house, or garage. It also makes transportation much easier (and cheaper) since you don't necessarily need a bike rack. Even if you don't need folding functionality on an ebike, don't cross a folding ebike off of your list – these ebikes have other benefits which we'll explore below. But if you do plan to fold it a large tote can make it much easier to carry. Check out our Lectric XP accessories video for a short demonstration. Be sure to check out our electric bike discount codes page before you make your purchase.
Rad Power Bikes RadMini ($1,499)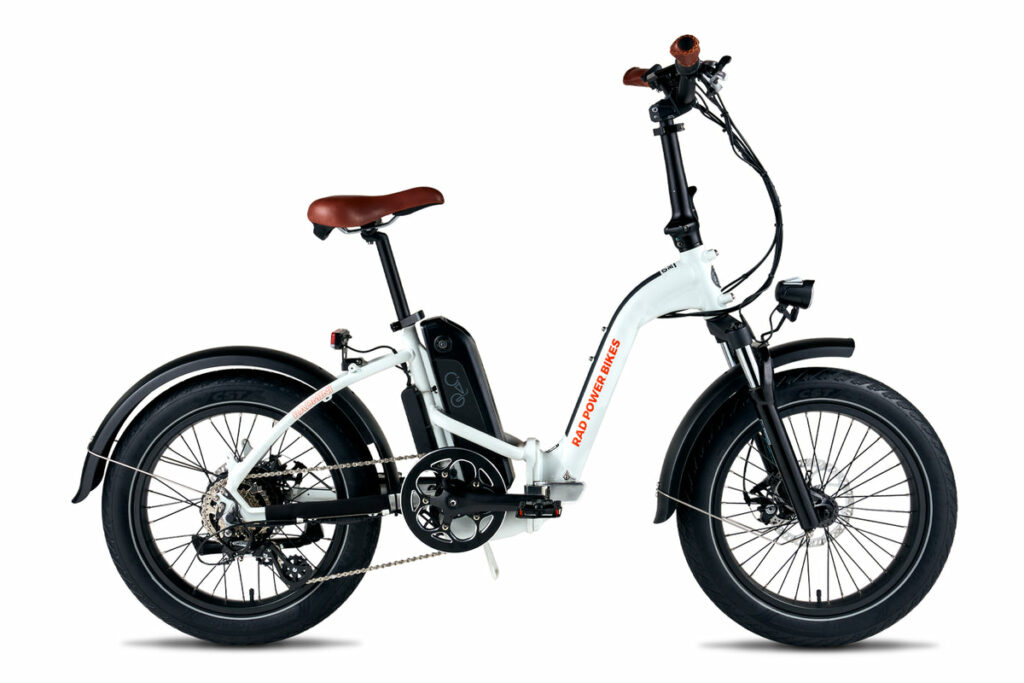 If you've spent any amount of time on Ebike Escape and watching our YouTube channel, you know we love Rad Power Bikes. And their RadMini Step-Thru 2 is just one more entry into a great lineup. This folding ebike is driven by a 750-watt peak rear hub motor and runs 25-45 miles on a single charge of its 48V 14Ah battery. Equipped with Tektro Aries brakes, a 1×7 Shimano Altus drivetrain, full fenders and a front suspension fork, the RadMini is a great value. In fact, at $1,499 it is the best bang for your buck in the Rad lineup. Like all Rad Power Ebikes, the RadMini is a Class 2 ebike.
You can also rest easy knowing you are buying from the largest seller of ebikes in North America. It folds up into a nice, compact package for riders who plan to be on the go. And the 3″ x 20″ tires are a perfect size, adding comfort and cushion on your ride without compromising too much on rolling resistance. We're fans of the step-thru version pictured above, but it is also available in a high step.
Lectric XP 2.0 ($999)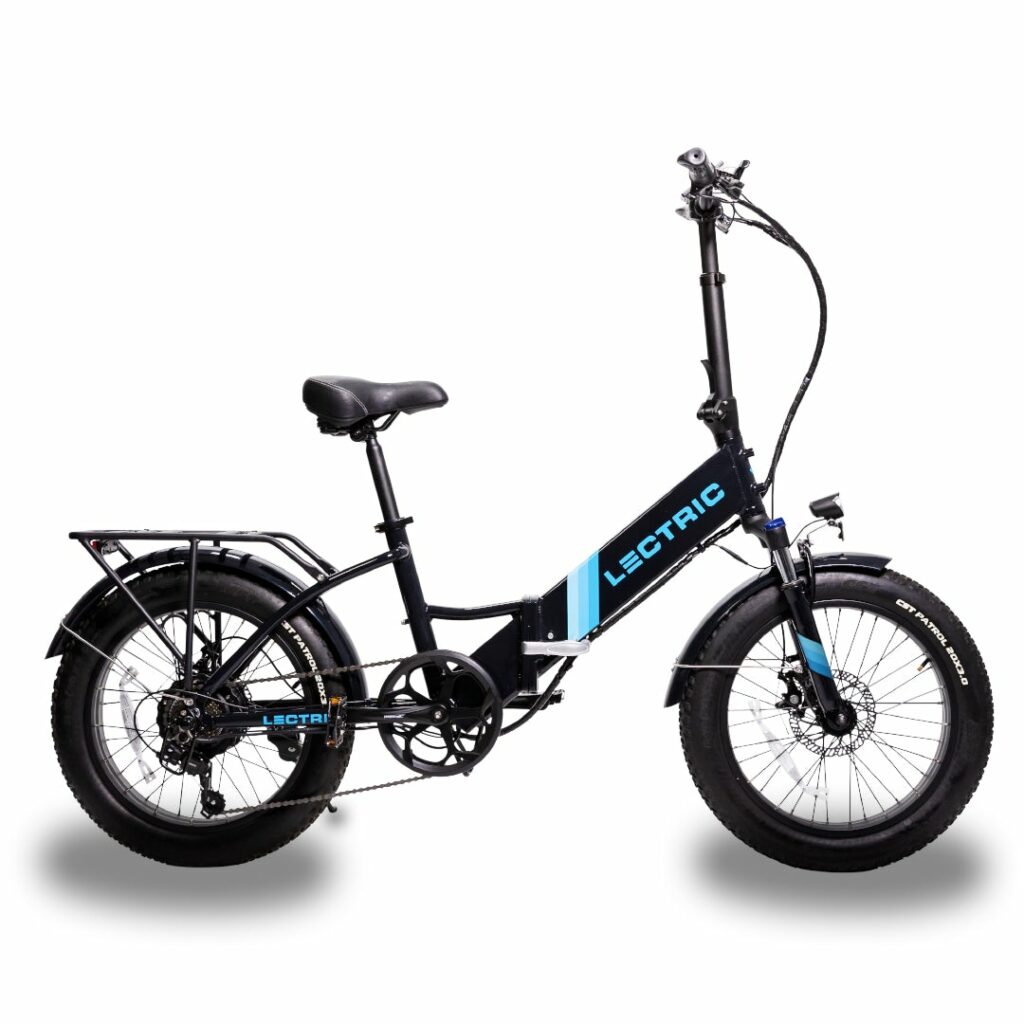 Ah yes, the Lectric XP – no list would be complete without it. The Lectric XP is the least expensive folding bike on the market that still maintains high quality. It has been the ebike of choice for hundreds of thousands of riders in the United States. The step-thru version (image above) is our pick due to its increased accessibility but it is also offered in a high step.
So what makes the Lectric XP special besides its price? The 500-watt motor peaks at over 800 watts and can be overridden to reach speeds over 20 mph. Powering the motor is a 48v 9.6 Ah battery which should be sufficient for most but you can certainly find folding ebikes with larger batteries. The battery located inside the frame lends itself to the clean design of the Lectric XP 2.0 It also comes fully assembled (and folded), making the setup a cinch. Though you may still want to have a bike shop go over the bike before riding.
You'll also find 3-inch tires, a 1×7 Shimano drivetrain, front suspension, paint-matched fenders, rear rack, and integrated front and rear lights. Other accessories such as a cargo package and comfort package are available at checkout. See our full Lectric XP 2.0 accessories post and video for more on how to outfit this ebike. Our Lectric XP 2.0 review can also give you more details on this popular ebike. If you're on a budget, this is the folding ebike for you.
Espin Nesta ($1,499)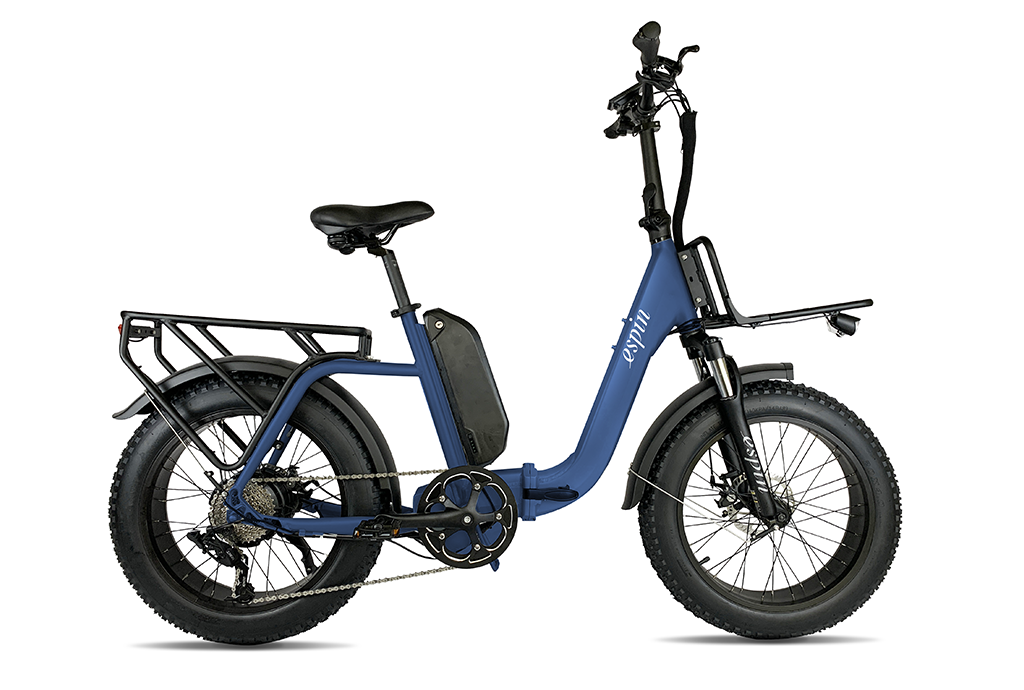 The Espin Nesta is the flagship offering in Espin's lineup. While not as well known as some brands, Espin is known for its value-priced ebikes. The Nesta is offered in a step-through frame for increased accessibility.
It boasts a powerful 750-watt motor with a 10.5 Ah externally mounted battery. Because of its location, the battery is easy to remove. The frame holds 275-pounds and comes with both a front and a rear rack. Where the Nesta shines are the hydraulic disc brakes, a rare feature on a $1500 ebike. We've also been happy with the S-Ride trigger shifter and derailleur. The Espin Nesta comes with true fat tires that are 4″ wide. Overall the Espin fits into the market nicely when you consider the specs though we do wish the battery was slightly larger.
Aventon Sinch ($1,699)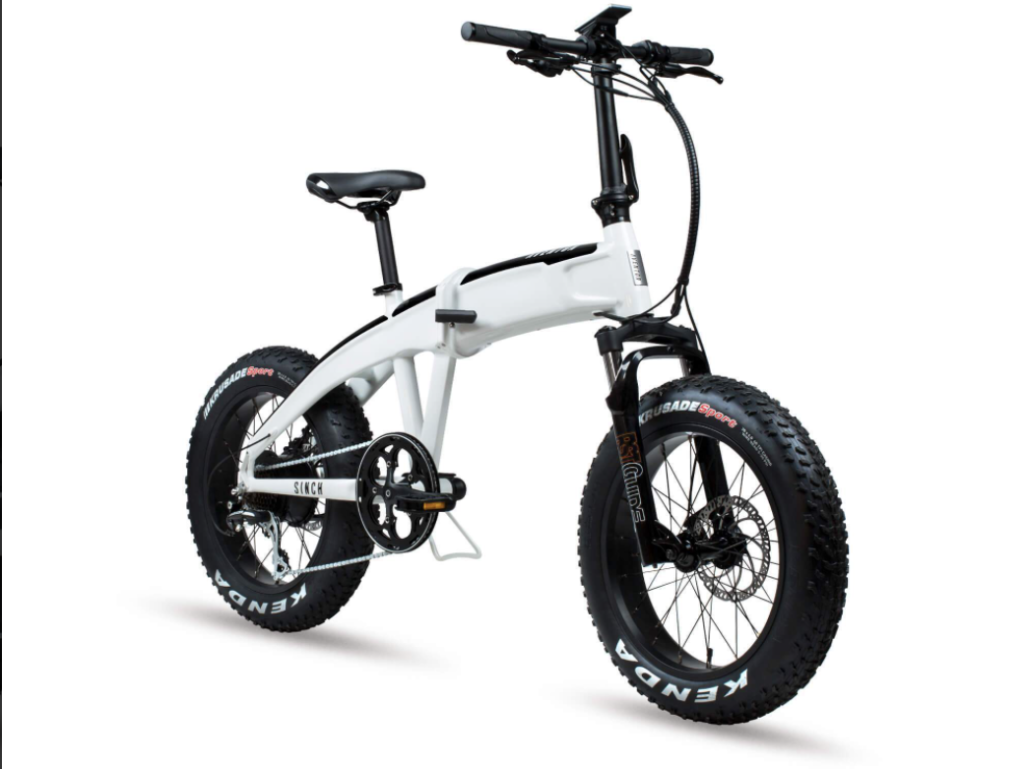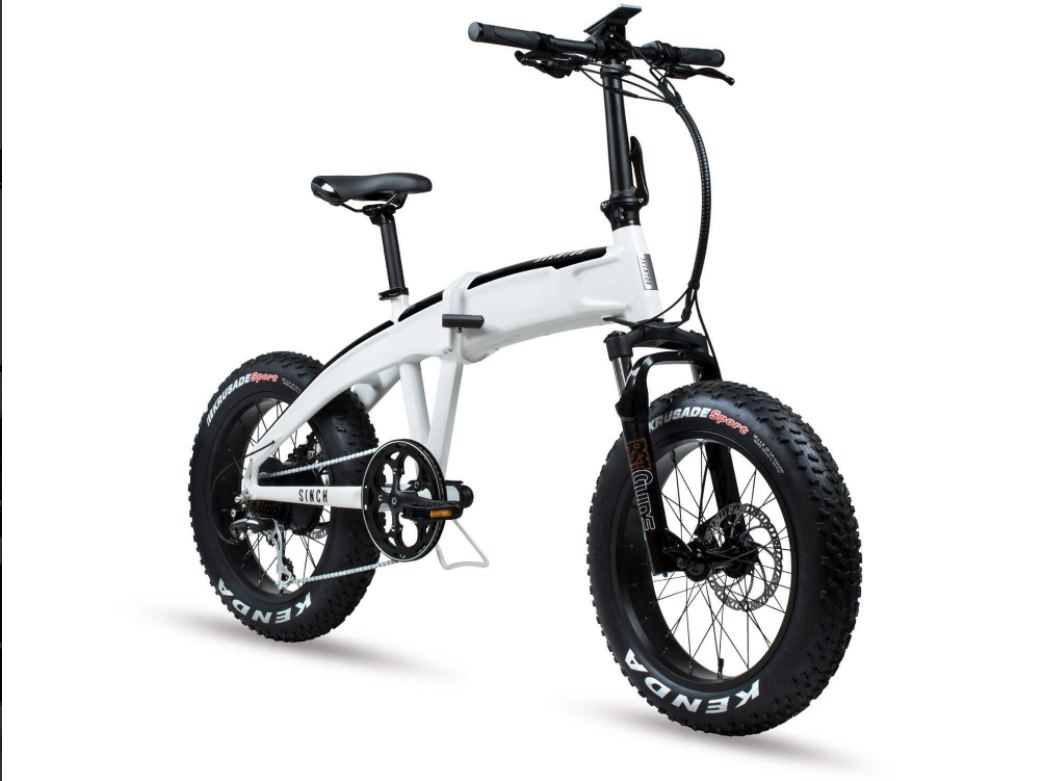 The stylish and slick Aventon Sinch has 4-inch fat bike tires, a 20 mile an hour top speed and up to 40 miles range with its 14 Ah battery. Those are decent specs for a bike of its price. And Aventon ebikes are easy to recommend. Not only do they have a network of dealers across the US but their frame quality blows away any budget-priced ebike brand. A 45mm suspension fork will smooth out the ride and you'll be cruising with its 750-watt peak motor (500-watt nominal). With a 7-speed rear derailleur and a 5-speed pedal assist, the Aventon Sinch is a great option for those looking for a slightly upgraded folding ebike. And from a company known for quality ebikes that look super cool.
Fiido folding ebikes ($599-$1,599)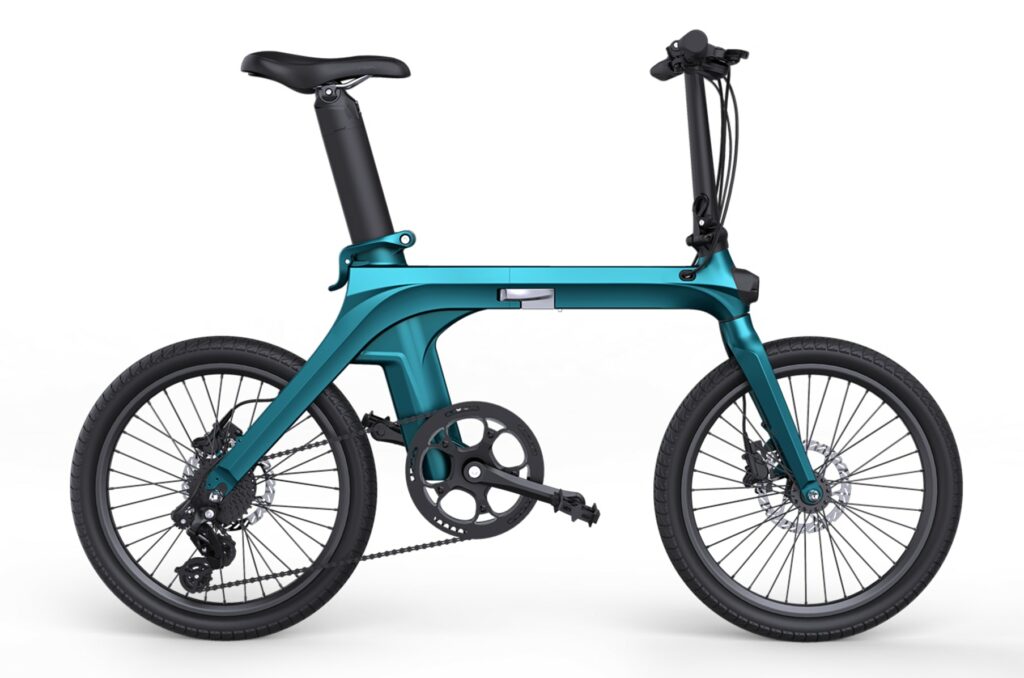 Where to start on Fiido: This isn't an ebike company that has a folding ebike model. It's an ebike company that focuses on the folding variety! Prices start at just $659 for their Fiido D2S and go up to $1,599 for the Fiido X. Fiido folding ebikes are meant to cater to someone looking for a lighter weight folding ebike that can be tucked away out of the way or easily transported in a vehicle. Sure, the motors and batteries are smaller than some of the ebikes above, but this isn't the selling point of a Fiido ebike. You'll be hard-pressed to find a better value than a Fiido when you look at other ebikes in its class.
Gocycle $4,999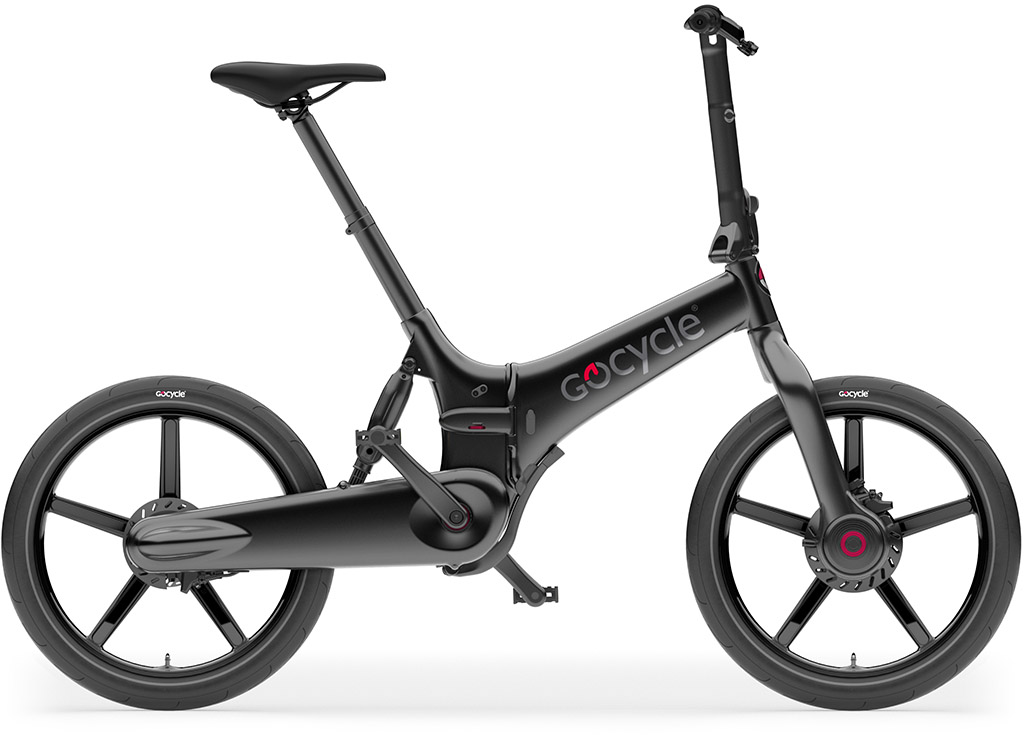 If you're ready for the coolest looking folding ebike – check out the Gocycle. The price tag isn't for the faint of heart, starting at $4,999. But for those for whom money is no object, this is your new ebike. It's built out of carbon fiber, which is a rarity in the ebike world anyway (at least amongst brands Ebike Escape reviews). It's G4 drive is meant to generate a record amount of torque with near silence. It has a 500 watt continuous motor in the US (250 in the EU) and a 36 volt 8.1Ah battery. The Gocycle is unlike any folding ebike out there so be sure to check out their website for the detailed specs.
Brompton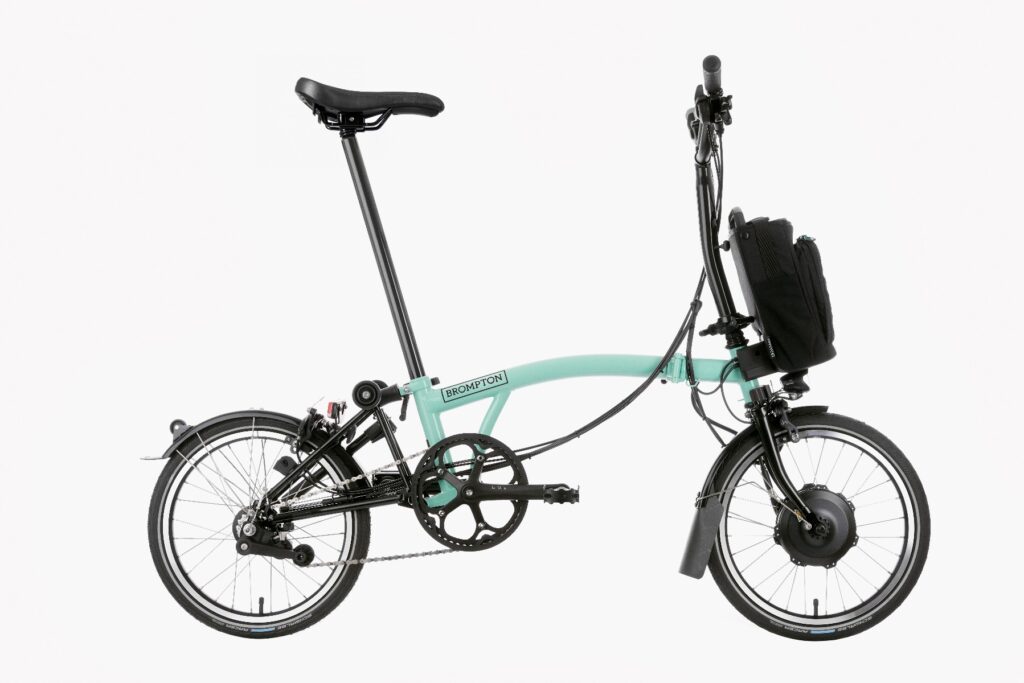 British bike company Brompton is the original in the realm of folding bikes, so it's only natural they'd delve into folding ebikes as well. They're not cheap — a Brompton ebike will set you back around $3,800 — but people seek out Brompton for a reason. They're a solid bike company that has been doing folding bikes forever. I've witnessed people become converts watching the folding process. Plus, the Brompton electric is lightweight at just 32lbs.
There's something of a classic British bicycle look to the ebike line. Its lowest-priced model reaches speeds of 15 miles per hour with its 250 watt front hub motor. With six gears and a range of 25-40 miles (300Wh 36V battery), it might not quite stack up to the others in terms of features. But those who want a Brompton know they want a Brompton.
The best folding ebike
Simply saying one folding ebike is the best in the category would be tough. There are a number of options. Choosing the best one for you depends on your budget, and what kind of riding you'll be doing. Some are clearly for those who don't worry about budgets, such as the Gocycle. But as we shared, a folding ebike can fit into just about any budget. Whatever folding ebike you choose, you will appreciate the ease of transportation and storage.
Don't forget to check out our other guides such as the best fat tire ebikes.