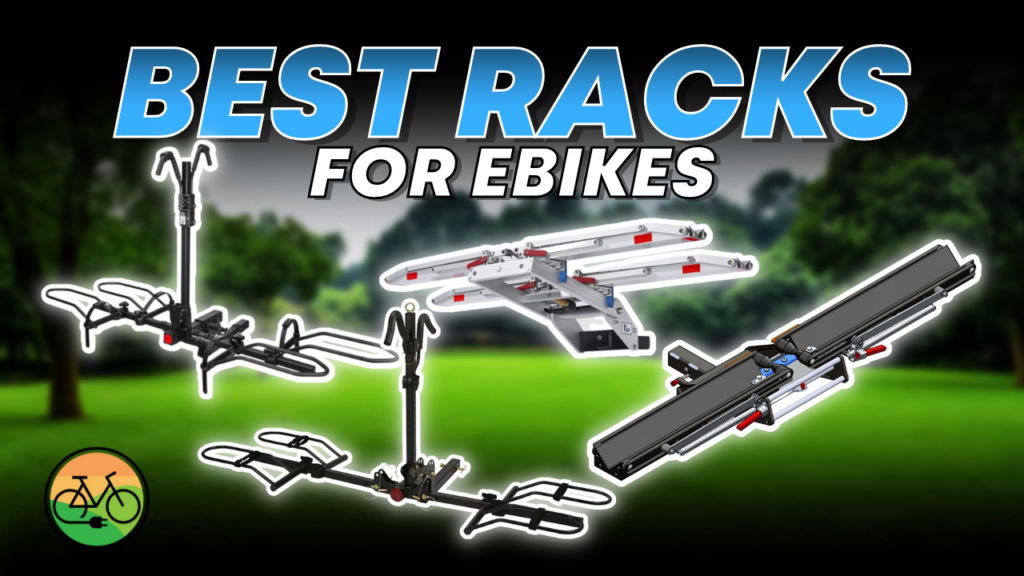 Part of the fun of ebikes is the freedom to take explore other locations. Cruise around a campground, explore a new city or take on some trails, paved or off-road. Whatever your use case may be, here are our recommendations for the best rack for ebikes.
Read along for more or check out our accompanying best bike racks video below.
Best Bike Racks for Ebikes video
Will my current bike rack work for my ebike?
Generally no, you'll notice that all of the bike racks on our list are hitch mounted. This means your trunk mount or roof-mounted rack is likely not rated for heavy ebikes. Even some of the hitch-mounted racks meant for regular bikes don't have a high enough rating unless you have a lighter weight ebike. Having a 2″ receiver is also necessary in most cases which is what helps allow for a higher weight capacity.
Hauling Your Ebike: Best Practices
If possible, remove your battery from the frame before you load it on to your bike rack. Not only does this make it easier to lift (or roll) on to the bike rack, but it also reduces stress on the bike rack. Batteries are also expensive, so this helps to avoid the battery becoming dislodged during transport or any ingress of dirt or water.
You may want to consider a waterproof battery bag like the one offered in our Ebike Escape shop when transporting your battery. We also offer cockpit covers, disc brake covers, motor covers, battery covers and bike covers. Anything you can do to help keep your ebike protected while in transit is a good idea.
A Quick Summary – Clamp-down vs wheel-holders
There are two types of solutions that bike manufacturers have come up with to hold ebikes in place on the back of a vehicle. They both have their pros and cons.
One way is with wheel trays and a clamping system that pushes down on the top tube of the bike (or in the case of a step-thru ebike – a bike adapter bar).
The other is a wheel holder which presses on each side of the wheel preventing the bike from moving side to side or up and down. Owning an ebike with fenders or a rear rack can sometimes lead to challenges. In some cases, an additional wheel strap may be used for additional security.
Ebike Escape uses affiliate links to help support our channel. Please consider using our links if you decide to purchase one of the recommended racks. We appreciate it!
Hollywood Racks Sport Rider Review: $499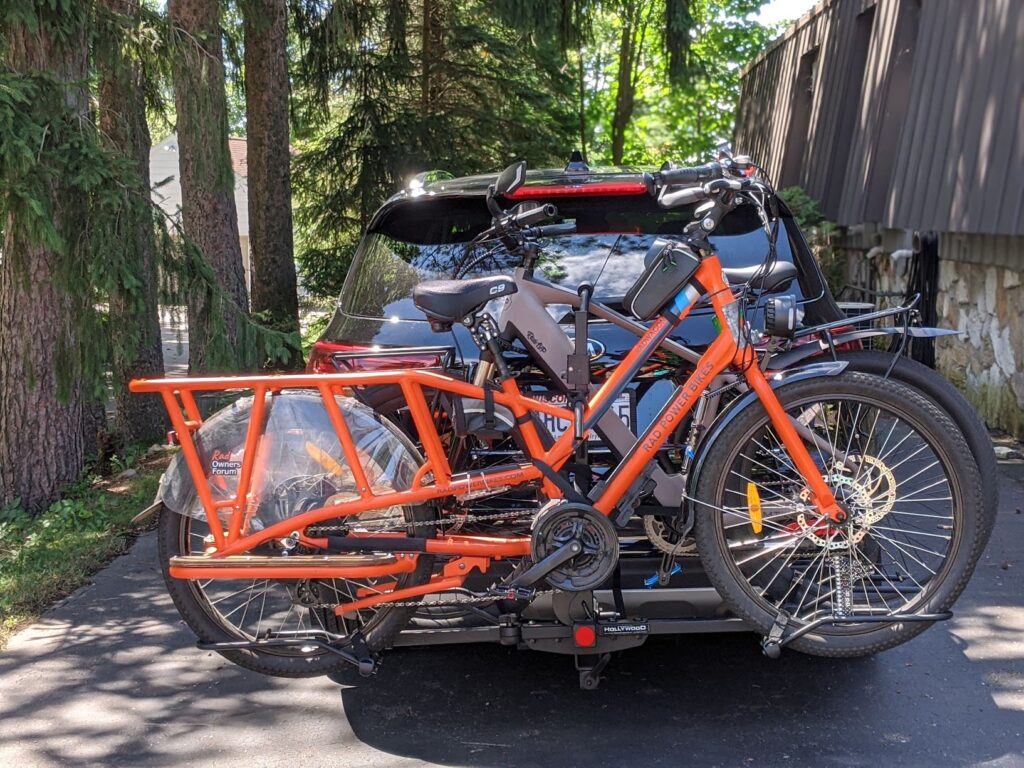 For a reasonably affordable rack that is sturdy, secure, and rated for ebikes, check out the Hollywood Racks Sport Rider. RV owners will want to consider the Hollywood Racks RV Rider E-bike Rack and those needing a ramp might want to dig into the Destination rack (be mindful of the weight limit).
At $500-$700, they aren't cheap, but not many ebike racks are. But they are decent quality and have some nice features. The company has also made improvements over time and there is a reason that the rack consistently is available directly from various ebike brands.
This rack requires a 2″ hitch receiver and has an anti-wobble hitch system. It has trays that the wheels sit in and the rack clamps to the frame. If you have a step-through ebike, you will need a fake top tube adapter for the rack to clamp to.
The rack is adjustable and can fit a variety of ebikes but it will take a little time to set up. We recommend watching the video on the Hollywood site for more information. This rack works best if you are hauling the same ebikes most of the time rather than constantly needing to adjust for other bike sizes and designs.
The Sport Rider rack is rated to carry up to 80 lbs per tray and fits tires up to 5″ wide. Hollywood Racks now offers an available trike adapter kit. This allows you to haul one ebike and one trike. The Sport Rider is not to be used on any trailer, fifth wheel or towed vehicle.
You can fold the rack up when it is not in use or down to increase access to the rear of your vehicle. Multiple built-in locks (cable, hitch pin, and locking frame hook) are included for additional security. Overall the Sport Rider is a happy medium of quality versus price.
Check out our video review for footage though note that the newer version has plastic wheel straps instead of velcro.
Also available from Rad Power Bikes and Lectric.
FulTyme RV 1300 Review: $145
Similar to the Hollywood rack, the Fultyme RV 1300 has bikes sitting on trays with the clamp attached to the frame. The biggest selling point of this rack is how affordable it is. At $145, it is less than half the cost of any of the other racks. But that low price does come with some tradeoffs related to fit and finish.
It requires a 2″ hitch and has an anti-rattle design. The rack includes wheel holders with straps to keep it snuggly in place and fits most bikes with tires up to 5″. The rack is rated as having a total weight capacity of 200 lbs though if you dig into the product manual it states the rack is not intended for ebikes – which is odd given the high weight capacity.
Per the reviews, many users have felt obligated to add extra reinforcements both for the weight of the ebikes and to keep them in place. Because of this, we can't wholeheartedly recommend it but it's worth checking out our video on this rack and reading the comments from real owners. For storage, It is foldable, taking up less space when it is not in use.
If you want the best and easiest-to-use ebike rack, this isn't it. Still, it's ultra-affordable which is why we've seen many ebike owners purchase it.
1Up Super Duty Single and Double: $430 or $680
The other rack type we see are ones with wheel clamps. They are generally more accommodating for a variety of ebikes and traditional bikes alike but they do tend to be more expensive. 1Up is a Wisconsin-based company that offers a modular rack with a wide variety of options. You can buy a single rack, a double, or even a triple rack. All the parts are aluminum and replaceable so expect this rack to last you a long time. This rack ships completely assembled.
Starting price for a Super Duty Single is $430 but that price jumps to $680 for the Super Duty Double. The Super Duty has a weight limit of 75 lbs per bike. There is also the option of the Xtreme Duty with a limit of 150 lbs per bike.
There are also sweet optional accessories such as the RakAttach 2.0 which allows the rack to swing away from the back of the vehicle. You can choose to add locks, a garage mount for storage and more but the price does start to add up with all the accessories.
One other accessory that may be incredibly helpful is the ramp. It clips to the back of the rack when not in use. The downsides of these types of racks are the compatibility with fenders and rear racks though most often, this can be overcome. For fat tires, you'll need to buy a spacer kit from 1Up. On the plus side, no adapter bar is needed for step-through ebikes.
Check out our video review.
QuikrStuff Mach2 Single or Double: $699 or $1,198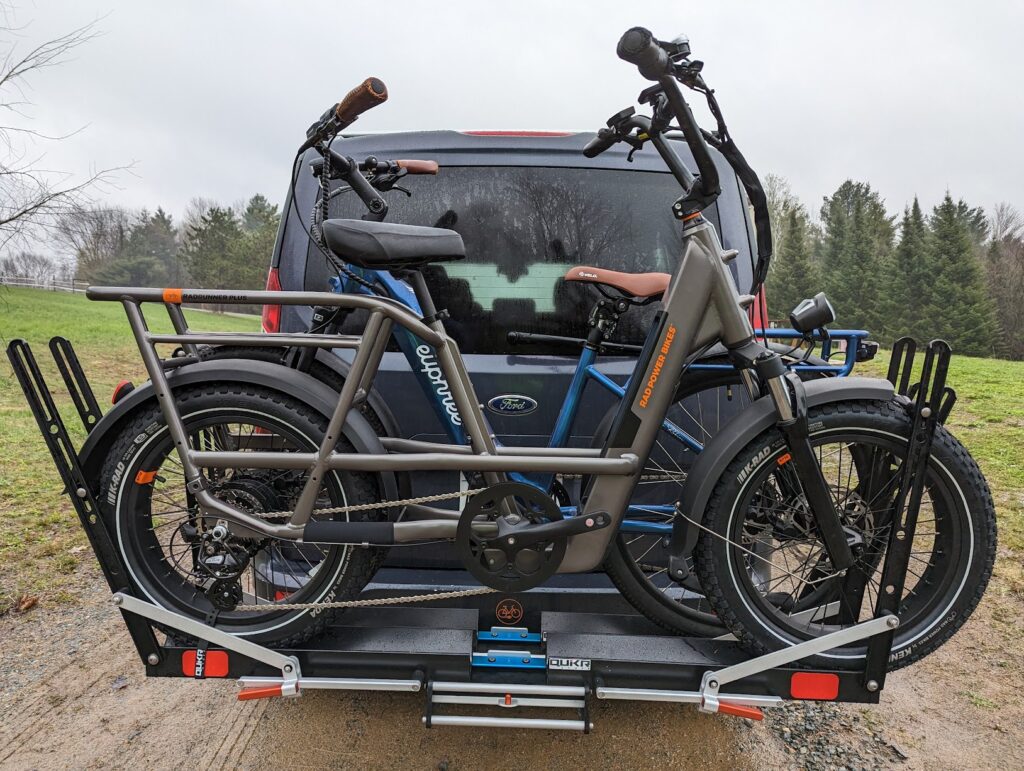 The US-based QuikrStuff ebike racks are similar in design to the 1Up. It was actually designed by the same person who invented the original 1Up bike racks but with a few upgrades and the associated increase in price. So if you like to treat yourself, this is the best-designed and easy-to-use ebike-rated rack on the market (in our opinion).
It is a wheel clamp-based system that is modular. This entire system is well thought out and tool-less making it super convenient to mount and adjust. It is easy to carry a wide variety of bikes on this rack from cargo bikes with a wheelbase up to 58″ to fat tire bikes up with up to 5″ tires (no extra parts needed), to cruiser ebikes or even traditional road bikes.
The base system starts at $699 for a single bike with options for either a 1.25″ or 2″ hitch. The 1.25″ has a weight limit of 250 lbs spread across up to 3 bikes. The 2″ hitch has a maximum weight of 300 lbs spread across up to 4 bikes. Reference this chart for further details.
It is important to note that to carry more than one bike you have to buy a modular attachment for each additional bike which cost $499 per bike tray.
There are a couple of accessories that Quikrstuff does offer including a license plate holder and a ramp. The ramp attaches easily to the rear so you can grab it when you need it. The license plate holder is an elegant solution that allows you to quickly switch between the rack or your vehicle – this also keeps you legal on the road.
Use the discount code "ebikeescape" for $25 off. Despite the price tag, this bike rack has been incredibly popular since its arrival on the market. There was a time when QuikrStuff racks were on an 8-month waitlist! At the time of writing this article, they were only a month behind but if you are on a tight timeline it is worth checking the website for their current delivery timeline.
For more information, check out our video review.
Saris MHS (Modular Hitch System): $549.98 – $899.97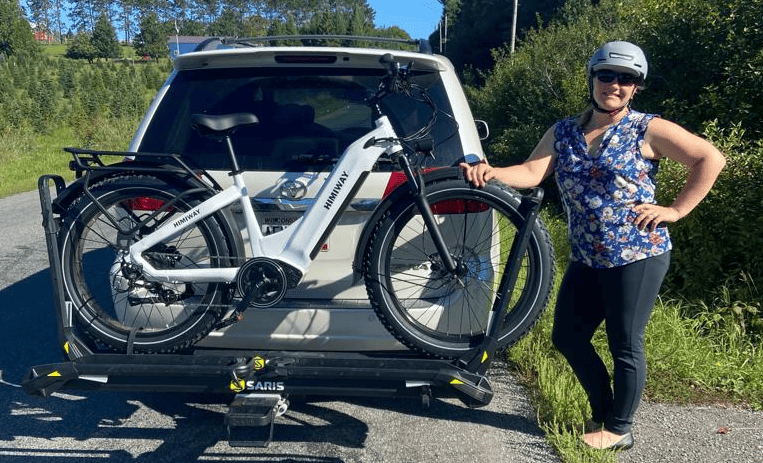 While Ryan is currently using the QuikrStuff rack, JT and his family are using the Saris MHS. This is a well-known company with a rack that is a wheel clamping system similar to QuikrStuff and 1Up. While previously it had only a 60 lb limit per bike tray, they recently increased that to 80 lbs which should be enough to carry most ebikes.
It is a modular system where you buy a hitch and space for up to 4 bikes (80lb limit for the first two spots, 35lbs for trays 3 and 4). Pricing is $549.98 for a single tray setup or $899.97 for a dual tray setup. Saris offers bases for either 1 1/4″ or 2″ receivers.
This system can accommodate cargo bikes and fat tire ebikes. Saris includes a ratchet strap that clips to the rear wheel as an additional measure to keep ebikes secured. The wheel holders can also be adjusted at a few points to accommodate smaller or larger wheel sizes. An integrated cable lock is built into the rack for security.
One great thing about the Saris MHS is that you can buy accessories that allow you to use the rack for more than just ebikes.
Check out our video review. (The weight capacity has increased since we completed this video).
Fenders and Racks
Anything sitting on top of your wheel, such as fenders or racks, has the potential to make mounting it to a bike rack more difficult. This is the major consideration of the ebike racks that clamp to the wheel.
To completely get around this you can use a frame clamping system like the Hollywood Racks Sport Rider. In our experience, the wheel clamping systems work fine with fenders and racks but you may have to make some extra adjustments such as changing the height of the clamp, using foam padding on the fenders, or adding extra straps to prevent vertical movement of the ebikes.
Conclusion
You have to take in some special considerations when choosing a rack for ebikes but that doesn't mean you don't have options. The QuikrStuff is the most premium rack with simplicity of use and high function but it is also the most expensive. Other options for wheel clamping racks include the Saris MHS and the 1Up. Both of these are modular and offer some of the features of the QuikrStuff racks. If a ramp is important to you, stick with QuikrStuff or 1Up.
There are two frame clamping racks to consider though if you have a step-through bike you will need a top tube adapter bar. The Hollywood is cheaper than the wheel clamp options but still offers good quality. The FulTyme is by far the most affordable but expect to have to make some personal modifications to ensure your ebike stays in place and know there is a drop in quality.
And finally we realize electric trikes are among the fastest growing category. Hollywood Racks has you covered with their trike adapter.