We recently had the chance to review the newest generation of the Ride1Up LMT'D. The original LMT'D was one of the first ebike reviews we completed here at Ebike Escape. Here are are almost 3 years later and we continue to review and recommend Ride1Up models.
Ride1up is a company trying to find the ideal blend between quality and affordability. You can often find higher-end components on their bikes that are not usually available at that price point. This budget-friendly city-oriented commuter ebike has a torque sensor and other upgrades that make it shine compared to similar bikes.
The newest generation of the LMT'D is currently on sale for $1,595 though the website lists the full price as $1,695. Keep an eye on our ebike discount code page to stay up to date on sales.
If you are thinking of buying this bike, please consider using our link. It's the perfect way for you to show your support for Ebike Escape.
Video Review of the Ride1Up LMT'D
Frame Design and Colors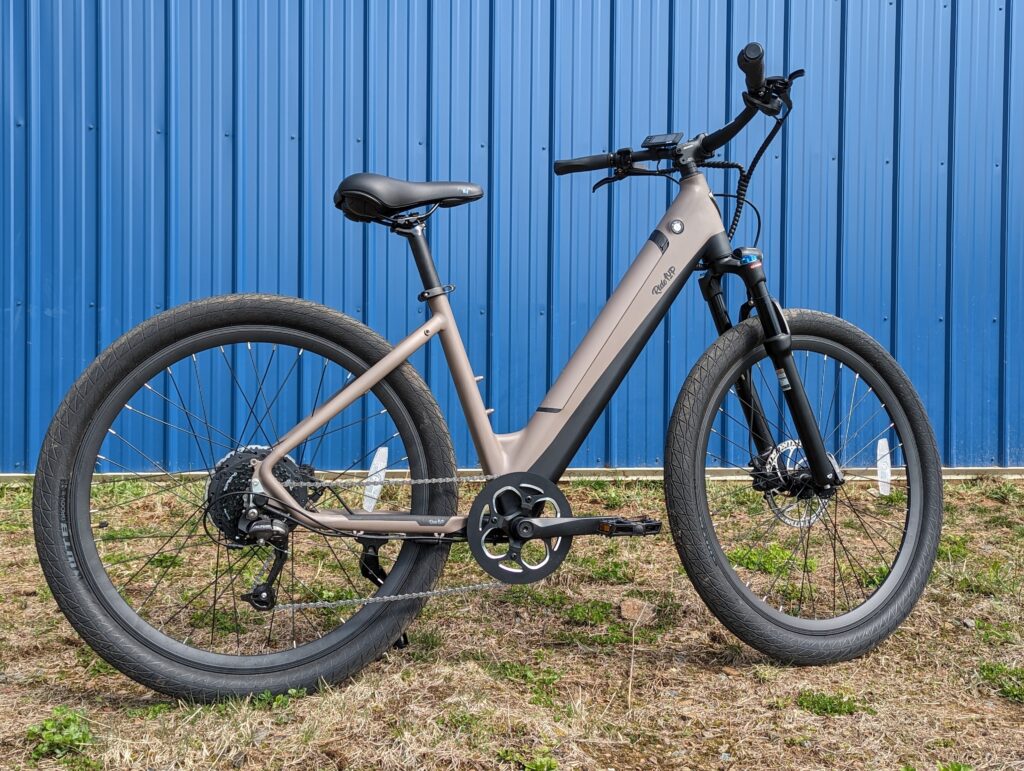 The Ride1Up LMT'D is a city-oriented commuter ebike. The XR or step-over comes with straight handlebars and the ST or step through offers swept-back handlebars for a more upright riding position.
The LMT'D features a front suspension fork with 80 mm of travel for added comfort. Even more, it's an air suspension fork which is a rarity for an ebike at this price.
Both frame styles come in two color options, midnight gray and sandstone. There is only one frame size, but each style fit slightly different-sized riders. The step-over is designed for riders from 5'6″ to 6'4″ with a standover height of 29″. In comparison, the step-through is for riders from 5'1″ to 6'2″ with a standover height of 18″.
Both variations have a weight capacity of 300 lbs. The LMT'D only weighs 53 lbs which is on the lighter side for ebikes. Check out our list here if you want to see some affordable ebikes under 50 lbs.
Ride1Up LMT'D Electronics: Motor Battery and Display
This powerful ebike has a 750-watt geared rear hub motor with 95Nm of torque and pulls even larger riders up steep hills well. It is matched with a 48V, 14Ah battery with Samsung cells (672 watt-hours). Ride1Up estimates the range at 30-50 miles per charge which is right in line with what riders should expect depending on rider weight, assistance level, throttle usage etc.
The Ride1Up LMT'D has a torque sensor rather than a cadence sensor which is one of the main differentiators. The motor provides more power as the rider puts in more pedal effort. Compared to a cadence sensor which engages the motor with the same power as long as your feet are turning the pedals. If you prefer most of the power to come from the bike, you may prefer a cadence sensor. A torque sensor lends itself to a more natural riding experience, only amplified by the motor.
Another way to control the amount of power provided by the bike is to adjust the pedal assist level. There are lots of options for pedal assist levels with Ride1Up, more than most ebikes. You can adjust your LMT'D ebike to have 0-3, 0-5, 0-7, or even 0-9 pedal assist levels. You can also customize exactly how much power you want with each step up.
When the LMT'D was launched, it stood out as one of the only affordable torque sensor ebikes. While there are now more options for torque sensors in this price range, the LMT'D continues to set itself apart as an affordable ebike with higher-end components than you would generally expect with its price.
The 2.2″ color LCD display shows you what pedal assist level you are riding in, the battery percentage remaining, the odometer, the bike's speed, and more. This is a Class 3 ebike with a top speed of 28 miles per hour when using pedal assist. A left-hand thumb throttle is located on the left side of the handlebars and will get you up to 20 miles per hour.
Ride1Up LMT'D Components
The Ride1Up LMT'D features a Shimano 8-speed trigger shifter paired with a Shimano Altus derailleur. A 44T chainring is in front, with a 11-32T cassette in the rear. The choice of gearing helps provide appropriate power when pedaling up hills while still being able to provide human power at higher speeds.
As we would expect with Ride1Up, this bike features Tektro hydraulic disc brakes, an upgrade compared to mechanical brakes. There are 180 mm rotors which are pretty standard. The WTB Groov-e tires, 27.5″ x 2.4″ are designed to work in all weather. Generally speaking, Ride1Up tends to include better, name-brand tires on their ebikes – something we appreciate. And because this ebike does have a better suspension fork you could change to knobbier tires for some light trail use.
A 60 Lux front headlight is included, but no taillights or rear reflectors are included. You will most certainly want to upgrade the lighting if you plan to do much riding on roads or any riding after dark. Check out our accessory page for our recommendations. You may also want to consider fenders, a front or rear rack or basket, or a phone mount.
A Few Considerations
One thing missing from the LMT'D is the motor cut-off feature. This safety device cuts power to the motor when the brakes are applied, even if you are pedaling or holding the throttle down. For an experienced ebike rider, this won't be an issue, but I would hesitate to endorse this for a beginner rider.
Ride1Up ebikes have smaller shipping dimensions than many other ebikes. This is great for lowering costs but requires more assembly than most other brands. You can check out our video of a Ride1Up ebike assembly with our friendly mechanic here.
Even though the tires can handle all weather, this bike does not come with fenders making a wet or rainy ride a bit less enjoyable.
Concluding Remarks for our Ride1Up LMT'D Review
In conclusion, the Ride1Up LMT'D has a lot to offer. The powerful 750-watt motor did well on our hill test during the video review. The large battery provides an estimated range of 30-50 miles per charge. The LMT'D features a torque sensor offering a natural feeling riding experience. While this bike has higher-level components, no racks, fenders, or taillights are included. Have you ridden the LMT'D? What do you think?
Electronics (Battery, Motor, Display)
0
Components (Shifter, Derailleur, Fork)
0
Pros
Torque Sensor
Powerful Motor
Lightweight
Lower Shipping Costs
Hydraulic Disc Brakes
8 Speed
Throttle
Cons
No fenders, racks, or baskets
No taillights
More assembly required
If you like Ride1Up but are looking for something different, check out our other Ride1Up reviews here.
If you like the LMT'D, check out similar ebikes: the Aventon Pace 500.3, the Aventon Level 2, or the Denago Fat Tire.