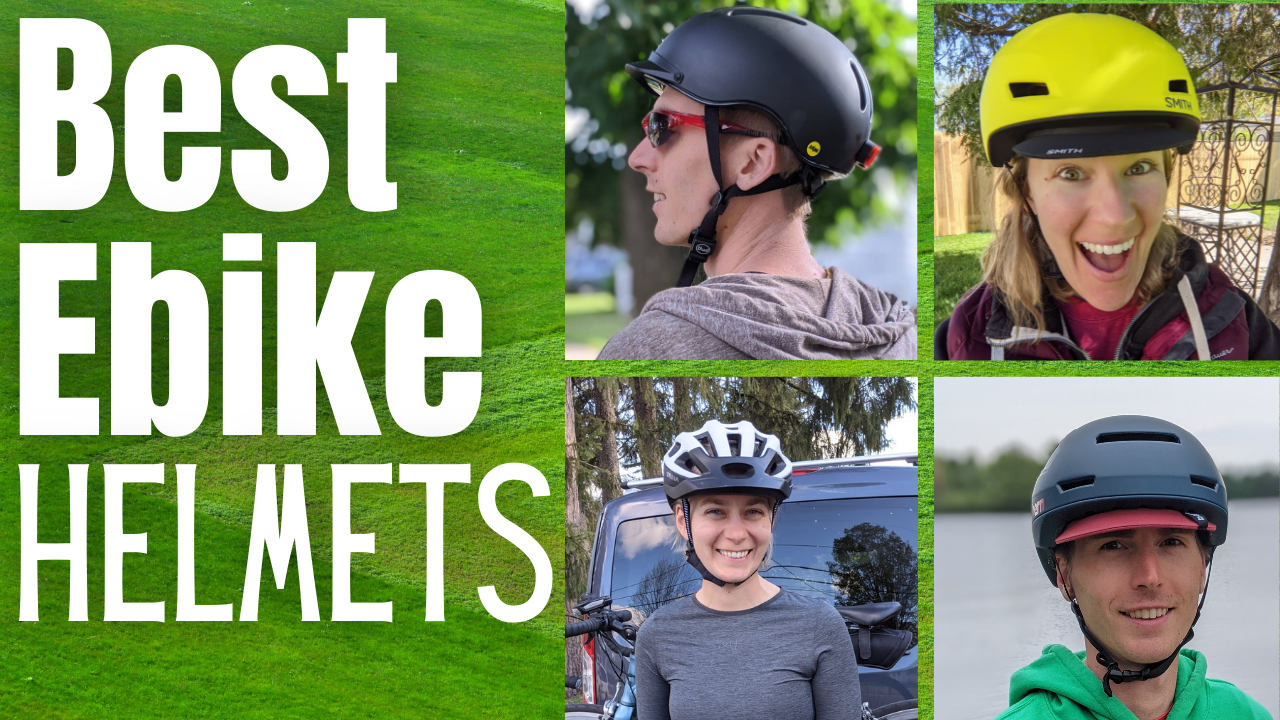 Helmets are one of my favorite accessory items to review. There are so many styles to choose from and features to consider when making a purchase. You might be making your decision on price point or style or perhaps color or comfort. But there is even more to consider when you delve into the multitude of options such as rear lights, ventilation, materials, color, and brim type.
One major item that all ebike users need to consider though is the safety rating. Due to the potential for higher speeds of an ebike, you can do better than a plain old helmet. If you are willing to invest in your bike, I encourage you to invest in your head too, and spring for a helmet with higher safety ratings. See below for a list of the best ebike helmets we've tested. For more our full list of accessory recommendations, see our ebike accessories list.
Thousand Chapter MIPS Helmet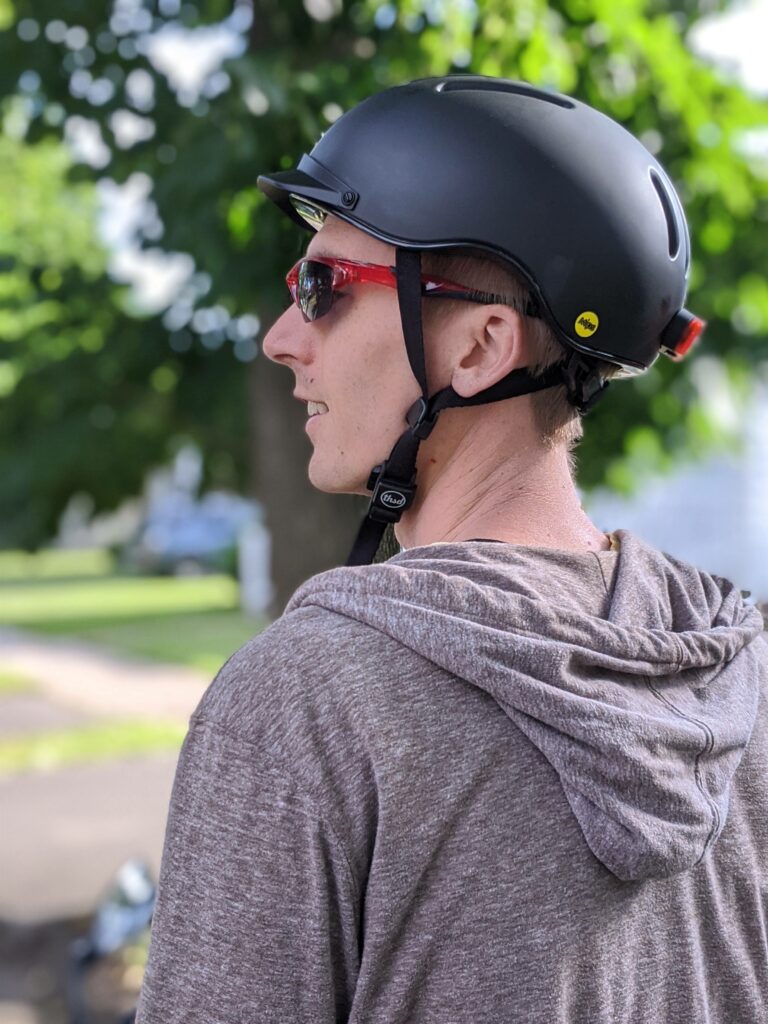 Why: Unique Style, Rear Light
Thousand is known for its stylish helmets. The additional protection of MIPS makes the the Thousand Chapter MIPS helmet one of their spendier helmet options, but with the added protection and rear light, we think it's worth the price if you are fans of the Thousand style. The Thousand Chapter comes in at $135, but you can get an even better deal ($20 off) by referring your friends. This makes the Chapter helmet a strong contender compared to other MIPS helmets. This style of helmets, while becoming more prevalent, still look much different from the ones you'll often find out on your local bike path. As the company tagline goes, it is a helmet you'll want to wear.
Read our full review on the Thousand Chapter MIPS helmet and the comparison to the Thousand Heritage Helmet here.
Smith Express MIPS Helmet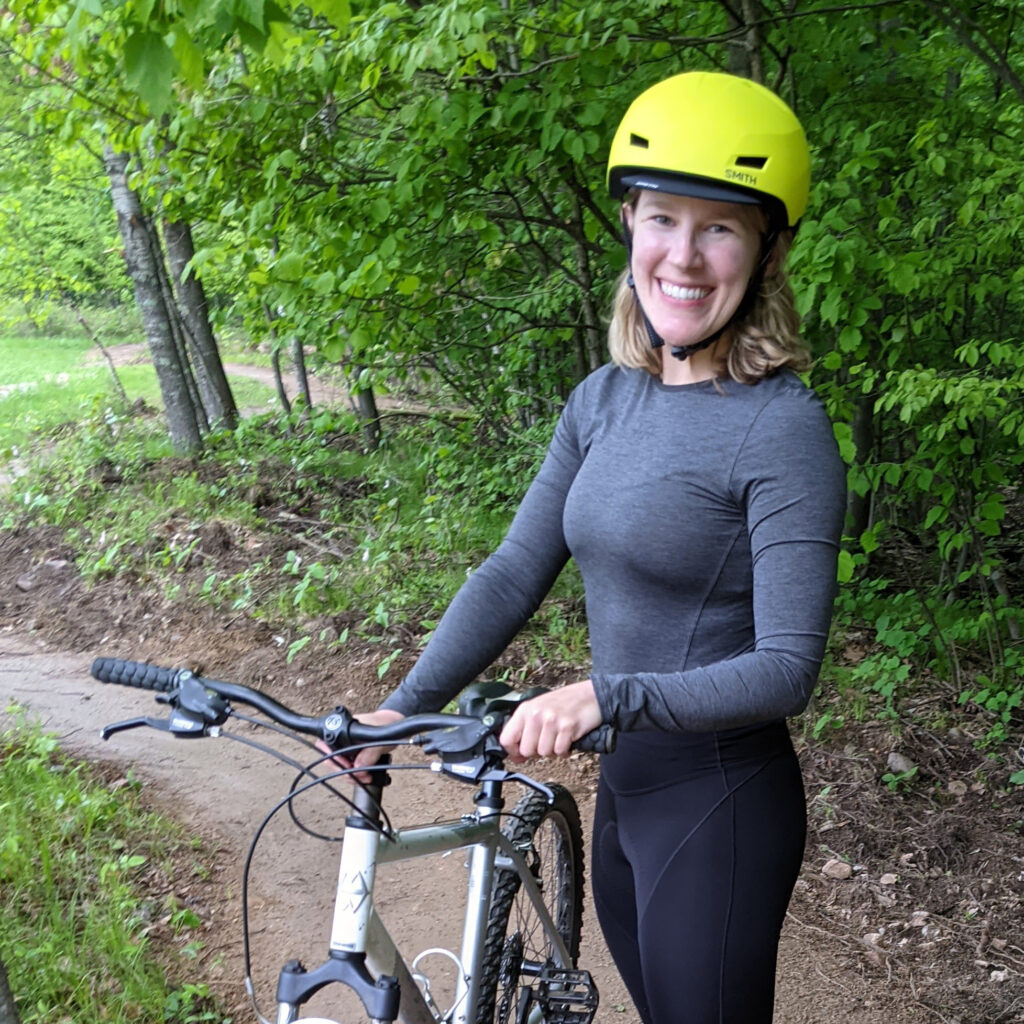 Why: Stylish, Comfort, Rear Light
The Smith Express MIPS helmet ($100) has a stylish design, comfortable fit, and fun colors. The integrated rear light has a long battery life and adds visibility to evening rides. The fabric detachable visor is machine washable which is great for a refresh after sweaty rides. I like how light it feels and how well vented it is for this style of helmet. The Smith Express MIPS has been my go-to helmet this summer.
Read our full review on the Smith Express MIPS helmet here.
Bern Hudson Helmet
Why: Safety, Accessory Options, Rear Light
The Bern Hudson Helmet ($120) has a similar design to the Smith MIPS Express helmet, although it has a lower profile and is offered in more muted colors. This helmet not only offers MIPS brain protection but also meets NTA 8776, CPSC, and EN1070 safety standards. The NTA 8776 certification was created specifically for ebikes to protect better when traveling at higher speeds. Helmets that are NTA 8776 certified also cover a larger part of the head. The extra safety features make this helmet a standout for ebike users. Another element that makes us love Bern: winter accessories. Bern makes bike helmet-specific hats for varying outdoor temperatures which covers your ears and fits wonderfully under a helmet (shown in picture).
Read our full Bern Hudson helmet review here.
SENA Helmets
Why: Top Notch Communication System
If you bike with another person, Sena is the helmet you will want to buy. The Sena R1 EVO helmet has technology that allows for crystal clear communication up to 1/2 mile range. No more shouting 'What?!' back and forth. Unfortunately, this helmet lacks the safety certifications/technology (like MIPS) that our other recommendations offer; however, this is still one of our most often used helmets when riding together. The bike ride is simply more fun when you can talk easily the whole time! Bonus: You can connect multiple helmets together which really adds to the group ride experience. For a more affordable alternative check out the regular Sena R1 or Sena M1 standard helmets (non-EVO variations).
Sena recently came out with the Sena Pi Communication Headset, which allows you to use the technology as an attachment to your existing helmet. We also thought this was pretty useful and circumvents the issue of not offering a MIPS version.
Read our full review on the SENA R1 EVO helmets ($160) here and the Sena Pi Communication Headset ($100) here.
ABUS Pedelec 2.0 Helmet
Why: Ebike Specific Helmet, Safety, Rear Light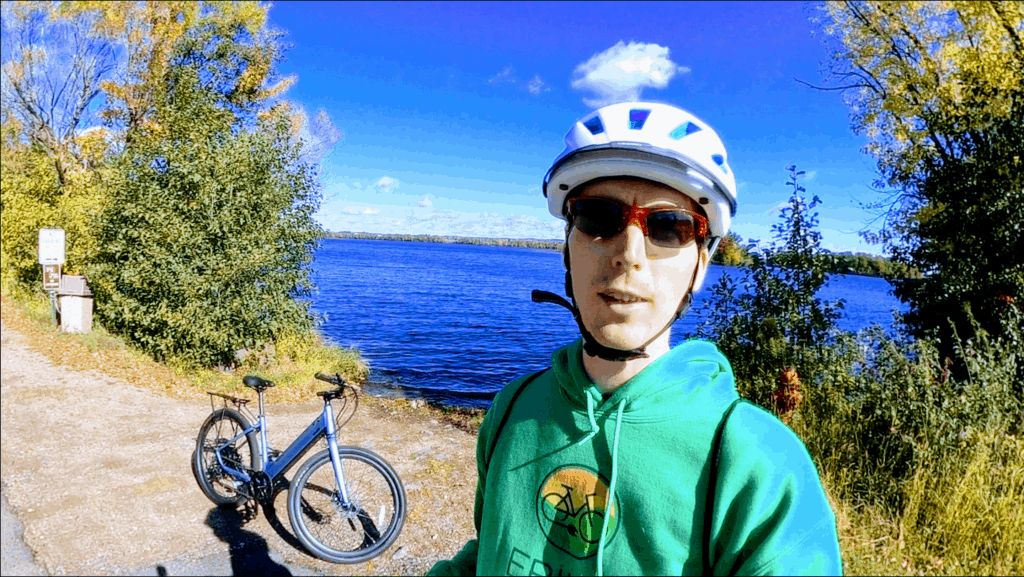 Integrated rear lights. A rain cover. 'Fly nets' that prevent bugs from entering the helmet. These three features make the ABUS Pedelec 2.0 helmet an excellent helmet choice. The element that really sets this helmet apart? The design was specifically made for ebiker safety. The ABUS Pedelec 2.0 is a "NTA 8776" helmet. These requirements were created by taking all of the information we know today about helmets and then providing an increased level of safety. The helmet comes down much further on the side than most helmets, protecting the temples. If you are looking for a superior level of protection combined with premium comfort, the ABUS Pedelec 2.0 might be for you.
Read our full ABUS Pedelec 2.0 helmet ($160) review here.
UNIT 1 Faro Helmet
Why: Customizable LEDs, Turn Signals and Safety!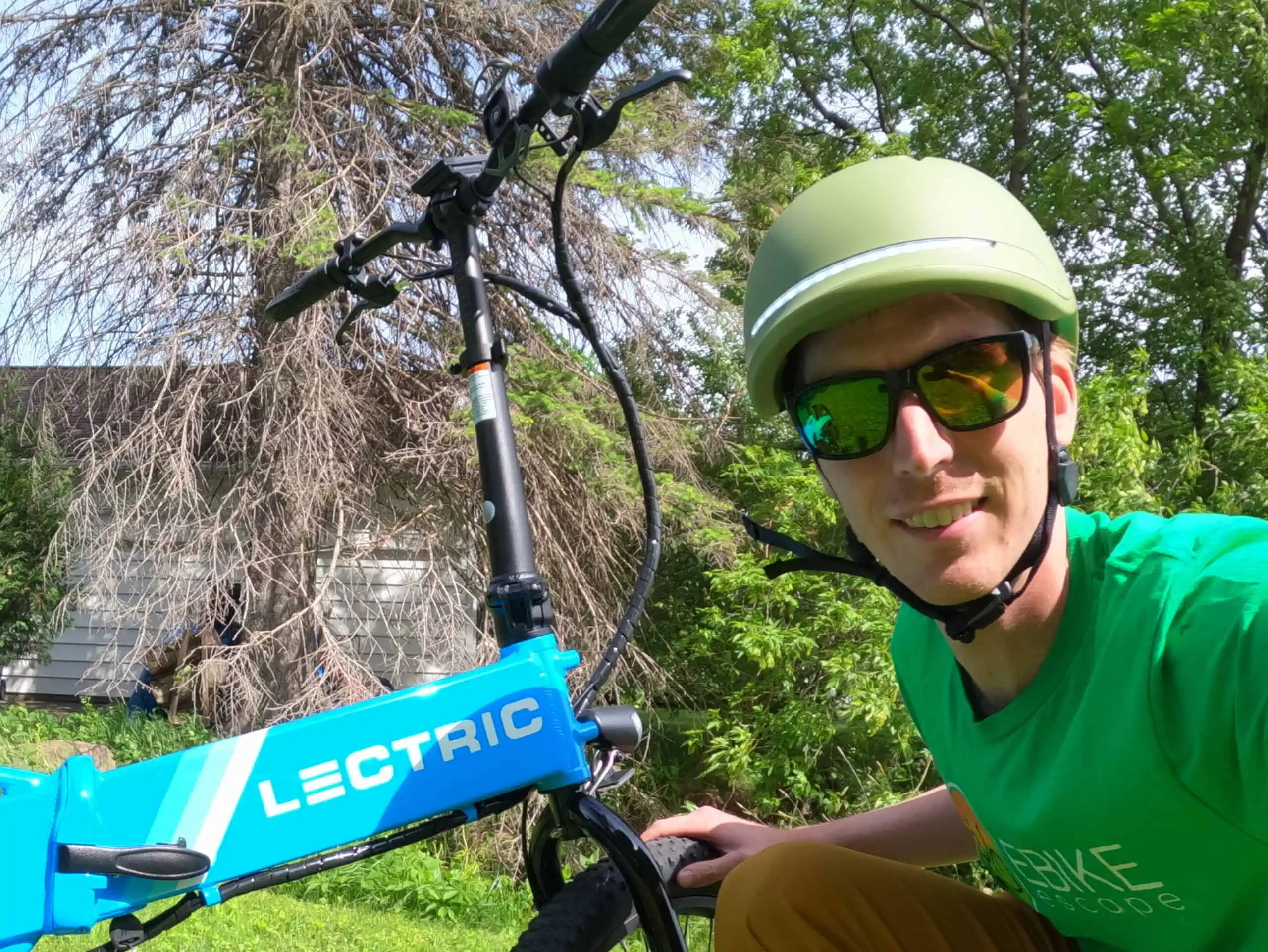 When it comes to a lighted helmet, UNIT 1 went a little overboard with the Faro (in a good way!). If you want a helmet that maximizes visibility and safety – this is it. It includes not one, but three sets of LEDs. One set in the front and two in the rear.
Best of all, it's fully customizable all in the Faro app. At around $230 it's the most expensive helmet on the list but it's also the smartest helmet on the list that also provides the most visibility on the road. MIPS protection and turn signals are optional add ons. The code "EBIKEESCAPE" is good for 15% off your purchase.
Nutcase Vio w/MIPS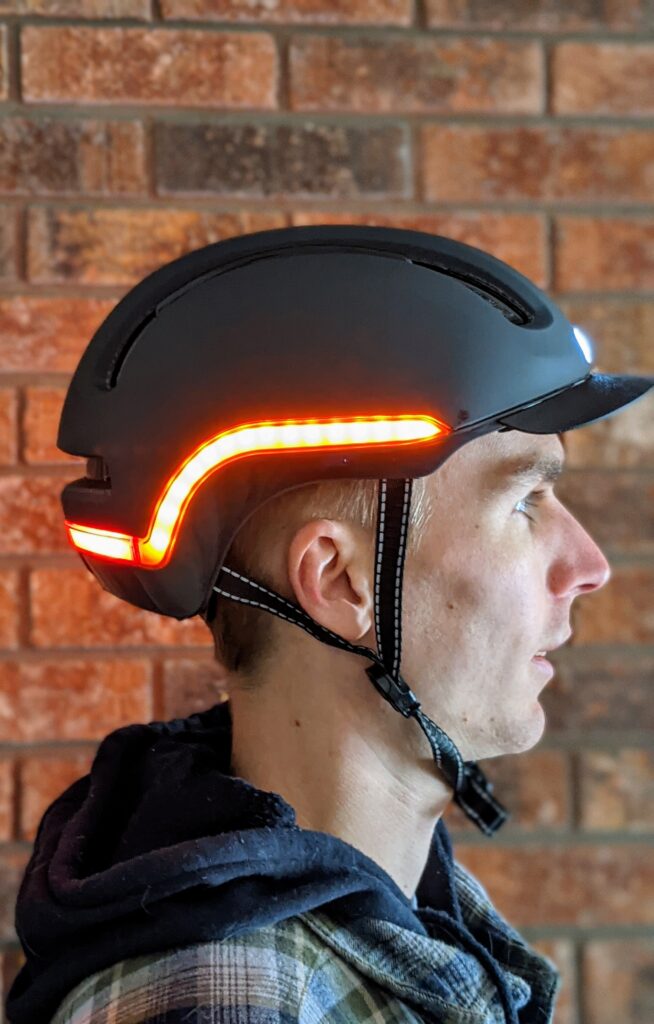 Why: Maximum Lighted Visibility
No other helmet has gone for it quite like the Nutcase Vio MIPS helmet ($159). The Nutcase lighted helmet has not only a rear light, but fairly powerful front headlights to help you be seen on the road. With rear lights that stretch all the way around the rear of the helmet, the Nutcase Vio is like having 360 degrees of lights on your head as you ride. Nutcase Vio also offers MIPS protection for your brain. We love the visibility and protection that this helmet offers.
Read our full Nutcase Vio helmet ($159) review here.
The Best Ebike Helmets Wrap Up
Companies in the helmet business have been innovating in recent years, especially with the boom of electric bikes. After all, a vast majority of those buying electric bikes today are those who haven't been on a bike in years, if not decades. Thus there has been an increased interest in helmets that don't resemble a typical bike helmet. You can still find those too, but we find that some of the most popular ebike helmets are the ones that are more unique. Along with more stylish helmets, there is a focus on innovating on helmet safety. The helmets making our best ebike helmets list are the ones that mesh style and safety. Let us know in the comments below of other helmets you are considering!