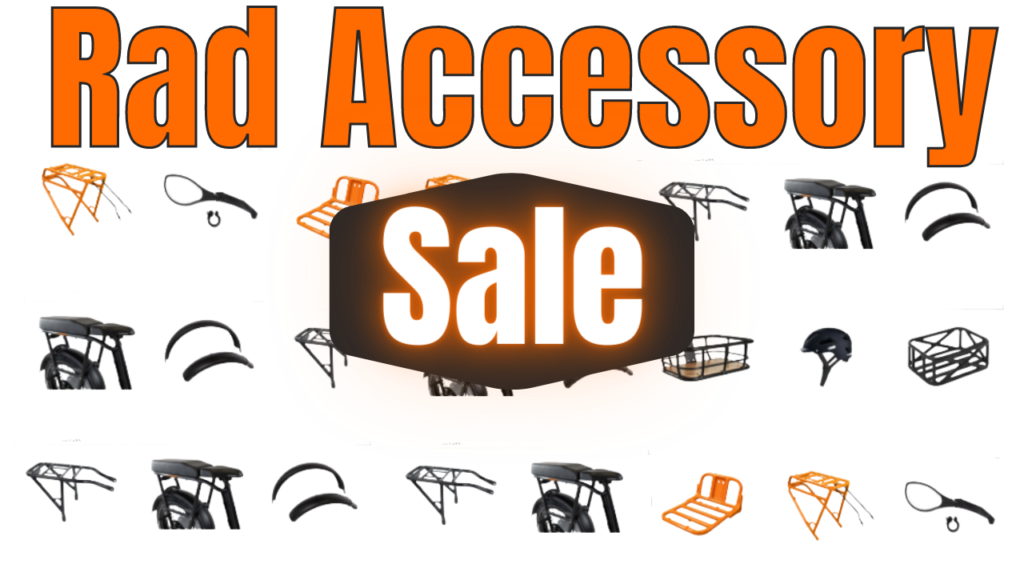 There have been few discounts offered from Rad Power Bikes this year, which is in part due to the fact that across the industry electric bikes and electric bike accessories are in high demand. However, for the month of August, Rad Power Bikes is offering $50 off a $100 accessory purchase if you use coupon code: Rad-598EGT. So if you have had an eye on a Rad accessory to outfit your Rad Power Bike and it happens to be in stock, now is a great time to pick one up. Note this sale excludes Hollywood Racks and batteries. Offer valid: 8/3/21-8/31/21.
We are familiar with and have used many of the Rad Power Bikes accessories. We highly recommend the rear rack, front rack, and baskets to get the most of your money. These are all high-quality accessories that are built to last. The basket bags and roll-top liners are also a nice addition if you want a bag that is purpose-built for the racks. Other accessories such as grips, pedals, mirrors, helmets, cell phone mounts, and water bottle holders can be purchased elsewhere where more choices are available (check out our list linked below). One of the newest accessories from Rad Power Bikes includes a battery travel case ($59) which is useful for those who are often on the go. It also helps protect the battery which is especially expensive to replace.
Save $50 off your $100 accessory purchase at Rad Power Bikes
For a full list of recommended accessories for your Rad Power Bike, check out our full ebike accessories list. Own a Rad Power Bike? Check out the Rad Power Bikes Owners Forum.