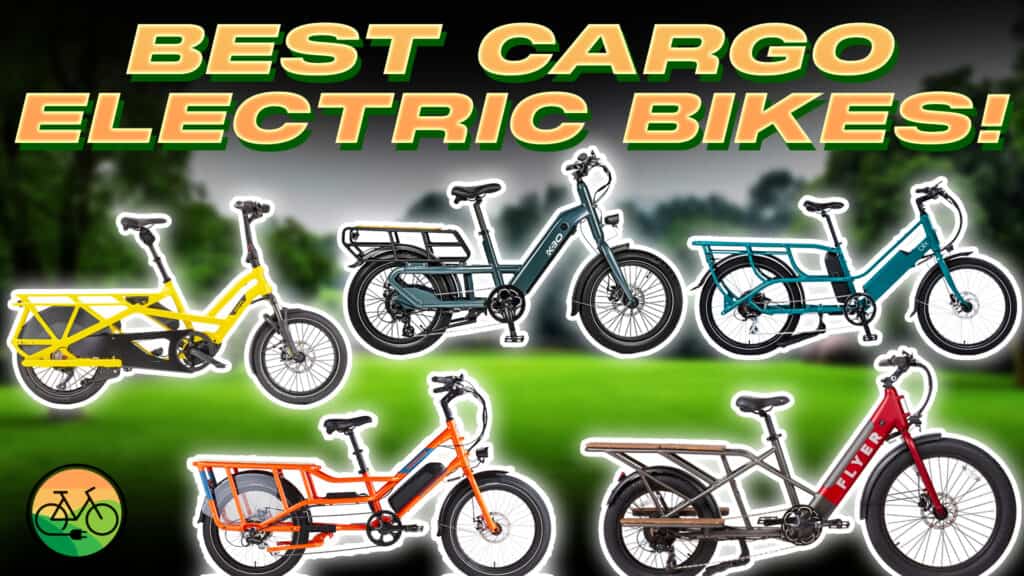 When it comes to car replacement, there is no better suitable type of ebike than cargo ebikes. In this list of the best cargo ebikes, we wanted to share our top picks for families or those who just happen to want extra cargo capacity. From power to efficiency and to affordability this list provides an array of options if you're on the hunt for your first or perhaps next ebike. Let's get into it.
Rad Power Bikes RadWagon 4 ($1,999)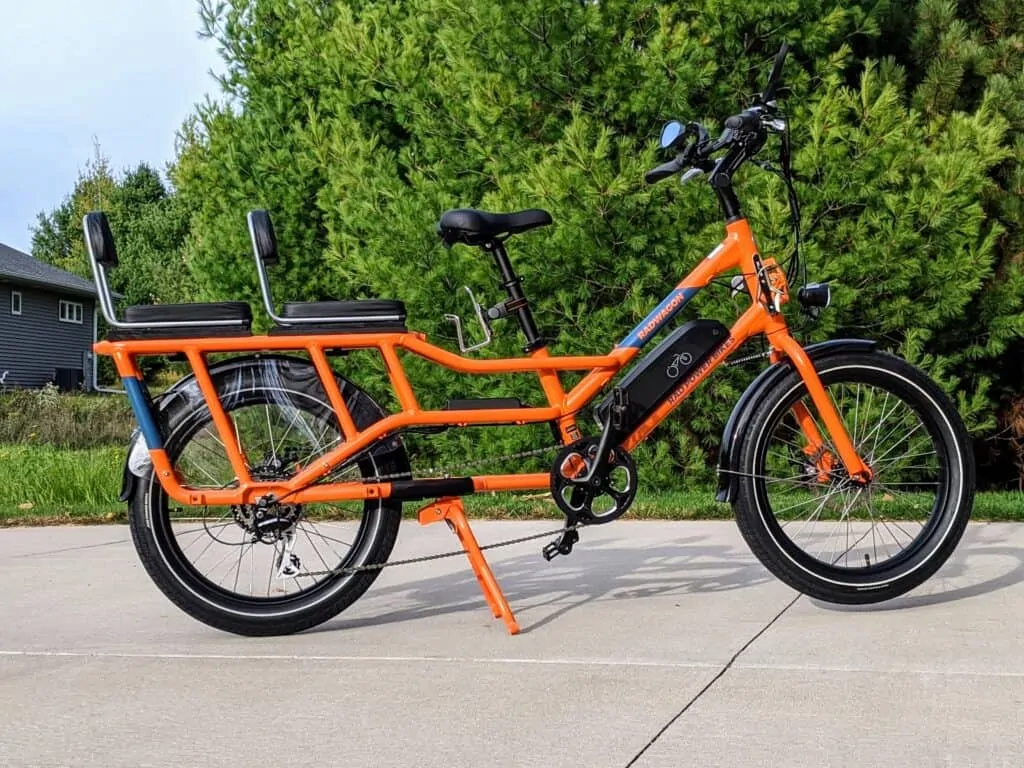 We like to lovingly call this the minivan of ebikes as it is the cargo ebike we currently use (and have since 2018!). The Rad Power Bikes RadWagon is not only still our favorite but Rad Power Bikes is the largest seller of ebikes in North America. It has heaps of accessories available to add plus it just keeps getting better and better with multiple iterations. It currently costs $1,999 and is offered in three colors: orange (above), black and white.
Like most ebikes it's heavy at 76.7 lbs which something to consider when purchasing a cargo ebike. As with all Rad Power Bikes, it is a Class 2 ebike that reaches speeds up to 20 mph with the right hand twist grip throttle or pedal assist. It has a 48V 14Ah battery (672 watt-hours). Range in our experience will be 20-50 miles depending on conditions, rider weight, cargo, throttle usage etc.
This ebike accommodates a range of riders from 5'1″ – 6'4″ and is ideal for riders with a 24.5″ – 36.25″ inseam. This is accomplished with the new telescoping seatpost on the RadWagon 4 which helps riders be in an ideal riding position while still keeping the center of gravity low.
Going the extra mile for safety this ebike meets the international and U.S. standards set by the US Consumer Product Safety Commission and the European Committee for Standardization. As it is the minivan of ebikes, accessories are a must when it comes to family-friendly rides with deck pads, child seats, caboose, front rack, small/large baskets, panniers, and much more all available for sale. The RadWagon has a 350lb total payload capacity and 120lb rear rack capacity for kids or cargo.
Check out our full Rad Power Bikes RadWagon review.
KBO Ranger ($1,699)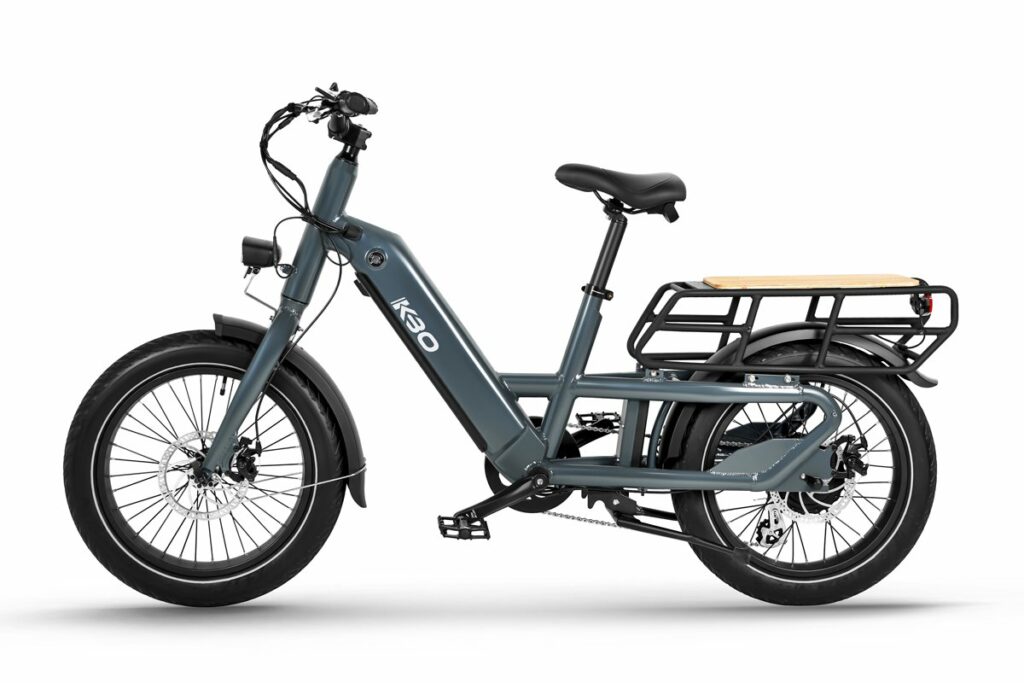 The KBO Ranger is unique for a few reasons. This powerful bugger with a shorter wheelbase is the most affordable compact cargo model on this list with a price tag of just $1,699. Enjoy a 35-60 mile ride with this 48V 17.5Ah (840-watt-hour) battery, sized a bit larger than the average.
It powers a 750-watt rear hub motor which peaks at 900 watts giving it the extra power that is needed to keep this 77lbs going up the steepest of hills. It is a step-thru design with a minimum seat height of 27.5″ and a standover height of 15.7″. Note that taller riders above 6′ tall may not be able to get full leg extension and riders may want to add an adjustable stem to further customize riding position. The KBO Ranger has a 400 lb weight capacity.
The Ranger is outfitted with a Shimano thumb shifter and rear derailleur, as well as mechanical disc brakes with 180 mm rotor. A bright LCD can be found on the handlebars and integrated lights can be found on the front and rear. This ebike does have wider tires with a thickness of 20″x3″ to make up for the fact there is no front suspension. A front rack is available for purchase along with a rear "fence" to help keep passengers safe.
Check out the full review we've done here.
Blix Packa Genie ($1,999)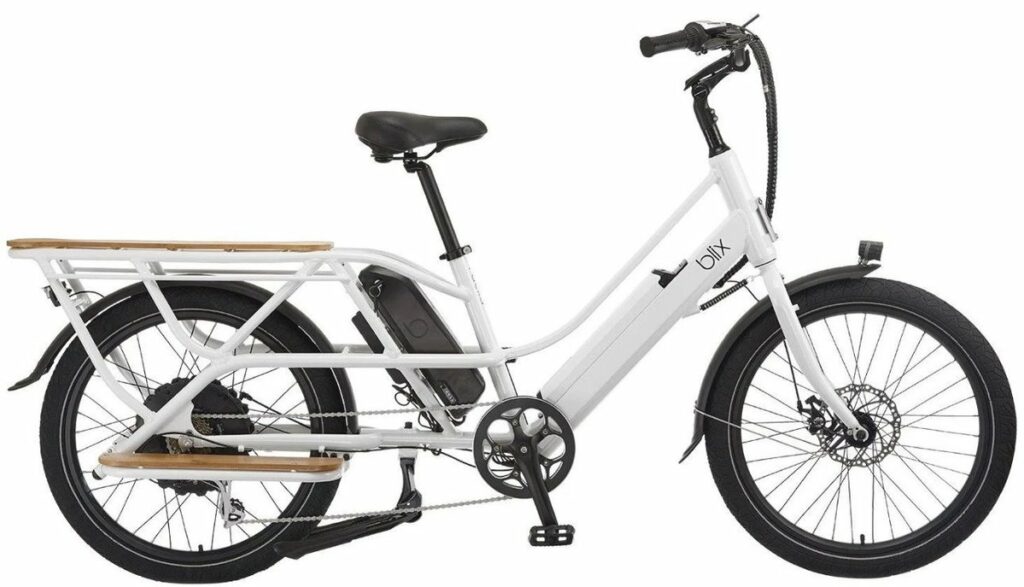 The Blix Packa Genie has some features that other cargo ebikes simply don't have on this list: a dual battery option and hydraulic disc brakes. The base model is well priced at $1,999 and the dual battery option is $2,399. Color options are white, gray, and teal.
Out of the hub motors on the list, the Blix Packa Genie is rated at the highest output of 1,350 watts (750-watt nominal). With unmatched performance, this sleek and speedy ebike fits a wide range of riders of 5'1″ – 6'3″. According to Blix, with the dual batteries (1228 watt-hours) riders can expect up to 80 miles on one charge. Compared to other models on the list, the Blix Packa Genie has a thumb throttle and a twist shifter instead of a twist grip throttle and thumb shifter.
LED lights are integrated into the front and back for safety. You'll also find puncture-resistant tires with reflective tire sidewalls, included running boards, dual kickstands, and fenders. For those looking to customize their Blix bike more, racks and baskets are available along with the "VIP Section" and rear seats. The Blix stands out for its brakes, motor and battery capacity still at a reasonable price.
Flyer L885 ($1,999)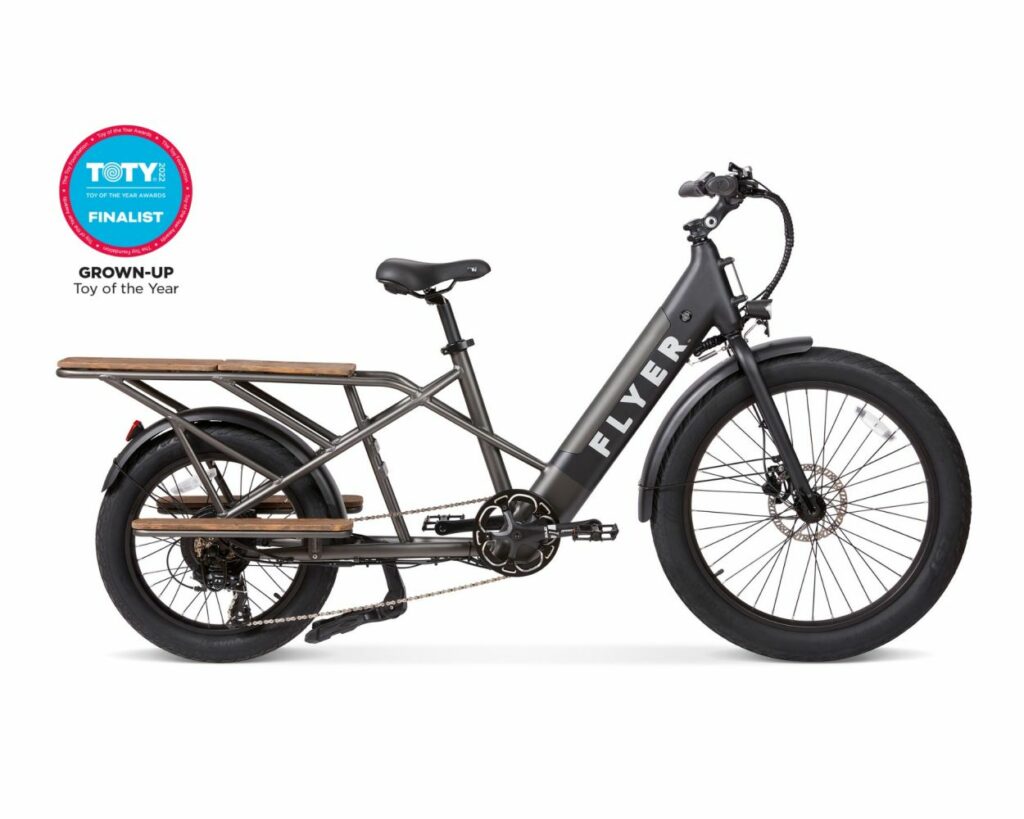 Does the Radio Flyer red wagon bring up some childhood nostalgia? To say Radio Flyer has expanded their product line since then is an understatement. The Flyer L885 is another great cargo ebike for the family and kids. A
vailable in three colors: black, red, white, and blue and three different sizes (small, medium and large) this beauty costs $1,999. Due to its various frame sizes, the Flyer L885 might just be the most accessible cargo ebike on the list fitting riders from 4'10" – 6'6″ rider.
Max rider capacity sits at 220 lbs with a total capacity of 400 lbs (the rear rack is rated at 150 lbs). The bike comes with a 48V 15Ah battery, but you can add a second battery for twice the range. It boasts a 500-watt motor with Class 2 speeds up to 20mph. Added safety features include a classic integrated bell as well as a LED headlight and taillight. Unique to the Flyer L886 is the 26″ x 3″ wide tire in the front with a 20″ x 3″ tire in the rear to help keep the weight distribution low.
Flyer has an excellent section of available accessories for the Flyer L885. Our favorite? The Kid & Cargo Carrier for its smart design for hauling kiddos and zipping it up for a grocery run.
Tern ($2,999 – $9,000+)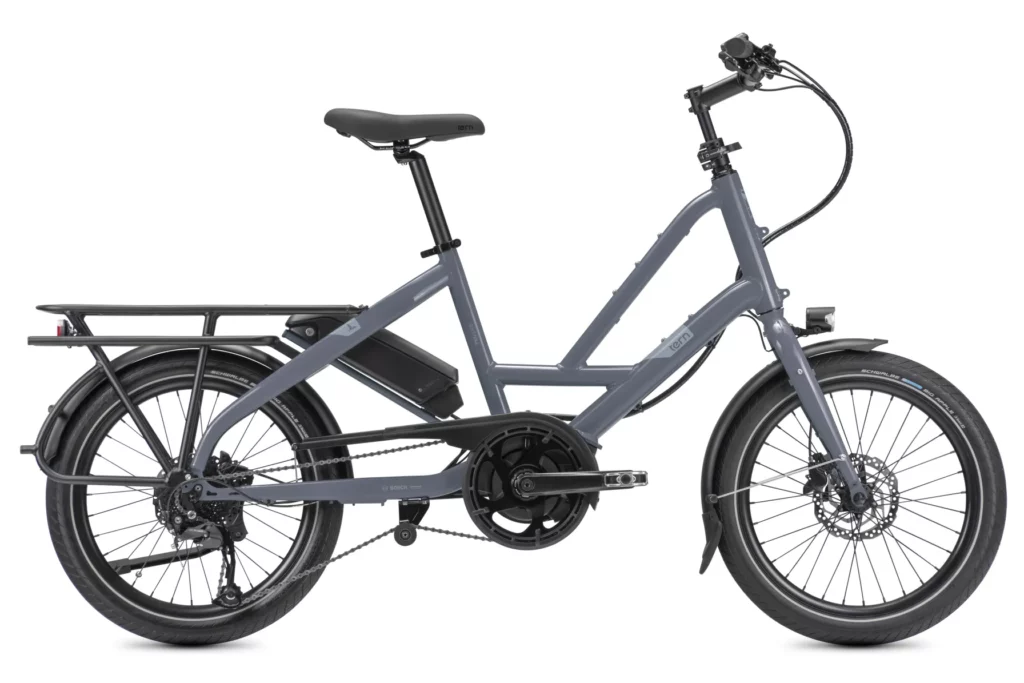 Tern is the undisputed premium cargo ebike brand with Bosch mid-drive motors. With over ten options, they're awesome ones to consider if you have a higher budget. Since tern has gone so deep into the cargo ebike category you can pick the model that suits your needs the best. The cost is significantly higher than the others on the list due but you won't be disappointed. Prices range from $2999 – $9,000+.
Best Cargo Ebikes Wrap-Up!
We are lucky to have so many options for cargo ebikes at comparatively affordable prices. Which one is the best cargo ebike for you? That's going to depend on your needs and budget but you can't go wrong with any ebike on our list. Looking for other types of ebikes? Check out our "Best Of" articles to learn more about the best folding ebikes, fat tire ebikes, commuters and more!