If you're looking for an affordable e-bike, you're in luck! In this blog post, we're going to take a look at some of the best affordable ebikes on the market today that won't break the bank. We're not talking about those unknown brands that could leave you stranded in the middle of nowhere – we're talking about well-known brands with reliable products. By the end of this article, you'll have a shortlist of the best affordable ebikes on the market today.
Best Ebikes For Your Money Video
Cheapest Folding Ebike: Lectric XP Lite ($799)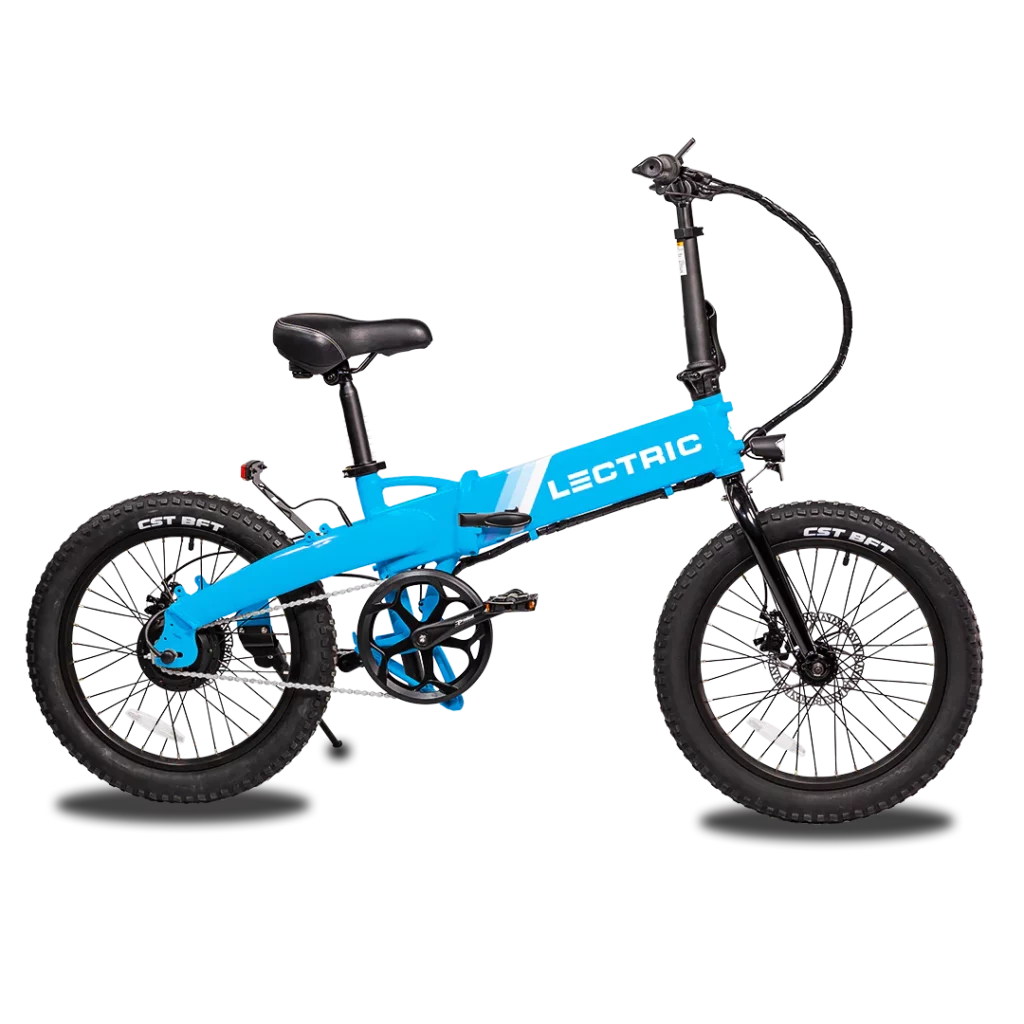 Lectric released the folding XP Lite in 2022, and it quickly became the price floor of where our recommendations begin. For $799, you're getting a 46lb folding bike that still rocks a 48-volt system. The 300-watt nominal/720-watt peak motor is still plenty zippy, and the 7.8Ah battery is a respectable size considering the price. You're getting a single-speed, and there's no front fork, but this bike is a blast to ride. And yes, there's still a throttle for speeds up to 20 mph. This bike is perfect for anyone looking to dip their toes into the world of ebikes. Plus, it's backed by Lectric's solid customer support.
Learn more in our Lectric XP Lite review.
Best ebike for the money: Lectric XP 3.0 ($999)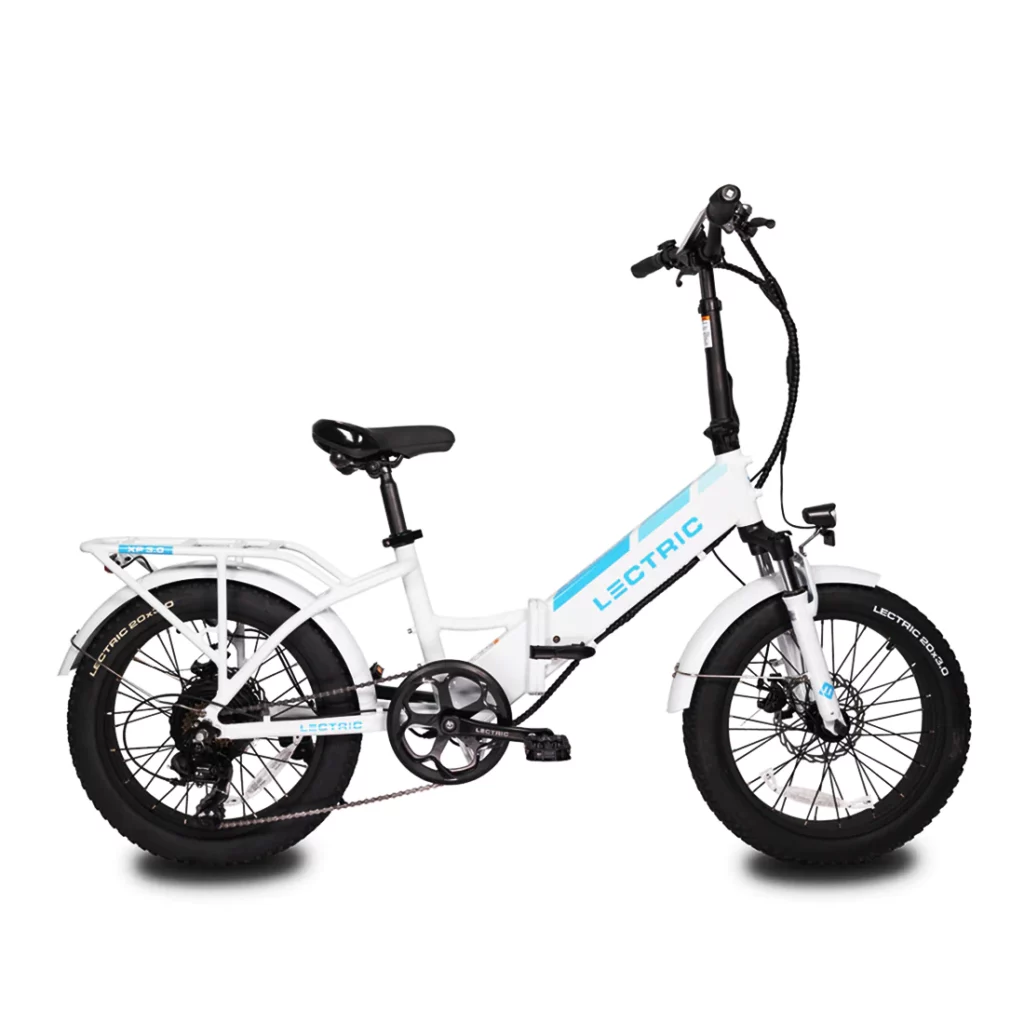 If you're looking for something a little more powerful, let me introduce you to the immensely popular Lectric XP 3.0. For $999, this bike is great for those with a bit more budget and those less concerned with weight. The 500-watt nominal, 1000-watt peak motor gives plenty of power. It includes a 10.4Ah battery, but for $200 more, you can upgrade to the long-range model, which includes a 14Ah battery.
The short of it is that the Lectric XP 3.0 is feature-packed: paint-matched fenders, a sturdy integrated rear rack capable of cargo or kid hauling, 50 mm front suspension fork, a 7-speed drivetrain, integrated lights, and wider 3" tires. These wider tires make it capable of some off-road adventures. Even more, the tires are pre-filled with Slime sealant to help prevent flats. A slew of awesome accessories are available direct from Lectric. Be sure to check out our XP 3.0 accessories video for more suggestions. One of the biggest selling points of Lectric XP 3.0 (and XP Lite) is the folding design. This means that not only is it easy to store, but it also comes nearly fully assembled. Compared to the XP lite, the XP 3.0 is capable of speeds up to 28 mph.
Learn more in our Lectric XP 3.0 review.
Best fun electric bike: Juiced RipRacer (Class 2: $999 Class 3: $1,299)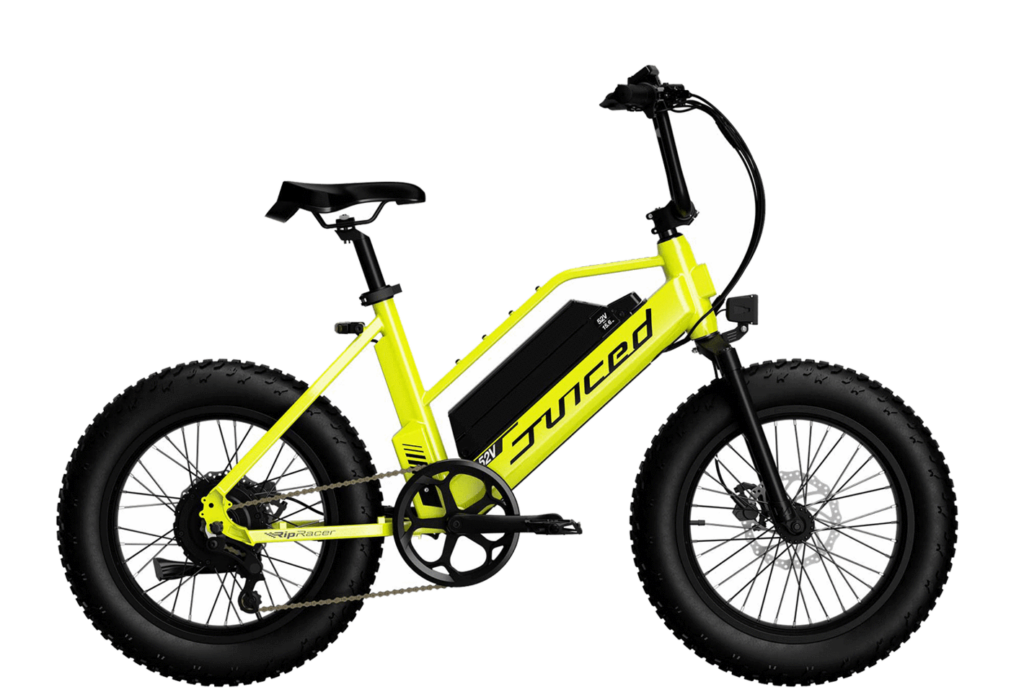 The Juiced RipRacer is described as a fun-sized fat tire e-bike. The Class 2 model with a top speed of 20 mph has been priced as low as $999, and the Class 3 model with a 28 mph top speed costs $1,299 when on sale. The bikes are both using 750-watt motors that peak at 1040 and 1300 watts, respectively. The Class 2 model comes with a 52V 10.4 battery and the Class 3 version has a 15.6 Ah battery. This is the only ebike on the list boasting a 52 volt system.
One YouTube commenter described Juiced as a sporty and performance-focused ebike brand and that their ebikes always shred. I couldn't have said it better myself. The RipRacer even has hydraulic disc brakes. The bike lacks front suspension, but the fat tires partly make up for that, and it's worth mentioning that the RipRacer is a single-speed. Still, $1000 e-bikes are rare, especially from brands like Juiced.
Learn more in our Juiced RipRacer review.
Best affordable Class-3 ebikes: Ride1Up Roadster V2, Core-5 and Turris ($995, $1,045, $1,295)
Ride1Up, offers the Roadster v2, a super lightweight, small-battery electric bike that's belt driven at $995. This is more of a niche category of ebike.
The real standout is the Core-5 priced at $1,045, which is relatively lightweight and has a 750-watt sustained motor capable of Class 3 speeds. The Ride1Up Turris at $1,295 adds front suspension, hydraulic disc brakes, and fenders for a more stylish and modern look. Both models come with integrated 12.8Ah batteries and are available in a step-thru frame. Note that swept-back handlebars come on all step-thru models.
Keep in mind that most of the Ride1Up lineup requires more assembly than usual for a direct-to-consumer electric bike.
Learn more in our reviews:
Best designed affordable ebike: Aventon Soltera ($1,199)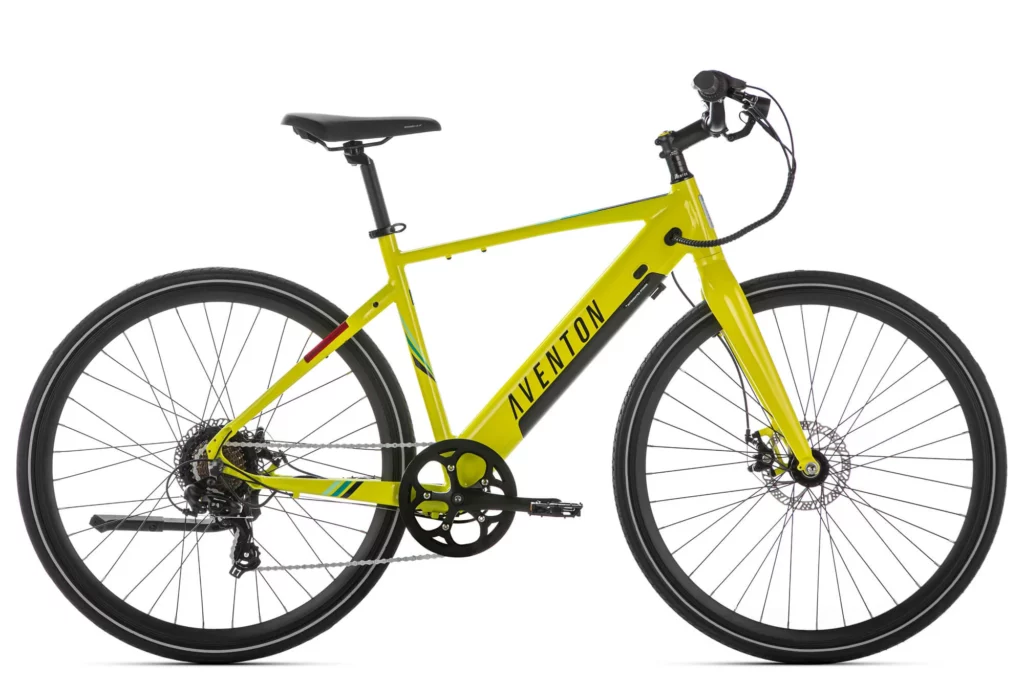 Aventon is another top brand that offers the Soltera, a quality electric bike with a 350-watt nominal motor and a 36V 9.6Ah battery. At only 43 pounds, it barely looks like an electric bike at all. Lights are nicely integrated into the rear seat stays of the frame and the tires are road size 700C*35C to maximize efficiency. Tektro mechanical disc brakes provide stopping power and a 7-Speed drivetrain allows you to climb hills in a lower gear or shift up to reach the 20 mph top speed.
Aventon is also closing out previous year's models like the Aventon Pace 350 and 500.2 for those on a budget.
Learn more in our Aventon Soltera review.
Best affordable ebike with large battery: Velotric Discover 1 ($1,299)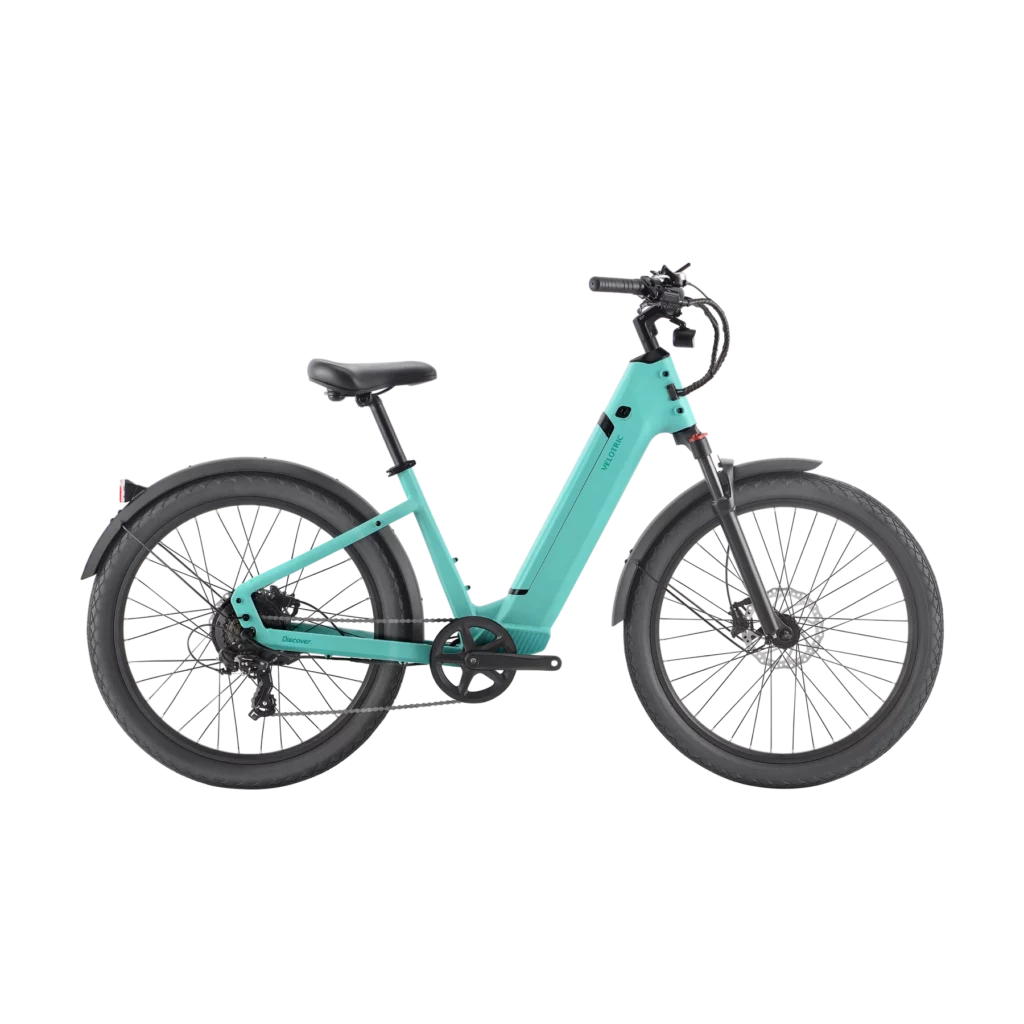 Velotric is a brand that's getting more traction and recently raised over $7 million. The Discover 1 is priced at $1,299 but can be discounted an additional $60 with our discount code. This electric bike comes in a step-thru or high-step frame and eight color choices. The integrated battery is above average for this price point at 14.4Ah, and the bike is UL 2849 certified. The 500-watt motor is plenty powerful and something we really like to see at this price: hydraulic disc brakes.
Learn more in our Velotric Discover 1 review. Also available is the Nomad 1 fat tire ebike (our review).
Best lightweight affordable ebikes: Propella 7S, SS and Mini ($849-$1,099)
For those who prioritize efficiency and lightweight design, Propella offers the 7S priced at $1,099. It has a 250-watt motor that peaks at 400 watts, a 250-watt-hour battery and is a Class 1 electric bike with no throttle. The bike weighs only 37 pounds and comes with some nice components like Shimano mechanical disc brakes. For single-speed fans the SS is priced at $999 (35lbs) and the Mini is just $849 (33lbs).
Learn more in our Propella 7S review.
Best Affordable Ebikes Conclusion
So there you have it, a list of some of the best affordable ebikes on the market today. Whether you're a beginner looking to dip your toes into the world of ebikes or an experienced rider looking for a great value, there's an ebike on this list for you.
Remember, when buying an ebike, it's important to do your research and choose a reputable brand with a solid track record like the ones above. Don't be swayed by unknown brands offering cheap ebikes, as they may not be reliable and customer support may be non-existent. With the right bike, you'll be able to enjoy all the benefits of biking without the hassle of hills and headwinds. Happy riding!