Juiced Bikes is best known for their moped style electric bikes but they aren't necessarily known for being the most affordable option on the market – until now. The new Juiced Bikes RipRacer Class 2 and Class 3 electric bike has introductory pricing of $1,399 and $1,599. This is much more affordable compared to the other Juiced models which start at $1,799 and go all of the way up to nearly $3000 for the HyperScrambler 2 and HyperScorpion. Even once the introductory pricing ends (add $100), the RipRacer will be the most affordable Juiced ebike. Unfortunately, while this ebike is being announced in late 2021, it isn't expected to ship until March 2022.
Check out our Juiced RipRacer review video below or read on for our written review.
Juiced RipRacer Review
RipRacer Electronics
The RipRacer comes in two different variations, a Class 2 electric bike (up to 20 mph) with a 52V 10 Ah (520 watt-hours) and a Class 3 electric bike with a larger 52V 15 Ah battery (780 watt-hours). New on the RipRacer is a redesigned PowerTrip battery pack. Juiced is known for their more powerful ebikes and the RipRacer is no different, peaking at 1,300 watts (750 watt nominal).
In the cockpit is a right-hand twist grip throttle and on the left you'll find the Juiced monochrome display. While it's a basic looking and small LCD display it does have some more information than we typically see on electric bikes.
The Frame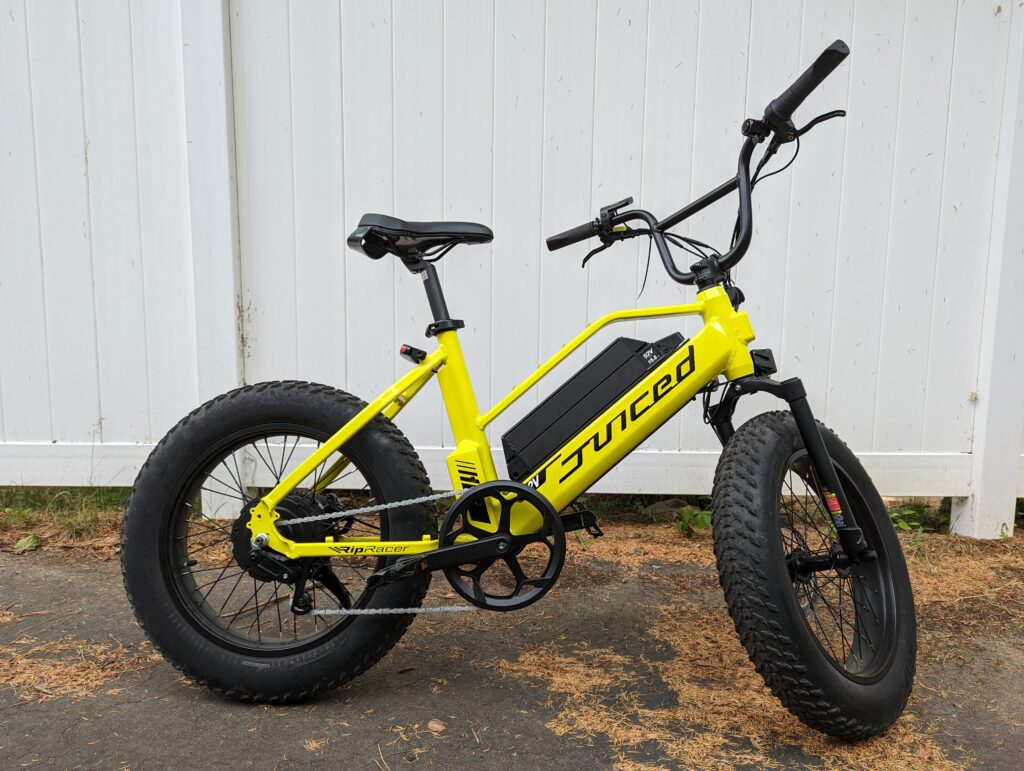 The frame design is a bit of a departure from the moped style ebikes Juiced is known for. It still comes equipped with smaller fat tires like a moped style ebike but the RipRacer has an adjustable seat. This means pedaling will be much easier. So if getting some exercise is your thing and you still want a moped-esque experience then the RipRacer might be the ticket. We also are big fans of the upright handlebars so you won't have to worry about being too hunched over while riding the RipRacer.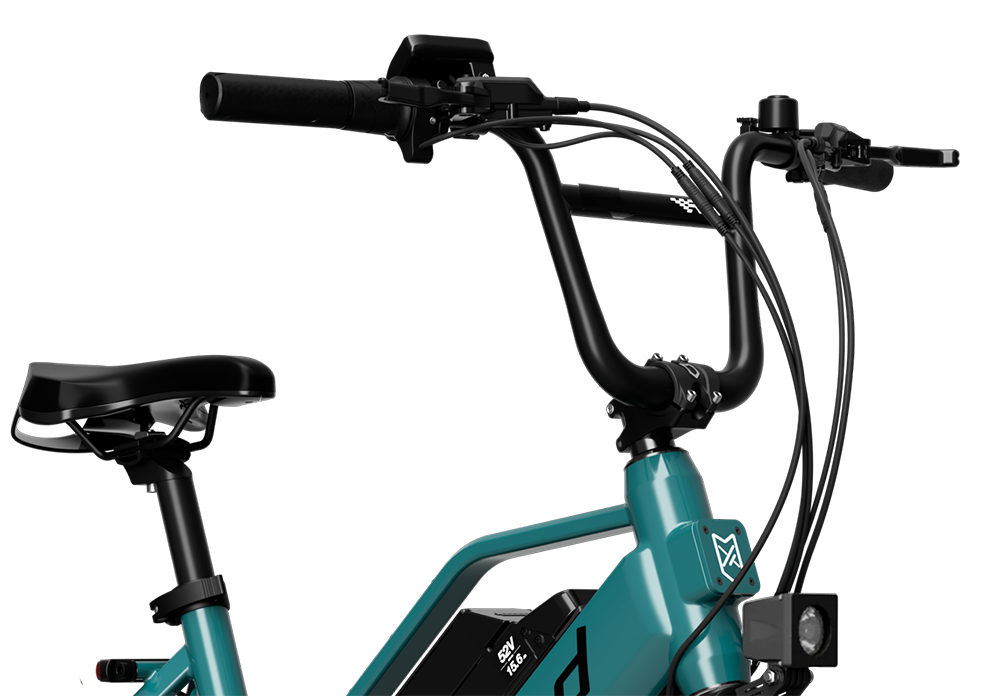 The RipRacer has a mid-step frame though this bike sits low to the ground and is meant to be accessible to a wide variety of rider heights. Speaking of the frame, this is Juiced's most lightweight ebike. And it comes in some cool colors if you ask me: noir (black), baja blue, mystic green and hi-viz yellow. Completing the look is the integrated controller though the 52V battery is mounted externally in the downtube.
RipRacer Components
The rest of the components tie the package together nicely especially considering the price. The brakes are hydraulic for increased stopping power. They will feel much better than mechanical disc brakes and will also need less adjusting.
Up front you'll find a super powerful integrated 1,050 lumen light, and in the rear there is an integrated rear light. The Juiced RipRacer has IP65 waterproofing, Most unique on the RipRacer is the Apple AirTag integration which appears to hide the AirTag into the frame. We're huge fans of this and it is a perfect example of how Juiced is always looking to make their ebikes better. It's likely we'll see other brands follow suit.
Accessories!
Accessories allow you to make the ebike your own. With the RipRacer there are a handful of optional accessories including a front rack, fenders, rear rack, rear basket, option for a passenger seat and finally a frame bag that fits nicely on top of the top tube. Fully outfitted the RipRacer turns into a utility bike that is set up for whatever kind of riding you plan to do.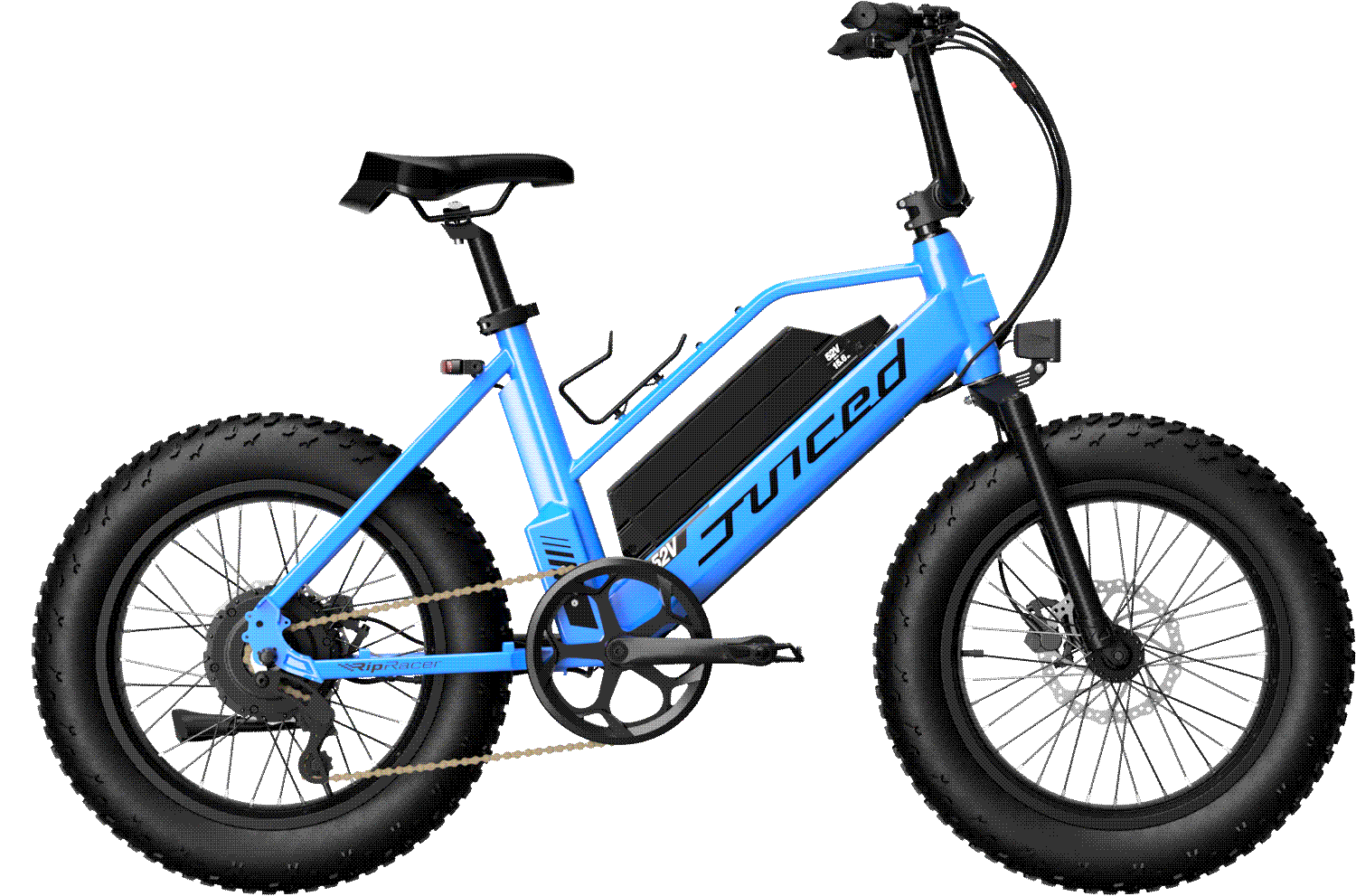 Conclusion
Juiced is a reputable ebike brand in the US and is known for their quality ebikes. I'm excited to see them offer a more budget friendly ebike to make ebikes more accessible to a broader audience. I expect this will be a popular model for Juiced and with the specs it is a compelling offering if you're looking for this type of frame. Check out the new RipRacer from Juiced Bikes.
Electonics (Battery, Motor, Display)
9
Components (Shifter, Derailleur, Fork, Brakes)
8.5
Frame (Geometry, Sizing)
8.5
Juiced ripracer pros
Affordable
Great for smaller adults
52 Volt battery
Unique color options
Class 2 and Class 3 variations
Fun to ride
Bright integrated lights
Powerful motor
juiced ripracer cons
Taller riders may not feel comfortable
Rigid front fork
Hydraulic brakes are squeaky
Battery can be difficult to install
Single-speed drivetrain