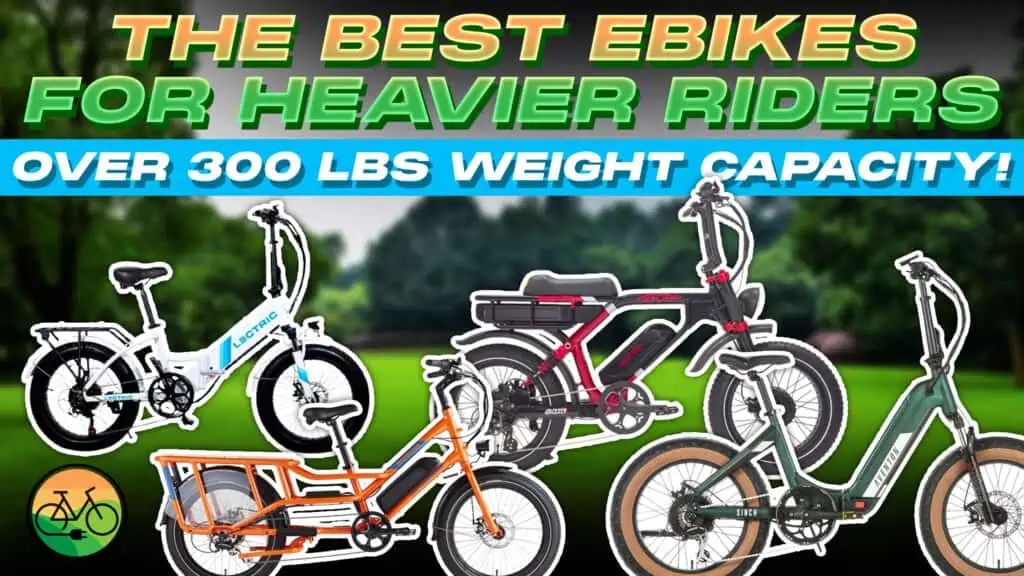 Weight does not matter when it comes to ebike options! Whether you're a heavier rider or in need of some serious cargo-hauling capabilities, below is an extensive list of many high-payload ebikes to choose from. From city to mountain, we'll help you find the right bike with all the specs you can think of.
The RadWagon 4 by Rad Power Bikes (350lb Payload)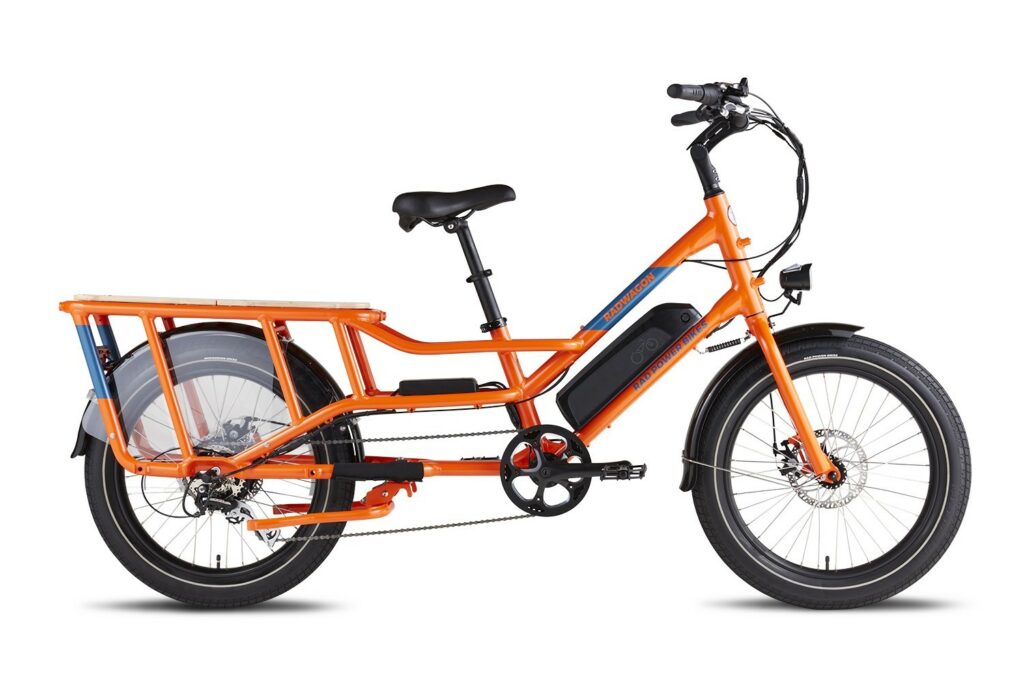 Cargo bikes are known for their high payload capacity, and the RadWagon 4 proves it. This bike can hold up to 350 lbs of weight with its longer frame and low center of gravity. It is a 750 watt motor with a 48V 14Ah battery (672 watt-hours) —Rad estimates its range to be 24-45+ miles per charge. With five levels of pedal assist, the RadWagon 4 will get you, your groceries, and your kids to your destination.
And in style too; there are three colors to choose from: Orange, Pearl, or Black. There is also an integrated rear rack for any tagalong riders or cargo. Plus the RadWagon can be customized with loads of accessories. Check out our full RadWagon 4 review to learn more.
The RipCurrent S by Juiced Bikes (300lb Payload)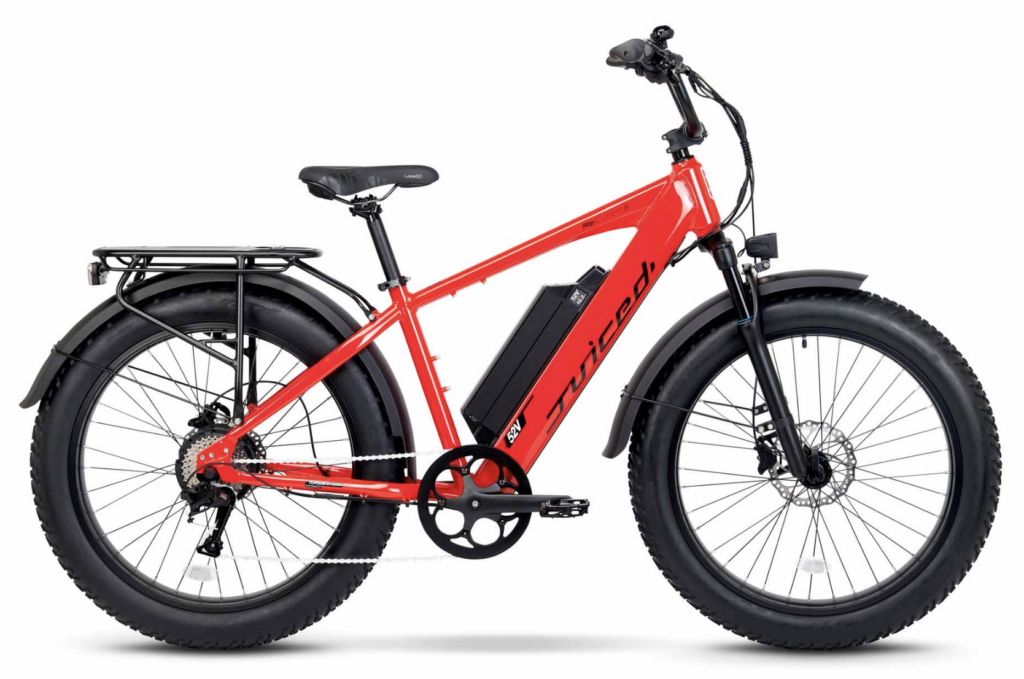 The Juiced RipCurrent S is a brand new model by Juiced Bikes that will be available for shipping in later September 2022. It is currently available for preorder now with $200 off! If you're adventuring with a partner, use the code 2BIKEOFFER for an additional $200 off your order when buying two bikes.
This model offers unparalleled power with its 1000 watt motor and 52V/19.2Ah battery (998.4 watt-hours). This gives riders an approximate 70+ miles of range on a full charge. Even with a total payload capacity of 300 lbs, this rig can reach speeds up to 28 MPH.
There are three sizes to choose from depending on your height: medium (16.5'' inseam), large (18'' inseam), and x-large (20'' inseam). The RipCurrent S is also offered in a step-thru variation. For an even more customizable option, choose from red, gray, or black colors.
The Kommoda by Cyrusher (330lb Payload)
We've recently reviewed this model before, but couldn't help but bring it up again. The Kommoda by Cyrusher is a great bike from a brand that is known for their ebike designs that stand out. This model offers a step-through frame, fat tires, and dual-suspension. It fits people sized 5'3'' to 6' and can hold up to 330 lbs.
It features a 750 watt motor with a 1,000 watt peak. It is a 48V, 14Ah battery (672 watt-hours) that estimates a 25-50 mile range. There is tons of customization available via accessories, or even on the 3.7″ colored LCD display that lets riders toggle with the advanced settings. This is a great bike for new or experienced electric bike riders—don't miss out!
Lectric Ebikes with High Weight Ratings
Lectric is an awesome brand that we at Ebike Escape will always recommend. They are known for their affordability and folding capabilities—so if you're in a pinch and on the go, check out these models:
The Lectric XP 2.0 (330lb Payload)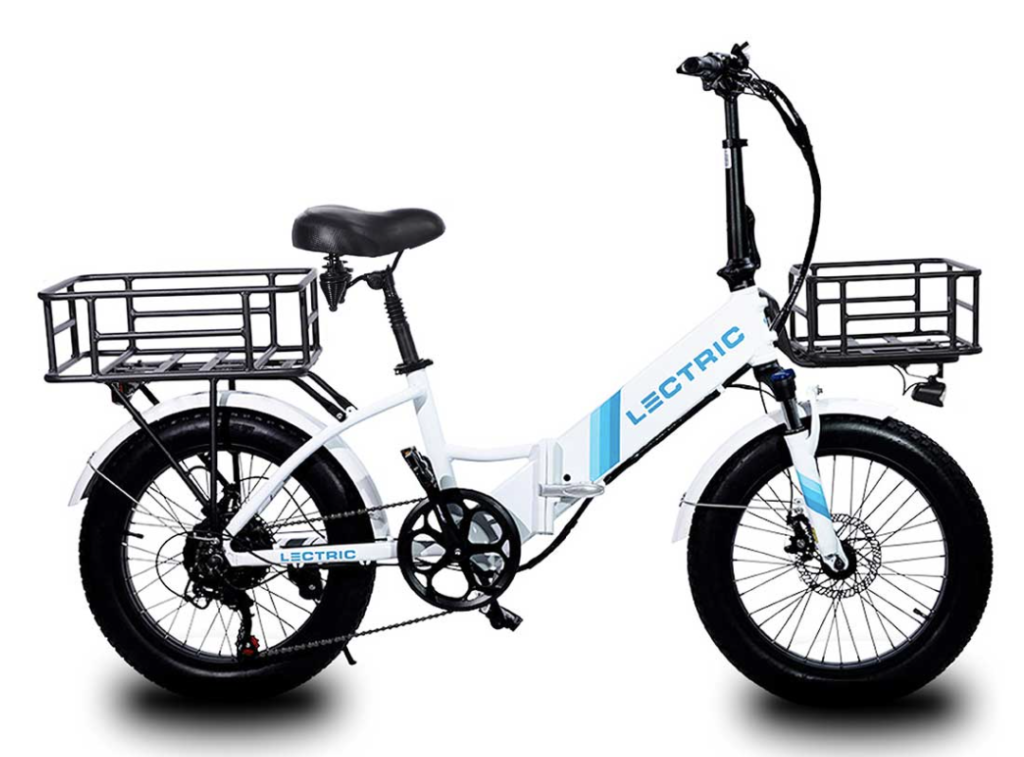 This is a fat-tire, foldable frame that gets as small as 37'' x 18'' x 28'' while also holding 330 lbs of payload. It has a 48V, 9.6Ah battery (460.8 watt-hours) and a 500 watt motor that peaks at 800 watts. It has Class 2 and 3 capabilities with five levels of pedal assist.
There's a reason that the Lectric XP 2.0 has become one of the most popular ebikes on the market today. It's a solid choice for those on a budget, plus still comes fully outfitted with a rear rack, paint matched fenders, front suspension and front and rear lights. Learn more in our Lectric XP 2.0 review or if you've already made up your mind be sure to hop over to our Lectric XP 2.0 accessories list.
The Lectric XPremium (330lb Payload)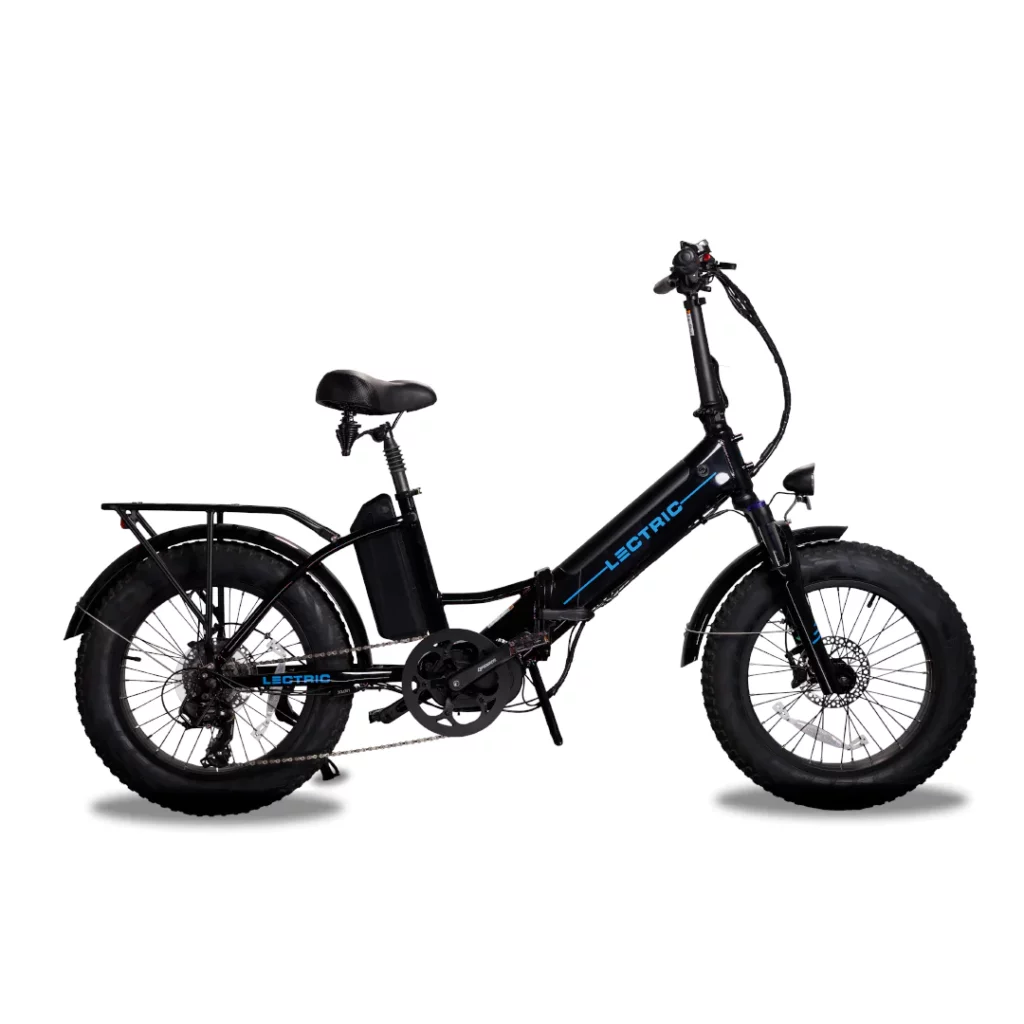 This option also offers 4″ fat tires for a comfortable riding experience, but it goes further—quite literally. The XPremium features a dual-battery system with nearly 1000 watt-hours of capacity, allowing for 100+ miles of range. It has a mid-drive motor with 500 watts of continuous power too, all built into the foldable frame. Learn more in our XPremium review.
The Aventon Brand
Every model of the Aventon brand offers a comfortable ride for heavier bikers. They have six different models with differing specs depending on what you need. An added plus to purchasing from the Aventon brand is their dealership network across the United States.
If you're looking for a rugged look with unique color options, this is the brand for you.
Aventure (400lb Payload)
This model is available in both regular and step-through options to accommodate a variety of riders. Additionally, there are small, medium, and large options. It offers fat tires and about 45 miles of range. Out of every bike on this list, the Aventure by Aventon has the highest total payload capacity. The Aventure is a popular choice for those looking for a full-sized fat tire ebike.
Sinch (300lb Payload)
This is Aventon's foldable model with fat tires that is made available in both regular and step-through options (pictured above). With 40 miles of estimated range, the Sinch is a great option for folks who take their wheels everywhere. Learn more in our Aventon Sinch review.
Level (300 lb Payload)
Once again, this model is offered with or without the step-through. The Level is a commuter bike with 40 miles of range that can reach 28 MPH. A rack and fenders are included and it features a suspension fork for added comfort on your ride.
Pace 350 and 500 Next-Gen (300lb Payload)
The Pace 350 Next-Gen and the Pace 500 Next-Gen come with or without a step-through frame, depending on your preference. They have similar designs, but the 350 is a Class 2 ebike with a 350 watt motor, while the 500 is a Class 3 ebike with a 500 watt motor. Both have an estimated 40 miles of range. Learn more in our Aventon Pace Next-Gen review.
Soltera (300 lb Payload)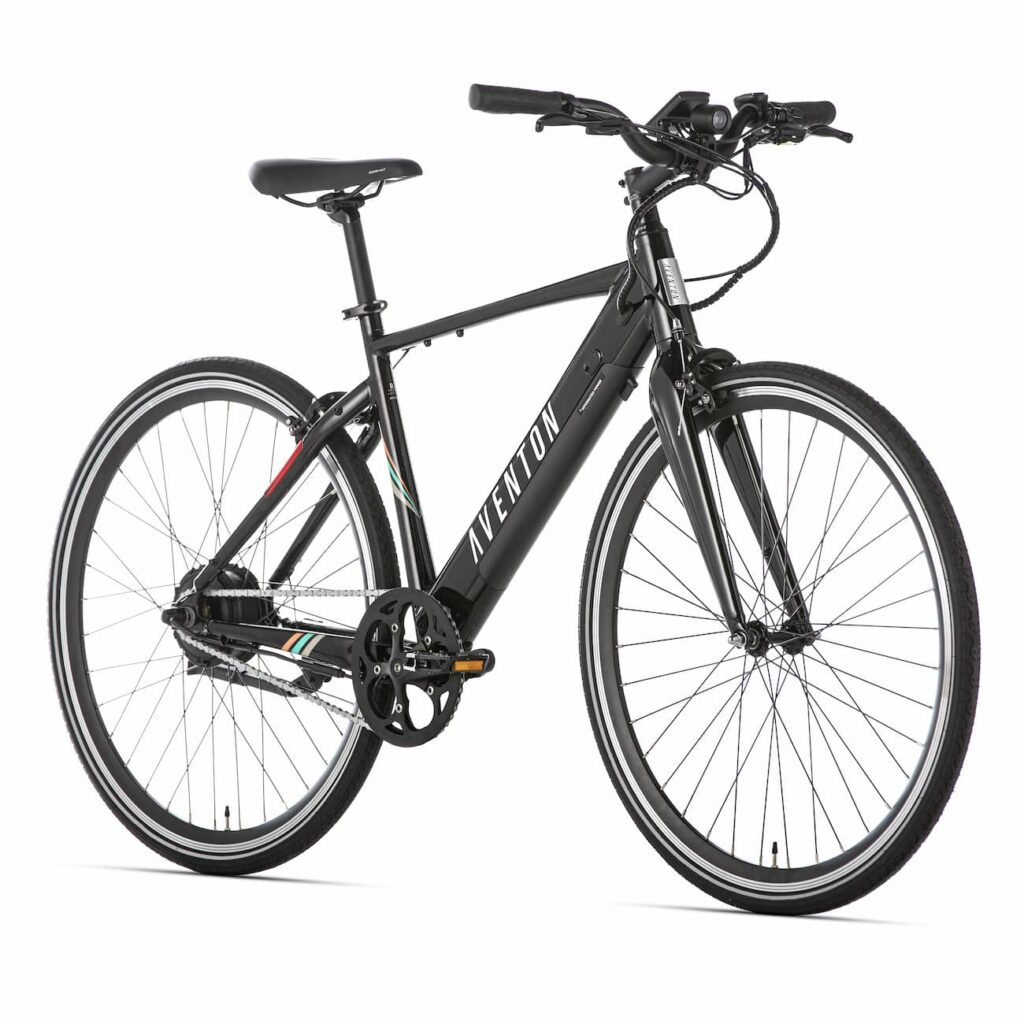 Step-through or not, the Soltera is a great lightweight option for heavier riders looking for a Class 2 ebike. It has up to 41 miles of range, integrated lights, and the option for a single-speed or 7-speed shifter depending on the terrain you expect. This is the ultimate bike for navigating the city and carrying it up the stairs to your apartment or place of work. Learn more in our Aventon Soltera review.
Ride1Up Options
Ride1Up is a great brand for your needs if you're looking for a traditional-looking ebike. They are all about value-priced commuter bikes that allow you to ride in style and comfort. Their models with 300 lb capacity are more expensive, but their other models start at just $1,095.
Prodigy (300 lb Payload)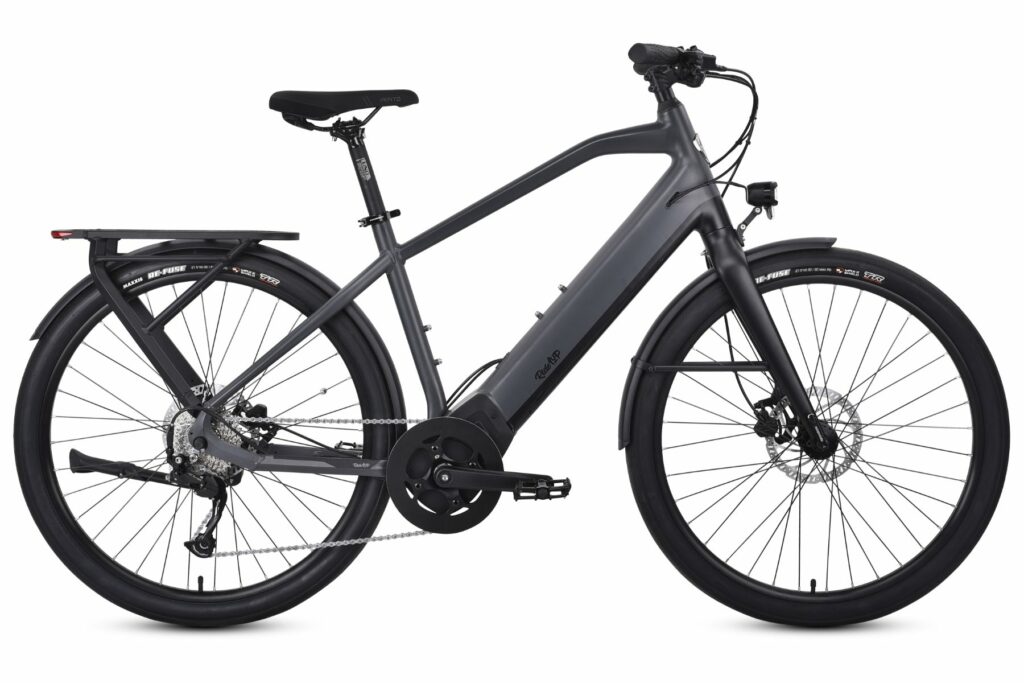 There are three frame types available on the Ride1Up Prodigy, as well as three colors. Commuters or city riders may want to opt for the step-through or high-step but the XC offers more versatility and adds front suspension. This Class 3 ebike offers a 30-50 mile range and a German engineered Brose mid-drive motor. The alloy frame is lightweight, bringing it to around a 50 lb bike that can carry 300 lbs. Learn more in our Ride1Up Prodigy review.
Cafe Cruiser (300 lb Payload)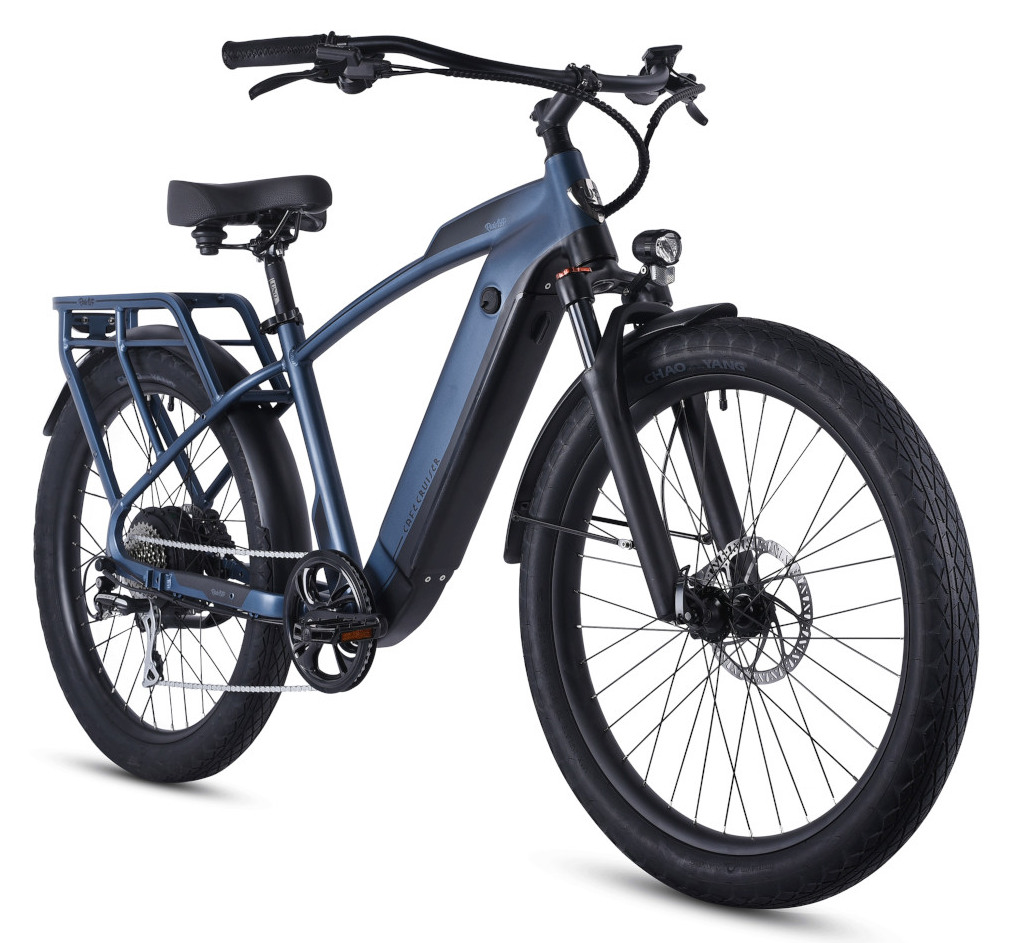 This model has slightly thicker tires in comparison to the Prodigy, and is better equipped for cargo or even kid hauling. The Ride1Up Cafe Cruiser is also a Class 3 bike that offers 30-50 miles of riding on a full charge. It features a 750-watt motor that will keep you and your cargo moving no matter the terrain.
There are two different frame styles and three color options to choose from. If you're a heavier rider interested in the Ride1Up brand, this will be the cheaper option designed for larger payloads. Learn more in our Ride1Up Cafe Cruiser Review.
Ariel Rider Options
The Ariel Brand is great for folks interested in performance and style-oriented ebikes. These have tons of power backing the rider and offer a variety of styles depending on your needs.
Kepler (300 lb Payload)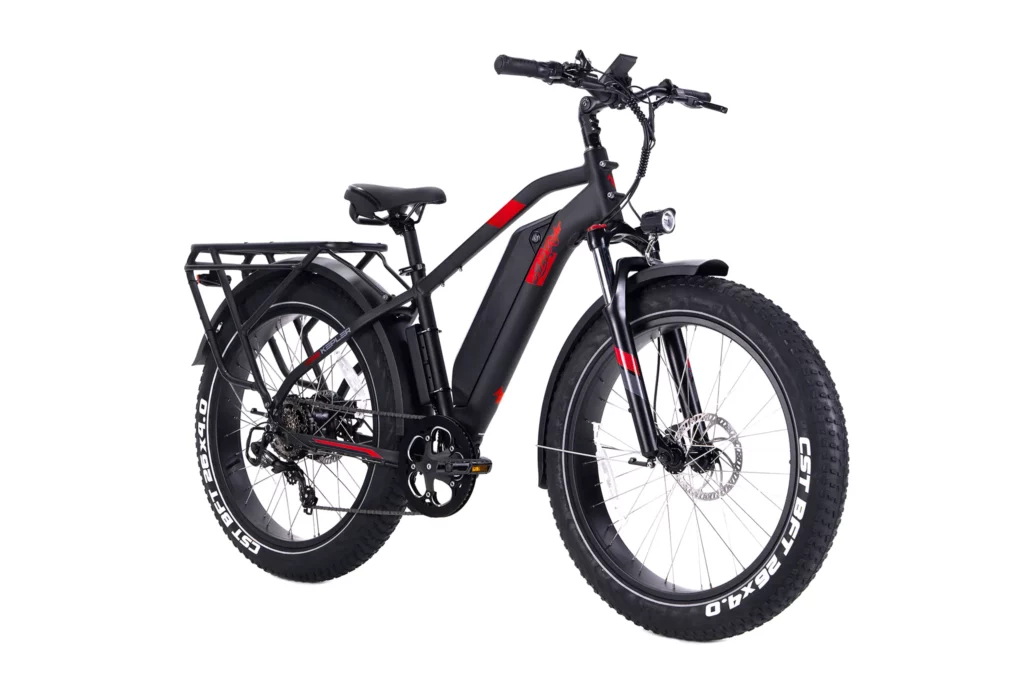 The frame of the Kepler allows for either a high-step or low-step option depending on mobility. It is a sporty style, which pairs nicely with the 1000-watt motor (1800-watt peak!) and the 52V, 20Ah battery (1,040 watt-hours). If you plan to go on longer rides and want a full-sized fat tire ebike, this is the one for you. Learn more in our Ariel Rider Kepler review.
X-Class (300 lb Payload)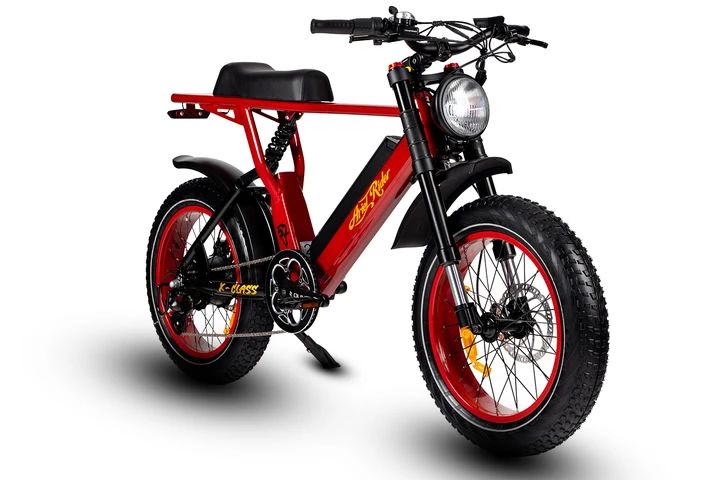 The design of this model plays around with 80s-style bikes, with a pinch of motorcycle design as well. The Ariel Rider X-Class is bold and fun, matching that of the 52V, 20Ah battery (1,040 watt-hours) that will leave you riding on and on and on. It also has an adjustable front suspension fork and rear shocks to aid in the comfort of your ride.
Grizzly (300 lb Payload)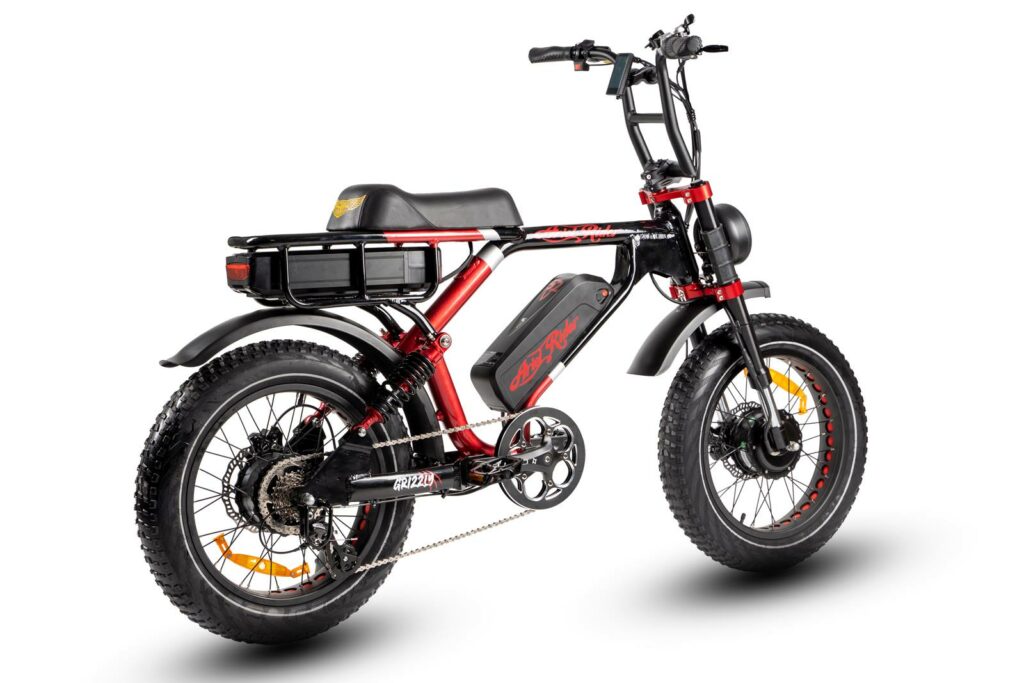 Similar to the style of the X-Class, the Ariel Rider Grizzly bike brings on a unique design with higher handlebars. It features dual suspension, dual motor, and dual battery! It is designed for adventurers in it for the long-haul and those who want a no-compromises moped style ebike.
Honorable Mentions
The following brands have a variety of models for heavier riders, or those looking for high cargo capacities.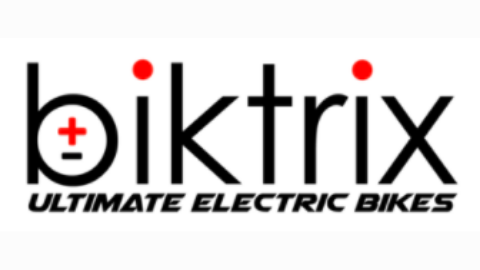 The Biktrix Brand
Many of the Biktrix models can support larger payloads. The Juggernaut Series has capacities that range from 300 lbs to 380 lbs. The Skycap 2 has 440 lbs worth of payload capacity! They all have great features that are suitable for just about anyone. The Biktrix brand comfortably supports taller riders as well and their quality customer support (chat or phone) can help you make the right decision for you.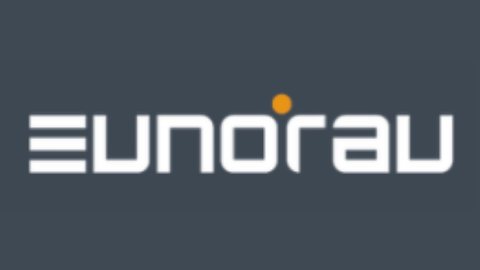 The Eunorau Brand
This brand is all about flexibility; they offer a wide range of both styles and prices to ship to addresses in North America, Australia, and many parts of Europe. You can customize the buying options too; they offer different wheels, colors, inseams, batteries, etc. upon checkout.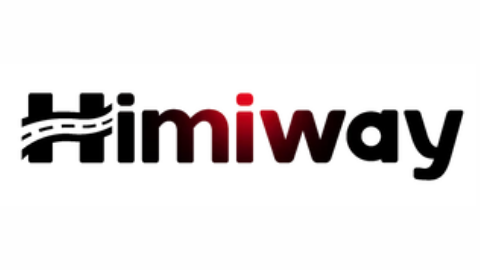 The Himiway Brand
All of the Himiway bikes are fat-tire ebikes that support high weight capacities, with a few being step-throughs. You can expect up to 80-mile range on some of these models. The cargo option, Big Dog, and full-sized Zebra can carry up to 400 lbs of weight! Get $65 off your purchase with our Himiway referral link. Learn more in our Himiway ebike reviews.
So. Many. Options.
We know, we got a little carried away on this list. But we wanted to make sure that no matter your needs, there is an ebike option for you. The amount of brands and models out there is unbelievable, and each one is doing its part to make sure anyone can hop on an ebike.