Regardless of your ebike purchasing purpose, whether it be for commuting or adventuring, the Cyrusher Kommoda is a great new option on the market. Right now, Cyrusher is taking $200 off the asking price, bringing this fat-tire beauty down to $2,199.
And if you're looking for an adventure-for-two deal, use the code KU100 for an additional $100 off the price.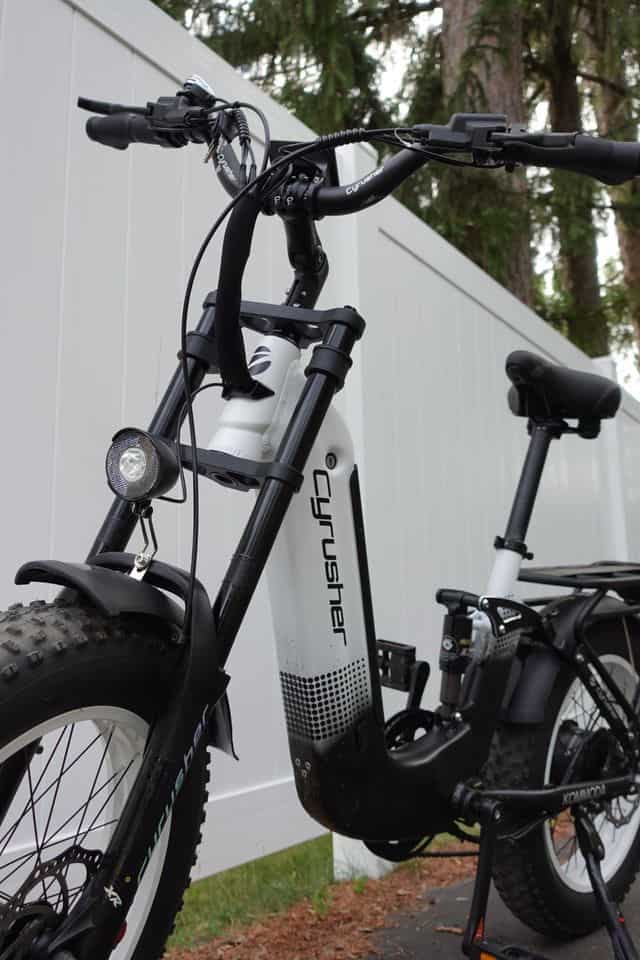 Cyrusher is a great ebike brand with plenty of options depending on your needs. We've previously reviewed the All-Terrain XF900 and couldn't wait to get our hands on the Kommoda. This company was founded in 2014 with the intention of emboldening folks of any age and ability to ride to their heart's content.
This is why the Kommoda is thoughtfully designed: the step-through feature and fat tires allow for easy mounting—in two ways. Any rider can seat themselves on the cushioned seat and pedal up hills or through the city.
Check out the detailed YouTube video below for an in-depth review of this ebike. For more information on the features and specs, keep reading!
Cyrusher Kommoda Review
Frame Design
This step-through, fat-tire rig comes in four different color options to allow for some personality to shine through: orange, white, blue, and gray. Better yet, the rims of the tires will match this color choice—a great feature that not a lot of other brands do.
The Kommoda comes in one size that is suitable for shorter riders within the range of 5'3'' and 6'. The bike will fit riders with an inseam between 24'' and 34.5''.
The weight of the bike is 74 lbs with the battery, and 66 lbs without the battery. Total payload should be no more than 330 lbs. The Kommoda is also equipped with a rear cargo rack included in the purchase, allowing for this model to have multiple functions on top of the most important: having a good time.
The handlebars were exquisitely designed for comfort and ease. They feature palm rest grips and an adjustable stem to raise the handlebars depending on your preference. Two accessible buttons have also been added to the left side for controls on the headlight and a horn that will keep pedestrians, bikers, and cars aware of your presence.
More on the display, shifter, and throttle to come!
Cyrusher Kommoda Electrical Specs
The battery on the Kommoda is fully integrated into the frame and enters the top of the frame for easy removable. It is a 48 volt, 14Ah battery (672 watt-hours) that can be charged both on and off the bike. Cyrusher estimates a 25-50 mile range on a full charge, depending on the terrain and total payload.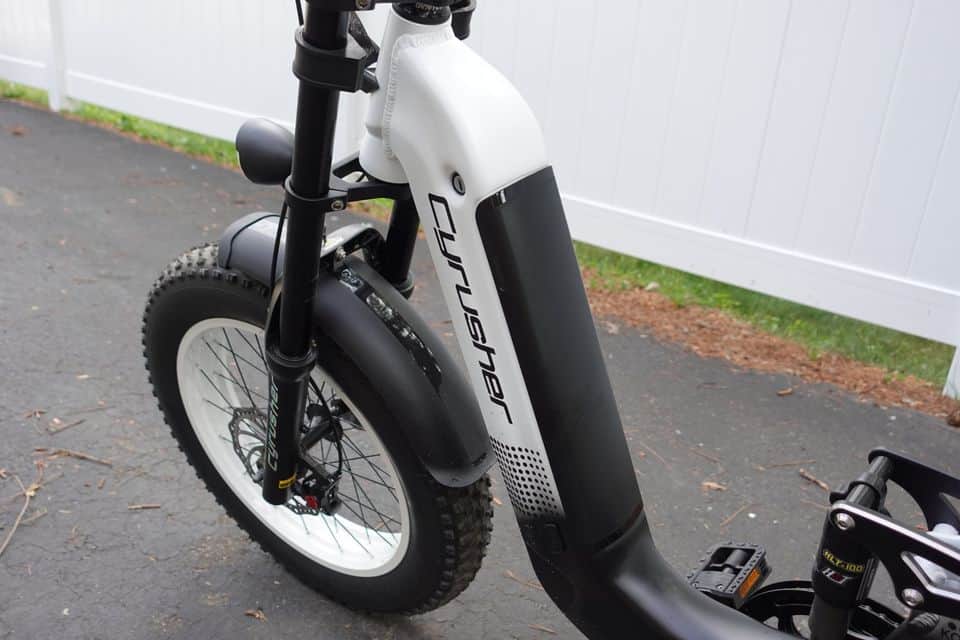 The 750 watt rear hub brushless motor, with a 1,000-watt peak, reaches 80 Nm maximum torque. There is a cadence sensor and five levels of pedal assist. The speed of the Kommoda reaches 26 mph on throttle alone when overridden in the advanced settings. The top speed can be turned down to 20 mph, making it a class 2 electric bike. Be sure to follow all local laws and regulations.
The 3.7″ colored LCD display allows each rider to enter into the advanced settings for a customizable ride. For example, your pedal assist doesn't have to stay between levels 1-5. You can change it to levels 1-3 or even 1-9! Other settings can be modified as well but be sure to check the manual before making any changes.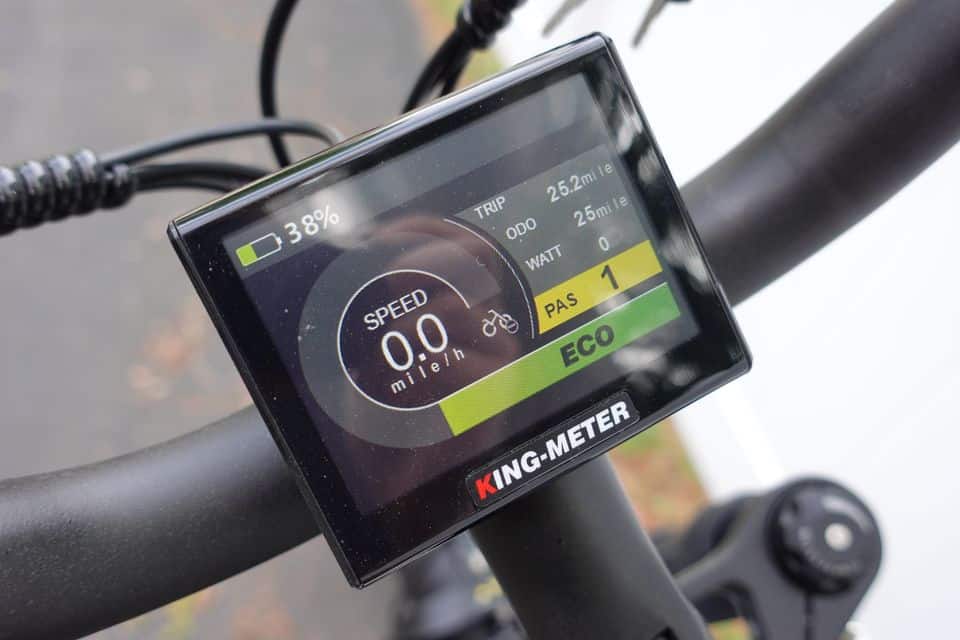 The display is easy to read and is user-friendly. It shows you the battery percentage, trip odometer, current wattage, pedal-assist, and current speed.
Additional Components
Cyrusher uses common bike brands components to ensure the safety of riders and the dependability of parts. For the Kommoda, we're looking at the Shimano 7-gear shifter and the Shimano Tourney derailleur with a barrel adjuster. It has a 14-28 tooth freewheel with an extra-large 52 tooth chainring. Zoom 180mm dual hydraulic disc brakes provide the stopping power. Hitting the brakes will also immediately cut power to the motor.
When we say this is a fat-tire bike, we mean it. The Kommoda has Chaoyang puncture-resistant tires that are 20'' x 4''. They are good on sand, snow, gravel, and especially pothole-riddled pavement.
This nicely complements the incredible motorcycle-style spring suspension front fork with 110mm of travel and preload adjustment. Paired with a rear spring suspension, any divot on your path is no match for the Kommoda's comfortable riding features.
While this isn't a folding bike, Cyrusher did include foldable pedals which helps ever so slightly if you need to fit the bike into a tight space.
Accessories
We've already mentioned the large rear rack that comes with this bike for cargo purposes. Additionally, you'll see that this ebike comes with front and rear plastic fenders to protect you from your path's elements.
One of our favorite parts is the rear brake light included on this rig. This is one safety feature that makes a huge difference on the streets and trails. It's more powerful than we see on many ebikes, plus it just looks cool. It's paired with a front headlight that also runs off the bike battery.
Comfort on Two Wheels
The Cyrusher Kommoda will easily become a top-contender for anyone looking for a dual-suspension ebike. The fat tires, step-through frame, and dual-suspension features will keep all riders comfortable, no matter what adventure you seek to take on. Plus, like all Cyrusher ebikes it's a unique-looking ebike bound to turn heads.
Learn more about the Cyrusher Kommoda here. If you want to customize your electric bike, check out our favorite accessories that can be added to most brands!
Electronics (Battery, Motor and Display)
8.5
Components (Shifter, derailleur, fork)
8.5
Color options, unique styling with an accessible frame
Powerful motor
Large front chainring
Integrated horn
Comfortable front and rear suspension
Nice display and rear light
High payload capacity
Would have liked to see larger battery
Shimano components could be better