If you want a comfortable ebiking experience to enjoy your beautiful town, look no further than GEN3's "The Stride." You get a ton of perks when purchasing this $1,199 step-thru bike: free shipping, fenders, rear rack and of course endless exploration all delivered right to your door.
At time of writing their summer sale, ending July 31, 2022, all in-stock ebike options are only $899 with the code SUMMER. a free accessory kit. This makes it one of the best value ebikes on the market today.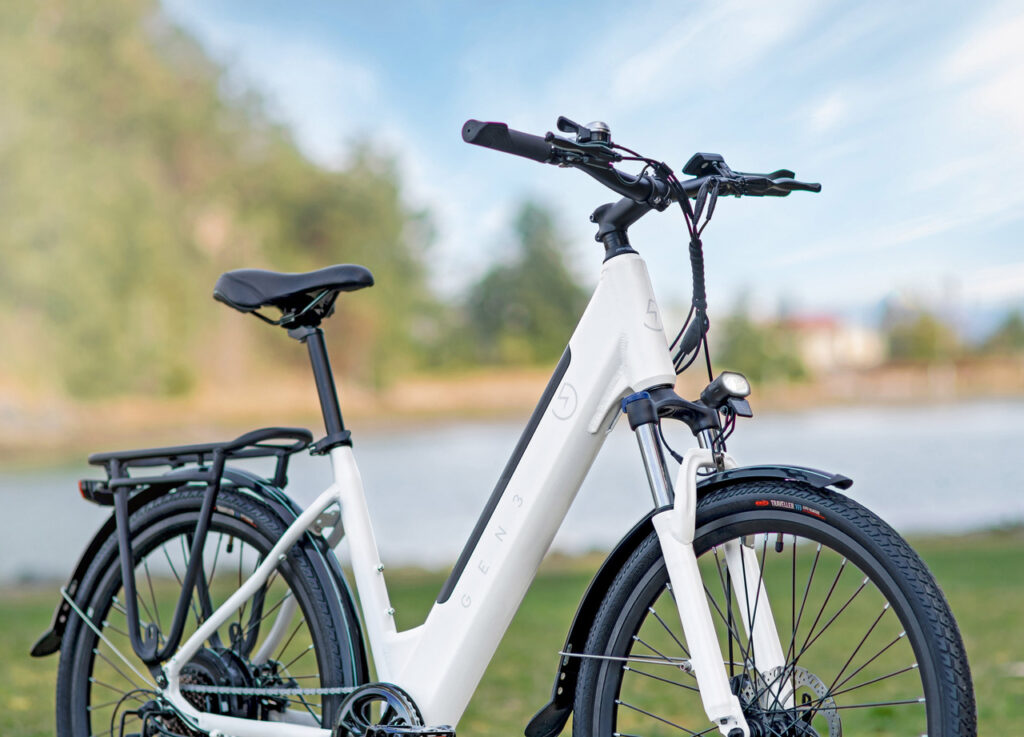 GEN3 is known for its dedication to a carbon-free future and is proud to offer more affordable transportation options without sacrificing value. They are based in Bellevue, Washington (US based support!) and are relatively new to the ebike realm, joining the mission of electric fun in 2021. But this doesn't mean that their products are lacking—they've designed sleek options for any kind of rider.
Now, The Stride is breaking into new territory to offer riders an electric commuter bike with an athletic feel. The step-thru frame is great for folks with limited mobility, or those just wanting an accessible ebike. GEN3 notes a height range of 5' to 6'5'' though those above 6′ may not be able to get full leg extension.
Keep reading for a full run-down of The Stride and everything it has to offer! A video review is also available below for a live-action evaluation.
GEN3 Stride Review
Frame Design
The Stride by GEN3 is perfect for anyone interested in commuting to work, running errands, or just biking around town on a nice day. The single-size, step-thru-style frame allows anyone to mount easily onto the memory foam seat. It offers the most upright riding position than any of GEN3's other models, and the handlebars include palm support grips. Those who want even more of an upright riding position might want to consider an adjustable stem.
It is also a fairly lightweight frame compared to some ebikes, sitting at 56.4 lbs, allowing apartment dwellers to more easily carry it up or down stairs. The maximum rider weight is 275 lbs, with 55 lbs of cargo capacity on the included cargo rack.
The Stride comes in a simple, clean white color with black accents.
Electrical Specs
GEN3 estimates the Stride's battery to have a 40-mile range. The 48V, 10.4Ah battery (500 watt-hours) is fully integrated into the frame. The battery is also UL-certified for your safety, meaning it meets the UL 2271 safety standard for batteries in light electric vehicles. A full charge will take approximately 5 hours.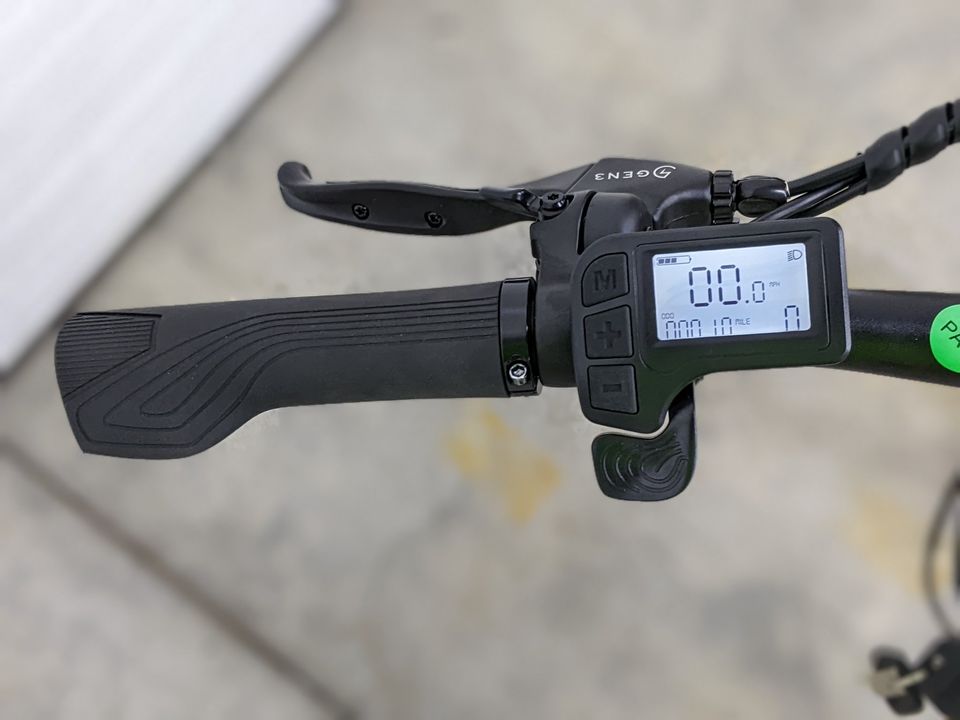 The range is expected to differ depending on the weight of the rider and the terrain of the ride but the lighter weight frame and thinner tires work in your favor in extending range.
The Stride is a Class 2 ebike with a rear hub motor from Bafang. It is rated at 500 watts, but reaches 900 watts at its peak. It has a 65 Nm torque with 1-5 levels of pedal assist, engaged with the cadence sensor.
As seen in the review video, the throttle is quite powerful to get you where you need to be on time. You can go 20 mph without putting in any effort on your journey. What's different about this ebike from many other brands is the left-handed thumb throttle sitting just below the display.
The LCD, small backlit display sits on the left-hand side of your handlebars showing the battery level indicator, speedometer, odometer, trip meter, 5-level pedal assist, and headlight controls. For your safety and peace-of-mind, the display can be password protected to prevent anyone other than you from taking The Stride for a spin.
Integrated headlights and a battery-operated taillight are additional features that will help keep you safe on the roads.
Mechanical Components
The Stride features the Shimano SIS Index shifter, Tourney derailleur, and freewheel (14-28 T) set to provide 7 speeds of comfortable riding. Shimano is a trusted brand in the bicycle industry and this set is perfect for a commuter bike of this level.
The brakes on this electric bike are custom to the GEN3 brand but they do include motor cutoffs. They are mechanical disc brakes. The rear rotor is 160mm and the front rotor is 180mm.
For tires GEN3 has set the Stride to feel at home on the city streets with thin (relative to many ebikes) CST Traveler tires. They are 26″ x 1.75″ and have been tested for durability on wet and dry streets. Increased comfort is provided by the front suspension fork with 50 mm of travel. View the full specifications on the GEN3 website.
Included Accessories
As mentioned, there are a few great accessories that come with the purchase of this bike. Included are the front and rear lights, the TIG welded anodized black aluminum cargo rack, and plastic fenders on both the front and rear tires.
GEN3 is also currently offering a free accessory bundle with the purchase of a new Stride. You can get $99.99 of accessories for free: water bottle, multi-tool, pump, cell phone holder and a bike lock.
And if you want to go on rides longer than the estimated 40 mile range, consider purchasing an additional battery pack for $349 to take with you.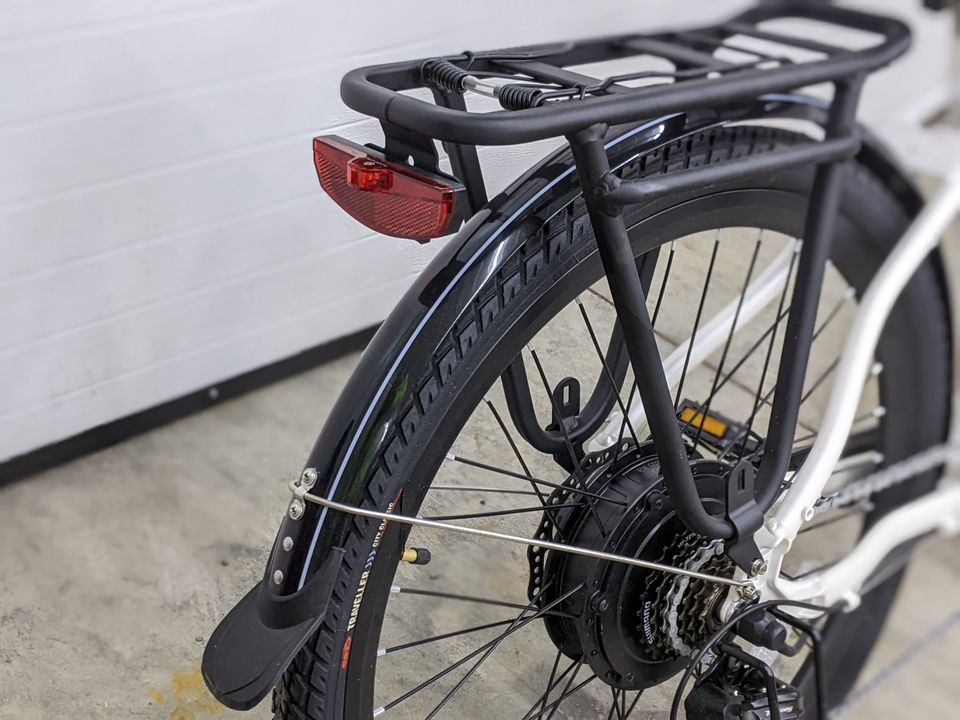 The Stride by GEN3: Not Just Your Average Commuter Ebike
Inspired by the electric revolution, GEN3 is upping the ante on commuter electric bikes that are incredibly affordable. Every detail is well-thought-out; from the integrated battery and step-thru frame, to the left-handed thumb throttle and powerful 500-watt nominal motor.
While the company is newer to the ebike game, we were impressed by this bargain-priced electric bike. If you're just getting into ebikes, GEN3 is a brand worth checking out. They also offer a folding ebike, fat tire ebike and a high-step commuter – all priced under $1,199.
Learn more about The Stride and GEN3 here. Make sure to take advantage of their summer sale ending on the 31st of July. For more reviews like this one, check out Ebike Escape's Review Page.
Gen3 Stride Review: An Affordable Step-thru Ebike!
Electronics (Battery, Motor and Display)

8.5
Components (Shifter, derailleur, fork)

8
Fantastic price
US Support team
Battery size (considering price)
Bafang Motor power (considering price)
Step-thru frame with integrated battery
Fully accessorized
Battery-powered rear light
Newer company (as of 2022)