Himiway has been riding the wave of immensely popular fat tire ebikes. It all started with the Himiway Cruiser, but Himiway released new models to cater to those wanting something a little bit more (or different!). Enter the Himiway Zebra and Himiway Zebra Step-Thru priced at $1,999 . Read on for our Himiway Zebra written review or check out our full video review below. And remember you can save $65 when you use our affiliate link.
Himiway Zebra Video Review
Frame Design
The Himiway Zebra comes in high step and step-thru variations offered in grey and white respectively. We chose to review the step-thru for its accessibility. The step-thru design on the Zebra looks cleaner and we prefer it compared to the Himiway Cruiser Step-Thru which is more of a mid-step. Additionally, the battery is hidden nicely in the frame on the Zebra.
It's a heavy bike at 88 pounds but the frame feels overbuilt with an impressive weight capacity of 400 lbs. Recommended heights on the step-thru Zebra are 5'1″ – 6'2″ (high step is 5'2″ – 6'2″). As a rider at 6′ tall the step-thru fit well. The rider position is more aggressive or forward-leaning compared to other fat tire ebikes so those considering this ebike may want to consider an adjustable stem.
Zebra Battery, motor, display
One of the biggest selling points of the Zebra is the battery capacity. The Himiway Zebra has a massive 48V 20Ah battery (960 watt-hours) and Himiway states they are using Samsung and LG cells. The battery is so large that it is slightly difficult to remove it from beneath the frame (see video above). An average ebike battery size is about 14Ah so if range is a priority then the Zebra is worth a closer look. Himiway notes a range of 60-80 miles though that is a bit optimistic given the average rider. Still, the Zebra might give you the longest range of any fat tire ebike at this price point.
New on the Himiway Zebra is an upgraded 750 watt motor with 86Nm of torque which likely peaks around 1,000 watts. The motor is advertised to provide high-temperature resistance and better heat dissipation. Hopefully, this leads to many miles of trouble-free riding.
Out of the box, the Zebra has a top speed of about 21 mph though it can be modified to hit a top speed of about 25 mph with the right hand twist grip throttle or pedal assist (cadence sensor). Instructions are on Himiway's website or in the manual. Be sure to follow all local laws and regulations.
Himiway includes a simple center mounted monochrome display, We liked how easy it was to read even on a bright day. One of the nice customizations in the display is the ability to adjust the power levels at each pedal assist level. This allows you to tune the bike to your preference, such as pedal assist level 1 giving you 10% or 20% of the power of the motor.
Components
On the right side of the handlebars is an entry-level Shimano 7-speed SIS Index thumb shifter which is paired with a Shimano Altus rear derailleur. These are standard components we see on ebikes from $1,000 to $2,000.
For stopping power are Tektro hydraulic disc brakes with Tektro 180 mm rotors. They provide plenty of stopping power and perform better compared to mechanical disc brakes. We've been really happy with the feel of the Tektro brakes. Motor cutoffs are included to immediately cut power to the motor when you squeeze the brakes.
In the rear is a 14-28 tooth rear freewheel and up front is a 46 tooth single-walled front chainring.
The Zebra comes equpped with knobby 26″ x 4″ capable of handling any kind of terrain. Additional comfort is provided by the front suspension fork with lockout and adjustment.
Included in the purchase price of the Zebra are front and rear lights that run off the main battery. For offroad adventures or traveling in the rain, Himiway has included both front and rear plastic fenders. The rear rack is wide, offers a wood deck with Himiway branding and has an impressive payload capacity of 150lbs. See the full list of components on the Zebra and be sure to check out our electric bike accessories list for more ideas on how to customize your ebike.
Himiway Zebra vs Himiway Cruiser
There are a few key differences between the Himiway Zebra and Himiway Cruiser. Below we've highlighted the key differences. The Himiway Zebra not surprisingly comes out on top but we do believe the Himiway Cruiser has a more upright riding position compared to the Zebra. See image comparison below.
| | | |
| --- | --- | --- |
| | Himiway Cruiser ($1,599) | Himiway Zebra ($1,999) |
| Battery | 48V 17.5Ah (external) | 48V 20Ah (integrated) |
| Brakes | Mechanical Disc Brakes | Tektro Hydraulic Disc Brakes |
| Frame | External battery, Mid-step or high step | Integrated battery – Step-thru or high step |
| Weight Capacity | 350lbs | 400lbs |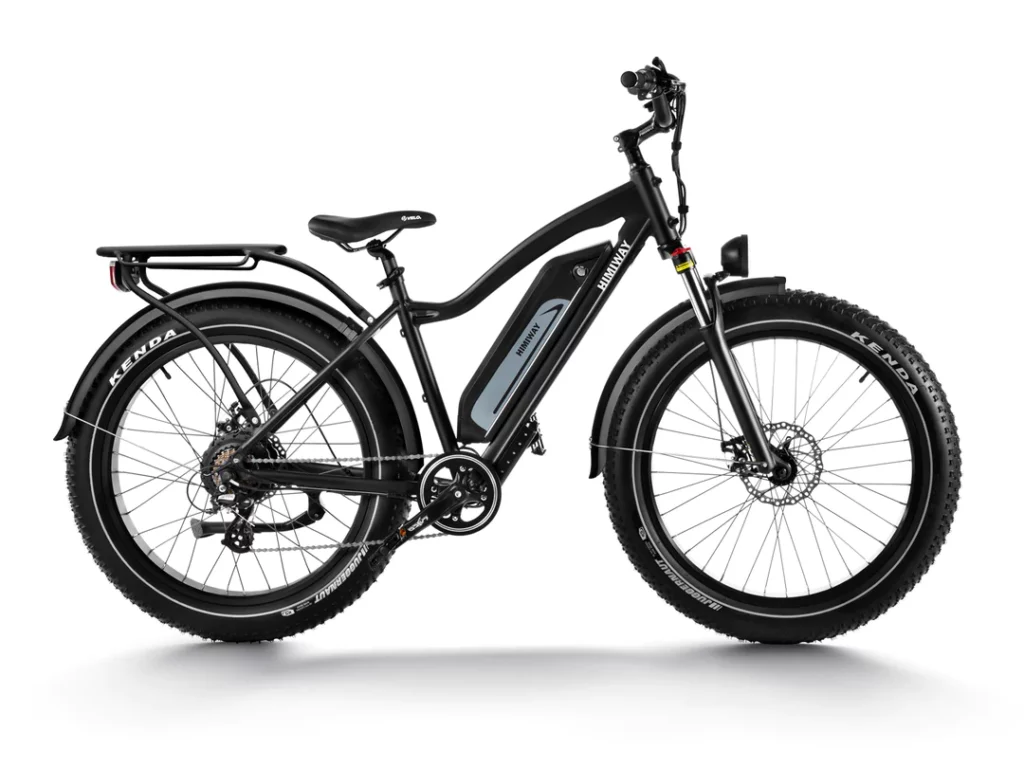 Himiway Zebra Wrap Up
Himiway has built a name for themselves as a company solely focused on producing fat tire ebikes. It was refreshing to see a handful of new models come out with better components to cater to customers who want a little bit more out of their ebike. The Himiway Zebra competes well in this price range especially considering the battery capacity.
Our experience is limited with how well Himiway supports their customers so be sure do more research if you're considering one of their ebikes. Otherwise, head on over to the Himiway website to learn more about the Himiway Zebra or check out our video review.
Electronics (Battery, Motor and Display)
9.5
Components (Shifter, derailleur, fork)
8.5
Himiway Zebra Pros
Massive 48V 20 Ah Battery
Hydraulic Disc Brakes
Nice Clean Frame Design
Display allows for customizations
Great value
Large rear rack
Himiway Zebra Cons
Entry-level Shimano components could be better
No chainstay protector
No adjustable stem