Electric tricycles are becoming increasingly popular, as they offer a number of advantages over traditional bicycles. They are more stable, making them a good choice for riders who are new to cycling or who have balance issues. They are also easier to get on and off, which can be helpful for riders with limited mobility. And, of course they can be powered by a battery, which means you can ride them without having to pedal.
The electric bike market has been growing steadily for the past few years, and with the emergence of new and innovative designs, we're now seeing great options enter the market. If you are considering buying an electric tricycle, there are a few things you should keep in mind.
Firstly, price. Electric trikes can range from $1,500 all the way up to $3,000. Contrary to what you might think, price doesn't always equate to quality meaning some of etrikes on the market are simply overpriced. Second you need to carefully consider the features. Not only the battery and motor power but also slight differences between trikes to ensure your new electric trike meets your needs. Ultimately you want to ensure that the tricycle is comfortable to ride.
Below you'll find a shortlist of the best electric trikes that we've tested to date. If there are any others you are considering purchasing, let us know in the comments section below.
Best electric trike for your money: Lectric XP Trike ($1,499)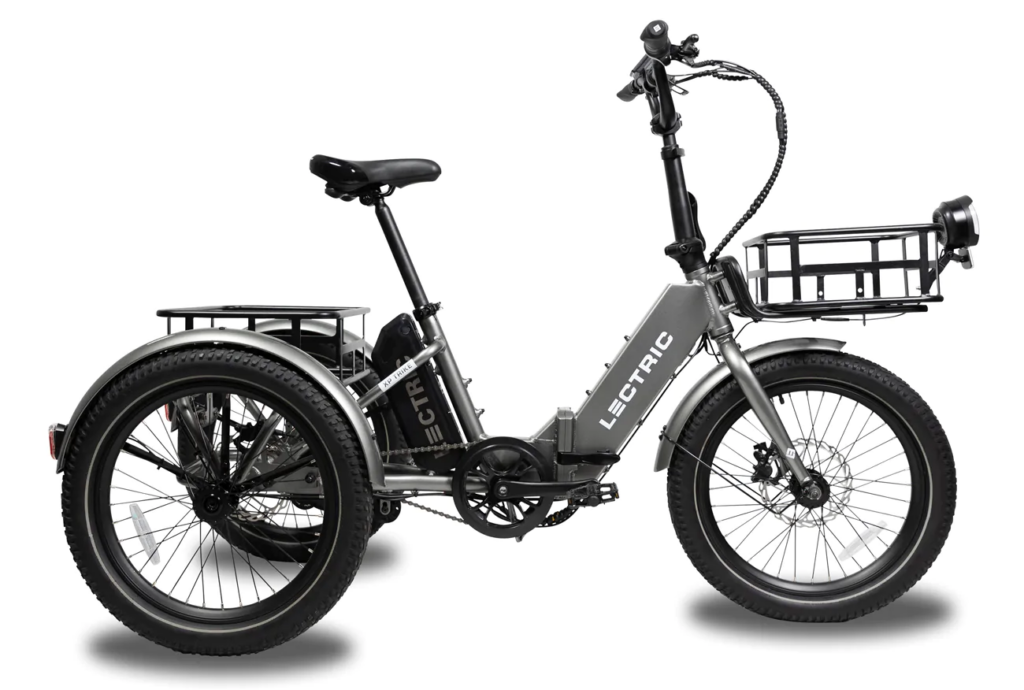 Lectric has always been known for its affordable electric bikes, and the Lectric XP Trike is no different. Priced at just $1,499, it's the most affordable electric trike on the market. The XP Trike doesn't compromise on quality though, and has all the features you'd expect from a well-designed electric trike.
Let's delve into some of the features of the XP Trike. It boasts a 14Ah battery, which is an average size for an ebike in this price range. The motor that peaks at 1,092 watts is more powerful than necessary for a trike, but this means it can tackle even the steepest hills with ease (check out our review video). The single-speed drivetrain is simple and well-suited for the bike's intended use and gears are unnecessary for the 14 mph top speed. Hydraulic disc brakes provide excellent stopping power, and the parking brakes are a necessary addition since there's no kickstand.
The XP Trike takes design cues from other models in the Lectric lineup and like other Lectric ebikes, it can be folded for easier transport. We managed to fit it into our BMW SUV with the help of its folding handlebars and by folding down the rear seats.
The bike is still quite heavy, weighing in at around 62 lbs without the battery and 69.5lbs with it installed. However, it's possible to transport it in an SUV with the assistance of an extra set of hands. The bike is also designed to easily fit through exterior doors with a width of 30.5″.
Lectric has taken a unique approach by adding a rear differential paired with the rear motor, as opposed to some trikes which have front-wheel drives. Further testing is needed to determine which setup offers better traction, but it seems like rear-wheel drive is a promising choice.
Other noteworthy features of the XP Trike include its matching fenders, excellent cargo accessory options, reliable LCD display and controls, and intuitive right-hand twist grip throttle. Additionally, the bike comes equipped with a larger elite headlight and three rear lights for increased visibility.
The Lectric XP Trike comes shipped with a standard saddle but an upgraded support seat with a backrest is available for just $39 at checkout. Lectric also includes the cargo package which includes a front rack and basket and a larger rear basket. To ensure accessibility, the standover height is just 13.8″.
Learn more in our Lectric XP Trike review.
Reverse, coaster brakes and more! Rad Power Bikes RadTrike ($2,499)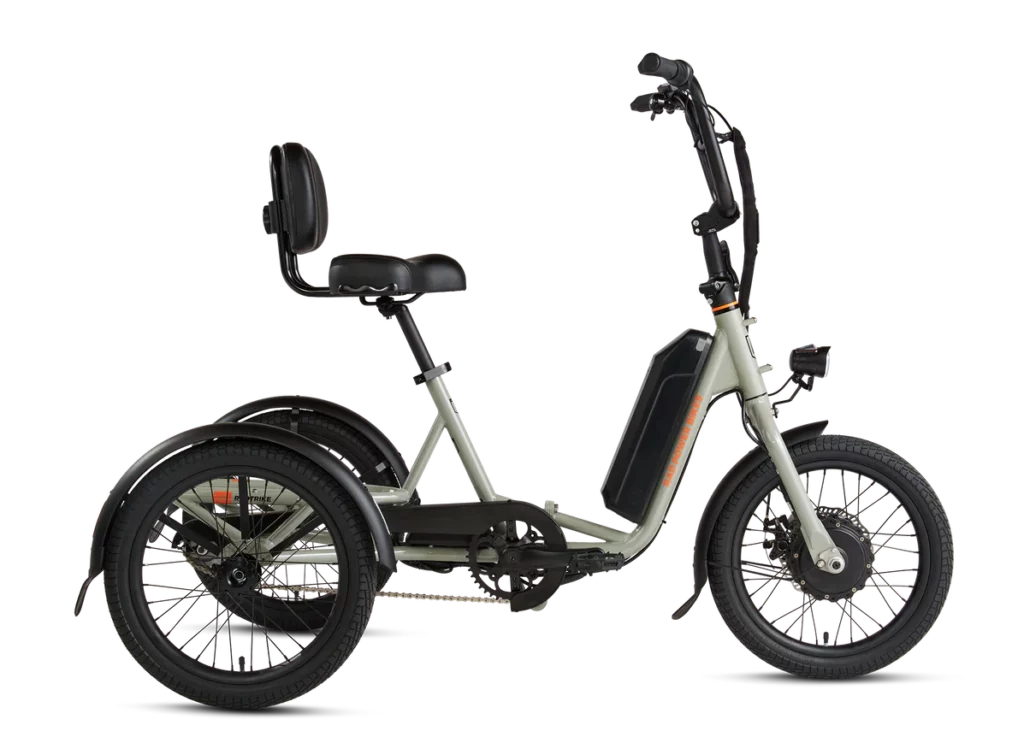 Rad Power Bikes' new electric trike took me by surprise. It wasn't on my radar of things to expect this year, but after taking it for a spin and reflecting on the launch, it seems like an obvious addition to the company's portfolio. Rad Power Bikes has always focused on making e-bikes accessible and easy to ride, and with over 550,000 Rad riders in the US, they continue to hold the title for the largest e-bike company in North America.
At $2,499, the RadTrike isn't the cheapest option out there. However, considering the extra complexities of a trike and its components, it seems like a reasonable price point. What surprised me the most about this e-bike was its size. It has a smaller form factor that I believe a lot of people will appreciate. I expected it to be sluggish and hard to maneuver, but the RadTrike is anything but. It's nimble, and it can even fit through doorways with its width of about 35 inches. Even with this narrower width, it still felt stable at slower speeds. My wife put this to the test, and I was impressed with how confident she was on the trike. The three wheels also provide more confidence than a two-wheel e-bike in conditions like ice and snow patches. Check out our full unboxing video to see how this thing is jenga'd into a much smaller box than you'd expect.
Overall, I really like the design of the RadTrike, even though I haven't experienced other trikes. The BMX handlebars that fold, comfortable seat, easy-to-use display, and generous step-through with a 13.4″ standover height are all impressive features. The ability to fairly easily take the bike apart into two pieces is a nice option for transport, but it surprisingly wasn't even necessary with my van. The motor seems more than capable for what this e-bike was designed to do, and the reverse function is a nice feature. Like all Rad's, the pedal assist levels and throttle are carefully tuned.
My only critique is that I would have preferred a larger battery than the 10Ah, considering that all other Rad models currently have 14Ah batteries. However, the estimated range from Rad of 20-35+ miles seems sufficient, especially considering the lower speeds you will be traveling on the trike. Let me know your thoughts about the battery capacity in the comments section, and perhaps we'll do our own range test.
The coaster brake was a great addition not only for simplicity but also for accessibility. The front brake performed better than I expected, and the parking brake is essential on a trike.
Regarding accessories, if I were to outfit this trike to my liking, I would include the front rack, paired with the small front basket and the large basket in the rear. The roll-top bags would round out the trike nicely, as shown here. For pet lovers and those living in sunnier areas, Rad has some in-development accessories, including a pet carrier trailer and a canopy. Be sure to subscribe because we will definitely be doing an accessory video on this e-bike.
If you plan to purchase a Rad Power Bike, we have one request. Please use our link in the description prior to purchase. It supports our work here at Ebike Escape, costs you nothing, and helps us continue to produce content. I'd love to hear your thoughts about this trike in the comments section below. Should we review more electric trikes? I certainly hope that this launch will inspire more people to get outside and enjoy e-bikes who may have otherwise been unable. Perhaps it will set a chain reaction throughout the e-bike industry, and we'll see more electric trikes. Thanks
Learn more in our Rad Power Bikes RadTrike review.
Best electric trikes conclusion
In conclusion, electric trikes offer a unique and exciting alternative to traditional bicycles and electric bikes. With their added stability and accessibility, they provide a great option for individuals who may have mobility limitations or prefer a more comfortable and relaxed riding experience. While they may come at a slightly higher price point than some electric bikes, their added features and convenience make them a worthwhile investment for those who prioritize comfort and stability. As the popularity of electric bikes and trikes continues to grow, we can only hope that more companies will follow in the footsteps of Rad Power Bikes and expand their offerings to make e-mobility accessible to an even wider range of individuals.