It's not surprising that ebikes are going to be heavier than traditional bikes. The added components such as the motor and battery are the two biggest factors when it comes to weight. Many bikes we see here at Ebike Escape are in the 65-75+ lb range! That can be a lot of weight when trying to load it onto a bike rack! Heavier ebikes can also feel bulkier and unruly when riding, especially when you are not super comfortable on a bike.
If you want a lighter electric bike that is easier to manage, there are still ebikes that can fit the bill. Here is our list of the best lightweight and affordable ebikes!
Benefits of a lighter weight ebike
The two lightest ebikes on our list are only 33 lbs! With a lighter ebike, you will be giving up some power. Lighter-weight ebikes tend to have small batteries and/or smaller motors. They tend to be bikes designed for city riding with thinner tires and sleek appearances. Many of these bikes don't include extras such as fenders or kickstands as a way to minimize weight.
As technology improves we will see lighter and lighter ebikes. Currently, some of the lightest ebikes are sub 30 lbs! That is even lighter than many traditional bikes but they will come with a price to match! Our review today will cover affordable and lightweight ebikes. If weight is more critical than price consider this list.
Without further ado, let's get started with the best lightweight, but affordable electric bikes!
Ride1Up Roadster V2 at 33lbs: Tied for lightest ebike on our list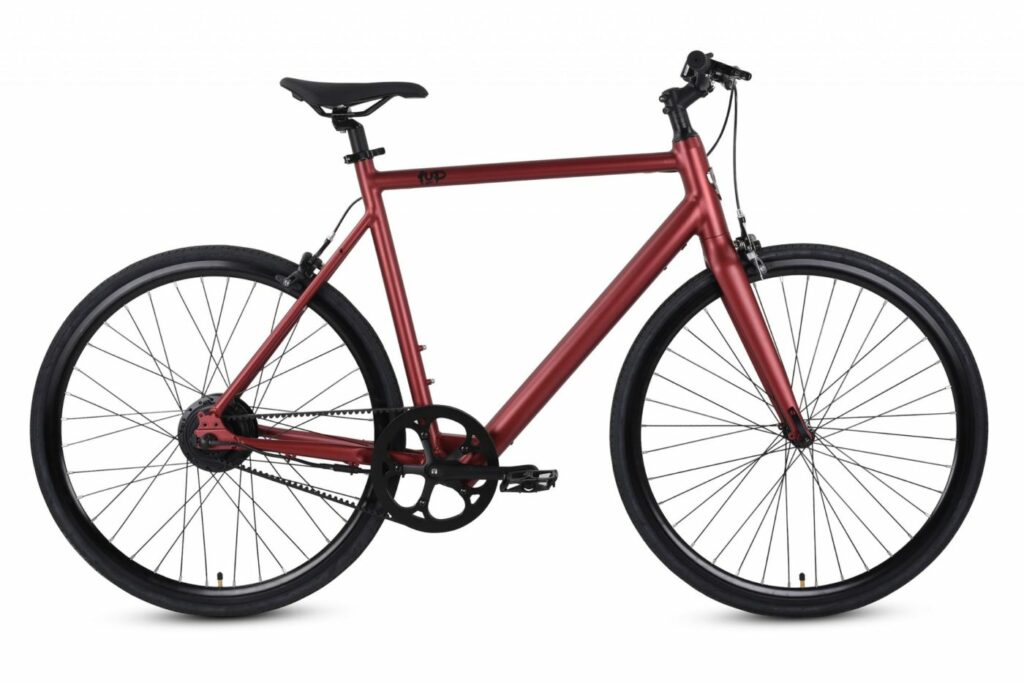 Let's start with one of the lightest weight bikes of our lineup, Ride1Up's Roadster V2 at only 33 lbs! It has a clean and simple design with a concealed battery. It is a quiet bike and it would be easy to mistake this ebike for a traditional bike. The Roadster V2 is priced at $1,095.
The frame comes in two sizes, 52 cm (for riders 5'3″-5'8″) and 58 cm (for riders 5'8″-6'3″). The weight capacity for the Ride1Up Roadster V2 is 300 lbs. Color options are pretty conservative and include burgundy, black, gray and silver.
There is a 350-watt nominal motor that peaks at 500 watts. This is a pretty average motor for a lightweight affordable ebike. The battery is a 36V, 7Ah battery with an advertised range of 20-30 miles. It has a compact LCD screen and 5 levels of pedal assist but no throttle. This is a class 3 ebike with a top speed of 24 mph with pedal assist.
The Roadster V2 is a single-speed with a Toptrans belt drive, it features Tektro R315 Dual Pivot rim brakes. Generally, it comes with Kenda Kwest 700cx28 road tires however there is an option for a gravel bike version. The gravel version of the V2 comes with larger tires and disc brakes for $1,245. The bigger tires will provide a bit more stability on looser surfaces and more confidence while stopping in any weather conditions. The Roadster V2 gravel is unquestionably the most affordable gravel ebike on the market. This bike is clean, simple, and LIGHT.
Learn more in our Ride1Up Roadster V2 written and video review.
Ride1Up Core-5 at 49lbs: Powerful motor and large battery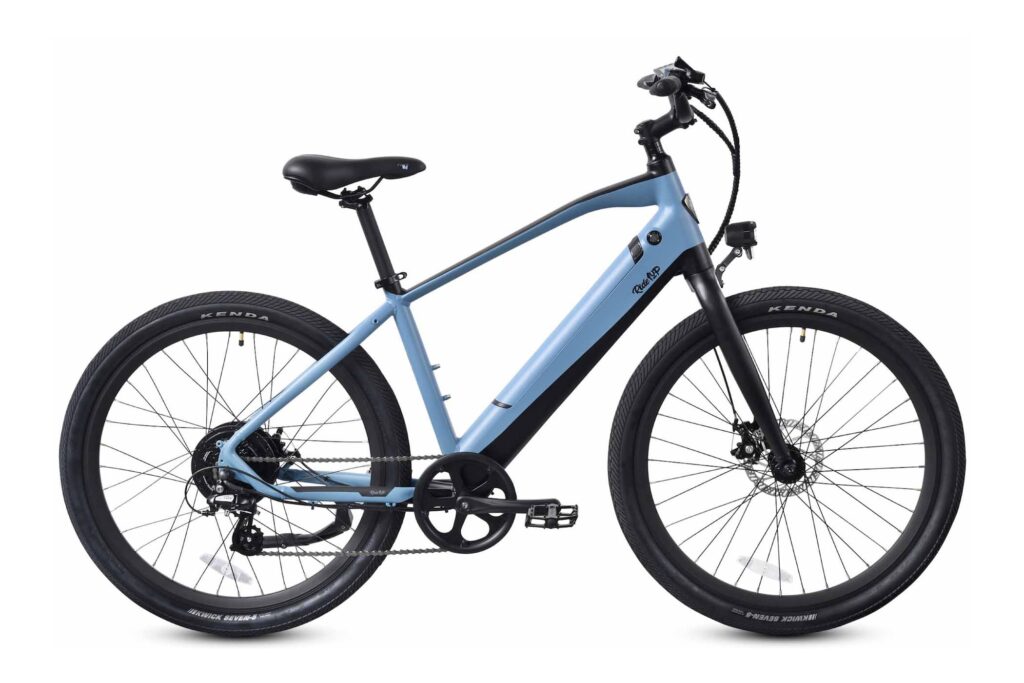 In addition to the Roadster V2, Ride1Up has the Core-5 as another lightweight bike. This ebike is only $100 more than the Roadster V2, coming in at $1,195. It is offered in both a high step and step-through frame, both of which weigh in at 49 lbs.
For the extra 16 lbs, you get a significantly bigger motor at 750 watts and a bigger 48V, 10.4 Ah battery. This is both the biggest battery and the biggest motor on our list. The range is claimed to be 25-45 miles per charge, a big upgrade compared to the Roadster. Compared to the Roadster V2, which is a single-speed and no throttle, the Core-5 has a 7-speed Shimano shifter and derailleur and a thumb throttle. With a max speed of 28 mph with pedal assist and 20 mph with the throttle, the Core-5 comes shipped as a class 3 ebike. It has 5 pedal assist levels with a cadence sensor.
The step-through frame should fit riders from 5′ up to 6'1″ while the high-step fits riders from 5'6″ to 6'4″. The color options for the Core-5 include azure blue (shown above), mint, and midnight grey. Both lightweight Ride1Up bikes sport a 300 lbs payload capacity.
The Core-5 has Tektro mechanical brakes paired with 160 mm rotors. The tires are Kenda Kwick Seven 5 27.5″ x 2.2″ which are perfect for riding on pavement and perhaps even some hard packed gravel. Another perk you get for the extra 16 lbs compared to the Roadster V2, is a bright headlight that runs off the main battery. This bike does a great job of maximizing affordability while maintaining quality on the parts that matter. This bike does have a kickstand, but does not come with fenders. Fenders and a rear rack are available for purchase directly from Ride1Up.
Learn more in our Ride1Up Core-5 written and video review.
Propella Mini at 33 lbs: Small wheels and only $799!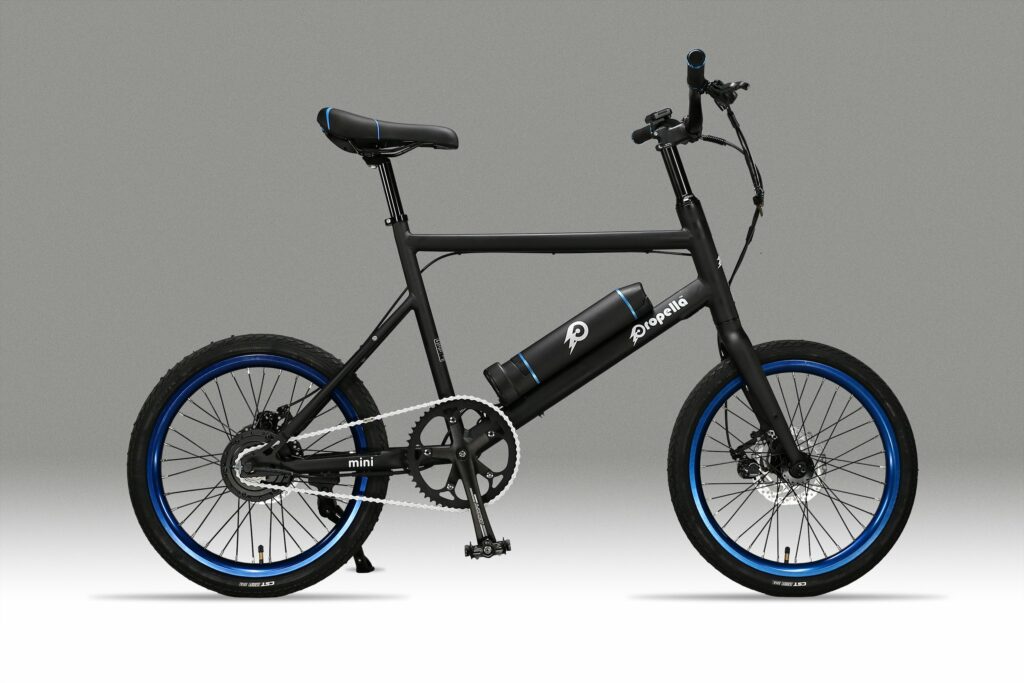 Propella has a host of ebikes that fall into the lightweight and affordable categories. These ebikes include their Mini, the SS, the 7S, and the 9S PRO! This is a great company for this type of bike!
The lightest ebike Propella offers is the Mini. It is currently only $799! That makes it one of the most affordable ebikes on this list as well as tied for the lightest! It has a high-step traditional appearing frame. It is ideal for riders between 5'2″ and 5'10" and the stand-over height is 22″. The bike has smaller tires than a typical bike, they are only 20″ x 1.75″. This makes the bike, small and nimble. It is perfect to fit into small living spaces or vehicles. The small wheels also mean this bike has increased climbing power and can handle hills with up to a 10% incline.
This super light, single-speed ebike comes with a 250-watt Bafang hub motor with a peak output of 400 watts. It includes a 36V 7Ah battery, made with Samsung cells. The company advertises a 20-35 mile range with pedal assist. There is an option to buy an extra battery if you need more range on any of the Propella bikes. This is a class 1 ebike with a top speed of 18 mph and no throttle. There are 5 levels of pedal assist available and it uses a cadence sensor. The Propella Mini has Shimano mechanical disc brakes. It has a matte black frame and blue rims. For a light ebike currently selling for less than $800, this is tough to beat!
Propella SS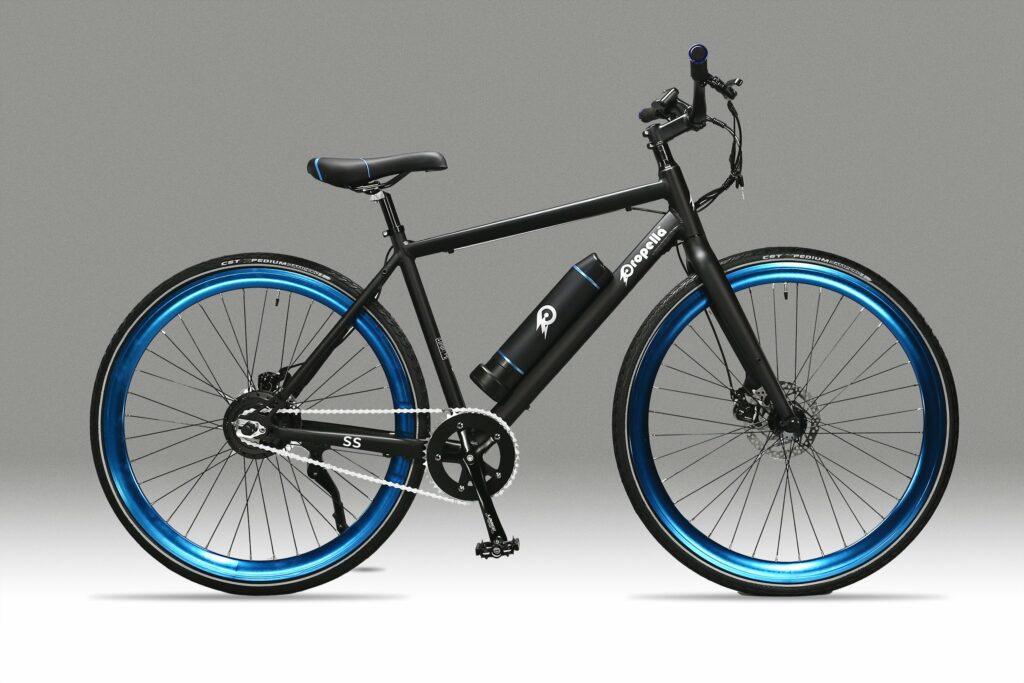 The Propella SS comes in just a couple of pounds heavier than the mini at 35 lbs and comes in at just $999. Just like the Mini, it is a high-step, single-speed, class 1 ebike. It has the same battery and motor, but a slightly longer range of 20-40 miles. It also has the same LCD and Shimano mechanical disc brakes.
The main thing that differentiates the SS from the Mini is the tires and wheels. While the Mini has 20″ x 1.75″ tires which are small and nimble, the SS has 700 c X 35 wheels giving it a more traditional look. The standover height is about an inch higher at 23″ and the rider height range is a little taller going from 5'4″-6'2″.
Gearing between the SS and Mini is also a little different. The SS has 46T front chainring with a 16T rear freewheel, while the Mini has a 52T front chainring but the same 16T rear freewheel.
Propella 7S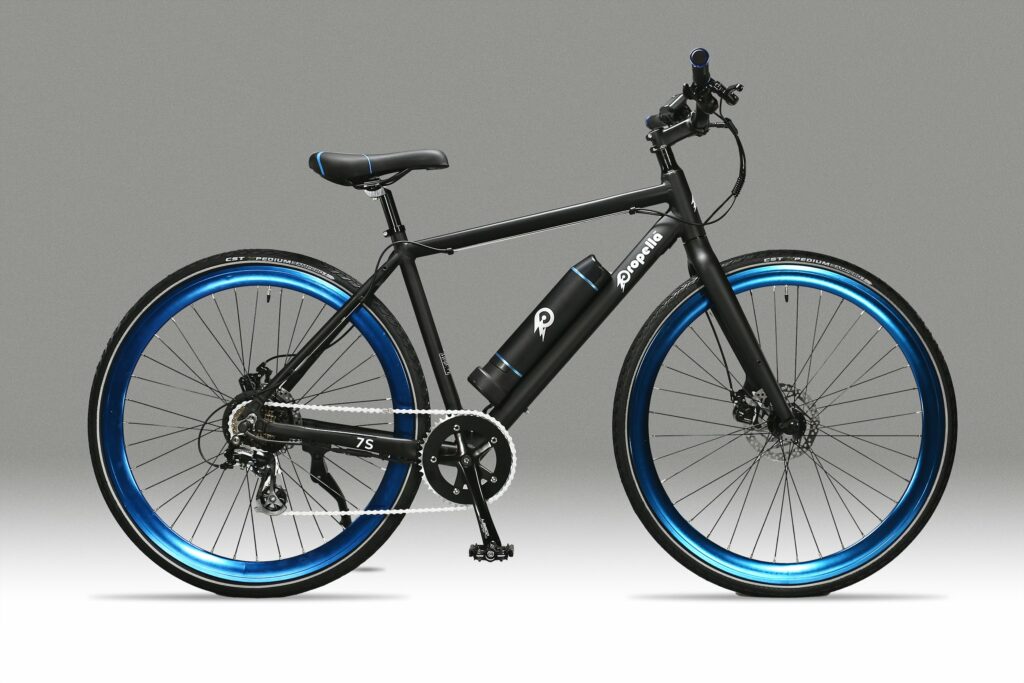 Next up on the Propella lightweight ebike lineup is the Propella 7S. The price bumps up to $1,199 and the bike comes in at 37 lbs. This increased weight on this bike comes from the upgrade from single-speed to a Shimano Altus 7-speed shifter and derailleur. This offers a lot more options to allow the rider to power up hills with a combination of pedaling and pedal assist.
Many of the other features of the 7S are similar to the Mini and SS models. It has the same battery, motor, LCD display, and brakes. Like the other Propella ebikes, the 7S is a class 1 ebike. The 7S has same 46T front chainring as the SS as well as the same standover height and ideal rider height.
Check out our full review here.
Propella 9S PRO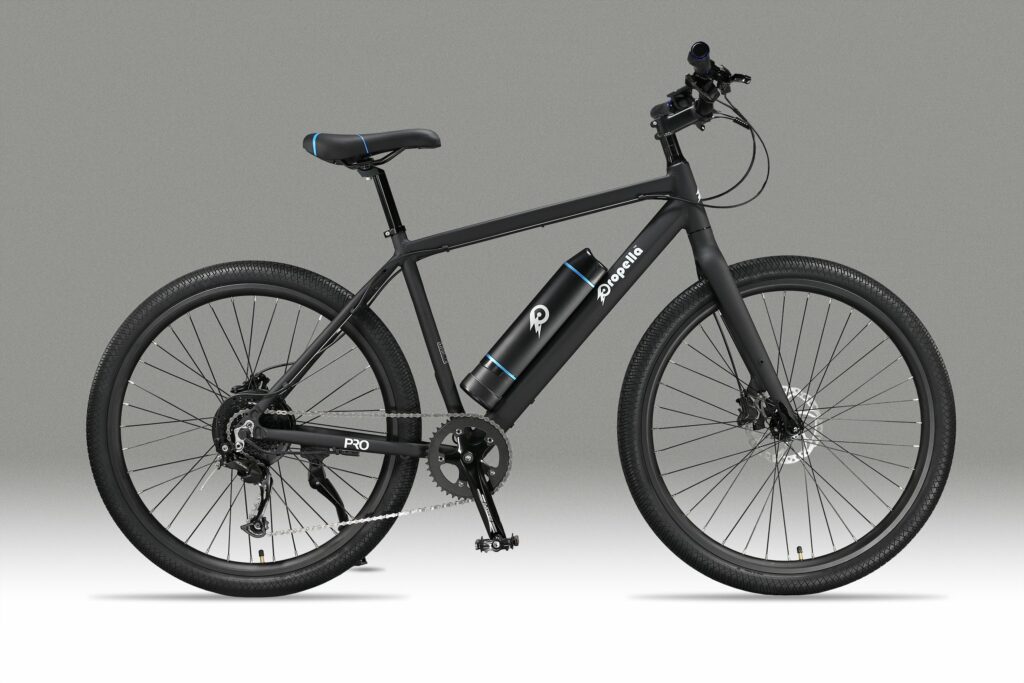 The final Propella bike is the Propella 9S PRO coming in at 41 lbs and selling for $1,599. There are a ton of upgrades on the 9S compared to the other Propella ebikes. It has a larger Bafang rear hub motor at 350-watts with a peak of 500w. The battery is still 36V but bumps up to 10Ah. Even with a more powerful motor and bigger battery, this bike remains a class 1 ebike. As the name insinuates, the 9S is a 9-speed ebike and features a Shimano drivetrain.
The frame is also a high step with a slightly higher standover height of 23.6″. It is meant for slightly taller riders with an ideal height range of 5'5″-6'2″. The brakes get upgraded from the mechanical brakes on lighter models to hydraulic disc brakes with 160 mm rotors. With this ebike you get bigger 27.5″ x 2″ tires which should be able to handle some gravel and light off-road riding. This bike is bigger and more robust than the other Propella ebikes but still weighs in well under 50 lbs.
Lectric XP Lite at 49 lbs-A folding ebike for only $799!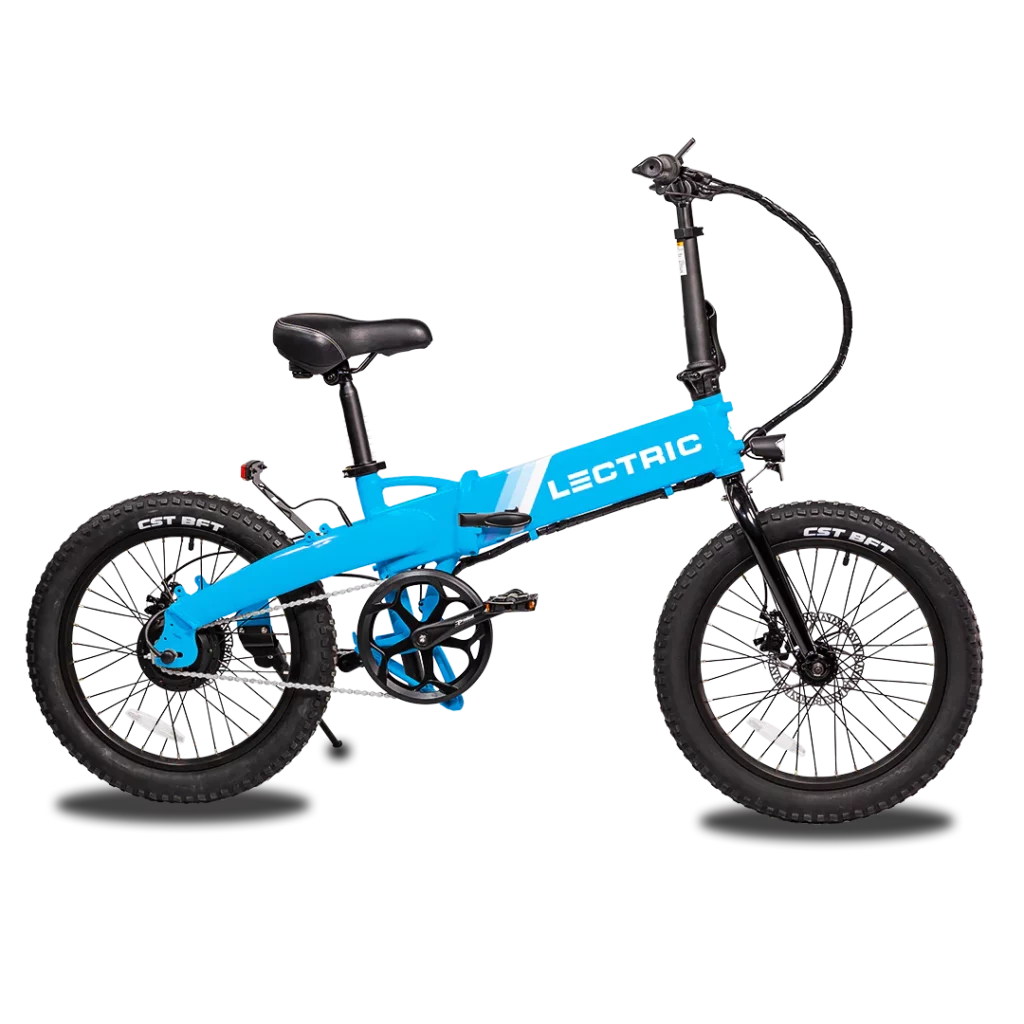 Moving on from Propella, next we have a Lectric ebike. Lectric is a well-loved company and is known to have a great mix of quality and affordability. Their XP Lite is no exception. Along with the Propella Mini, the XP Lite shares the title for the most affordable lightweight bike on the Ebike Escape list coming in at only $799! Like all Lectric bikes, the XP Lite is a folding bike that ships fully assembled. The frame only comes in one size but fits a huge range of rider heights from 4'8″ to 6'2″. While the height range is generous, the weight capacity is only 250 lbs which could be limiting for some riders. Color options include classic black, arctic white, sandstorm, and electric blue. There is no front suspension on the XP lite, but you could easily add a suspension seat post for more comfort.
The motor is a 300-watt nominal and peaks at 720 watts. The battery is 48V, 7.8Ah (374.4-watt hours) and you can buy a second battery to have on hand if needed. The range on a single battery is 40 miles in pedal assist 1 and 15 miles in throttle only. The XP Lite is a single-speed ebike with 0-5 levels of pedal assist and has a cadence sensor. It has the same LCD display as the rest of the bikes on Lectric's lineup. The XP Lite is a class 2 ebike with a top speed of 20 mph with pedal assist or throttle.
This bike has mechanical disc brakes with 160 mm rotors. The tires are 20′ x 2.4″ and have a tread pattern capable of handling some light off-road riding. It includes integrated front and tail lights, which aren't always a given in such an affordable and light ebike.
This is a great bike for its price, weight, and size. It comes fully assembled and is easy to fold up and pack away for travel. It can handle some light hills, but due to the smaller battery and motor, it is not recommended to be trying to climb mountains with this bike.
Aventon Soltera at 41-43lbs with a mid-step option and bright frame colors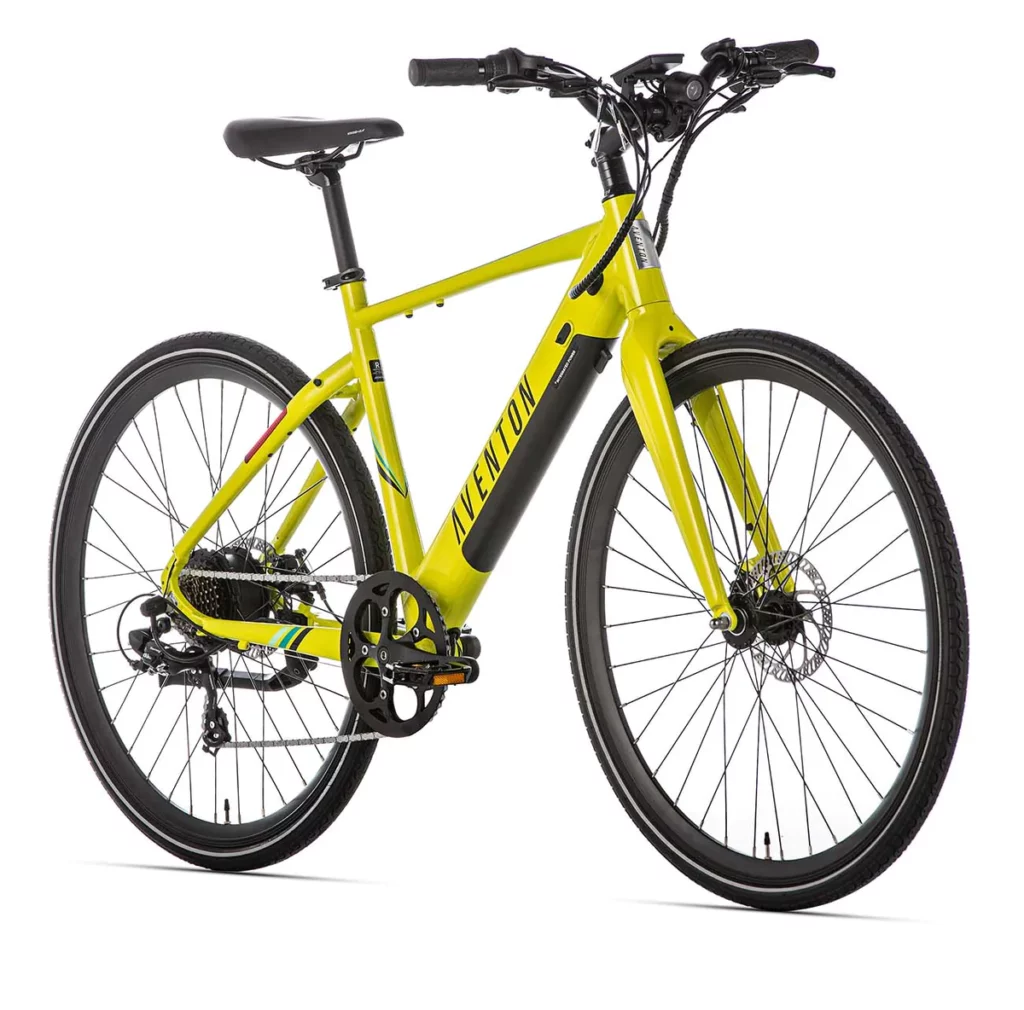 The Aventon Soltera gives you the option of a single-speed at 41 lbs and $1,199 or the 7-speed at 43 lbs and $1,299. It is a lightweight and agile bike. You have plenty of choice for size and color allowing for a wide range of rider heights and color preferences. They offer a high-step and what they call a step-through though I would consider it more of a mid-step. The smallest frame Aventon offers is the mid-step small/medium, ideal for riders as short as 4'11. And the largest frame offered is the high-step Large, which is ideal for riders up to 6'4″. The weight capacity of the Soltera is 300 lbs. Color options vary depending on which frame and drivetrain you choose but include fun options such as seafoam green, salmon pink, moonrock grey, onyx black, azure blue, and citrine.
Regardless of the drivetrain or frame design you choose, all the Aventon Soltera bikes come with a 350-watt rear hub motor. The battery is 36 V, 9.6 Ah (338.4-watt hours), and is integrated nicely into the bottom of the frame. The estimated range in ideal conditions is 41 miles. The display is a color LCD screen with app sync functionality. This is the same display Aventon offers on their more expensive bikes. This is a class 2 ebike with a max speed of 20 mph It has both pedal assist and a throttle. You also have the option of disconnecting the throttle to make this a class 1 ebike.
The brakes on the 7-speed drivetrain model are mechanical disc brakes with 160 mm rotors. While the single-speed Soltera has Tektro Caliper rim brakes. Both versions of this bike have thin Kendra 700 c x 35 x road tires but no quick release. This bike is one of the few to include integrated front and rear lights. The rear lights are nicely integrated into the frame and illuminate when the brakes are applied. In such an affordable and light ebike this is a stand-out feature both on paper and on the road.
Aventon Pace 350 at 49 lbs with a cruiser type frame and step-through option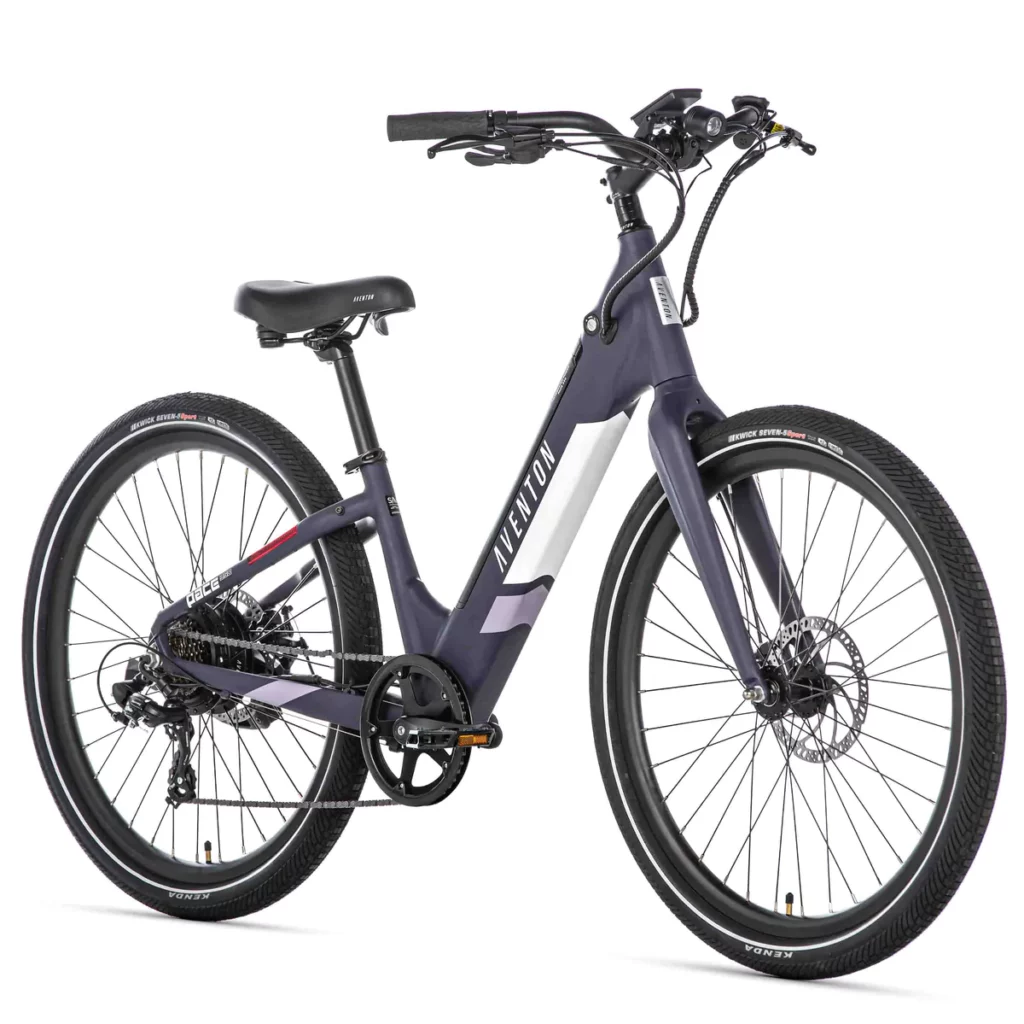 The Aventon Pace 350 just skirts under our weight limit coming in at 49 lbs and is priced at $1,399. This bike is similar to Aventon's Soltera with a few notable differences. The Soltera is a more traditional road bike whereas the Pace 350 is more of an up-right cruiser-style bike. The Pace 350 is offered in both a high-step and a true step-through. Between the two different frame styles, there are various frame sizes that fit a wide range of riders from 4'11" to 6'4″. Colors are mostly neutral, however they do also have plum purple.
The Aventon Pace 350 has a larger battery than the Soltera coming in at 36V and 11.6Ah battery (410.4-watt hours). The tires on the Pace are larger at 27.5″ x 2.2″. Other features including the display, pedal assist, throttle, max speed, brakes, and lights are similar to the Soltera.
Vvolt Alpha at 44-46 lbs and fits a huge range of rider heights
Our final ebike to make the list is the Vvolt Alpha and Alpha S (the step-through version) currently selling at $1,399.
The variance in weight is due to differences in frame size. Both the Alpha and the Alpha S come in a S/M and L/XL frames, covering an ideal rider height range from 4'9″ to 6'4″. This is the shortest rider height on this list! Standover height on the S/M frame on the Alpha S is only 27″ and is up to 32″ on the larger L/XL for the Alpha. The colors are pretty basic and come in chalk white and slate.
The Vvolt Alpha and Alpha S feature a 350-watt rear hub motor with a 375-watt hour battery. The estimated range on this class 1 ebike is 20-40 miles per charge in ideal conditions. It has the normal 5 levels of pedal assist plus a walk mode. The LCD display offers Bluetooth pairing and app functionality.
The Vvolt is a single-speed bike with hydraulic disc brakes and 160 mm rotors. One unique feature of the Vvolt ebikes is a drive belt rather than a chain. The belt is a Gates CDN belt, which should last for thousands of miles and is a lower maintenance alternative to a bike chain. It can be especially helpful if you are riding in areas with lots of sand or debris.
In Conclusion…
There are some great options out there for affordable lightweight ebikes! The two lightest bikes on our lineup are the Ride1Up Roadster V2 and the Propella Mini both coming in at 33 lbs. The Roadster is a class 3 with a throttle while the Mini is a class 1. Aside from sharing the title for the lightest ebike on our list, the Mini also ties in for the most affordable ebike currently listed for only $799. The Lectric XP Lite is the other ebike coming in at only $799, what a deal! The Lectric XP Lite is the only folding bike on today's lineup.
As far as the company with the most options in this category, Propella really leads the pack with 4 options, the Mini, the SS, the 7S, and the 9S PRO. The SS has larger tires than the Mini though both are single speeds. The 7S is a 7-speed, and the 9S is 9 speeds. The 9S PRO also has a bigger motor, battery, and tires than the rest of the Propella ebikes. Propella batteries also charge fast-under 3 hours!
If you are looking for power, the Ride1Up Core-5 has not only the biggest motor on the list by far, 750 watts, but it also has the biggest battery with total watt-hours at just under 500.
For rider height range, the Vvolt Alpha and Alpha S really shine with a huge rider height range going from 4'9″ all the way up to 6'4″. It is also the only bike on the lineup offering a drive belt instead of a chain. The frames are offered in high-step or step-through options.
Aventon also offers a great height range on both the Soltera and the Pace 350 fitting riders from 4'11" to 6'4″. The main difference between the Soltera and the Pace 350 is that the Soltera is a more traditional road bike style with a more forward riding position and thin tires. The Pace 350 is a cruiser style with a more upright position and wider tires. Both the Soltera and Pace350 come in high-step options with the Soltera offering a mid-step and the Pace 350 offering a step-through.
What affordable lightweight ebike is your favorite? Why do you like it? Comment below