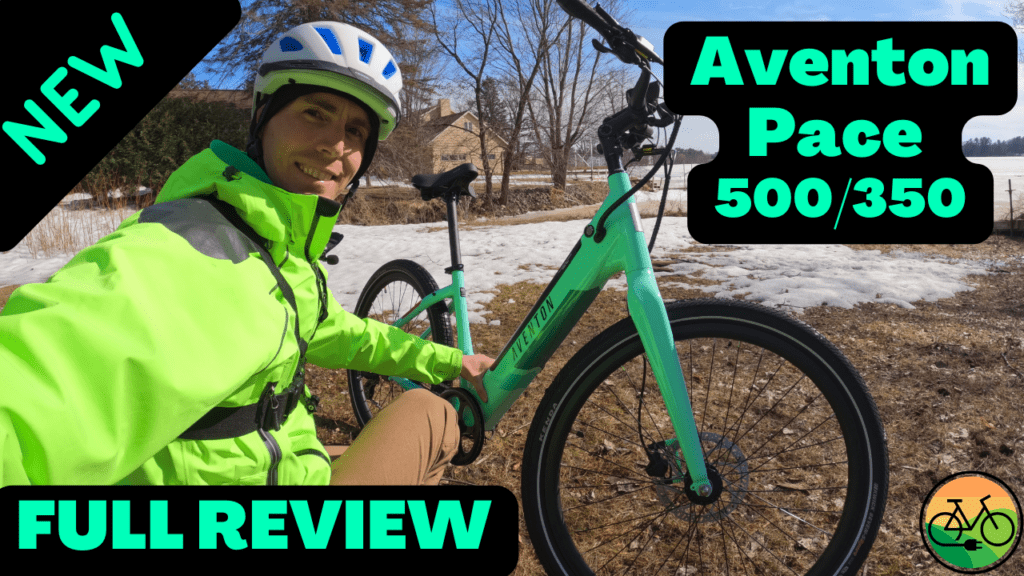 At long last, I can share with you the brand spanking new upgrades from Aventon: the 2022 Aventon Pace 500 Next-Gen and Pace 350 Next-Gen (now known as the Aventon 500.2 and 350 2)! The shiny new Aventon Pace 500 Next-Gen in a gorgeous shade of green-blue (Celeste) has been cruising the road with me for weeks now. I have been gathering my thoughts on it and waiting eagerly for Aventon's grand release date.
Is the new Aventon Pace 350 and Pace 500 worth the extra $100? What makes it "Next-Gen"? Check out our Aventon Pace 500 Review below or read on for our Pace 500 and Pace 350 written review.
Aventon Pace 500.2 Review
Upgraded Aventon Pace 500 and 350
The new Aventon Pace 500 and Pace 350 Next-Gen offer a new stunning design and mechanical upgrades that improves upon an already phenomenal bike. Yet, it only costs $100 more than its predecessor.
Older Pace 500 ($1599) vs New Pace 500 ($1699)
Older Pace 350 ($1299) vs New Pace 350 ($1399)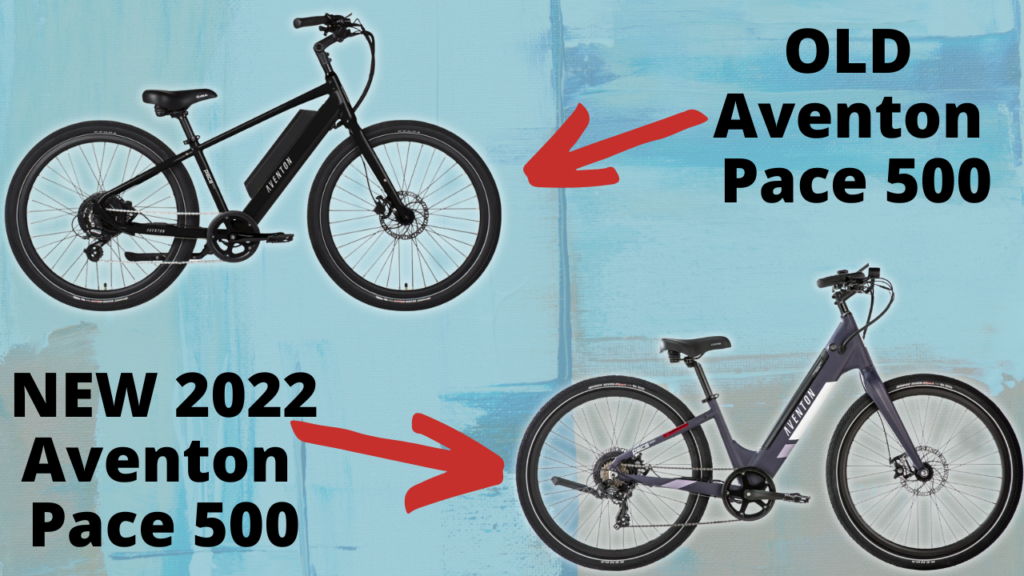 New and Upgraded Features
Frame and Integrated Battery
Let's talk about the new frame look. This upright, ebike cruiser features a sleeker frame design with a new integrated battery that decimates the now seemingly bulky look of the older Pace model with its externally mounted battery. The new Pace nearly hides the fact that it's an ebike in the top tube.
Aventon is known for its classy frame designs. Offering a hydro-formed frame with smooth welds that offers a stunning look at a price point that other companies simply do not match. Another great upgrade Aventon made: integrated front and rear lights. The rear lights are integrated smoothly into the frame itself. The frame comes in a standard high-step and step-thru option which increases the demographic of potential riders.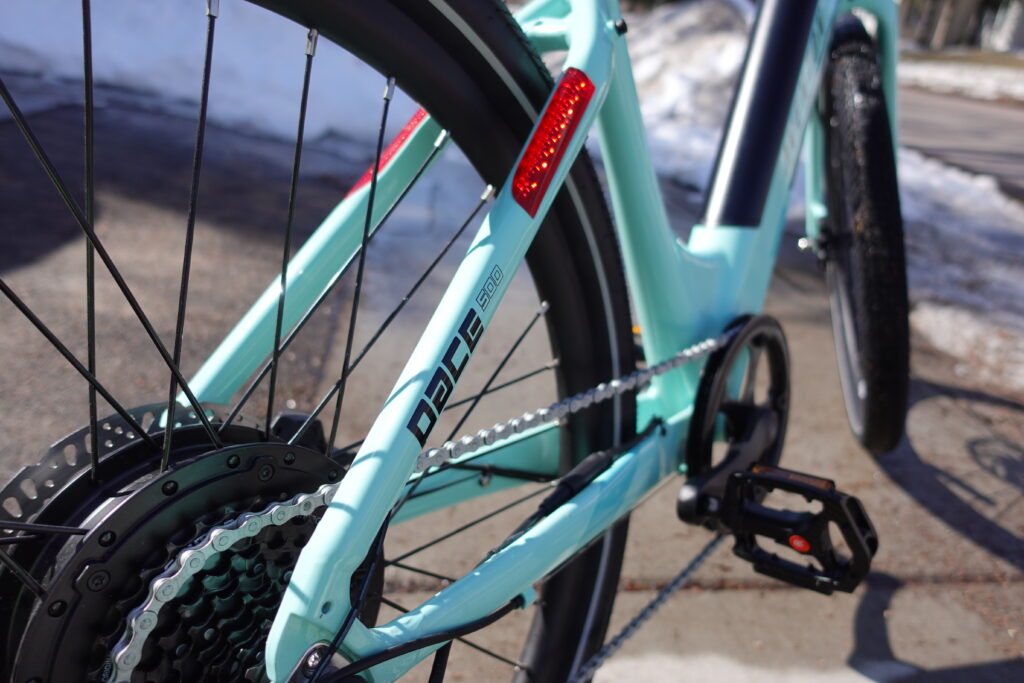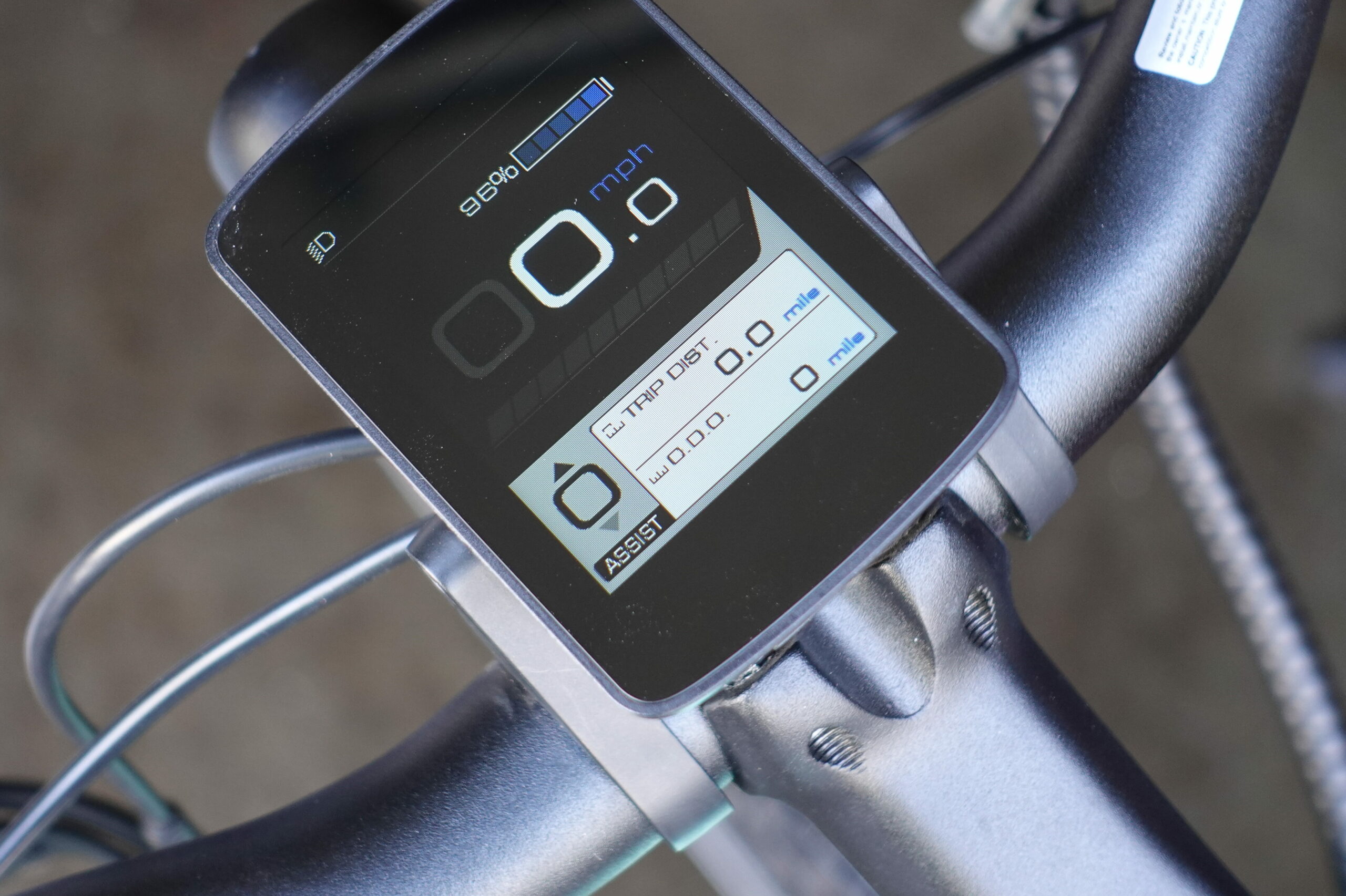 Lightweight
These bikes are light (for an ebike)! If you are looking for a bike you can more easily lift to a rack or truck bed, this is a great option. The new versions are slightly heavier (1-2 lbs) than the older Pace models, but are still considered light at between 49-52 lbs. They are about 10 lbs lighter than the more expensive Aventon Level.
Color LCD Display
This display is the way of the future. While the old Pace offered a traditional backlit monochrome display, the 2022 Aventon Pace Series offers a poppin' color LCD display that syncs to an app on your phone.
Aventon Pace 500.2 vs. Aventon Pace 350.2
When considering whether to spend the extra $300 for the Pace 500, it is important to know what upgrades you are paying for. The main considerations are power, battery, and brakes.
Power
With the Pace 500, you are paying for more speed and power. As the name implies, the Pace 500 has a 500-watt motor compared to a 350-watt motor. The Pace 500 features a 48v 12.8 Ah battery that can top 28MPH with pedal assist. The Pace 350 with its 36V 11.6Ah battery has a maximum speed of 20 MPH with pedal assist. Does a difference of 8 MPH matter to you? Our video review provides more details about the capability of the 500 watt motor up steep hills.
The range for both the Pace 500 and Pace 350 is listed at an average of 40 miles but Aventon's range estimator chart (below) is helpful to better understand the capabilities of each bike. The range also varies greatly depending on how much throttle, pedal-assist, and human power that you rely on. Not to mention environmental factors like wind, terrain, and topography. Pumped-up tires will also extend range.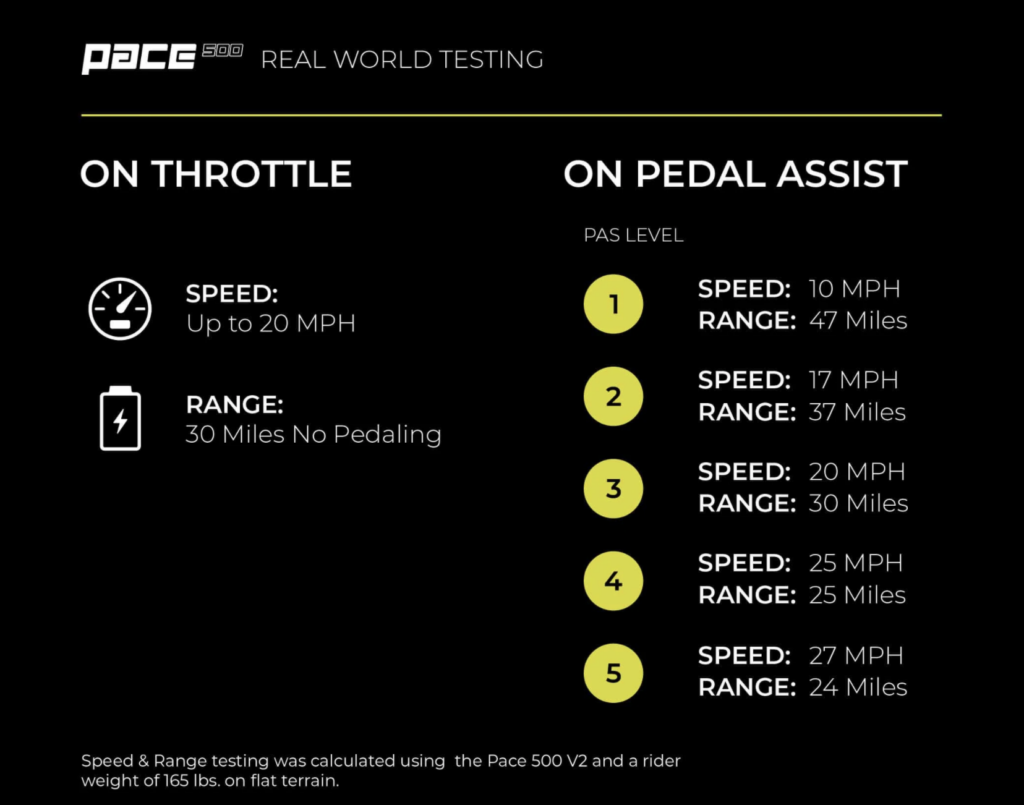 Brakes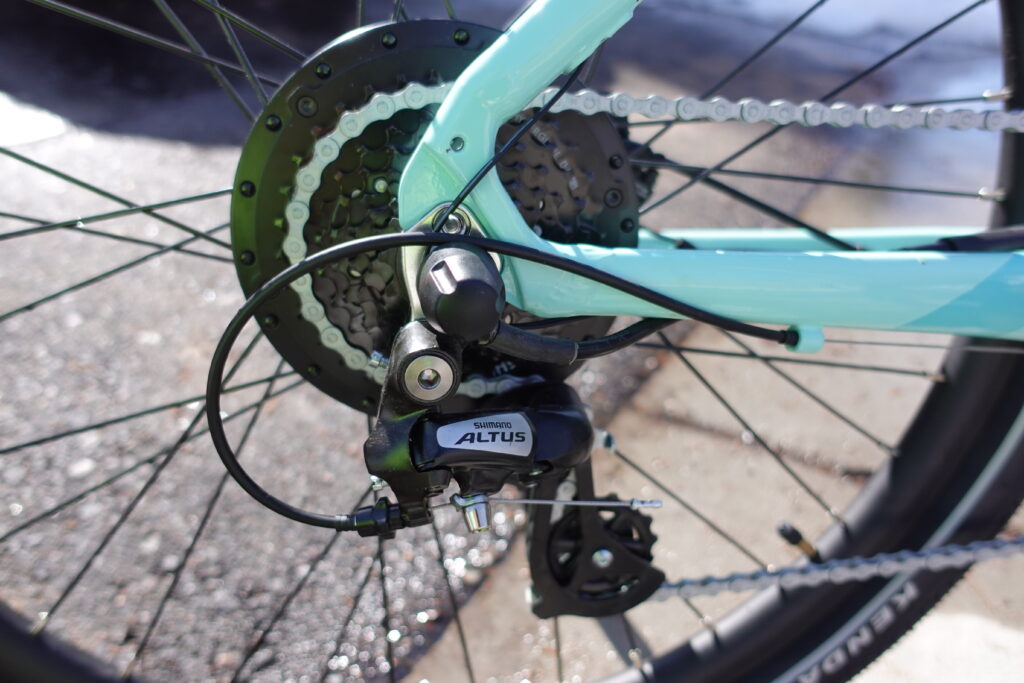 Think about whether your riding needs are better suited for hydraulic vs. mechanical disk brakes. The Aventon Pace 500 has Tektro hydraulic disc brakes which offer better performance. They also require less pressure on the lever to brake which could be helpful to arthritic hands. As the system is sealed, hydraulic brakes work better in all types of conditions and weather. They typically require less maintenance than mechanical brakes; however, are less user-friendly to fix if needed.
The Aventon Pace 350 has Tektro mechanical disk brakes which are adequate for most riders. It's a more affordable component and a common component at this price range. Just like the hydraulic brakes, they are plenty capable of what they're meant to do: stop.
Color
You thought I was going to simply discuss the main considerations. One could argue, especially for the leisure biker, color is a vital factor of consideration. I agree. While less practical to base a bike purchase on color, it is certainly a fun consideration and notable difference in the 500 vs 350 series.
As I mentioned, I have the Pace 500 in the beautiful Celeste color which I would describe as a seafoam color. While I recommend choosing the bike based on price point, brakes and power if your ultimate decision is based on the color I support this too. Below are the color options:
Pace 500 Step-Thru:
Pace 500 High-Step
Pace 350 Step-Thru
Pace 350 High-Step
Aventon Pace 500.2 vs 350.2
Aventon Pace Series 500
Aventon Pace 350
Motor
48v, 500W Brushless Rear Hub Motor
36v, 350W Brushless Rear Hub Motor
Speed
Up to 28 MPH on pedal assist
Up to 20 MPH on throttle only
Up to 20 MPH on pedal assist
Up to 20 MPH on throttle only
Display
BC280 LCD Color Display with Backlight, w/ App Connectivity
BC280 LCD Color Display with Backlight, w/ App Connectivity (same)
Brakes
Hydraulic Disk Brakes
Mechanical Disk Brakes
Weight
53 lbs.
49 lbs
Drivetrain
8-Speed
7-Speed
Tires
27.5"X 2.2" (same)
27.5"X 2.2" (same)
Assistance
Slightly redesigned left hand thumb throttle (Cadence pedal assist)
Left hand thumb throttle (Cadence pedal assist)
Frame
Traditional or Step-Thru (same)
Traditional or Step-Thru (same)
Color
Midnight Black, Ghost White,
Social Sand, Celeste
Midnight Black, Ghost White,
Cloud Grey, Plum
Cost
$1,699.00
$1,399.00
2022 Aventon Pace 500 vs. Aventon Pace 350
Comfort
The Pace 500 has a rigid front fork which will suffice on paved roads and trails. If you want front suspension we recommend checking out the Aventon Level or Aventon Level Step-Through or our suspension seatpost recommendation below. We do like that Aventon included swept back handlebars which put the rider in a more upright riding position. To further enhance rider comfort, an adjustable stem is included which allows the handlebars to move up and down. Finally, the Pace 500 includes locking grips and a surprisingly comfortable saddle.
Upgrades I Recommend for the Aventon Pace
See our specific ebike accessory recommendations for more suggestions.
Aventon Pace 500.2 and 350.2: Final Thoughts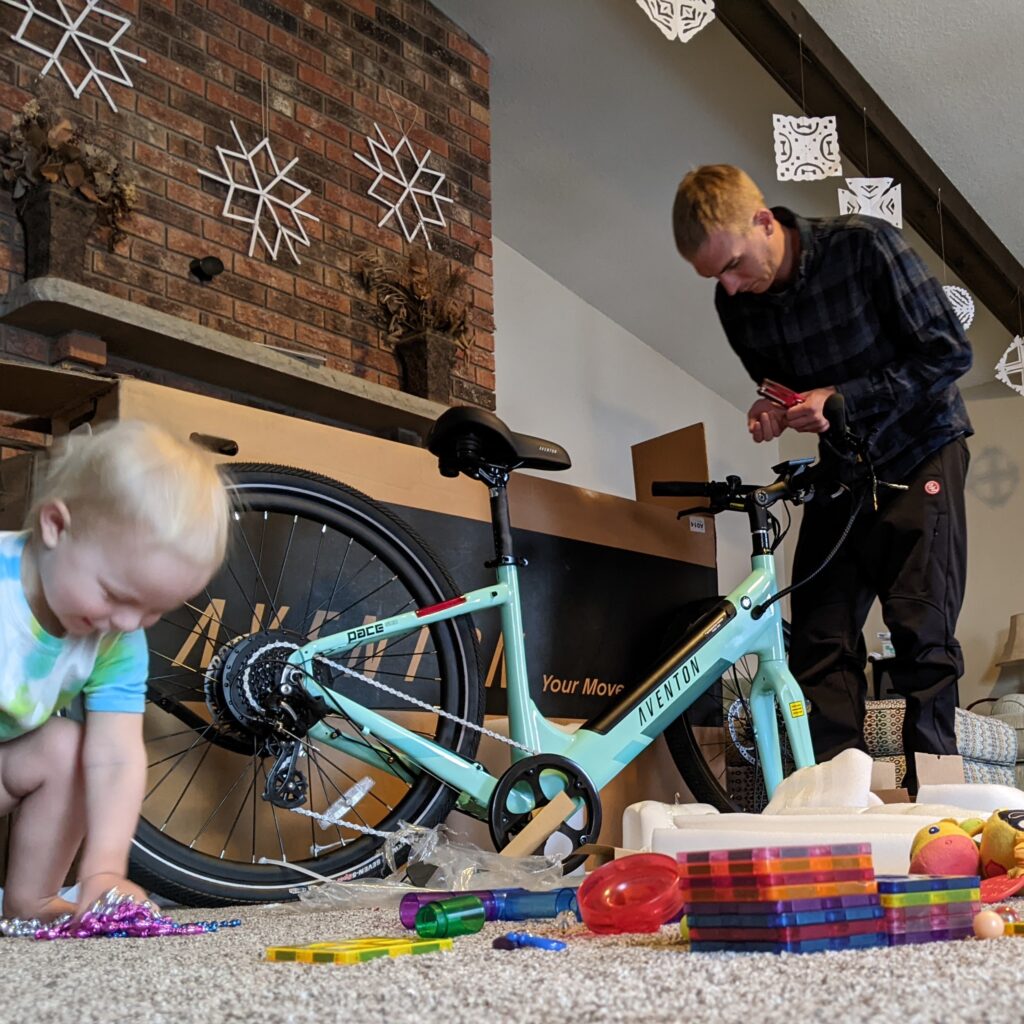 I love that with the upgrades the company was able to keep the price point similar to the previous generation. It looks sleeker than the average ebike with its newly integrated battery and smooth welds. If you are looking for an ebike from a trusted brand that offers comfort, style and reliability it's worth a closer look.
Aventon is a value priced brand that focuses on sleek and comfortable designs. If you haven't had a chance to try an Aventon bike, check whether you live close to a dealership to test ride in person. Otherwise, you can order online and get a bike shipped directly to your door. Learn more about the Pace 500 Next-Gen.
For more popular ebike brands, check out our Top Ebike Brands list.