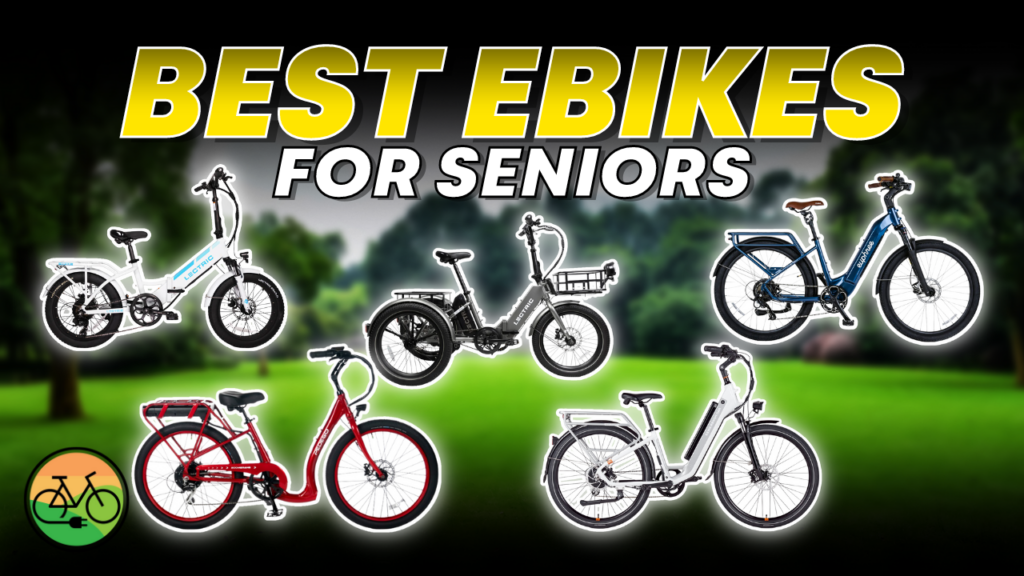 When it comes to buying an ebike there are lots of factors to consider, especially if it has been a while since you've been on a bike. This list of the best ebikes for seniors covers a wide range of factors you may want to consider From the best budget ebike to the most comfortable and even an electric bike with three wheels.
All of these ebikes though have one key feature: a step through frame. This is critical component to ensure that you can easily hop on and off your electric bike with ease. Gone are the days of step throughs being considered girl's bikes so don't be deterred. Remember the best bike for you is one that you can easily ride. If you've found this guide helpful be sure to use our links within to help support the channel.
Best budget ebike for seniors: Lectric XP 3.0 ($999)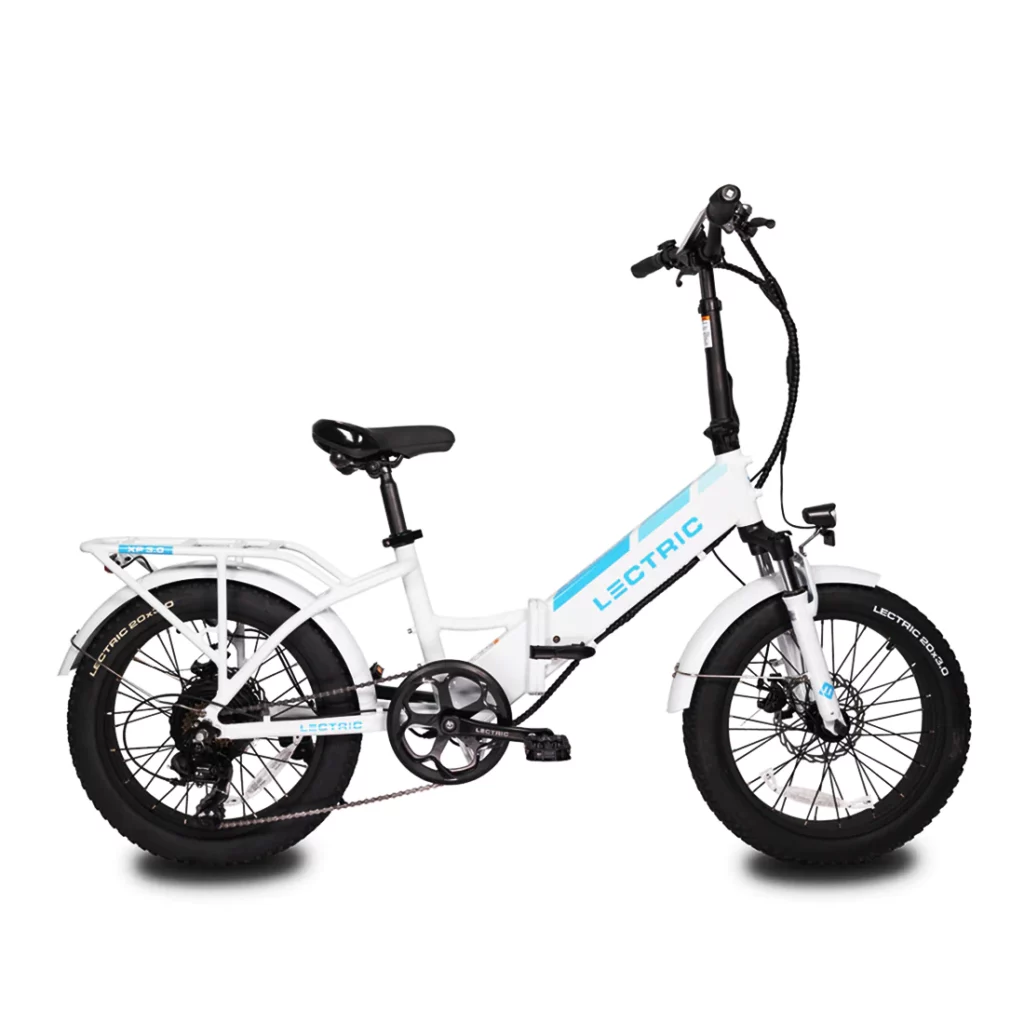 With a limited range and healthy sales, Lectric are able to offer one of the most affordable ebikes on the market. At just $999 the Lectric XP 3.0 represents the best value entry-level ebike for seniors. 
There is a superior 20A controller, enhancing the torque of the 500W rear motor, enabling added hill climb abilities and straight-line acceleration. And the 11-speed gearing of the rear freewheel makes providing human pedal power a breeze, even at Class 3 speeds up to 28 mph.
Rider comfort is ensured by the front suspension fork with 50mm of give, anti-puncture slime-filled fat tires, and a decent seat. Consider the "comfort bundle" for increased comfort. Recently Lectric announced the 3.0 would be coming with hydraulic disc brakes which is a feature simply not seen at this price point. Plus, the bike now utilizes Lectric "PWR" or Pedal-Assist Wattage Regulation. In simple terms it ensures smoother power delivery.
The step-through model comes in two attractive colorways – white and black – and for an extra $200 a 14Ah battery extends the range of the standard 10.4Ah. A high step model in black is available if you'd prefer but we like the increased accessibility and looks of the step-through.
As a folding bike, which ships almost-assembled, with a high-capacity welded rear rack and metal fenders, the Lectric XP 3.0 is especially a great option for RVers.
Learn more in our Lectric XP review
Best-tuned ebike for beginners: RadCity 5 Plus ($1,999)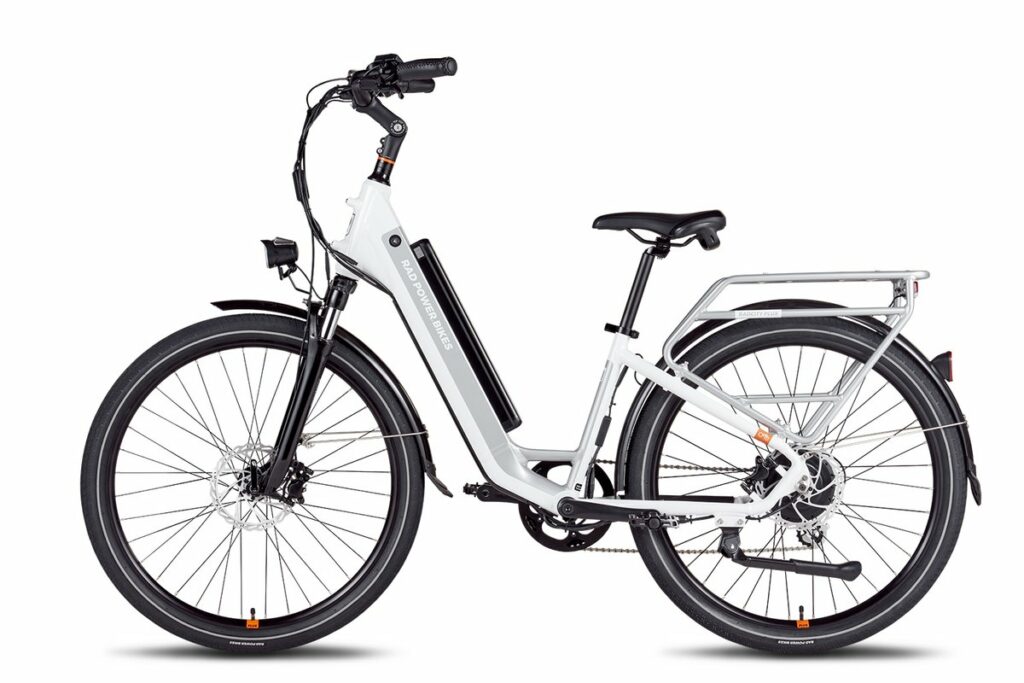 Rad Power Bikes pitch their RadCity 5 Plus as its most feasible replacement for a car and the premium features included at the $1,999 price point make the step-through version an excellent value choice for seniors. 
The 750-watt peak power motor has been specifically designed for city riding, offering a smooth pedal-assist that newer – and older – riders will find very user-friendly. It's something Rad Power Bikes has thought a lot about. Ensuring that you get enough, but not too much boost in the various pedal assist modes. Still, the bike is capable of a top speed of 20 mph while using the pedal assist or the right hand twist grip throttle as a Class 2 ebike.
Custom-designed, puncture-resistant 27.5"x2" tires boost the range by 11%, allowing up to 50 miles of travel on a single charge of the frame semi-integrated battery. And hydraulic disc brakes, with 180mm rotors provide superb stopping power with only a light touch. Less experienced riders will also appreciate the dual displays for real-time trip information and the visual for pedal assist where the change is made with large buttons and a dedicated light button.
Glossy white or charcoal coloring, with subtle accents and reflective tire walls, make this feature-packed ebike a stylish and functional choice for the urban senior.
Learn more in our RadCity 5 Plus review
Best electric trike for seniors: Lectric XP trike ($1,499)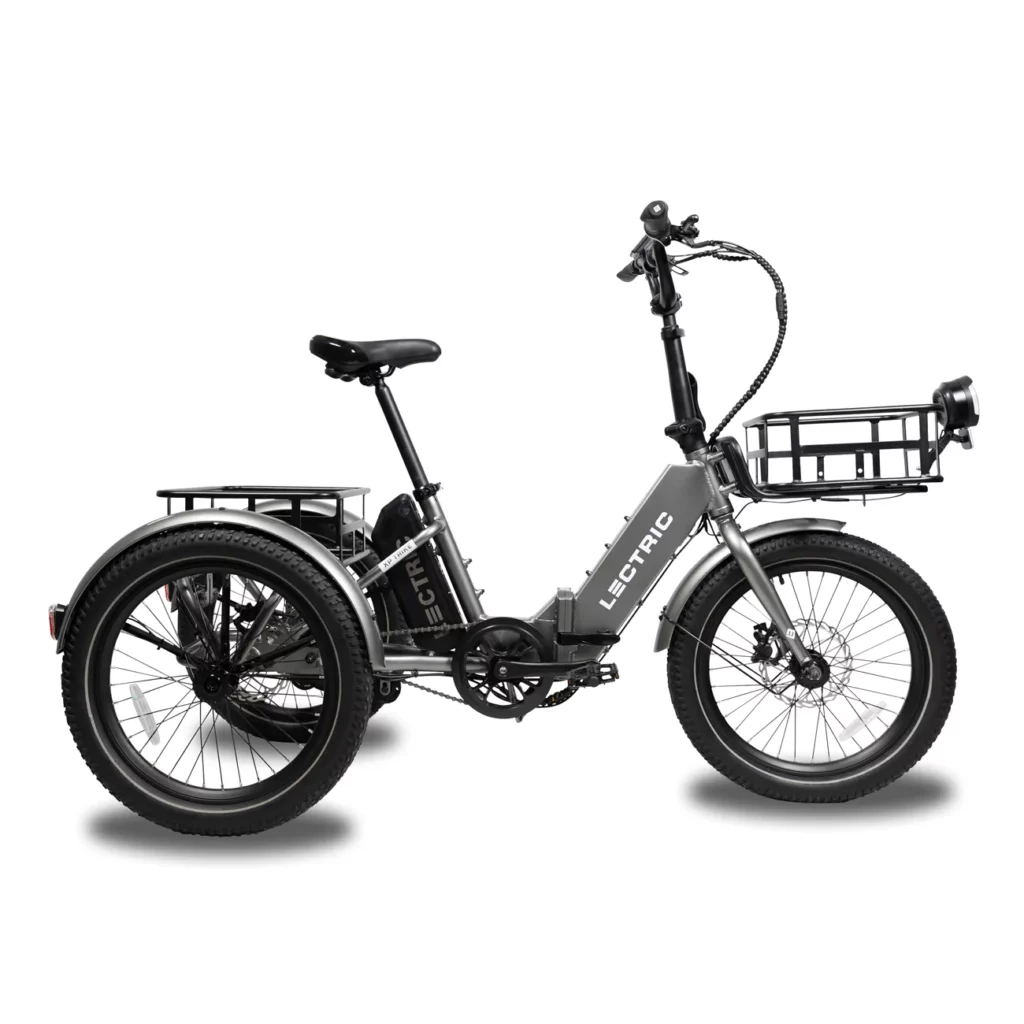 For the ultimate in accessibility an etrike is the way to go. At just $1499 the Lectric XP Trike is extremely affordable and offers an impressive range of features for the money.
As is typical for Lectric ebikes, the XP Trike is foldable and this step-through has one of the lowest standover heights on the market at just 13.8". The manufacturer has accented safety and stability, shipping the bike in 'Beginner' mode with a top speed of just 5 mph or 12 mph depending on the pedal assist level. Once you're comfortable the top speed can be changed to 14 mph.
The rear differential axle allows each rear wheel to spin independently for increased safety. Locating the motor – 500 watt nominal, 1092 watt peak – at the rear also improves traction and the hydraulic disk brakes with motor cutoff provide reliable stopping power. A right hand twist grip throttle can be found on the right side of the handlebars.
The average 14AH battery gives a surprisingly high range of up to 50 miles, owing to the current (not speed) based pedal assist. It's also nice to find a powerful integrated headlight, 3 integrated rear lights and BMX-style handlebars, adjustable to maximize rider comfort.
With front rack and basket, rear rack and metal fenders as standard, this graphite-colored etrike makes it easy to carry cargo and, overall, a safe and satisfying ride for the less mobile ebiker. For increased comfort we recommend adding the support seat, complete with backrest at checkout for $39.
While we included the XP Trike as our favorite due to the hydraulic disc brakes, foldability and price point, you may also want to consider the Rad Power Bikes RadTrike (our review).
Learn more in our Lectric XP Trike review
Most comfortable ebike for seniors: Euphree City Robin X ($1,999)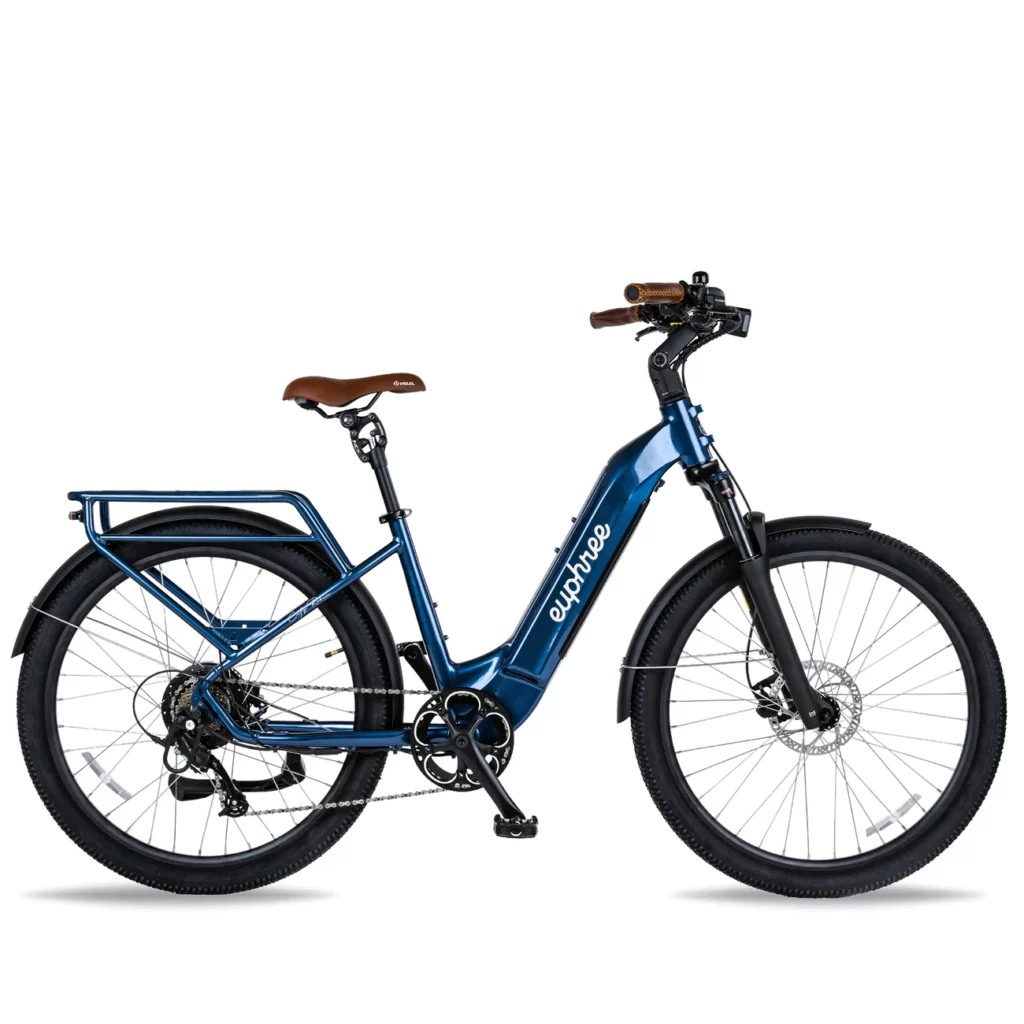 The City Robin X is currently the only offering from Texan-based ebike company. They have decided to continue to improve the City Robin over time instead of offering a breadth of models. And for seniors or retirees, that's a good thing because this is a comfortable ebike for seniors. The higher price point of $1,999 is easily justified by the bundle of features included. 
Comfort for all conditions comes from the full suspension system, offering 100mm of travel in the front fork and superior seat suspension from an SR Suntour NCX suspension seatpost as standard (a $100 accessory when purchased off Amazon). A standover height of just 16″ on this step-through makes for easy access and swept-back handlebars with adjustable stem provide a comfortable, customizable riding position.
The Bafang rear hub motor – 500W nominal, 850W peak – and 5-levels of pedal assist offer a smooth ride with a top speed of 28 mph. And Tektro hydraulic disk brakes with 180mm front and rear rotors work well. An integrated 14Ah battery and careful cable management make for a sleek design and the stylish color options – rebel blue, emerald green, pearly white or midnight black – with tan seat and handlebar grips promote a premium feel.
Packed full of features, optimizing comfort and style, this is an exceptionally well-priced ebike for seniors looking to ride round town or even on some crushed gravel paths.
Learn more in our Euphree City Robin review
Lowest step-thru ebike for seniors: Pedego Boomerang ($2995)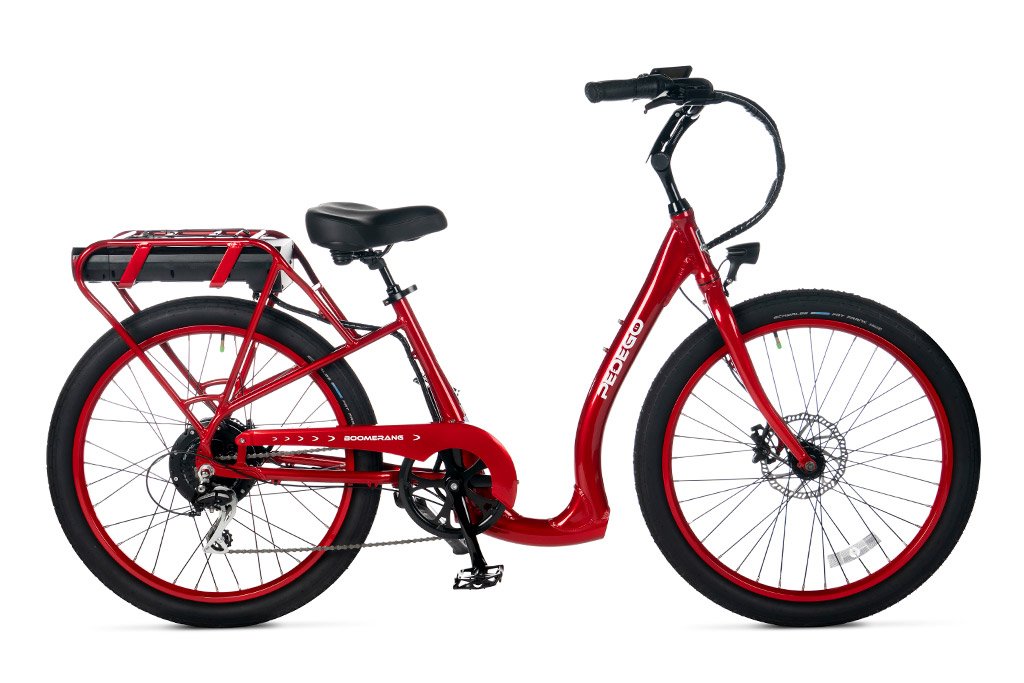 With a standover height of just 9" the Pedego Boomerang represents the easiest ebike for seniors to access. Priced at $2995, that's not the only deluxe detail on this step-through.
Part of the reason for the peak price of these California-designed ebikes is that they are sold at Pedego bike shops totaling over 200. But apart from the in-person customer service experience, a 5-year warranty is included. And the huge number of colors – six at last count – is surpassed only by the number of premium features and customizable components.
Branded lithium ion batteries provide 10.5Ah of power (17.5Ah upgrade available), utilizing a high end controller to effortlessly power the nominal 749W geared rear motor with speeds up to 20MPH with upgrade to the Class 3 limit of 28MPH via dealership. Star Union hydraulic disk brakes ensure a smooth stop. Adjustable swept back handlebars, with padded faux-leather, hand stitched grips and a well-cushioned cruiser seat give comfort with style.
This elegant ebike is well worth the premium price for the ultra low step-over, enabling seniors to enjoy the ride with ease.
Wrap Up
There are some great options in the 2023 ebike marketplace, catering for the variety of preferences, experiences and – of course – wallets of adventure-seeking seniors. Check out our other round-up articles to learn more about the best cargo ebikes, folding ebikes, fat tire ebikes, commuters and more!