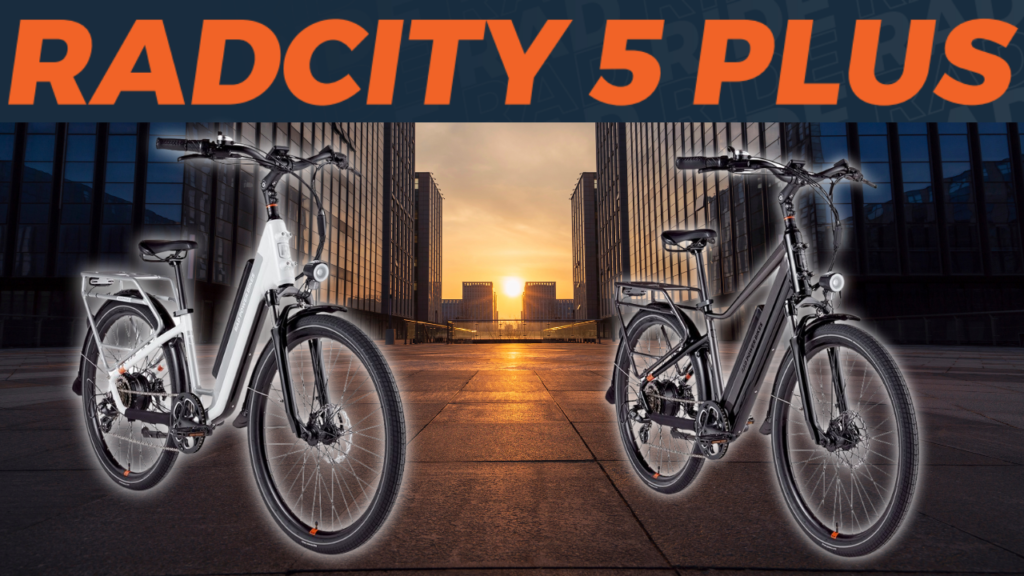 Rad Power Bikes announced its newest bike today, the RadCity 5 Plus, an upgraded version of the RadCity Plus with premium features. Rad claims this is its most powerful attempt at providing a bike that will replace a car and, well, they've definitely made a strong argument.
In what seems like a trend at Rad Power Bikes, the company took the original commuter and added a number of new features. Those features should make the RadCity Plus a powerful choice hard to pass at $1,999. It seems to be a trend Rad is gearing toward, as they recently did the same to the RadRover, announcing the RadRover 6 Plus. The RadCity 5 Plus comes in at $1,999, but the RadCity 4 and RadCity Step-Thru 3 are currently priced at $1,599. So is the RadCity 5 Plus worth the extra money? Let's dive in to our RadCity 5 Plus written review below or check out our full video review instead.
Rad Power Bikes RadCity 5 Plus Video Review
RadCity 5 Plus: New hydraulic brakes
The new RadCity 5 Plus includes hydraulic brakes over the standard mechanical brakes, which combined with the ceramic pads provides the ultimate stopping power. With adjustable levers and an ergonomic design, the brakes will offer a lighter touch compared to cable-actuated mechanical disc brakes. We've been testing out the RadRover 6 Plus which also includes hydraulic disc brakes and it is a standout feature. It's also the update you're likely to enjoy the most compared to the non Plus Rad Power Bikes' models.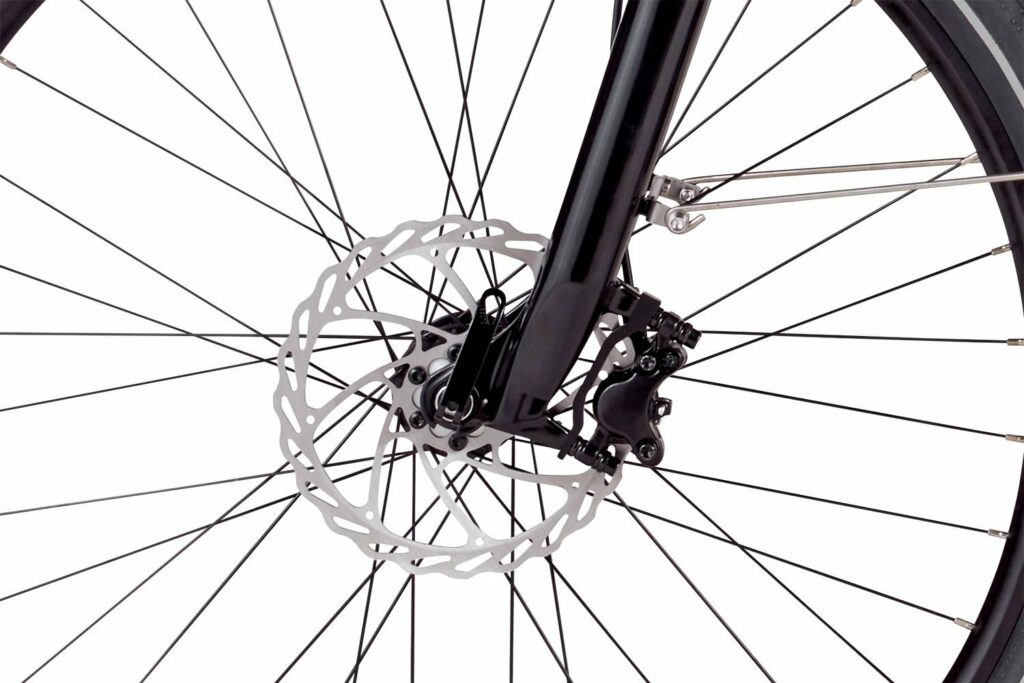 Redesigned frame
Rad redesigned the RadCity 5 Plus frame to accommodate a much wider range of body types, including five more inches on the high step model and an extra two inches on the step-through frame. And the design Rad says also handles much better.
Like all other RadCity models, the RadCity 5 Plus also includes a rear rack which is an optional accessory on many other models. You'll also find fenders and integrated lights, both front and rear.
It also should be noted that the redesign is also cosmetic. The high step model is offered in charcoal and the step-thru frame is offered in charcoal or glossy white. The new RadCity5 Plus looks much more sleek and stylish than previous models. This is in part due to the integrated battery. Speaking of the battery…
New battery
Now the battery is semi-integrated tucking right into the frame, making for a much sleeker style. And the 10-LED display on top of the battery should help you keep a better eye on the battery's charge. The RadCity 5 Plus shares the same battery as the RadRover 6 Plus and it is much easier to pop in and out. It is a superior design to the slide-on shark batteries found on other Rad Power Bikes models which could sometimes be frustrating to remove.
It's important to note that the batteries on the Plus models can no longer be turned off, meaning you can't disable someone from turning on the bike with the battery in place. We recommend removing your ebike batteries when locking them up, especially if you live in an area where bike theft is common.
Custom geared motor
Rad revamped its motor for the RadCity 5 Plus, upgrading it to climb hills 40% faster. If the RadCity5 Plus performs anything like the RadRover6 Plus, you'll be amazed at just how nicely it climbs. It features a 750-watt peak motor and Rad's engineers fine-tuned it specifically for its city riding. We're excited to get our hands on one to show you how well it climbs hills.
Suspension
The RadCity 5 Plus suspension offers 50 mm of travel, and tool-free spring preload to adjust fork stiffness for various conditions. This is half the travel compared to the other RadCity models though if you're riding in the city it's likely that the 50mm will be sufficient. The change to the front fork was likely made to help change the geometry of the bike to accommodate taller riders as we previously discussed. The fork is also ebike specific, meeting the EN-15194 standard.
New User Interface
The new RadCity 5 Plus offers a brand new dual LCD display. In the center, you'll find real-time stats for current speed, mileage, power output, and trip time. It also includes a clock, which sounds like a small change but is one addition we've already found useful on the RadRover 6 Plus.
On the left side of the handlebars are large power, light, and pedal-assist buttons. This also displays your current pedal assist level as well as your battery capacity. The buttons are also larger than you'll find on many other ebikes and the standalone button for the light is a refreshing change (no more button combinations to remember!).
The dual displays are not something we've seen from other ebike companies but it makes a lot of sense. The pedal-assist level is displayed in the same place where it is adjusted, making it more user friendly. And the more real-time permanent information is displayed front and center. The middle screen has adjustable brightness making it easy to read on sunny days though we wish the display on the left side also allowed for brightness adjustment.
RadCity 5 Plus: Custom tires
The newly redesigned tires allow an 11% boost in range, which Rad Power Bikes says will allow riders to travel between 28 and 50 miles on a single charge. It comes with puncture-resistant 27.5″ tires, with 2″ width, a more narrow tire meant for commuting. This is a new tire size for Rad Power Bikes as the other RadCity models currently have 26″ x 2.3″ tires. Like other models, the RadCity 5 Plus includes reflective sidewalls for increased visibility in city environments.
What else?
Rad includes custom cable covers for better protection and easier maintenance. And a reduction in plastic packaging by 50% helps ease environmental concerns. Like other Rad Power Bikes models, the RadCity 5 Plus is compatible with the quality accessories the company is known for. Below is a fully outfitted RadCity 5 Plus with panniers, a front rack, front basket and roll-top bag to maximize cargo capacity.
Our Take on the new RadCity 5 Plus
The RadCity 5 Plus is a significant upgrade from previous RadCity models, all at a price of only $200 more. The high step and step-through models will cost $1,999, staying true to Rad's mission of providing great value. It strikes a great balance of offering better components without jumping too much higher in price. In our opinion, the extra money for the Plus model is easily justifiable. Check out the full details on the RadCity 5 Plus.
Rad Power Bikes RadCity Assembly and Tuning!
Check out our below video on how to assemble your new RadCity 5 Plus. The video also discusses hydraulic disc brake alignment, derailleur adjustments and more!