KBO is a newer entrant into the ebike space, but they have quickly made a name for themselves with their value priced ebikes. It started with the KBO Breeze commuter electric bike and the stealthy KBO Hurricane (you can check out those reviews here and here). Now they are tackling the cargo ebike space with the KBO Ranger.
What immediately stands out with the KBO Ranger is the price of $1,599. Early purchasers can save an additional $60 off through September 30 by using the discount code RANGER60. (Use our affiliate link to support Ebike Escape) Preorders are expected to ship in November 2021.
KBO Ranger Video Review
KBO Ranger Battery and Motor Specs
The KBO Ranger includes a large 840 watt-hour battery (48V 17.5 Ah) which the company estimates will take you 35 to 60 miles. In reality, the 60-mile estimate is under ideal conditions but an 840 watt-hour battery is larger than average so the range still should be plenty for most use cases. KBO also includes a 3 amp charger which will charge your battery slightly faster than the 2 amp chargers normally included on other affordable ebikes.
The battery powers a 750-watt rear hub motor which peaks at 900 watts. That extra power will be helpful to keep the 77 lb bike cruising and also for extra cargo or passengers.
The Frame
The KBO Ranger frame stands out compared to other cargo ebike frames. The unique design starts with seatstays that are completely horizontal. The step-thru design ensures the bike will be accessible to a wider variety of riders. KBO reports a minimum Seat Height of 27.5″ and standover height of 15.7″. The center of gravity is lowered with help of the 20″ x 3″ CST tires. With a 400 lb weight capacity, the Ranger should hold up to almost any kind of cargo you want to throw on it.
And we would be remiss if we didn't mention the two color offerings: cool grey and orange. The orange appears to be the same color found on the KBO Breeze which in our opinion is sure to turn heads. Finally, the integrated battery adds to the sleek look of this cargo ebike.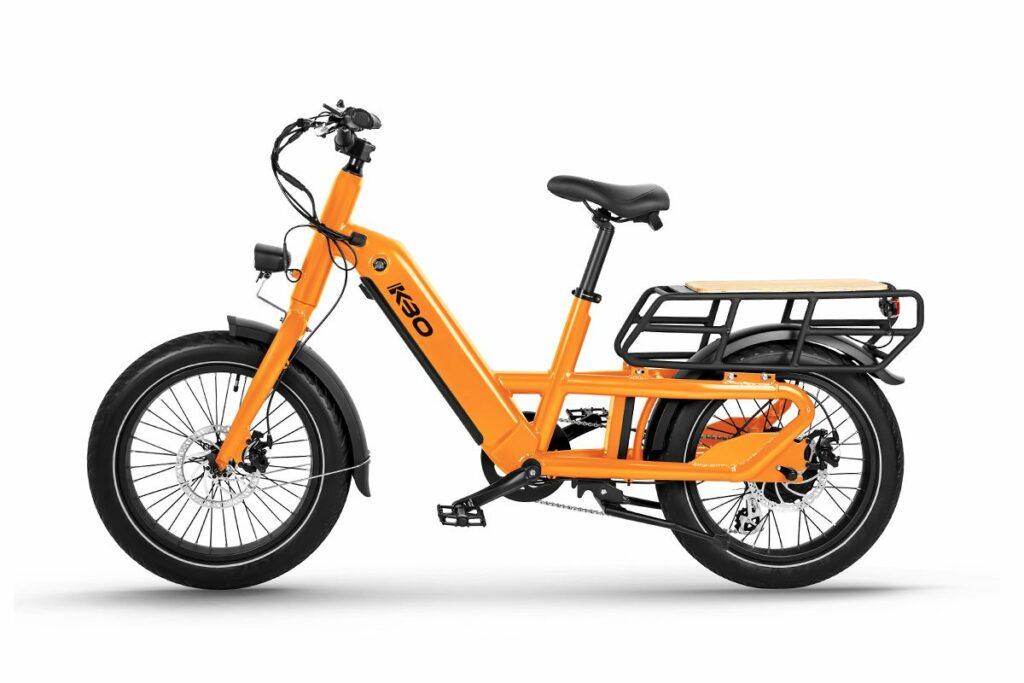 KBO Ranger Components
KBO didn't skimp when it came to other components either (view the full specs). The KBO Ranger has a Shimano thumb shifter paired with a Shimano Altus rear derailleur. Mechanical disc brakes with 180 mm rotors will provide plenty of stopping power.
It also comes with a double kickstand, front and rear integrated lights, a right-hand twist-grip throttle, bright LCD screen, and fenders. While there is no front suspension, the wider tires will provide some shock absorption with lower pressure.
KBO Ranger Accessories
KBO has also released a variety of accessories to accompany the KBO Ranger. This includes the front rack ($69), front basket ($89), running boards ($99), and a "fence" to protect your passengers. The KBO Ranger rear rack ($129) is included in the purchase along with a multi-tool. For more suggestions on outfitting whatever ebike you decide to purchase check out our ebike accessories list.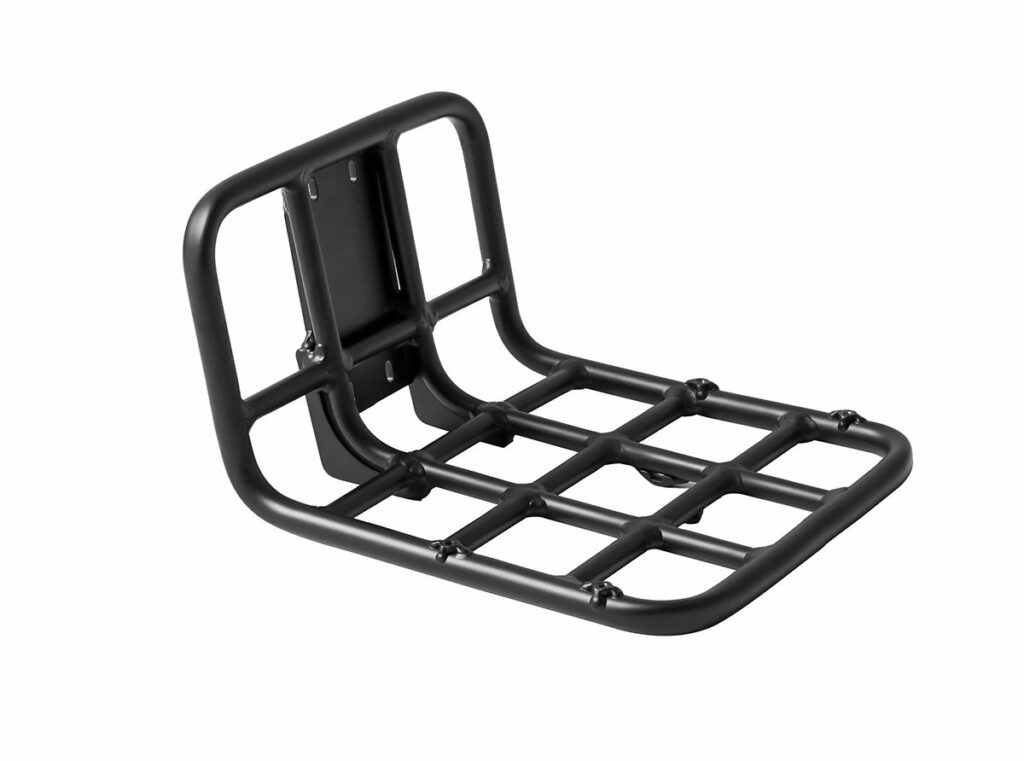 Our Take
On paper, the KBO Ranger looks like a tremendous value if you're looking for a cargo ebike. Most cargo ebikes like the Rad Power Bikes RadWagon start near $2000. And cargo ebike prices can go up from there reaching several thousands of dollars.
KBO has a short but successful track record to date which should give ebike shoppers some peace of mind when purchasing. We'll be keeping a close eye on the KBO Ranger and will report back if complete a full video KBO Ranger review. Check out the full details on the KBO Ranger.