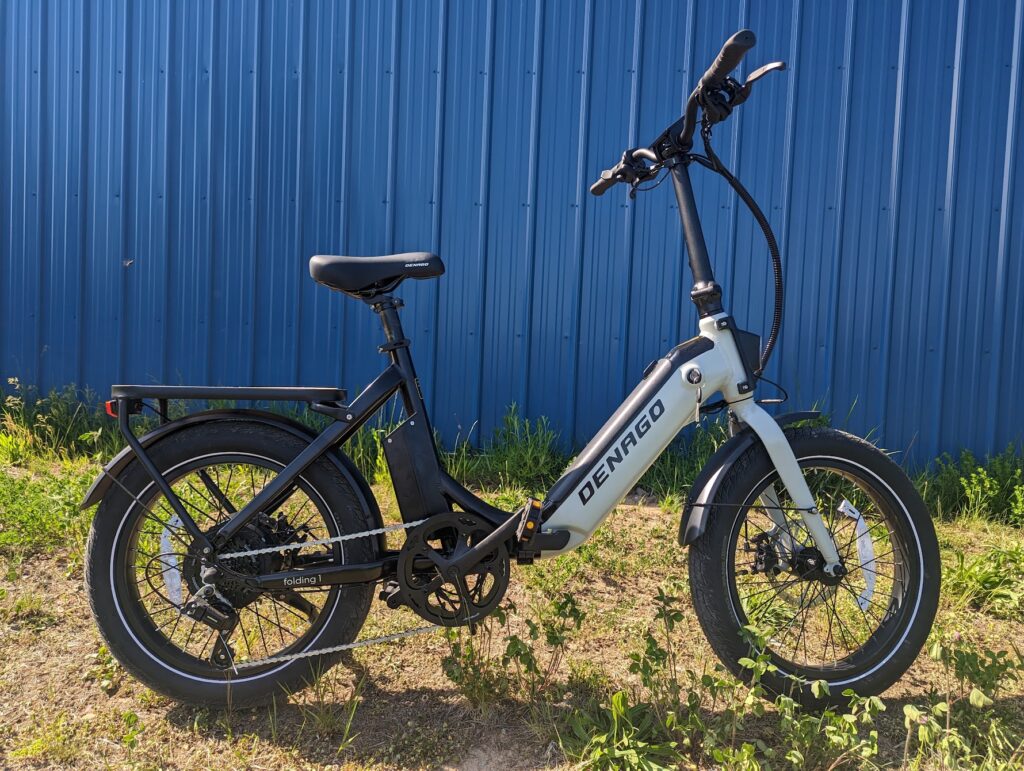 Introducing the Denago Folding 1 review. We have really been enjoying the Denago ebikes of late and it is nice to see the company growing and expanding the lineup. They are also continuing to grow their dealer network, making it easier for potential customers to try before buying – over 100 at the time of publishing.
The Folding 1 is their first folding ebike, and it does not disappoint. It is currently listed at $1,499 and that's the same price you'll find if you purchase at a dealer. If you do end up getting this bike online, please consider using our link. This helps us continue to review ebikes so you can pick the perfect bike for your needs.
Denago Folding 1 Video Review
Folding Frame Design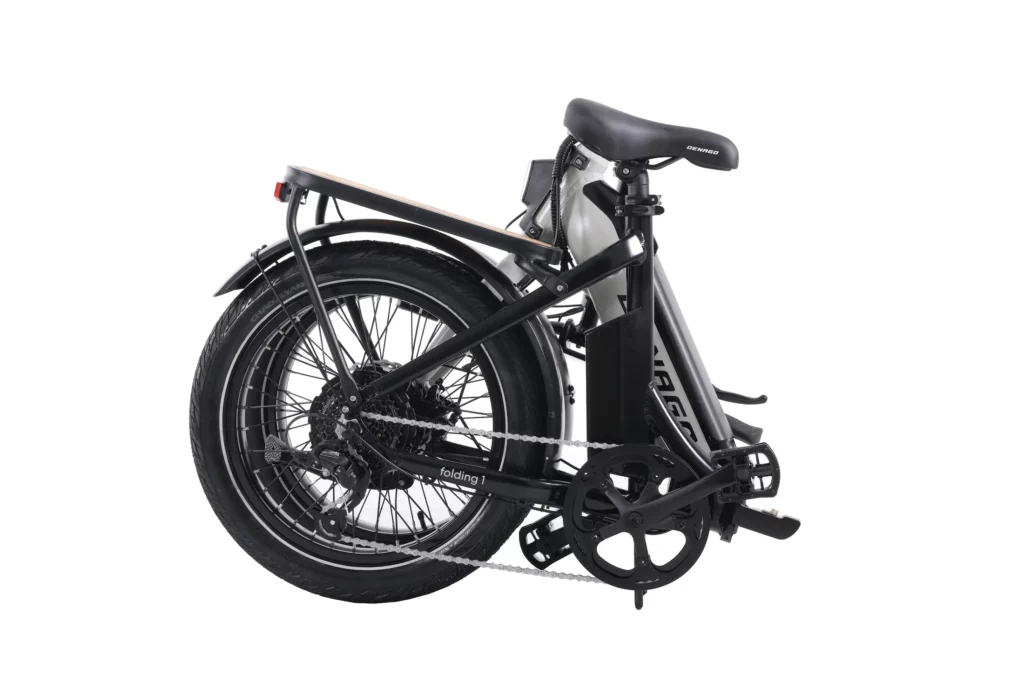 The Denago Folding 1 ebike is designed for compact storage when at home or on the go. The handlebars, frame, and pedals all fold in to minimize storage size. First, you lower the saddle and release the handlebars. Then fold in the pedals. Finally, release the hinge allowing the frame to fold in half. It is advertised to take only 30 seconds to fold and unfold. During our review, we found that while it was fast, it wasn't quite THAT fast. Having folded a lot of folding ebikes, this one seemed on par with most.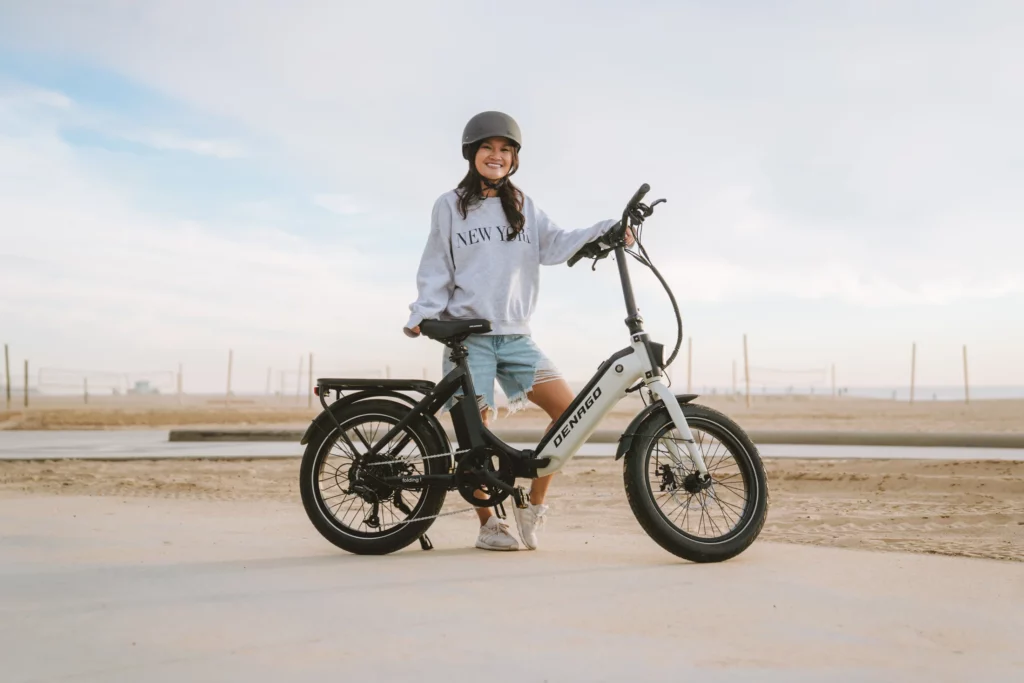 There is only one color and one frame for the Denago Folding 1, but it fits such a huge range of riders that one size really does fit most. Recommended rider height is between 5'1″ and 6'5″ though if you're only the higher end of that range you might want to hop on one before buying.
This is great for families who want to share a bike but are not the same height. There is a maximum rider weight of 300 lbs. The bike itself weighs 62 lbs which is on the lower side for this type of bike and the Folding 1 has one of the lowest standover heights we've seen at 14.5″.
Battery and Motor for the Denago Folding 1
This Denago Folding 1 is powered by a Shengyi rear hub 500-watt motor. While that may sound smaller than most, it is well-tuned and likely has a much higher peak power. The Denago Folding 1 performed well on our hill test, zooming right up the hill with a 225 lb rider.
The battery is nicely integrated into the frame. It is a 48V battery with 13.6 Ah, providing a total of 652 watt-hours. This is about the battery size we would expect for this price point. The bike has a left-sided thumb throttle with a top speed of 20 miles per hour. But if you pedal, you can get up to 25 miles per hour.
Like most ebikes in this price range, the Denago Folding 1 ebike has a cadence sensor. This simply applies power whether you're pedaling or not, and applies the power of the assist level selected.
There are five levels of pedal assist. You can adjust the level of pedal assist on the high-resolution LCD screen. The screen also features speed, trip distance, odometer, trip time, battery charge level, and walk mode. Additionally, it allows you to control the integrated front and rear lights.
Denago Folding 1 Drivetrain and Brakes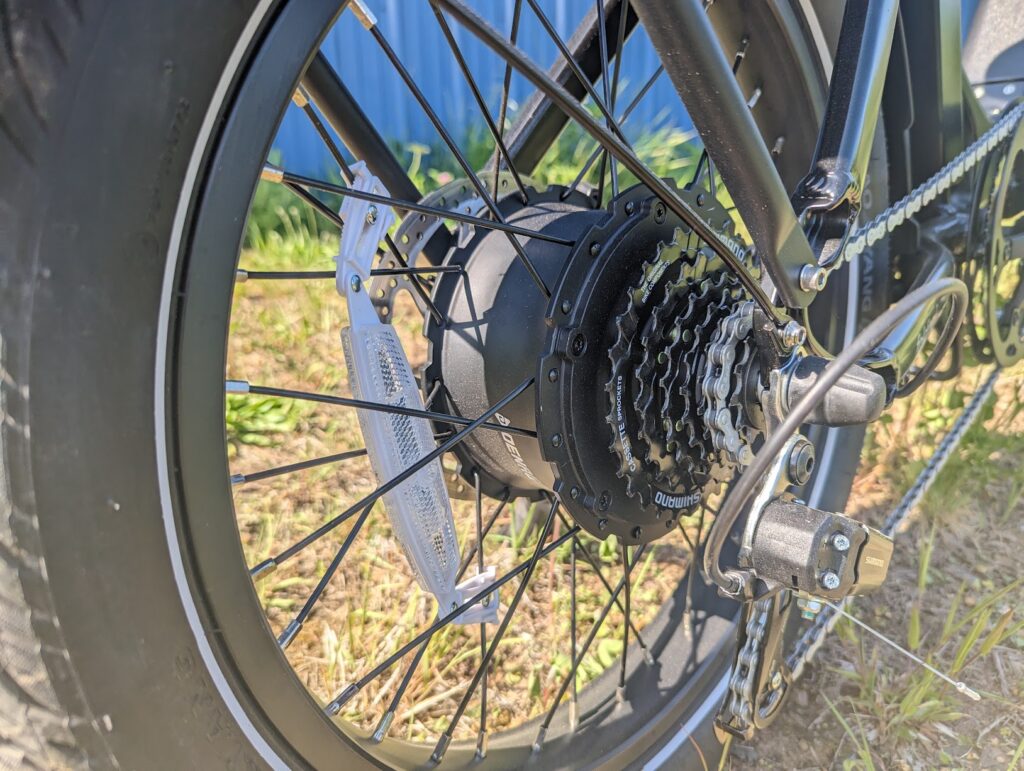 This 7-speed ebike features a 7-speed Shimano Tourney derailleur with a 12T-32T freewheel in the rear and a 48T chainring. The 7-speed MicroShift shifter includes an optical gear display, making it easy to see your current riding gear. The bike features Jak mechanical disc brakes with 180 mm rotors. While we prefer hydraulic disc brakes, mechanical disc brakes are still common at this price point and still provide ample stopping power. Motor cutoffs on the brakes will immediately cut power to the motor once applied.
Another safety feature is that the throttle won't engage when the bike is at a standstill. It helps prevent riders from accidentally applying the throttle when stopped. This is nice for newer riders but may feel frustrating to experienced riders.
Additional Components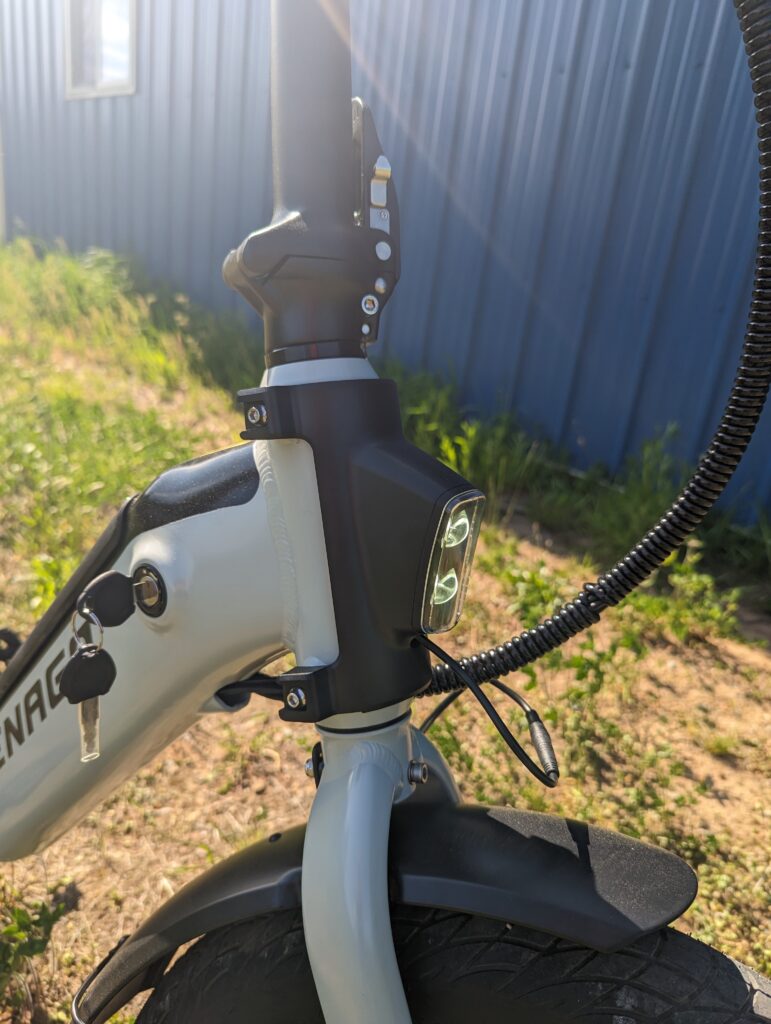 There is no included suspension in the fork, frame, or seat so you may want to consider a suspension seatpost for increased comfort. We love the SR Suntour NCX, but you can check out other options on our accessories page.
However. the tires are Chao Yang 20″ x 3″ and will offer some cushion. It's a nice size that offers a more efficient ride with better handling than 4″ tires, while still giving you to handle some light off-roading. Plus they also cut down on wight. Keep in mind the tires are more of a street tread.
The Denago Folding 1 includes a lot of nice accessories. There is a classy-looking wooden topped rear rack with a 35 lb weight limit. Front and rear fenders are included, which are important should you find yourself riding in the rain. Denago also includes a kickstand, bell, and integrated front and rear lights.
Concluding Thoughts on the Denago Folding 1
There are already a lot of options on the market for a folding Ebike. The Denago Folding 1 has a few things to make it stand out. The tires are 3″, a bit narrower than most. The motor is a reasonable 500 watts but really packs a punch, making it a powerful hill climber. And finally, it's a nice design with a sleek integrated headlight and nice step-through frame.
If you still aren't sure whether this bike is right for you, check out a local dealer and take it for a spin.
Electronics (Battery, Motor, Display)
8.5
Components (Shifter, Derailleur, Fork)
8
Denago Folding 1 pros
Low standover height with sleek frame design
One frame size fits a wide range of riders.
Affordable price
Powerful 500 watt, 48V motor
Includes a rack, fenders, and a headlight
Large LCD screen
Denago Folding 1 cons
No suspension
Mechanical disc brakes
Only one color option
No access to throttle from a stop
If you are looking for other folding options to review and compare to the Denago Folding 1, check out the Aventon Sinch Step-through, the Lectric XP 3.0, or the RadExpand 5. You can also read about more options for the best folding ebikes from our list or check out our video of the best folding ebikes which we filmed in 2023.