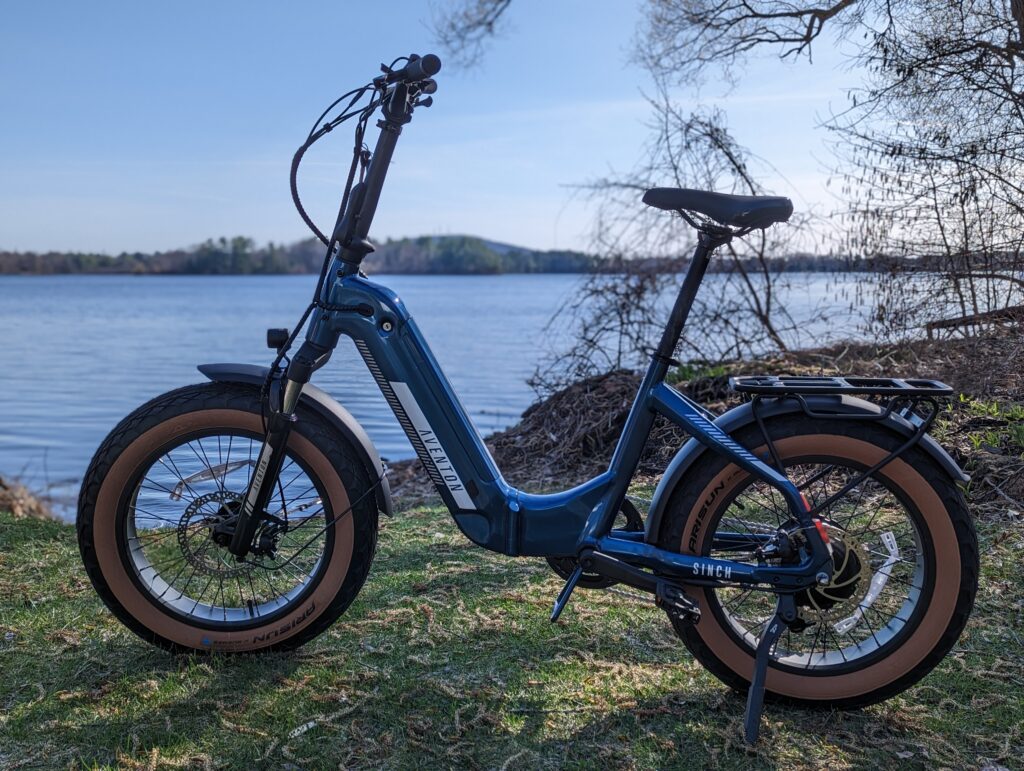 The Sinch.2 is the second iteration of Aventon's slick-looking folding, fat tire ebike with a price tag of $1,799. It retains the user-friendly, step-through design of its predecessor, the Sinch Step-through, as well as a bunch of notable improvements. The latest model includes integrated front and rear lights, metal fenders, and a rear rack. And although the replacement of the Shimano Acera derailleur with Aventon's own brand derailleur is a slight downgrade, it is great to find an eight-speed shifter and torque sensor.
Read on for our written review or check out our in-depth Aventon Sinch.2 video review below.
Aventon Sinch.2 Video Review
Sinch.2 Frame Design
This upgraded Sinch.2 looks very similar to the Sinch step-through, with the premium finishing; making weld marks almost invisible; and the same 20"x4" wide tires. The low-ride and better than average, RST-branded, suspension fork make this ebike a comfortable choice for shorter riders or those who might not be able to handle a larger ebike.
Aventon recommends rider heights from 4'11" to 6'2". The Sinch.2 weighs in at a standard 68 lbs and measures 67" L x 23.25" W x 46" H, folding to 46" L x 28" W x 30" H. New sapphire and quicksilver colorways offer a more metallic look than previously. And the handlebars have been modified with a slight, swept back curve, enhancing ride comfort.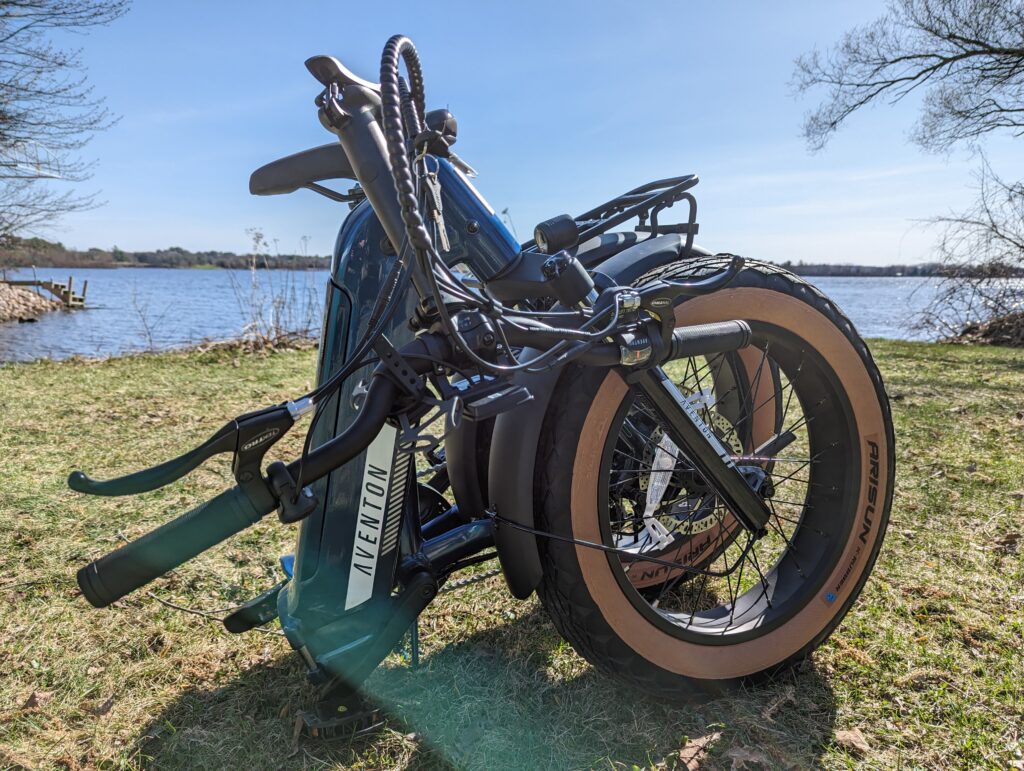 Aventon Sinch.2 Battery, Range and Display
The 14AH, 48V battery is the same size as the first Sinch Step-through and is seamlessly stowed at the top of the frame, making it super accessible. And, importantly, the battery is TUV Rheinland North America cTUVus certified in accordance with UL 2849. UL 2849 by definition is the standard for electrical systems for ebikes, which provides fire safety certification by examining the electrical drive train, battery, and charger system combinations in e-bikes.
Aventon promises a 55-mile range on flat ground with 'Eco' level of pedal assist (160 lb rider on flat terrain); an improvement from the 40 range of the earlier Sinch Step-through. This is of course due to the efficiency gains of the torque sensor. Throttle only range on the Sinch.2 is 22 Miles.
The latest model has dropped from five levels of pedal assist to four (Eco, Tour, Sport and Turbo) and it retains its Class 2 designation with a top speed of 20mph. Unlike other Aventon ebikes, the Sinch.2 can not be overridden for Class 3 speeds up to 28 mph.
Motor Power and Torque Sensor
The motor offers 500 watts sustained and 750 watts at peak. We were impressed with the performance up our large hill climb test and the motor packs a bigger punch than many other Aventon ebikes. A thumb throttle has been relocated to the right side, which now feels a little crowded with the two shifter levers in the same place.
But the transition to a torque sensor offers more natural control over human and motor effort and is certainly a rare feature for ebikes in the sub $2000 market. Simply put, the motor amplifies the effort the rider is putting in (varying on pedal assist level), instead of basic cadence sensors which engage the motor as long as the pedals are moving.
A sizable LCD color display clearly presents battery life, speed, and pedal assist mode. Controls on the left now include turn signal buttons – via the rear lights – which also enable access to trip information over on the display. Connectivity with the Aventon app is a nice feature too and the display unit even includes a hidden USB port for phone charging.
Sinch.2 Components Added and Altered
It would have been great to see the rear Tektro mechanical disc brakes replaced by a hydraulic set and to retain the Shimano shifter and derailleur, although the Aventon branded components were fine in our testing. Gears are a 12-32 teeth cassette at the rear and a 48-tooth double-sided front chainring.
The 20″x4″ Chao Yang tires have an attractive brown sidewall and more of a street tread, less useful for rough terrain, but fine for a crushed-gravel path. The RST front suspension fork performs really well and includes a pre-load on the left and lock-out on the right. And the newly integrated lights might look small, but work well, especially as brake and indicator lights at the back. The turn signals are timed and turn off automatically in about 10 seconds.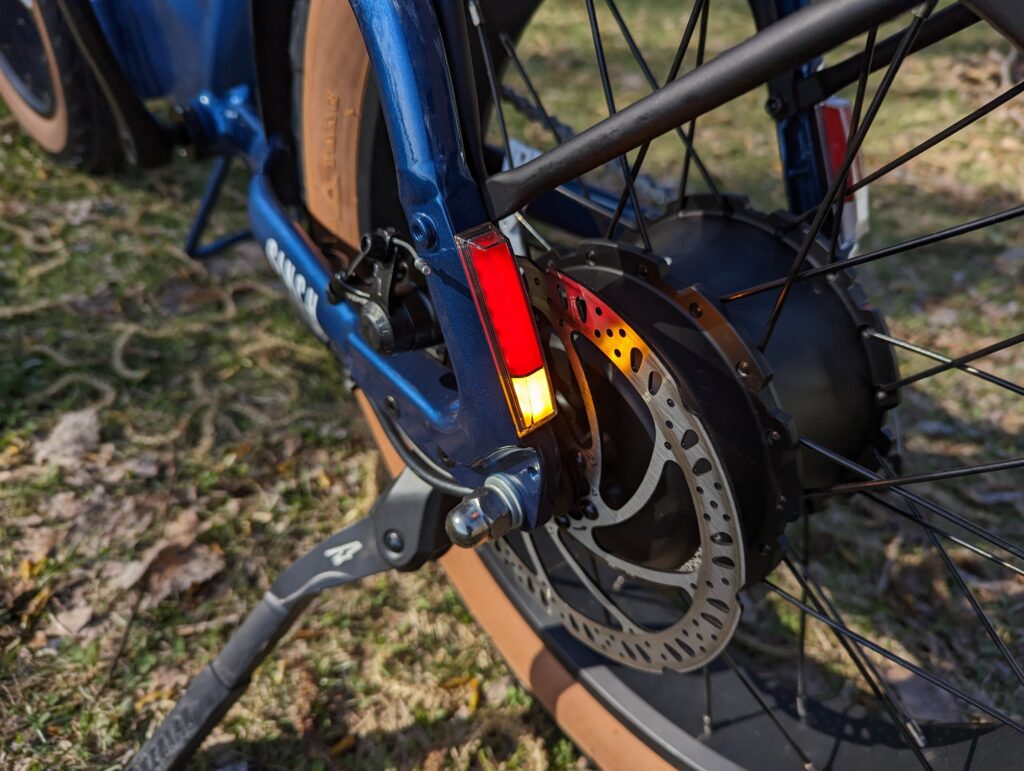 It's also super useful to have a rack included – for weight bearing up to 55 lbs (25kg) – as well as metal fenders and neatly wrapped cables and the tidy cable management system we've come to expect from Aventon. Folding pedals, easily clear the kickstand behind and an extra rest underneath the Sinch.2 keeps the folded ebike upright. Props to Aventon for cutting their carbon footprint with predominantly cardboard and twine packaging.
Check out Aventon's website for a full list of components.
Conclusion
Aventon's Sinch.2 is a well-designed and functional folding ebike, kitted out with a robust range of features to make for a comfortable and safe ride. The newly included accessories – such as lights, rack, and fenders – are about right for an ebike at this price point and the torque sensor is a premium addition. It's also worth noting that Aventon currently boasts the largest ebike dealer network, with some 1,000 local bike shops at the time of writing.
Be sure to check out all of our Aventon reviews to learn about other offerings.
Electronics (Battery, Motor, Display)
9
Components (Shifter, Derailleur, Fork)
8.5
Peppy 500 watt nominal motor
Torque sensor
Included fenders/rack
Integrated rear lights with turn signals
Aventon dealership/service network
App integration
Folds for easy transportation
Step-thru frame design which fits shorter riders
Crowded right side of the handlebars
No bottle cage bosses
Basic Aventon branded shifter/derailleur
Mechanical disc brakes
No option for Class 3 speeds
Aventon Sinch.2 Review: Subtle Changes make for a Superior Step-Through