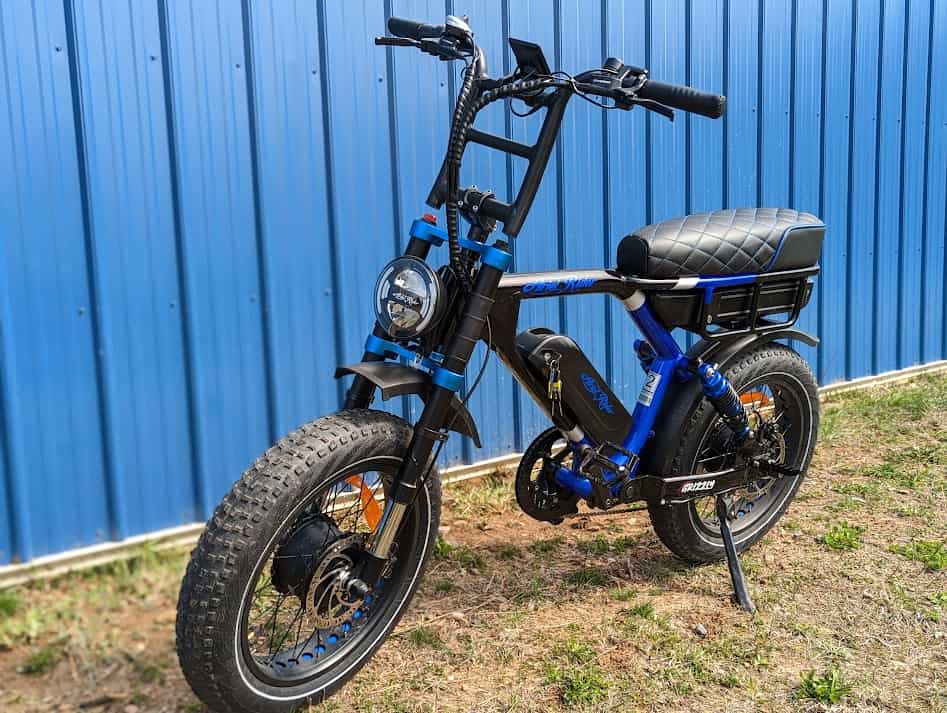 The Grizzly is the newest scrambler ebike from Ariel Rider, basically doubling the ride power of its predecessor, the Ariel Rider D-Class. It has the same, super fun design, with retro, 'chopper-style' handlebars, and e-moped build but it has been amped up compared to other moped style ebikes to offer dual motors, dual batteries and dual suspension. Not for the faint-hearted, it packs a powerful punch and more than earns its $3299 price point.
If you plan to purchase from Ariel Rider, using our affiliate link supports our efforts. Read on for our written review or check out our in-depth Grizzly video review below.
Ariel Rider Grizzly Video Review
Ariel Rider Grizzly Frame Design
This much bike weighs in at 108LB (or 88LB without battery) and can comfortably bear loads of up to 300lbs, with a standover height of 30″. The fat-tired, step-over aluminum frame comes in three different, dynamic colorways – blue, red or yellow. Although the seat is fixed – which means riders of different heights might experience a slightly unnatural riding position – the handlebars can be angled to modify the cockpit to maximize comfort.
Boosted Batteries and Motors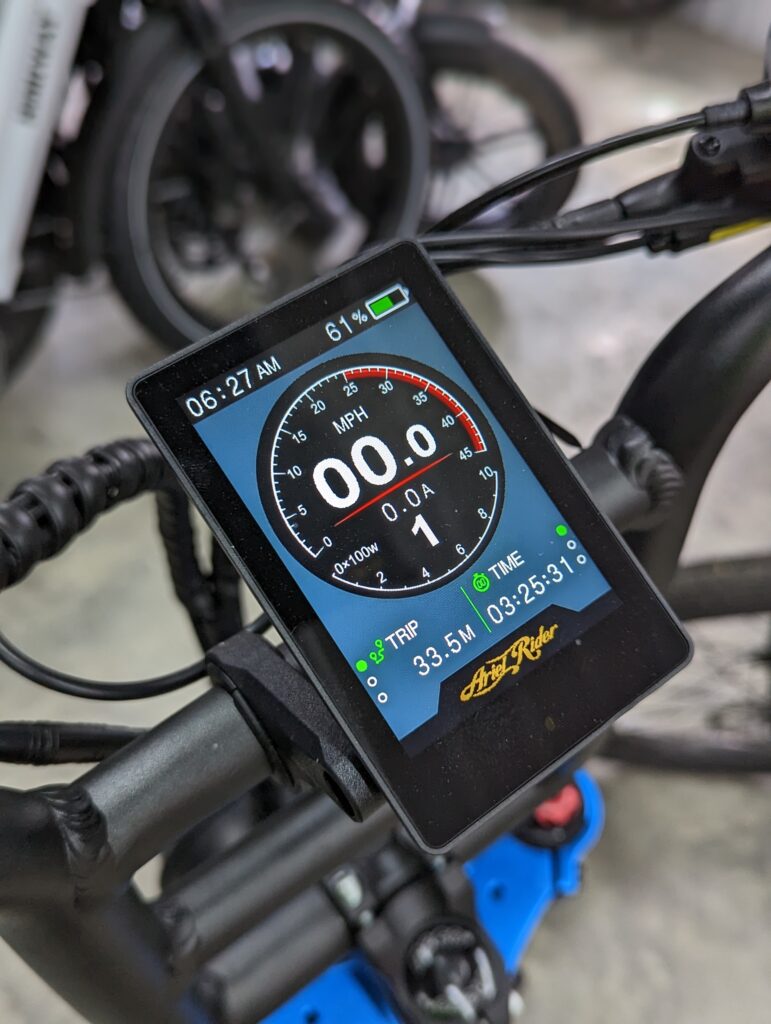 Two custom-built, Bafang-hub motors each have 1000W nominal and 1850W peak power. This dual motor technology means riders can choose all-wheel, or front or rear drives, with a simple switch at the left handle. These options make for easy adaptations for terrain, riding styles or even conserving battery. But engaging both motors is what turns up the fun factor.
A front frame-mounted battery adds 15AH to the 20AH from the under-seat battery at rear, providing a total of 52V 35Ah of capacity (1820 watt-hours). Batteries can be charged on or off the bike and have useful LED meters on each casing, visible without removal. The included 5 amp charger is a major win, enabling full charge in 3 or 4 hours at front and back, respectively, compared with a wait of 7.5 to 10 hours for the standard 2 amp ebike charger.
Although the bike ships with the Class 2, 20 MPH limit, it is possible to switch it up to the Class 3 speed of 28 MPH and beyond. Our 225 lb tester easily cruised up to 36MPH, but be sure to ride responsibly and within the limits of local laws. Ariel Rider estimates a range of 35 to 75 miles, though this figure falls the more both motors and full throttle are used.
Battery and speed info is also shown on the attractive color LCD backlit display. Another nice feature is an access passcode.
Dual Shocks and Other Components
Mighty, dual, spring air shocks provide a nice, cushy rear. They can be adjusted to suit rider weight via air valves – which do need a shock pump, rather than regular bike pump – and small spanner wrenches. And the inverted, motorbike-style front fork – with a sturdy dual crown – give great dampening up top. Added ergonomics are even found in the cushioned, faux-leather grips.
It's comforting to find quality, hydraulic Tektro brakes and levers on this capable ebike. The brakes include motor cutoffs which immediately cut power to the motor when applied. A guarded Shimano Altus, 7-speed, derailleur is fairly standard but, in reality, this is not a deal-breaker for such a powerful bike that's not necessarily best suited for pedaling. Equally, although it would have been nice to see an 11/32 or 11/34 sprocket, the 14-34T "MegaRange" Shimano rear freewheel, with 52 tooth front chainring, is fine, again, in light of pedal-power use.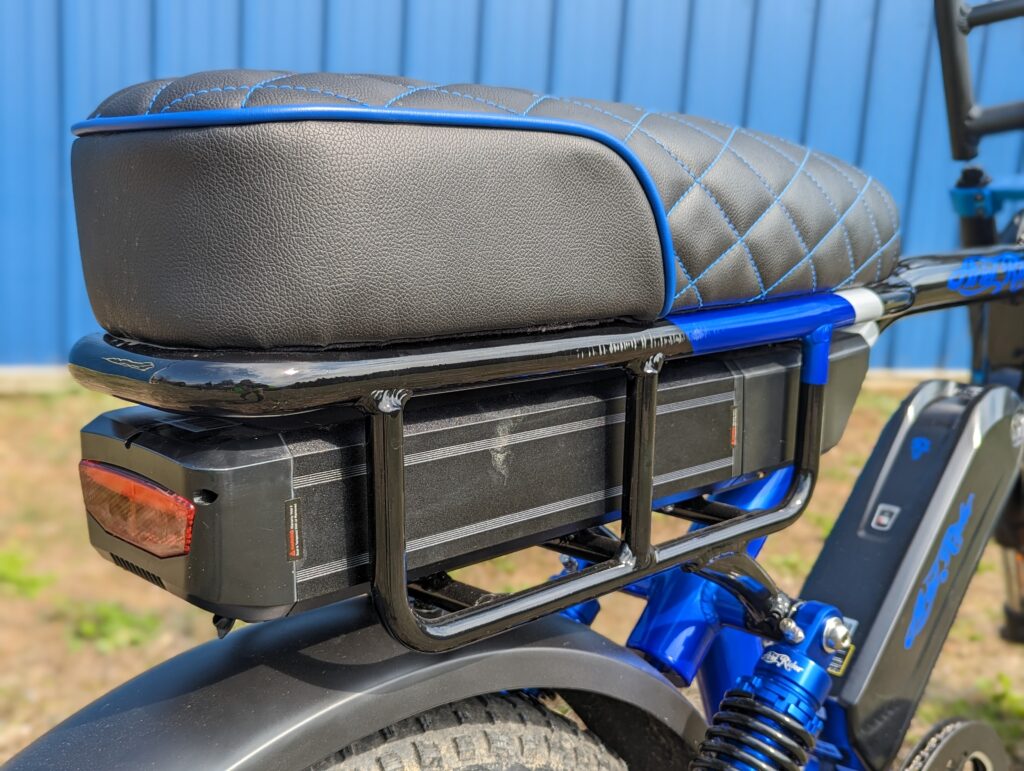 The impressive, moto-style integrated headlight is one of the brightest on the market. And the headlight and taillight can both be automatically activated via the display.
Custom seats are available, via suppliers like JB Seats (pictured above), giving more room for passengers – who have their rear pegs pre-installed. Be warned that the custom seat tested seemed to carry heat when operating at full throttle. Ariel Rider's supplied single banana seat falls a little short but an extension can be purchased.
Puncture-resistent 20″x4″ CST tires with reflective sidewalls are also worth a mention. For such a high-performance ebike, it's also worth considering supplementing them with a tire liner, such as those offered by Tannus (use code: TANNUSXEBE for a discount at checkout).
View the full Grizzly spec list.
Conclusion
The Grizzly is a beast of an ebike with dual motors and unheard of battery capacity. Its rapid acceleration and power potential make it unwise for a first ebike ride however. Although the unadjustable seat compromises riding positions for pedaling as most moped style ebikes do, it's all worth it for such a fun and stylish ride.
Be sure to check out all of our Ariel Rider reviews to learn about other offerings
ARIEL RIDER GRIZZLY REVIEW
Electronics (Battery, Motor, Display)

10
Components (Shifter, Derailleur, Fork)
8.5
ARIEL RIDER GRIZZLY PROS
Dual Bafang 1000/1850W motors
Dual Batteries – 35AH/52V power
Rapid 5 amp Charger included
Class 3 and greater speeds
Dual suspension
Tektro Hydraulic brakes
Powerful integrated headlight
Puncture resistant tires
ARIEL RIDER GRIZZLY CONS
High price tag
Unadjustable seat
14-34 Freewheel
Basic Shimano Altus derailleur
Dim rear light