I have to admit, my first few seconds with the Ariel Rider D Class made me a touch nervous. I've never been a motorcycle rider, and my one foray as a friend tried to teach me didn't go well. I mention this because the Ariel Rider D-Class definitely looks and feels like a mini motorcycle. After reviewing the Ariel Rider X-Class last year, we were excited to get our hands on a D-Class for a full review. By the way, the D in D-Class stands for dual motor, which most certainly adds to the fun factor of this electric bike.
The D-Class, currently priced at $2,399 is an ebike in a class of ebikes that feel more like lower-speed motorcycles. On my recent ride on one, we even navigated a construction zone that was rougher than we expected. It cruised over the soft mounds of dirt and divots and pits like they were nothing. Thanks to the fat tires and suspension, the ride was remarkably smooth even over the roughest terrain or loosest dirt that would swallow up a mountain bike.
The D-Class stands in a class almost its own. With its dual motors powerful enough to pick up the front tire from a standstill (Seriously, it's a combination of feeling a little jarring, but satisfying knowing just how powerful this ebike is), this is a bike for some serious off-roading or fast street riding. Nothing will stop you on this powerful machine. Just be sure you ease into it so you don't hurt yourself.
Before we get into the details, one note about assembling the D-Class. The box was larger than most ebike boxes since the front wheel comes installed. This is a good thing because remember, there is a motor (along with appropriate power connections) on the front of the bike. This made the D-Class one of the easiest bikes to assemble, especially considering the way the handlebars slide into place. Note that there is a range of handlebar height adjustability depending on your preference.
Ariel Rider D Class – the frame
Much like the Ariel X Class, straddling the D-Class feels like getting on a motorcycle. Its saddle (could you even call it that?) is a long, wide motorcycle-style banana seat which, with the pegs installed, means another rider could easily ride on the back. The cushy rear seat on the D-Class is much softer than the elongated seat that is available on the X-Class.
Everything from the handlebars to the suspension screams motorcycle. Speaking of handlebars, some riders will certainly appreciate the more upright riding style compared to the more aggressive riding style on the Ariel Rider X-Class.
One nice touch? A bottle holder comes built into the top tube (well, between the two tubes that make up the top tube). On a bike this smooth, you could actually pull off having a drink in the holder without it spilling all over the place.
The Components
The D Class comes with an 18 Ah battery (864 watt-hours) with Samsung cells, which Ariel Rider says is the same top-of-the-line technology used in Teslas. The battery should last around 50 miles, according to Ariel, but that's pedaling with low-level pedal assist, which surely few will do on a bike this fun. More realistic – other owners say you'll probably get about an hour or so of cruising around with the throttle, more or less depending on whether you use a single or dual-motor mode. This lined up with my own test ride — about half an hour of riding, switching between the two modes, took up about half the battery.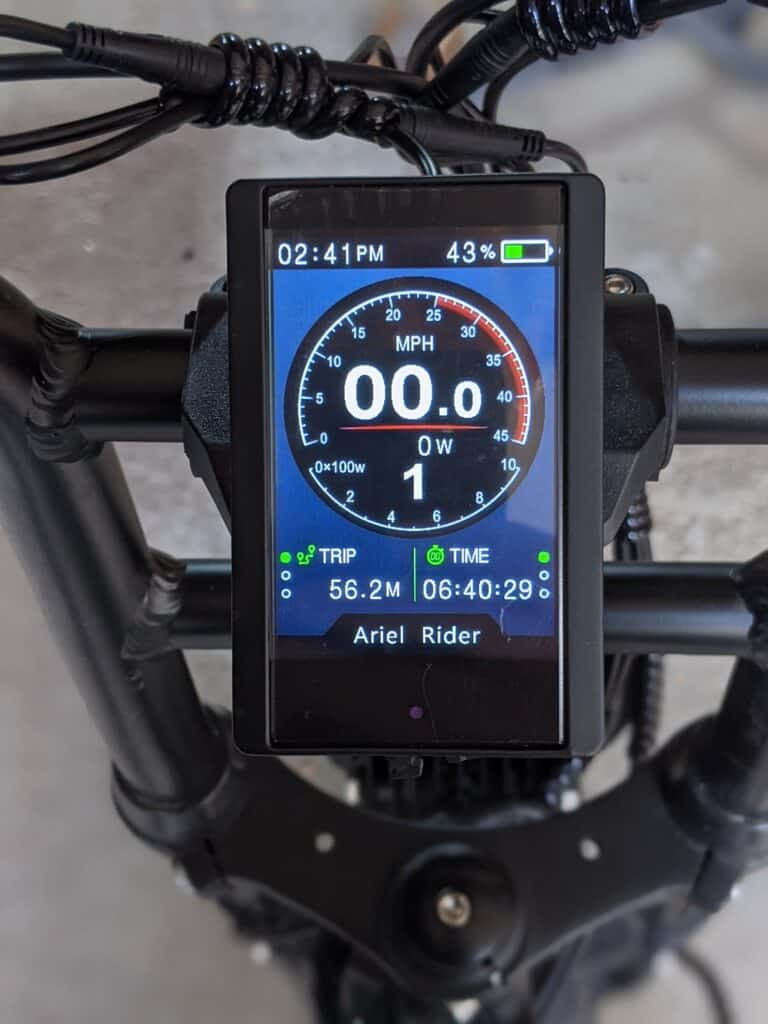 Ariel Rider opted for an inverted suspension fork on the D-Class which seems to break in over time. It helps too that you're riding on Kenda Krusade Sport 20×4″ fat bike tires (which add to the motorcycle image). And the Tektro hydraulic brakes with 180mm rotors will help you stop all of that momentum. We love that Ariel Rider includes hydraulic disc brakes on several of their ebikes.
Some nice touches: front and rear lights that also resemble motorcycle lights – they were nice to pop on as dusk approached at the end of our test ride. The front light is especially powerful and you are bound to be seen by other motorists. And the brakes feature a motor cutoff, a feature which immediately cuts power to the motors when the brakes are pressed.
Another feature worth calling out is the color LCD screen, positioned right in the center of the handlebars. It is the nicest display on any ebike that the Ebike Escape team has tested out. It has loads of information and you can go into the advanced settings and customize the bike further to your liking (Ariel Rider has a nice user guide online).
The Dual Motors & Drivetrain
Let's be honest, this is what you're here for. The dual 750-watt motors are ridiculously powerful. In fact, there hasn't been a hill we've found that this bike can't handle. A switch on the handlebars allows you to switch between front, rear, or both motors. Using one (I mostly used the rear) is plenty to still reach speeds of 26 miles per hour, but both motors will get you to 30 miles per hour. Having the option of switching between the motors is handy for conserving the battery when necessary.
But if you use both motors, hang on tight – the acceleration is insane. According to Ariel Rider the steel-built internal gears can handle 10 times the torque of a regular ebike motor. It's nice to know that the motors were designed to handle anything you can throw at it.
The motors drive a 1×7 Shimano Atlus system turning a 14-28 cassette. I didn't bother to shift once though – the extreme power of this bike made me completely forget about it, even up steep hills. If you do decide to pedal keep in mind that at higher speeds you'll be just spinning the chain, not providing any power yourself. This is common with ebikes that reach higher speeds and some decide to upgrade to a larger front chainring to combat this.
And if you live in a colder climate like the Ebike Escape team, you can count on the dual motors to handle snow with relative ease. Once you ride on a dual motor electric bike you won't want to go back to a single motor. It will also handle soft sand much better. Keep an eye out on our YouTube channel come winter for winter riding content.
Accessories for your Ariel Rider D Class
There's a number of different accessories you can get for the D-Class, such as the rear rack and a front basket. These will allow cargo capacity, increasing the versatility of the Ariel Rider D-Class. You might also want to consider the remote-controlled bike alarm and horn. Other suggested accessories can be found on our ebike accessories list.
The Feel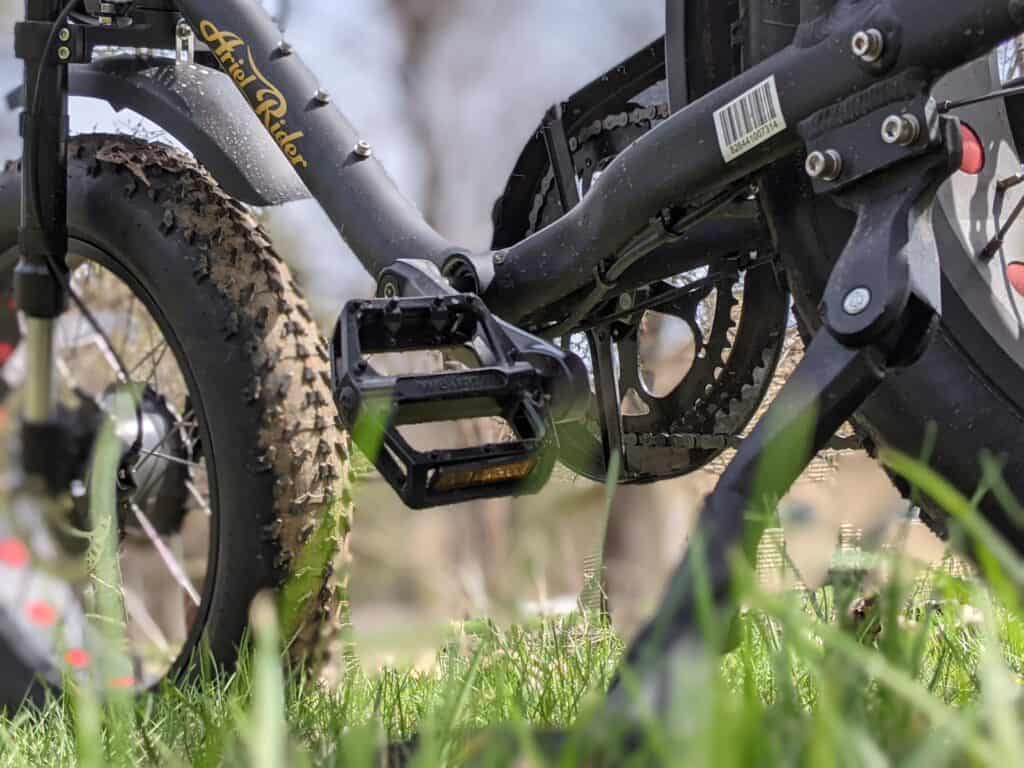 The motorcycle-style seats show us why the bicycle saddle was invented. In our experience, they just aren't that comfortable pedaling long distances due to potential rubbing on your inner thighs. However, the D-Class seat does taper towards the front and many Ariel Rider owners in the Facebook group happily pedal their Grizzly, X-Class, or D-Class. Just don't expect it to be the same as a regular bicycle where your legs can get full extension.
Our feeling is moped-style electric bikes aren't meant to be pedaled most of the time. It's meant to be the ebike equivalent of a motorcycle or moped, and with that in mind, it's an absolute blast. There's a certain joy in riding something with tons of acceleration while also knowing that you're making zero emissions and being environmentally friendly. I almost felt like I should be wearing a leather jacket while riding this – not just for the cool factor, but also to keep me warm at those high speeds.
Who is this for?
This is probably not someone's first ebike; or at least not someone coming from the world of non-motorized bicycles. The D-Class is I think for two people: the first-time ebike buyer who doesn't care much about pedaling and wants something akin to a moped without the gas (or maintenance, registration attached). And to the person who wants a second fun ebike to zip around with, down old logging roads and other trails, or to cruise around town with in style.
This is a fun bike to play around in the woods with, for a cool night out on the town, or to zip through the snow when other bicycles might let you down. Fun is the keyword with the D-Class. You can check out the Ariel Rider D-Class over at ArielRider.com.