I'm just going to come out at say it: This is one badass ebike. The Ariel Rider Grizzly, the latest entry in the moped/dirt bike style electric bike market and just released, has specs that promise one of the most powerful and durable ebikes out there. This is the next evolution of the Ariel Rider D Class — or put differently, it's the D-Class on steroids. Not only is it a dual-motor electric bike, but it also has dual batteries.
Ariel Rider Grizzly: Durability and Power
Featuring front and rear 750W (1500 watt peak) motors that make it all-wheel drive, and 52V battery packs versus the standard 48V packs found on most ebikes, this has the makings for one powerful moped-style ebike.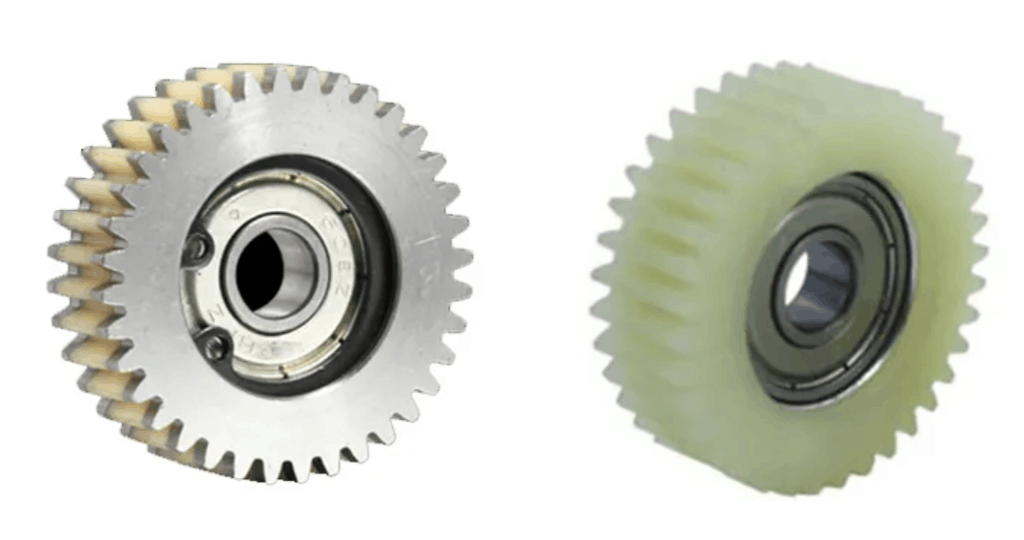 Also impressive, the Grizzly features metal gears unlike the nylon ones found in most ebikes. According to Ariel Rider, they handle 10 times the torque of the nylon gears, which is good because those motors are going to drive a lot of torque.
It also has dual batteries, boasting a 75-mile range on throttle-only operation according to Ariel Rider. That's a substantial range for an ebike. One battery is a 17.5 Ah and the other is a 14 Ah, both made with Samsung cells. Total capacity is 31.5 Ah or a whopping 1,638 watt-hours, a figure almost unheard of in the electric bike industry. And I did say almost – the Juiced HyperScrambler 2 offers nearly 2Kw of battery capacity.
Riders have the option to turn on the front motor, rear motor, or both for all-wheel drive power. And it comes with a 5-amp charger, for much quicker charging times than the 2-amp chargers most electric bikes come with.
It also features a dual suspension system with a rebound system that allows for better handling, support, and stance. Its handlebars and front fork resemble a dirt bike similar to the Super73 ebikes. It comes with twist throttle, cadence sensor pedal assist, and potential for an extended seat for a passenger. If you opt for the included seat you can purchase an aftermarket rear rack which is also available on the X-Class. Knobbier tires are included so the Grizzly is set up for off-road riding out of the box. The bike weighs 105 pounds with batteries mounted, a sales rep for Ariel Rider told members of it's Facebook group.
If all that power makes you a little nervous, the Grizzly comes with dual motor cut-offs. Just grip the brakes (Tektro hydraulic 180mm disc brakes) and the motor cuts off, preventing some potentially sticky situations. And if you do decide to do some pedaling you have a 7-speed Shimano Altus rear derailleur. But don't expect to be able to provide much pedal assistance if you're cranking on the throttle. You'll be limited by the 14-28 tooth cassette. Many people with moped style electric bikes also opt to increase the size of the front chainring.
The cool factor
Also, just for the sake of cool factor, the Ariel comes with a large color LED display with a battery meter, trip distance, time, and a speedometer similar to what one would find on a motorcycle. The front headlight specs aren't listed though suffice to say that you can assume it will be plenty bright. This is a different headlight compared to what is on the D or X-Class.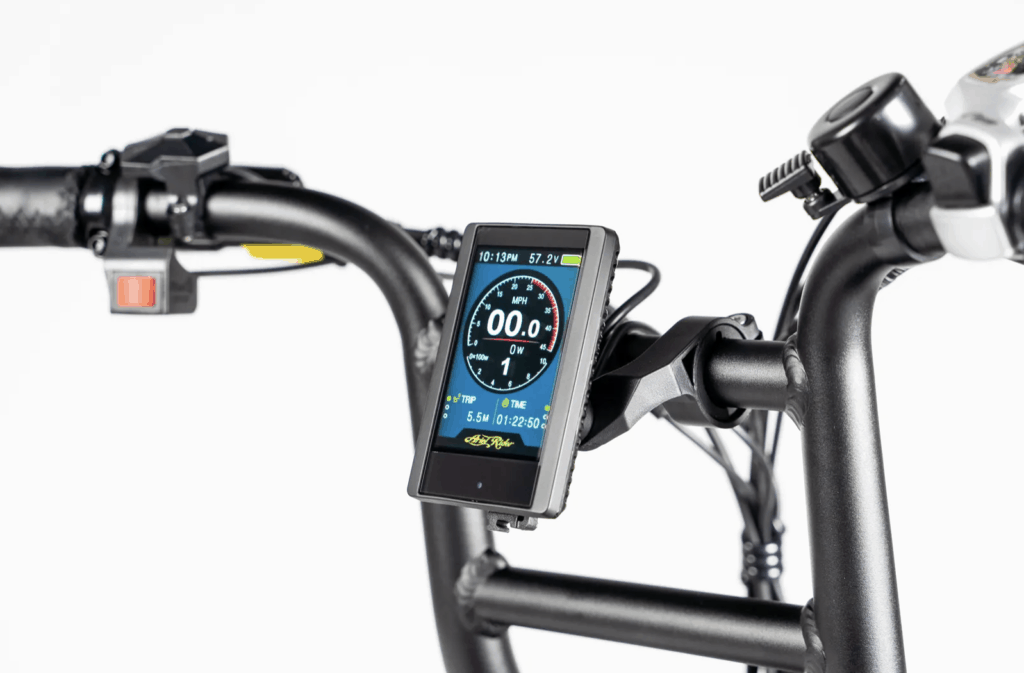 Ariel Rider says the twin 750w motors allow for "astonishing max speeds and incredible accelerations." A top speed for the bike isn't listed, and Ariel didn't answer the question on their Facebook group in a post announcing the bike, but one could safely assume it goes FAST. Make sure to follow all local laws as they apply and check-in your area because they can vary by state.
Ariel Rider Grizzly vs Juiced HyperScrambler 2
The $2,599 price tag might give some pause but the closest comparison is the new HyperScrambler 2 from Juiced. The price for the dual battery HyperScrambler 2 is $3,499, marked down to $2,999. And while the 1,000-watt motor (2,000-watt peak) is impressive and nearly 2kW battery capacity is impressive, the HyperScrambler 2 doesn't have the benefit of the Grizzly's all-wheel-drive twin 750 watt (1500 watt peak) motors.
Weighing in at 119 lbs, the Juiced HyperScrambler 2 is 14 pounds heavier. It also has the RetroBlade cast aluminum wheels which will never need adjusting as well as both cadence and torque pedal assist. Completing the package, Juiced includes mirrors, horn, and turn signals. Out of the box, the HyperScrambler 2 is set up for street riding.
If you're considering both the Ariel Rider Grizzly and Juiced HyperScrambler 2 you have a tough decision. The Grizzly is certainly marketed as an off-road workhorse compared to the urban styling of the HyperScrambler 2. But in my opinion, the Grizzly offers more value with its dual motor and cheaper price tag – even if you don't quite have the same battery capacity.
Conclusion
Ariel seems to be making strides to keep up with other dirt bike style brands such as Juiced or Super73. But with its newest member, the Grizzly, it set a pretty high bar. There have been dozens of comments on the Ariel Rider Facebook group with current Ariel Rider owners looking to upgrade from their X-Class or D-Class.
BTW, Ariel is also coming out with a 52V X-Class model – we reviewed the original Ariel X-Class previously. For that one, though, you will have to wait until June 15 of 2021. The Grizzy however is slated for February shipping.
Buying an Ariel Rider ebike? Using my affiliate link supports Ebike Escape at no additional cost to you.