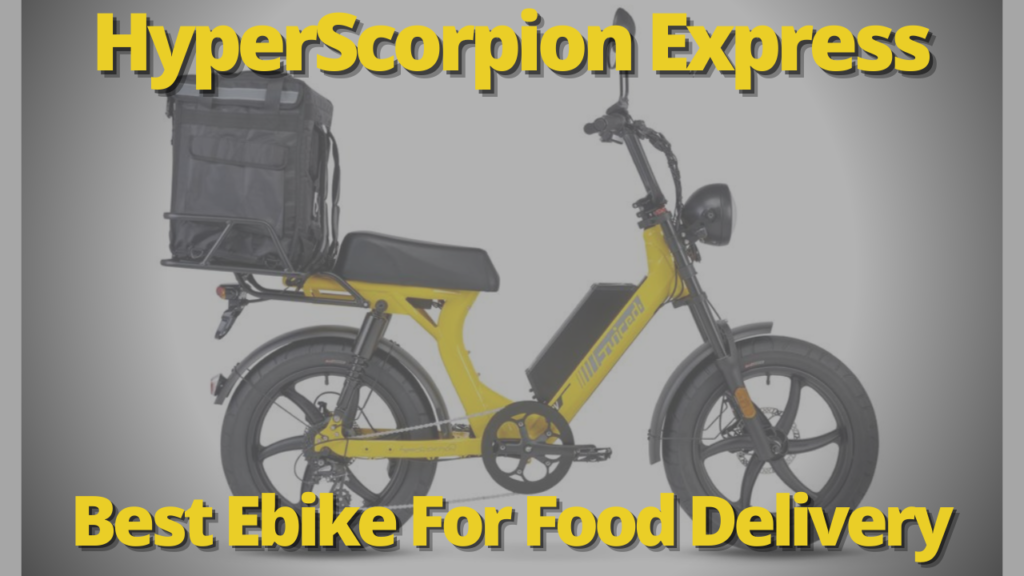 The idea is not new. Electric bikes for food delivery make a lot of sense. In fact, to my knowledge, Rad Power Bikes was the first ebike company to offer accessories for food delivery. This included both small and large insulated delivery bags which are compatible with many of the models from Rad Power Bikes. In August 2019, the company furthered a partnership with Dominos for pizza delivery via ebike. At the time of writing, there was even a job posting for a Dominos: "Electric Bike Delivery Expert". But more options are a good thing and now Juiced has released the HyperScorpion Express.
The Express builds on the powerful Juiced HyperScorpion platform with some noticeable differences. Perhaps first being the in-your-face-yellow color (great for visibility!). While the moped-style ebike already looked like it belonged in an urban setting for food delivery, there is something about the yellow which truly reinforces what this electric bike is made to do.
The HyperScorpion Express delivers on being a well thought out quality ebike but comes in at a cost. The $3,099 price tag gets you the same 52V 19.2 Ah battery, 1000 watt retroblade motor and the impressive 70+ mile range as the original HyperScorpion. It reaches speeds of 30 mph though you'll want to be aware of any local regulations. Other features include the alarm system, integrated brake lights, moped inspired headlight, horn, turn signals, and rearview mirrors.
The $100 premium over the standard HyperScorpion is due to the included extra-wide modular rear rack pictured below. Note that rear cargo bags are not included. But the Express is designed to be used with the large bags that are commonly seen by those who deliver through delivery companies like UberEats and DoorDash.
Rad Power Bikes vs Juiced HyperScorpion Express
It is hard to argue against the well thought out HyperScorpion Express. It is the ideal solution for food delivery and comes with no compromises. However, the reality is that the price of the Express is about double compared to a Rad Power Bikes setup for food delivery. Perhaps the major compromises of the Rad Power Bikes models are going to be the range of the battery (672 watt-hours vs 998 watt-hours) and the top speed/acceleration. It also lacks presence compared to the HyperScorpion Express in various ways through you could outfit it with third party electric bike accessories.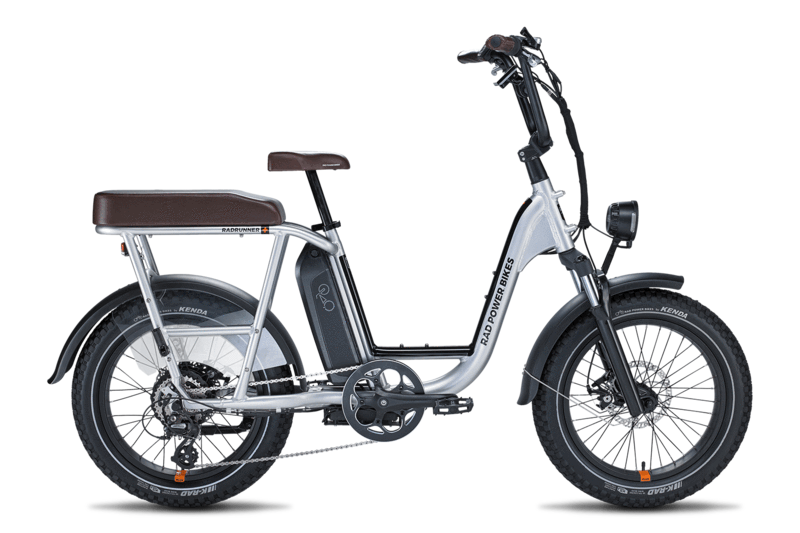 You can pick up a Rad Power Bikes RadRunner for $1,199. It is a single speed, but that shouldn't be a problem cruising around in the city. You'll need the large platform which adds an additional $39 and as an optional accessory, you can purchase Rad's large insulated bag for $59. This puts you at a total price of just under $1,300. Heck if you're worried about the range you could purchase an additional battery ($550) and still be almost $1,300 cheaper than the HyperScorpion Express. The RadRunner Plus which has front suspension and a 7-speed drivetrain is also an option at $1,699.
If a moped-style ebike isn't your style then you still have the other models from Rad Power Bikes, like the ultra-cargo-capable RadWagon 4 or even the RadMini, RadCity, or RadRover. All of these models are compatible with the Rad Power Bikes large platform.
Should you buy the HyperScorpion Express?
If you want the best for food delivery on an ebike then you will not be disappointed with the HyperScorpion Express. It's going to get you to your destination faster and allow you to do more deliveries in one shot without having to swap a battery. You'll also appreciate looking like more than just a bike on the road. One advantage that the Juiced HyperScorpion has over any other electric bike I've seen on the market is road presence.
For those where budget is a concern or perhaps food delivery is more of a side gig, then a Rad Power Bikes is a great entry point. Since electric bikes have good resale value, upgrading is always an option going forward. The RadRunner is perhaps the lowest priced ebike capable of being able to do food delivery. It also will provide some fun when you're not on the clock with an optional passenger package and other accessories.