The Juiced Scorpion was a great entry into the moped/motorcycle style ebike scene – but recently the company juiced up (pun intended) that bike with the new and improved Juiced Scorpion X. We've always liked Juiced for leading the way with their 52V packs, combined with their affordable prices. The Scorpion X builds on the success of the original Juiced Scorpion.
The new version of the Scorpion now has more range, a smoother pedal assist, a better motor, a new key lock and a relay rack system.
Juiced Scorpion X — what's new
Juiced added a 52-volt, 15 Ah battery pack (780 watt-hours) that significantly extends the range over the old Scorpion model, promising 55+ miles of range on one charge (a reported 15% more than the original Scorpion).
An upgraded torque and cadence pedal assist system will allow for smoother pedaling without the lag common in cadence-only systems.
Juiced added an 8-speed cassette with a 56T-11T gear set to allow for easier pedaling at higher speeds. Many owners end up upgrading to larger front chainrings so this is a great improvement to see.
The motor is completely updated to Juiced's Retroblade 750-watt motor (which peaks higher), originally found on its HyperScorpion model. It should get up to 28 miles per hour, and while the last claimed that speed as well, it should much more easily reach that top speed.
Included 100 db horn to give you a bit more authority on the road.
What else about the Juiced Scorpion X?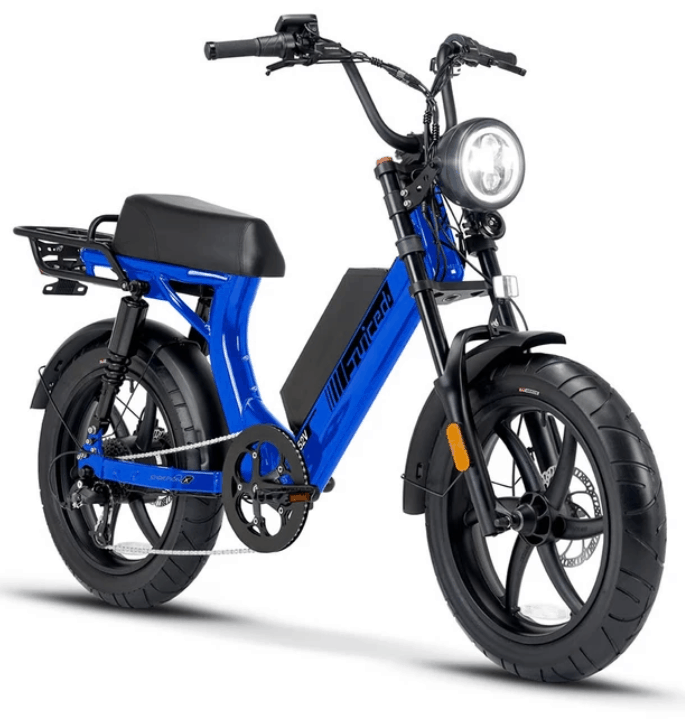 The Juiced Scorpion X with its dual suspension frame weighs about 100 pounds and has a carrying capacity of 275 pounds. It comes with Tektro hydraulic disc brakes, Shimano gearing (MicroShift 26, 11-32t) a motorcycle-like headlamp, and integrated brake lights.
A twist throttle powers the motor that can peak at 1,800 watts, according to Juiced. The headset features a LCD display and USB charger to charge up your cell phone while you're riding.
The price is worth a note. At the time of this writing, this powerful moped-style bike can be had for just under $2,000, putting it at a lower price point than many similar models. As with most launches, it is likely that the Scorpion X price will increase over time. In fact, at the time of writing, you can get $100 off by signing up for an early access text alert on the Juiced website.
Accessories
The Scorpion X has some interesting optional accessories. You can add a passenger kit that essentially gives you a longer seat similar to the Ariel Rider D Class, plus pegs for a passenger's feet to rest on. There's also a taller seat kit (something unique to Juiced) as well as a kit to turn your Scorpion X into something closer to the cargo bike.
You can also buy an optional turbo charger for faster charging and an urban helmet from ABUS.
Juiced Bikes Scorpion X Discount and Promo Code
Until May 1, 2021 you can use the promo discount code 'LIVE' and receive $100 off your Scorpion X.
Final thoughts on the Juiced Scorpion X
The increased power and increased range on the Scorpion X are impressive, and with 55 miles of range, it ought to provide riders with a fun time that doesn't peter out too quickly. Even better, the Scorpion is expected to ship out late April 2021. For comparison purposes, you'll need to wait until mid-June for the HyperScorpion which also costs $2,699.
The Scorpion X opens for ordering on April 20, and delivery starts later in April, according to Juiced's website.