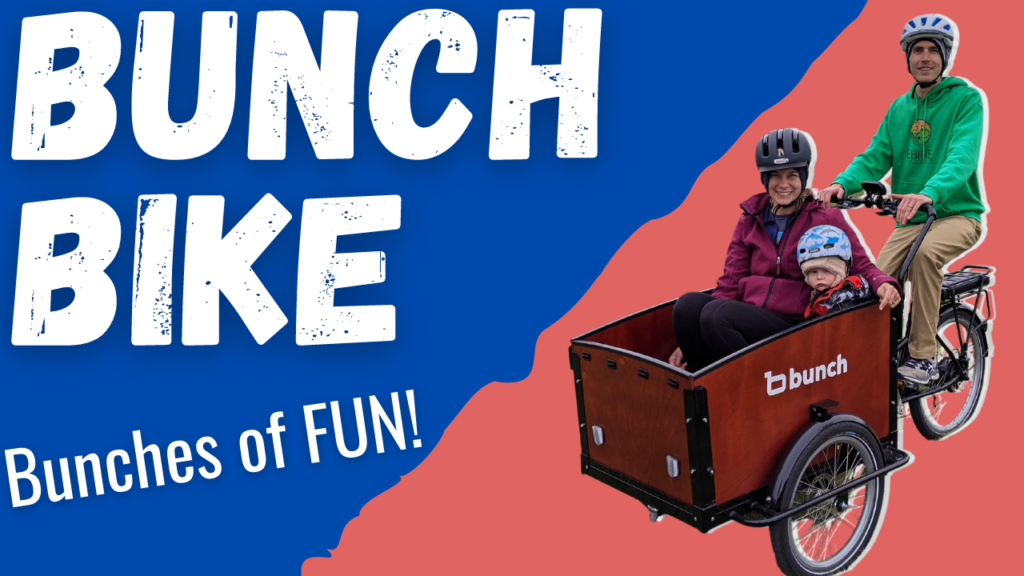 If you had a little red coaster wagon as a kid, well, this might bring back memories. The Bunch Bikes cargo bike, with its red wooden front cargo box, might remind you of those old wagons. And you'll definitely be hauling. As huge cargo ebike fans here at Ebike Escape we were extremely excited to do a Bunch Bikes review. Scroll down to the bottom of this page for the full video review.
Famous for being funded on Shark Tank, the cargo bike company has a series of tricycles that are designed to haul children, pets, a huge grocery order, landscaping supplies. Pretty much whatever you can fit inside the cargo box. Or even just proclaiming yourself queen as your mate pedals away behind you. If you're into the idea of bikes at work, this is your bike.
Bunch Bikes cargo bike — the frame (and bucket)
All Bunch Bikes, including The Original priced at $4,499 reviewed here, come in a tricycle configuration that will remain stable as you ride. No worries about spilling your little ones or this week's groceries. The cargo box features seats with seatbelts on either side of the canopy (sunshade and rain covers available). That allows for up to four children to strap into the box. Those seats are also removable, and slide out without any tools. If you're hauling mulch instead, you can get maximum hauling capacity without worrying about any awkward fitting.
The total load capacity of the bike is 350 pounds, including 55 pounds on the rear rack. (You know, in case you're REALLY hauling a lot.) So you probably won't be hauling around four of your adult friends, but kids will be fine. With nine cubic feet of cargo space with the seats taken out, just about any chore will be fine.
This is not a small bike. It weighs 152 pounds and is 83 inches long. Something to keep in mind when you're thinking about where you're going to store it.
If you're a little concerned about a tricycle tipping, no worries. The cargo box is designed to interact with the frame through an anti-tipping smart frame, keeping the bike upright even as it turns. It also includes a damper mechanism that reduces wobble while you steer. If you've ever ridden a less engineered pedicab style bike, you know how much you tend to tip and wobble when you steer. You'll be pleasantly surprised with the Bunch Bikes The Original.
The drivetrain and components
The bike is powered by a 500 watt rear hub motor, designed for moving heavy weight with 45 nm of torque. The bike won't win any speed contests, but you will always feel like you have just enough boost, even up hills. And with the torque sensor pedal assist, your ride will be smooth as butter as well. The torque sensor, as opposed to a cadence system, provides more power as you put in more effort or torque.
The eight-speed Shimano drivetrain powers the bike on Schwalbe Big Apple tires. The tires even have reflective sidewalls for increased visibility on the road. The Tektro hydraulic disc brakes on the front and rear wheels will ensure you will stop on a dime (and it does – the braking power is truly impressive on this bike). Note that the front brake applies the brake to both front wheels simultaneously. Another feature that we love with the Bunch Bikes is the parking brakes. When loading kids or cargo into the bike you won't have to worry about it rolling away.
Accessories
There's quite a bit you can get for the Bunch that falls outside of typical bicycle accessories. For one, a cushioned seat makes the bench more comfortable. A canopy can help keep out the rain, and a toddler seat is great for the little tikes to make sure they're snug. Check out all of the accessories offered by Bunch Bikes.
And, since this is a big bike that might not fit in everyone's garage, a cover helps keep the elements out.
Other models
There are a few variations of the bunch cargo bike. The Coupe is a much fancier version of The Original, with leather trim on the wheel covers and handlebars. It's also a narrower cargo bike, meant to be more nimble and fit into tighter spaces. Other major differentiators of The Coupe compared to the Original is the Bafang mid-drive motor and Enviolo Auto-Shifting Hub. There's also the K9, almost identical to The Original but designed for pets, and the Preschool which holds up to six children!
Prices vary from 4,499.00 to $5,999 plus $199 shipping.
The feel
One might think with only a 500-watt motor powering such a bike, that it would be severely underpowered. But the geared hub motor carries sufficient torque in our test riding. Even with two adults and a child in the box, we were able to take off from a dead stop up a slight incline with little effort, whether via the throttle or the pedal assist. With all the weight we did need at least pedal-assist level two though.
The mechanism that keeps the bike upright really fixes the problem with pedicab-style bikes in general. Pedicabs tend to tilt opposite how you would want them to, and someone used to a regular bicycle will oversteer until they get used to it. On the Bunch, the bike stays upright, though turning is still a little awkward. A tilt of a driveway entrance might make you feel like you'll tip, though that won't actually happen. Bunch Bikes likens it more to pushing a shopping cart than riding a traditional bike and we found that to be an accurate comparison.
You won't win any speed contests on the Bunch — cruising around at 10 miles an hour is just the right speed. But really, when you're hauling precious cargo, 10 mph is about the max speed you'd really feel comfortable going. I pushed it to 12 mph in the review, but 10 mph felt a lot more comfortable.
The Bunch might be a little pricey compared to other cargo bike models, but it's easily the most useful and best engineered. It's comfortable, well-designed, and it's incredible the number of pain points they've accounted for on this bike. It's a solid ride. No wonder they were funded on Shark Tank by not only one, but two sharks! Check out all of the Bunch Bikes models and specifications over on the Bunch Bikes' website.