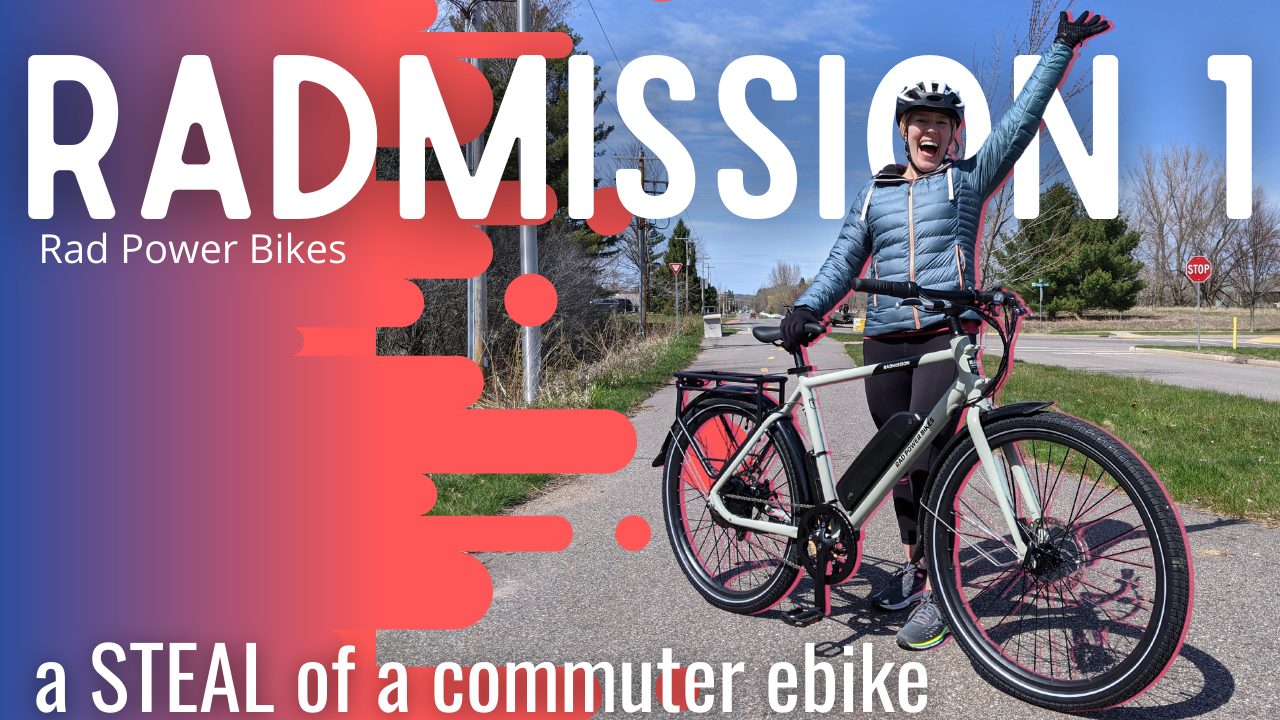 At Ebike Escape we recently got our hands on Rad Power Bikes' answer to the single-speed ebike question – and it's quite a powerhouse. The Rad Power Bikes RadMission might be the perfect grocery hauler and all-purpose ebike, especially for those who don't care much for derailleurs. Plus at a price of only $1,199 the Ebike Escape team was excited to do a full RadMission review.
Rad Power Bikes Radmission – the frame
If you remember the days of the old hardtail, rigid forked mountain bikes, you know exactly what the RadMission looks like. Imagine a slicker version of that, with an ebike battery mounted to the top tube. It comes in a variety of colors including black, white, grey, red, and blue. With all of those color options, you're bound to find one that fits your style. It also comes with options for a high-step or mid-step top tube. Shorter riders will want to go with the mid-step. Pictured above is the high-step RadMission in gray which has a bit of an olive hue to it. If you're looking for something that looks understated but classy, it is a color I recommend.
Lack of optional frame sizes is perhaps one downfall of the RadMission. But as this reviewer can attest to, it's a very comfortable frame for this tester of about 5'11". The regular frame fits a rider 5'7″-6'4″, and the mid-step fits a rider 5'2″-6'2″. The mid-step also has a slightly shorter standover of 28" (vs 31″ of the high-step variation) to accommodate for a shorter reach of a shorter rider.
The Components
The RadMission boasts a very comfortable 50-tooth chainring driving a 16-tooth freewheel. The bike comes equipped with 1.95″ Kenda Kontact tires (with puncture-resistant lining and reflective sidewalls) that somewhat resemble a cross between a mountain bike tire and a beach cruiser tire, in a 27.5″ wheel size. The slightly sweptback handlebars also put the rider in a more comfortable riding position compared to straight bars.
The RadMission comes with a Tektro Aires disc brake set with 180mm rotors. These are the same brakes found on all other Rad Power Bikes models. As with most ebikes you'll also find motor cutoffs that immediately cut power to the motor during braking. A quick-release seat post makes adjustments easy for riders of varying heights.
The RadMission Drivetrain
Rad Power Bikes' single speed is powered by a 500w geared hub motor with 5:1 planetary reduction for increased torque. While it's less powerful than other models, it is still plenty capable for a vast majority of riders.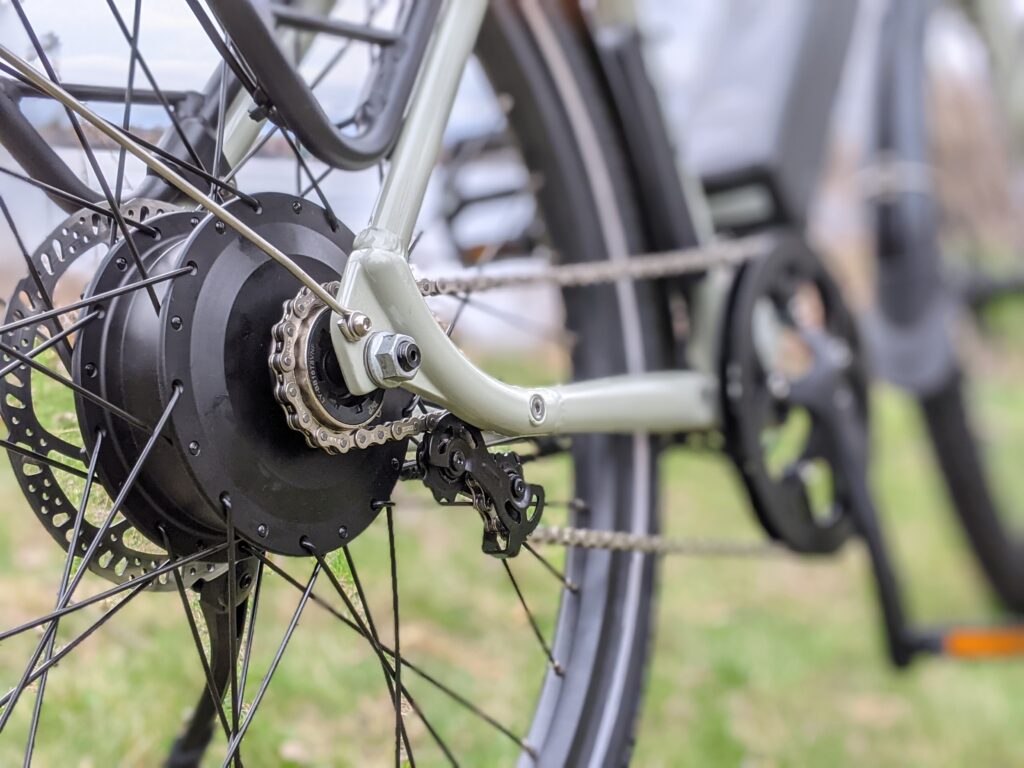 Something cool with the RadMission: it already comes with a mounted headlight and taillights that integrate with the brakes. When you brake, the lights turn on automatically, which is a pretty cool feature.
There's no speedometer on this bike or LCD screen. Instead, it has LED lights for each pedal-assist mode, from no pedal assist up to level four. Underneath the LED indicators is a controller for the pedal-assist levels, power button, and a headlight button. Rad decided to opt for the LED display in order to hit such an affordable price point but you can always upgrade to the LCD display found on all other Rad models for $100 if you choose.
It also comes with a 48V, 2 Amp Rad Power Bikes smart charger. This charges the bike's new, lightweight 10.5 Ah battery. This not only reduces cost, but also weight while still allowing for around 25-45 miles of range, depending on the pedal assist level used.
What's more, is that the RadMission battery is cross-compatible with all other Rad Power Bikes models. This means that if you already own a Rad Power Bike, the RadMission becomes more compelling since you now have two batteries. Note that other Rad Power Bikes models have 14 Ah capacity batteries.
RadMission Accessories
Our RadMission review wouldn't be complete if we didn't talk about ebike accessories. What we like about this bike is that it is plenty capable right out of the box, but if you choose you can add some great accessories. This is an area where Rad really shines and where you can really turn the RadMission into an urban workhorse.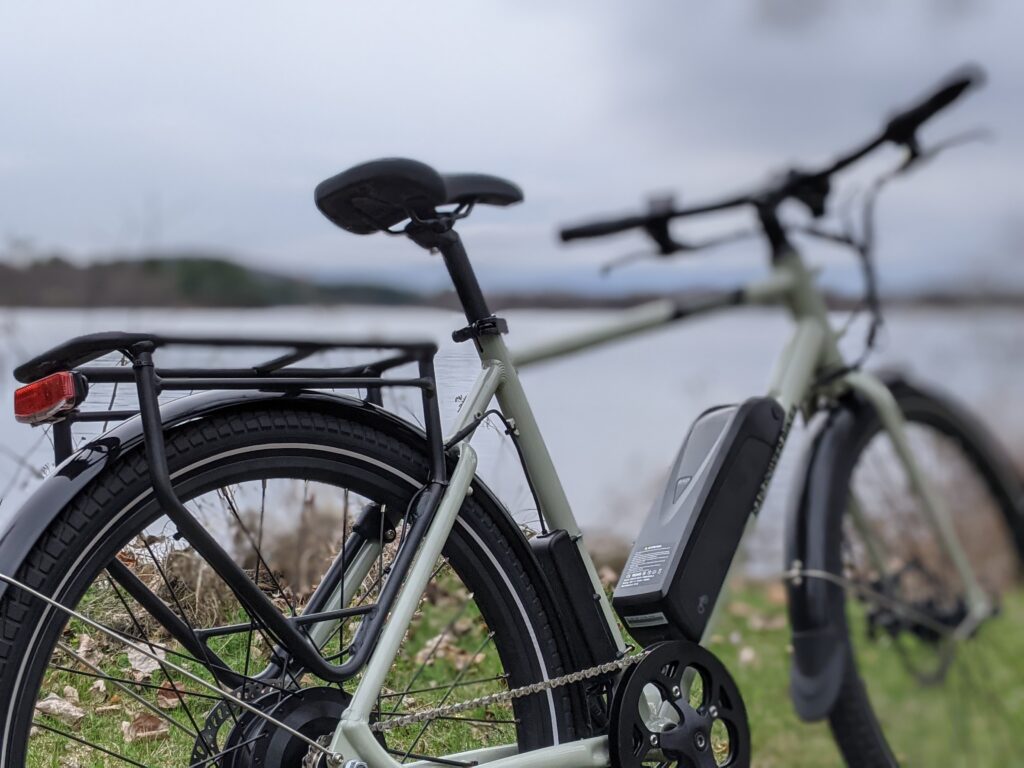 For starters, it might seem strange for an ebike not to come with a kickstand, but one can be purchased separately for only $15. Being billed as a metro rider, it probably is intended to be locked up at a bike rack, or stored at home leaned up against the garage. But for us, the kickstand is a necessity and removes frustrations when it comes to taking on/off the battery for charging.
Our other favorite accessories include the sturdy RadMission rear rack for $79 and a full fender set to protect you from the rain ($59). If you're looking for even more storage check out the front-mounted basket for $89.
Rad has also offers a variety of pedals, grips, and other gadgets such as a smartphone mount. If you want other options for accessories check out our full ebike accessories list.
The feel
Unlike the Ride1Up Roadster V2 we reviewed, one could easily forget they were riding a single-speed taking this bike around for a cruise. Even when traversing hills, the RadMission makes the climb effortless for the rider. The 50-tooth chainring is probably the perfect size for most people to operate with ease while still gaining some speed. Plus the addition of a twist-grip throttle makes starting easy and gives you the option for an extra boost up a hill.
While it's not as light as the Roadster we reviewed, it clocks in at under 50 pounds and is 30% lighter than any other Rad Power Bikes model. You'll certainly feel more nimble on the RadMission than other Rad Power Bikes models.
Who is the RadMission for?
Overall the RadMission is a great single-speed bike for anyone who wants a simple ebike without a lot of bells and whistles. That said, it's a solid and all-purpose bike that would probably be a great first ebike for someone. While the Roadster reviewed earlier is a great single-speed for someone who still wants their bicycle rides to be a workout (if you got into the fixie craze, this is probably your jam), this is a much better all-purpose rider. The RadMission's wider tires offer more stability than the road tires found on many other single-speed ebikes.
The Radmission would be great for the purpose they ascribe to it: bumming around your metro, either shopping or out for an urban adventure. With the optional rack, it should have plenty of capability and hauling capacity, especially when combined with Rad's many accessories made to accommodate such uses. And at the price point of just over $1,000, it's kind of a hard bike to beat for the price. Check out the RadMission over on the Rad Power Bikes' website.