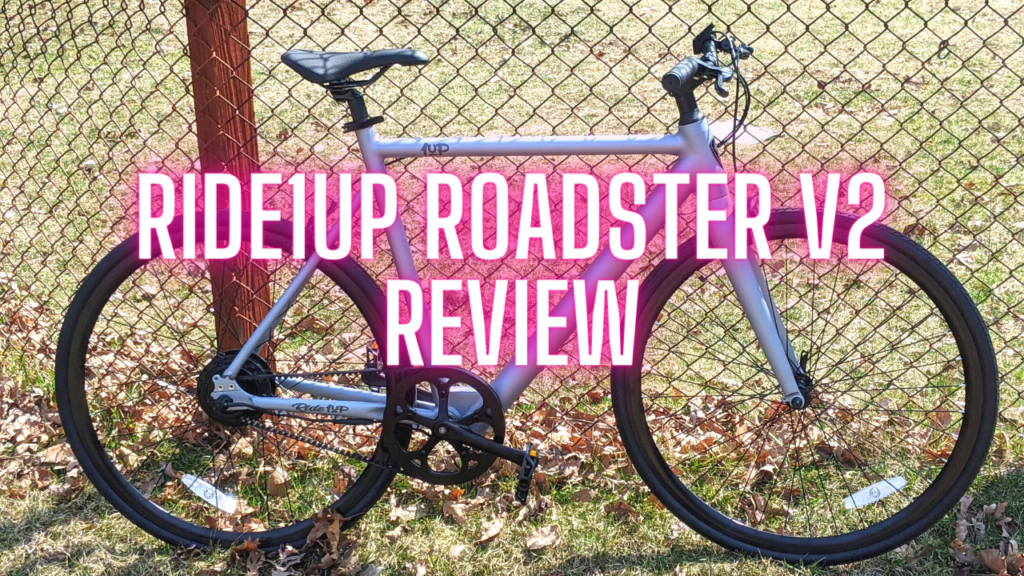 It's safe to say that the Ride1Up Roadster V2 is a very different kind of ebike experience. Getting a chance to test out the bike for myself, I can say it is one slick ride, but also will likely appeal most to fit riders and those who really like single-speed bicycles. Not only does this ebike pack some very unique features but It is also priced at an affordable $1,095, which is one reason we were excited to do a complete Ride1Up Roadster V2 review.
Ride1up Roadster V2: The frame
The first impression of the Roadster V2 is that it's a light ride. Weighing in at a mere 33 pounds, it feels like a slightly heavy mountain bike, which is unusually light for an ebike. The design is slick. It looks like a fast-paced single-speed commuter would, with a design that nearly completely hides the fact that it's an ebike at all.
The battery is housed in the down tube. That has its advantages (it doesn't necessarily look like an ebike, and the battery has extra protection) and disadvantages (you need to unscrew bolts located under the down tube to remove the battery). Removing the battery might be necessary for winter storage if you don't plan to bring the entire Roadster V2 inside. In addition, you'll have to bring the bike to an outlet for charging.
The frame geometry is interesting. The top tube is very short, making one feel like they're riding over the handlebars. I could have mitigated this some by pulling the seat back a bit (the test bike I rode had the seat pretty far forward). Seat height adjustment itself is done via quick release.
The bike comes in two frame sizes, small and large. The large fits a person 5'7″ to 6'2″, according to Ride1Up. The small fits a rider 5'3″ to 5'8″.
Ride1Up Roadster V2 Components
The bike comes with a 36V 15A Lishui Sinewave controller and a 36V 7.0ah battery (252 watt-hours) using Samsung 35e cells. True, the battery is capacity is lower than most ebikes on the market, but keep in mind it also weighs half as much as a typical ebike. It also doesn't look like an ebike either. The Roadster V2 is filling a void in the ebike market that many companies have ignored. Ride1Up states a range of 20-35 miles which is a reasonable estimate according to our testing.
Riders can choose from five assist levels on the LCD display. There is no throttle, so you'll either use pedal-assist or power the bike yourself. Again, this is an intentional choice since throttles can quickly deplete the smaller battery.
It includes a saddle much like a high-end road bike in appearance and feel. Much like a road bike, it also doesn't come with a kickstand. It does come with an ultra-sensitive bottom bracket cadence sensor. The handlebars are 25.4 mm x 550 mm narrow road handlebars. I quickly got used to the narrower bars and can appreciate the fact that it will fit much easier into tight spaces, say if you were bringing the Roadster V2 into your apartment.
Worth noting are the brakes – some might be put off by the road bike-style V brakes, as opposed to the disc brakes many electric bikes come with. Having tested it, the bike stops very well. Maybe not the shockingly hard stop a disc brake bike is capable of, but the Tektro 315 dual-pivot brakes certainly stop fast enough to erase any potential safety concerns. Plus, these V brakes are extremely easy to adjust and are unlikely need to need as much maintenance as some disc brakes require.
Accessories
Through Ride1Up's site, you can also buy an extra 7Ah battery and a smartphone mount. If you're not used to riding without a kickstand this is an accessory you might want to consider. Finally, the Ride1Up Roadster V2 has Kenda Kwest 700Cx28C tires. Road tires can be more prone to punctures so check out our electric bike accessories list and consider purchasing either Tannus Armour or Tuffy Liners.
The Drivetrain (Belt Drive!)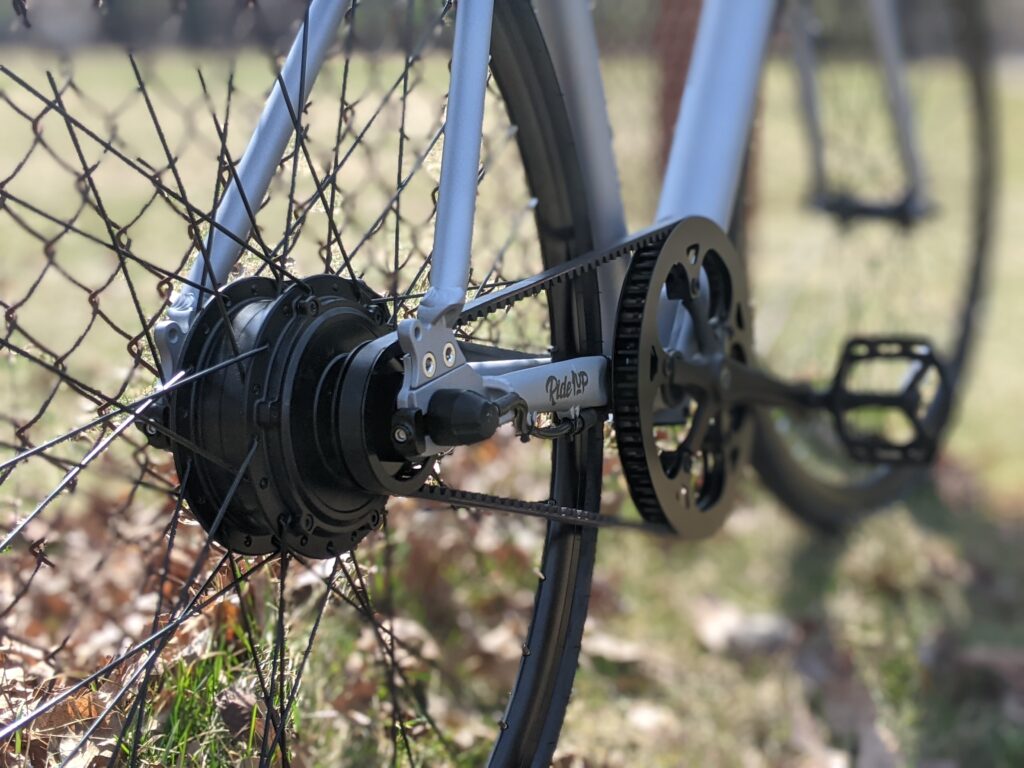 The Ride1Up Roadster V2 is driven by a 500w Shengyi (350 nominal, 500 peak) geared hub motor. The battery powering that motor is a 36V 7.0ah Samsung that fits snugly into the downtube, hidden from sight. Ride1Up says it reaches 24 mph and that's what I got it up to on my test ride on the top assist mode (pedal assist 5).
That motor powers a belt drive (yep, no chain!) via a 64T-20T gearset. That gearing makes it feel like a real single-speed – complete with low-cadence pedaling via a very large front gear crankset. It rides like an electric-assisted track bike, but smoother.
The feel
But enough of the details. How does the bike feel? As this reviewer has had some experience with single-speeds, including building a single-speed mountain bike, I can say the Roadster V2 feels very much like riding a single-speed. It has all the benefits of a regular ebike. The hills practically disappear with some level of pedal assist. But because the bike is geared pretty high, pedaling never exactly feels effortless, even at the top level of pedal assist. You'll always feel like you're putting some effort into pedaling which is better than spinning your pedals at higher speeds. You will just go faster at higher pedal assist levels.
Who is the Ride1Up Roadster V2 for?
For some people, that will be very appealing. It'll appeal to a certain demographic. It might be the perfect ebike for a fit rider who might otherwise feel they don't "need" an ebike. The Roadster V2 will appeal most to the kind of rider who wants the benefits of an ebike – increased range and speed – without feeling like the bike is doing the work for them.
It'll also appeal to the ebike rider who values elegance in design. I have to admit it's one of the appeals of the bike for me as well. The Roadster V2 is a slick-looking bike. If not for the belt-drive and large front gear, it would look like any ordinary single-speed, road-bike style commuter.
For someone who has trouble riding a regular bicycle and needs the assist, the Roadster might not be for them. The Ride1Up Core-5 or 500 Series might be a better option. For those who enjoy the idea of a higher-geared single speed on a regular bicycle, or who like the idea of still getting a pretty good workout on an ebike, the Roadster might be the perfect ebike. Check out the Roadster V2 at Ride1Up.com.