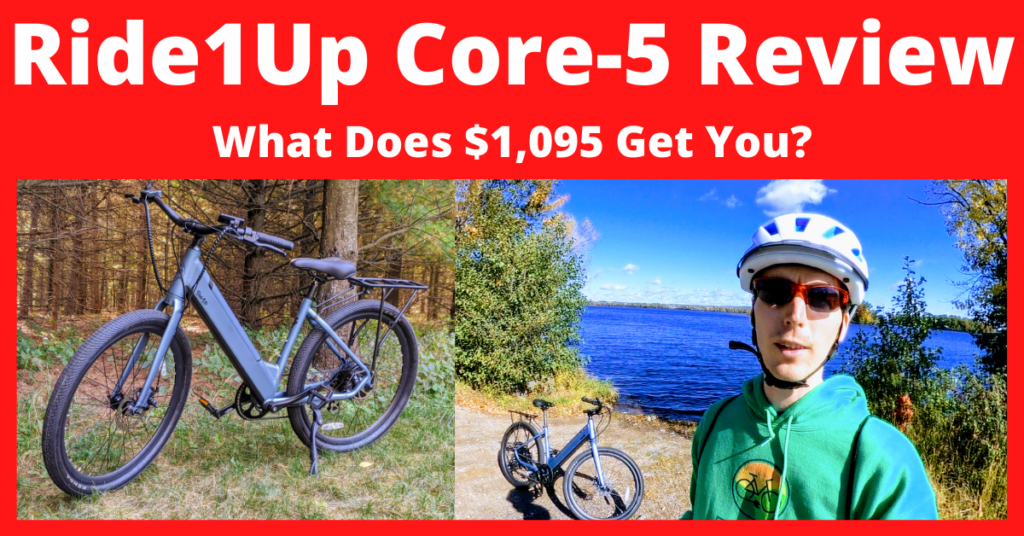 The Ride1Up Core-5 is solidly in the budget ebike category coming in at just $1,095. It is the most affordable electric bike I have reviewed and is Ride1Up's second most affordable ebike. The single-speed and ultra-lightweight Roadster V2, comes in $100 lower at $995. The Ride1Up Core-5 was introduced in 2020, and more recently Ride1Up released the step-through model that I was excited to review. Ride1Up now offers step-through variations in all of their models with the exception of the Roadster V2. This is a smart move by the company as the accessibility of a step-through ebike can't be beaten. Keep in mind with any step-through electric bike you do lose some rigidity with the lack of a top tube. All step-through models from Ride1Up also include swept-back handlebars which offer a more upright and less aggressive riding style.
Ride1Up Core-5 Overview
Standout features of the Ride1Up Core-5 are the motor, the clean look of the 10.4 Ah integrated battery, the weight, and of course the fantastic price. It is a Class 3 ebike, capable of speeds up to 28 mph. See the video below for my speed test where I was able to achieve 28 mph. It certainly took some effort, but it is possible.
Specific to the step-through model is the different frame geometry which can accommodate shorter riders. Ride1Up notes that the rider height range is between 5'0″-6'0″. I had multiple people test out the Core-5 and shorter riders preferred the Core-5. Being 6 feet tall myself, I found that while I could get full leg extension I don't think it would be comfortable for anyone much taller.
In my unscientific weigh-in, the Core-5 came in at 51 lbs which included the rear rack, an optional accessory (fenders are also available for purchase). This is on the lighter side of electric bikes and weight is a factor that many people don't put enough emphasis on. It's important for any rider to be able to feel fully in control of their ebike.
The Core-5 has Tektro mechanical disc brakes and seven-speed Shimano Altus shifter. The kickstand is placed further back on the bike which is a nice touch. The color shown below is a slate blue but it is also offered in midnight gray.
Motor Performance
While there are certainly tradeoffs when buying a budget priced ebike, Ride1Up did not skimp on the motor. It is the same motor that's on the 500 Series ($1,195) and the 700 Series ($1,499). The geared hub Shengyi Motor is rated at 500 watts nominal/800 watts peak (it actually peaks at 836 watts in my testing). The Core-5 has 56 Nm torque. Combined with the lighter weight of the bike, the motor really packs a punch.
I was able to get the bike up to 20 mph on throttle surprisingly fast and speeds in the low 20s are going to be pretty easy to achieve for active individuals. The Core-5 doesn't feel like a budget ebike when it comes to the motor. In this price range, you often see less powerful motors. One example is the Aventon Pace 350 priced at $1,099. The Pace 350 has a 300 watt sustained, 500-watt peak motor. Not to mention that it's a 36V system. Note that the Core-5 and all other Ride1Up models besides the LMT'D have pedal-assist cadence sensors. This means that the motor will kick in when it senses that you are pedaling which is common in many electric bikes in this price range.
Ride1Up Core-5 vs 500 Series vs RadMission
When it comes to electric bikes there tends to be a pretty big dropoff of quality below the $1,099 price point. Of course, there are a few exceptions like the Lectric XP but most often I don't spend much time digging into even cheaper models. That's not to say there aren't tradeoffs with the Ride1Up Core-5. One ebike worth comparing the Core-5 to is Ride1Up's 500 Series, coming in at just $100 more.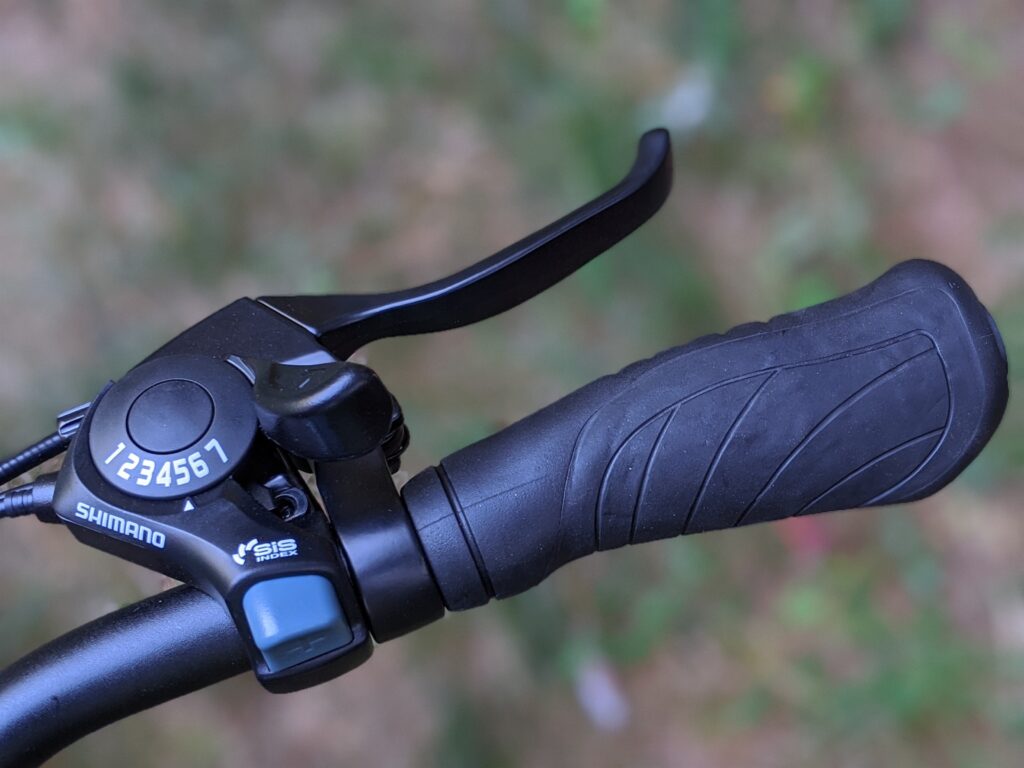 The Ride1Up 500 Series packs a larger 13 Ah battery and a front suspension fork which are the main differences. There are also a few small things worth mentioning like the integrated front headlight, an adjustable stem (which allows for more handlebar adjustability), nicer trigger shifters, better pedals (not plastic), more comfortable brake levers, and a slightly more comfortable seat. But in my side by side testing, the 500 Series is also designed to accommodate taller riders. Stay tuned for my upcoming 500 Series review write up and full video review on my YouTube channel.
Ebike shoppers might also be considering the Rad Power Bikes RadMission, which is now priced at $1,099 (introductory pricing was $999). Besides considering that Rad Power Bikes is the largest seller of ebikes in North America and has an equally impressive support staff, you should take into consideration gearing. The RadMission, like the Ride1Up Roadster V2 is a single speed bike. For many people familiar with single-speed ebikes this is a non-issue. However, I like to tell people that if you think at all that you might need gears, you probably do. I recently did a comparison of Rad Power Bikes vs Ride1Up so be sure to check that out for more details. I also did a comparison of all Ride1Up models though this was before some of the step-through options came available.
Ride1Up Core-5 Review Conclusion
There is a lot to like about the Core-5 and I came away impressed. The step-through offering, combined with a powerful motor, all priced at $1,099 certainly is attractive. It is a great ebike for someone new to ebikes or even someone looking for a second ebike to share with friends. If you've ridden on a rigid fork before you won't be surprised with how the Core-5 feels on the pavement. However, if you're looking for some nice additional features then I think the extra $100 for the 500 Series is easily justifiable.
Planning to purchase a Ride1Up electric bike? Using my affiliate link supports Ebike Escape.