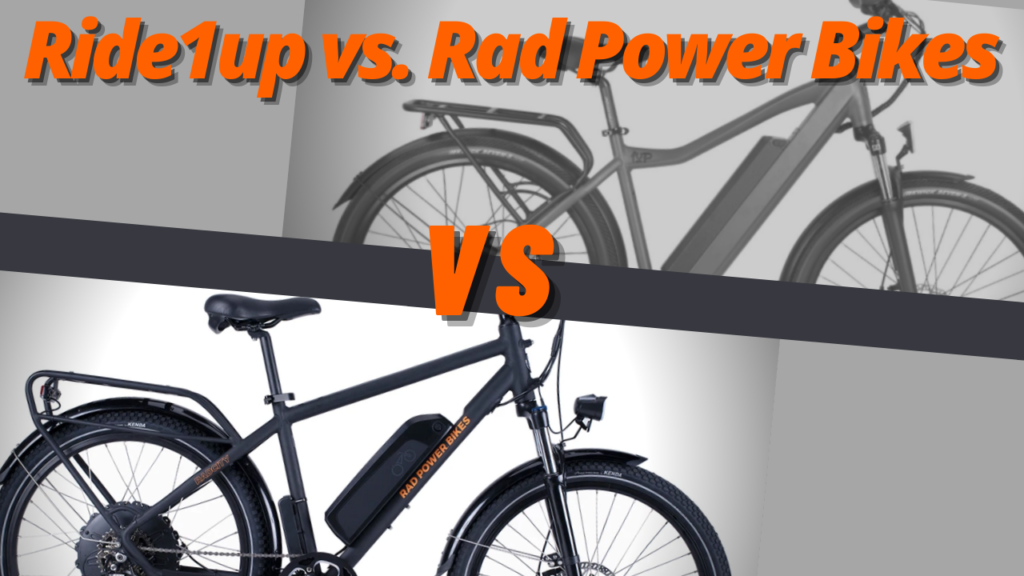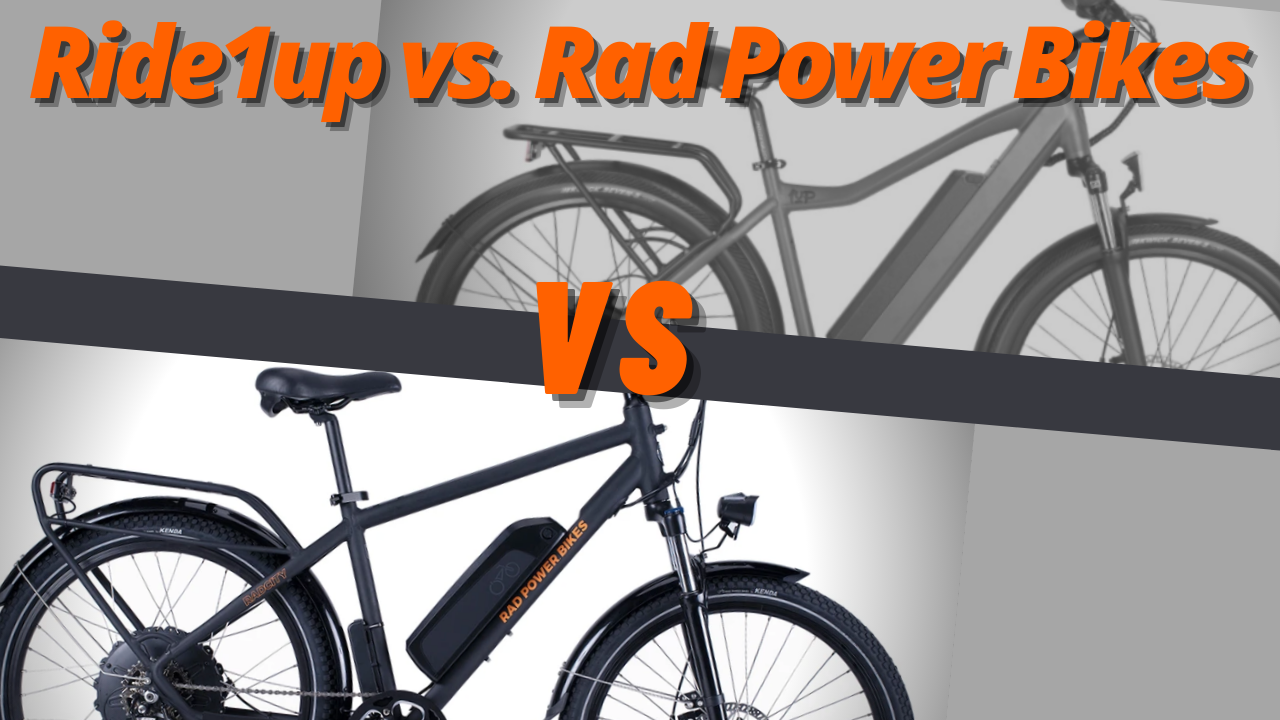 Ride1Up and Rad Power Bikes both have similar business strategies with their ebike offerings in that they strike a balance between price and quality. Both companies are among a select few ebike companies which offer the best value. Since I have experience owning electric bikes by both companies I wanted to share my thoughts on Ride1Up vs Rad Power Bikes.
As you're looking at Ride1Up you probably have noticed that they offer electric bikes that have frames very similar to that of typical looking bikes. You won't find a moped-style ebike, a fat tire ebike, a cargo bike, or even a folding ebike on their website. If you're interested in one of these options then you should check out Rad Power Bikes and go with one of their options such as the RadRunner, RadWagon, RadMini, or even the RadRover.
However, if you're indifferent or want a standard frame then Ride1Up offers some really compelling options at surprising prices. But first, it's important to know the scale of each company. Rad Power Bikes raised an impressive $25 million funding round in early February 2020. Since then, they have scaled up significantly as ebike sales skyrocketed due to COVID-19. According to Rad Power Bikes founder and CEO Mike Radenbaugh, demand has increased 300% from mid-2019 to mid-2020. Due to this the company now has over 100 full-time customer service employees, which is pretty impressive.
And this scale is not a differentiator to be taken lightly. Rad Power Bikes is well known for its customer service and they have an arsenal of employees to serve their customers after purchase. This is not to say that Ride1Up doesn't provide excellent customer service. After all, they are a much smaller company. Nonetheless, it is an important distinction for those looking at electric bikes.
Ride1Up Roadster vs RadMission vs Ride1Up Core-5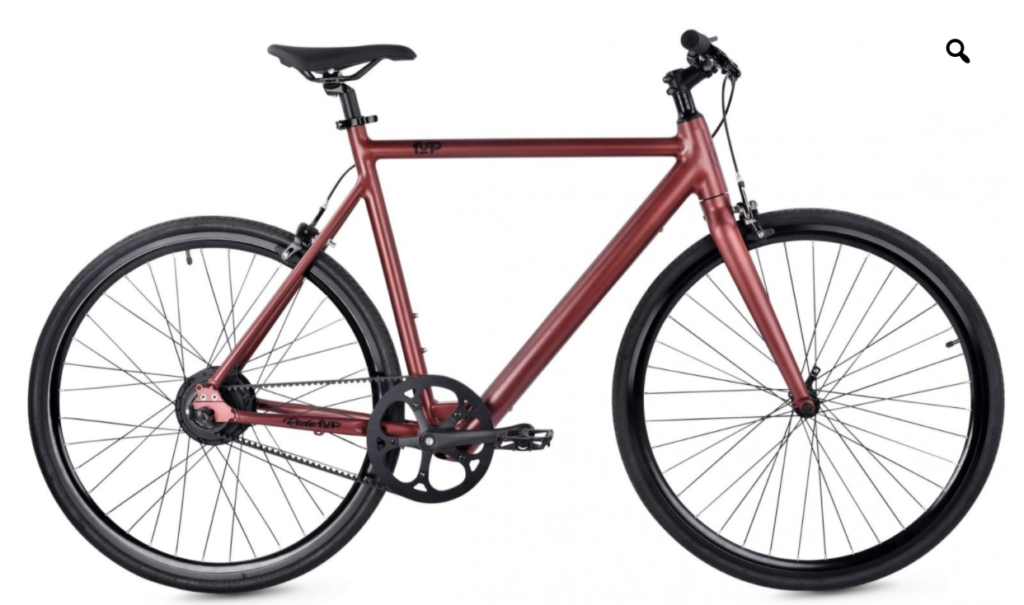 Ride1Up currently offers 5 electric bike models, ranging from $995 to $1,795. Rad Power Bikes are priced in a similar range from $999 to $1,699. First I'll compare the Ride1Up Core-5, Ride1Up Roadster V2, and the Rad Power Bikes RadMission which all fall into similar price-points. I've highlighted some of the important specs in the table below.
The most important distinction is that the RadMission and Roadster V2 are single-speeds. The Core-5 is a 7-speed and only $100 more. Though the $1000 price tag is tempting, I often tell people that if you think you need gears, then you probably do. The Core-5 in my opinion is among the best value ebikes around and I haven't found anything else at the price-point that compares. Plus you have the option for a full step-through frame on an ebike that looks less like an ebike compared to any of the Rad Power Bikes models.
However, if a single-speed is what you're looking for, the Roadster V2 is an ultra-light ebike perfect for short trips. It is the ultimate stealthy ebike with the integrated battery (albeit small) in the downtube. Note that while the battery is removable, it is only meant to be removed for maintenance or replacement.
If you need more range or versatility with the many accessories offered by Rad Power Bikes, then the RadMission is a great option. In addition, the smaller battery of the RadMission is cross-compatible with all of the other ebikes in Rad's lineup.
What's great about all of the ebikes below is that they are all reasonable weights which will makes them accessible to more people.
| | | | |
| --- | --- | --- | --- |
| | Core-5 | Roadster V2 | RadMission |
| Price | $1,095 | $995 | $1099 |
| Weight | 48 lbs | 32 lbs | 48 lbs |
| Battery | 48V10.4ah Reention Eel Pro LG Cells, Smart BMS (499 Wh) | 36V 7.0ah Samsung 35e Cells (252 Wh) | 48V 10.5 Ah (504 Wh) |
| Motor | 800w (peak) 500W (sustained) geared motor with 56nm torque | 500w (peak) 350W (sustained) geared motor with 40nm torque | 500W Geared Hub Motor (50 Nm torque) |
| Drivetrain | 7-speed | Single-speed Belt Drive | Single-speed Chain Drive |
| Brakes | Mechanical Disc Brakes | Caliper brakes | Mechanical Disc Brakes |
| Display | 0-5 Level LCD Display | KD21C Adjustable Speed LCD | Custom LED display (no LCD) |
| Lights | None | None | Integrated Front/Rear |
| Kickstand | Included | None | None |
| Ebike Class | Class 3 (up to 28 mph) | Class 3 (up to 25 mph) | Class 2 (20 mph) |
| Throttle | Thumb Throttle | None | Twist |
| Frame | High-step or Step through | High-step | Mid or High-step |
RadCity vs Ride1Up 500 Series vs Ride1Up 700 Series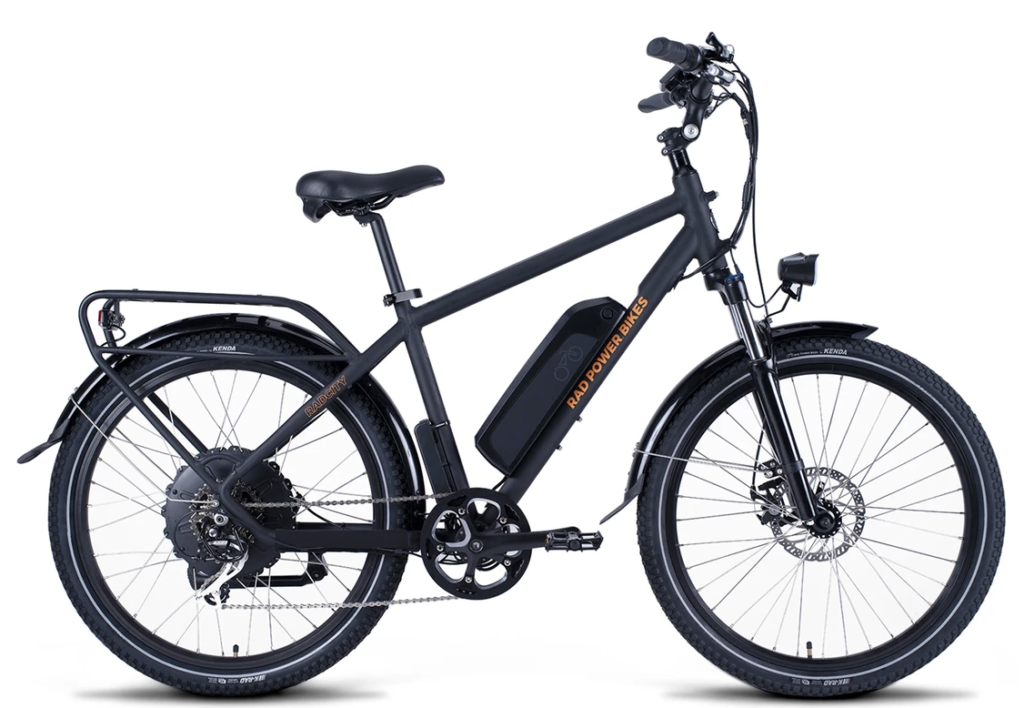 If you are looking for more creature comforts both Ride1Up and Rad Power Bikes have you covered. Each model in this list sports a step-through option which I am a huge fan of. In addition, the front suspension on these models will make your ride more comfortable. Want the ultimate in comfort? Then check out a suspension seatpost.
Besides the front suspension, the Ride1Up 500 Series has a larger battery capacity compared to the more affordable models I reviewed above. It still comes in at an impressive $1,195. The 700 Series and RadCity come in at $1,499, making it easy to compare them side by side.
If you're looking for a Class 3 ebike or an ebike capable of achieving speeds above 20 mph then the Ride1Up models are the way to go. Note that you can also override the 20mph limit on the Rad Power Bikes models via the LCD screen at your own discretion. On our RadWagon, which has the same motor as the RadCity, we are able to achieve speeds around 23 or 24 mph.
The 500 Series, 700 Series as well as the RadCity all have 7 speed drivetrains. In my opinion, the 700 Series looks much better with the integrated battery and controller. Like all Rad Power Bikes, the battery and controller are exposed on the RadCity. Another benefit to the 700 Series is the hydraulic disc brakes. Not only do they feel better, but in my experience, they are easier to adjust. With hydraulic disc brakes, both pads move inward whereas mechanical disc brakes operate with one moving pad and one stationary pad.
Note that absent from this list is the Ride1Up LMT'D priced higher at $1,795. The main upgrades on the LMT'D are a more powerful motor, lighter weight, air suspension fork, and torque sensor. Check out my Ride1Up LMT'D Review for more or the specs from Ride1Up.
| | | | |
| --- | --- | --- | --- |
| | 500 Series | 700 Series | RadCity |
| Price | $1,195 | $1,495 | $1,499 |
| Weight | 53 lbs | 62 lbs | 64 lbs |
| Battery | 48V 13AH Reention Dorado ID Plus (624 Wh) | 48V14ah Reention Rhino, 52x Samsung 35E Cells, Smart BMS (672 Wh) | 48V, 14 Ah with Lithium NMC Samsung 35E cells, rated for 800 charge cycles (672 Wh) |
| Motor | 800w (peak) 500W (sustained) geared motor with 56nm torque | 800W (peak) 500W (sustained) geared motor with 56nm torque | 750W brushless Shengyi direct drive hub motor with regenerative braking, 40 Nm of torque |
| Brakes | Mechanical Disc Brakes | Shimano Hydraulic Brake | Mechanical Disc |
| Display | KD21C Adjustable Speed LCD | KD218 Adjustable Speed Color Display | Backlit LCD |
| Ebike Class | Class 3 (up to 28 mph) | Class 3 (up to 28 mph) | Class 2 (20 mph) |
| Throttle | Left Side Thumb Throttle | Left Side Thumb Throttle | Twist Grip Throttle |
| Frame | Step through and standard frame offered | Step through and standard frame offered | Step through and standard frame offered |
| Accessories | Rack/Fenders $80 extra | Rack/Fenders included | Integrated rack/fenders included |
Which is Better? Rad Power Bikes or Ride1Up
It's hard to have a definitive answer. I recommend Rad Power Bikes if you like the idea of a large organization to support you post-purchase. If you are willing to forego buying from the largest seller of ebikes in North American then Ride1Up offers incredible value and some great looking ebikes. Planning to make a purchase? Please consider using the links below which help support Ebike Escape.
Get involved with the ebike community: Both companies also have a dedicated community and I recommend checking out the Rad Owners Forum that I run as well as the Ride1Up Facebook group. You will find plenty of happy customers, who are willing to provide additional prospectives.