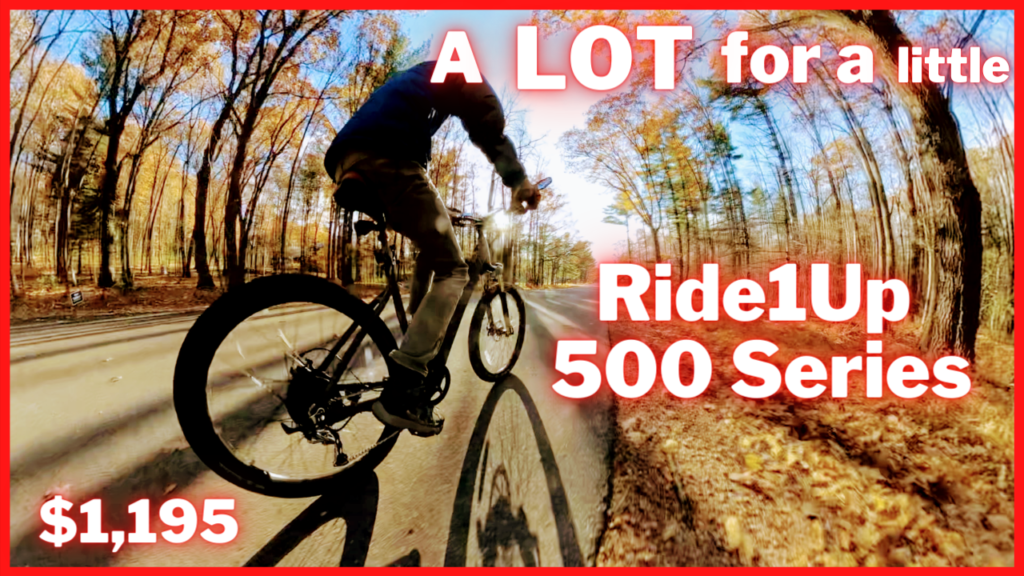 Lately I have been focusing on reviewing more affordable electric bikes. It started with the Ride1Up Core-5 which comes in at $1,095. The Ride1Up 500 Series is priced just $100 more at $1,195. For $80 more you can add rack and fenders. I have now tested 3 of the electric bikes offered by Ride1Up and have been impressed with the value they offer. Since I was doing my Ride1Up 500 Series review back to back with my Core-5 review I was able to do a direct comparison of the 500 Series versus the Core-5.
Step-Through and Comfort
The 500 Series I tested was a step-through variation which is a newer offering from Ride1Up. Step through models offer less rigidity due to the lack of a top tube but the main benefit is accessibility. The lower standover height and not having to lift your leg very high can make a huge difference. The 500 Series step-through pictured is the gold model which features the Ride1Up branding in gold. It also has contrasting brown seat and grips which is a classy look. Note they are also available in black with the other color option.
There is another important distinction between the Ride1Up step through (ST) models and the high step (XR) models. All Ride1Up step-through models come with swept-back handlebars. These types of handlebars offer a much more relaxed and upright riding style. I've also heard that the 500 Series XR doesn't come with an adjustable stem whereas the step-through model does. The adjustable stem can increase the rise of the handlebars for an even more comfortable riding position.
500 Series Specifications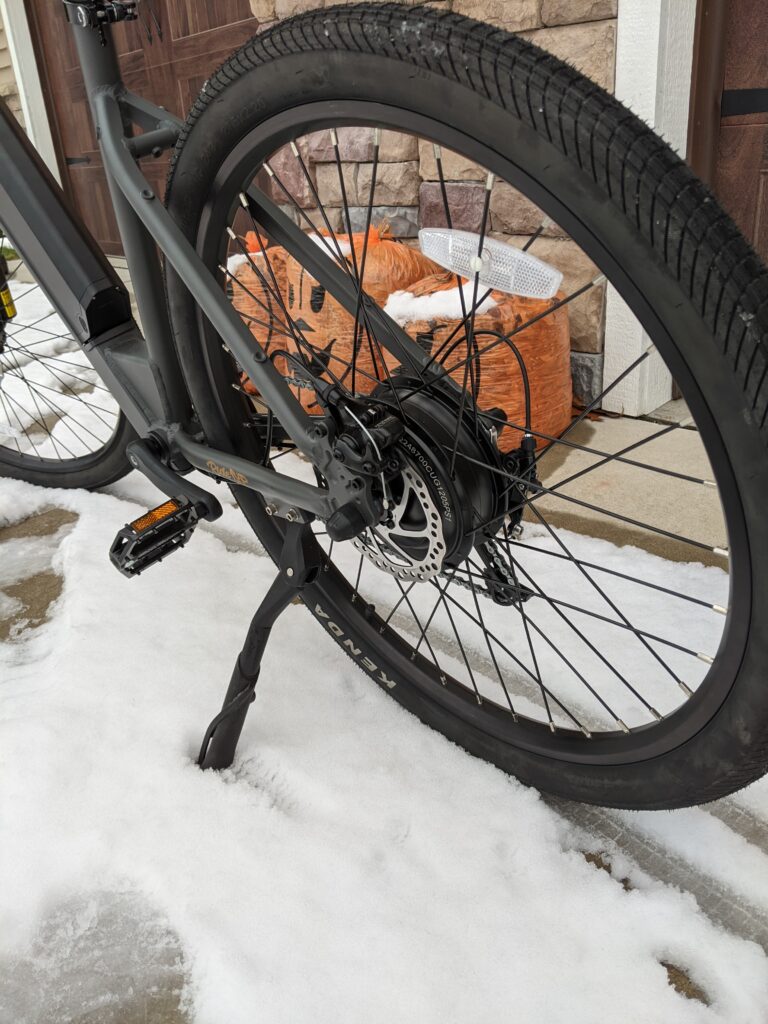 The 500 Series includes a 500 watt nominal, 800 watt peak motor and is capable of speeds up to 28 mph (Class 3). It is an impressive motor for the price-point and I imagine most people will be impressed with the performance – I certainly was.
The included thumb throttle can be used until you hit 20 mph. After 20 mph, the motor can only assist you using pedal assist (levels 1-5). The bike uses a cadence system that senses when the pedals are turning. While I was able to hit 28 mph it took a fair bit of effort. Still, this is a plenty powerful motor and is the same one found on three of the Ride1Up ebikes: the Core-5, 700 Series, and of course the 500 Series. The 13 Ah battery is good for 25-45 miles of range according to Ride1Up which is pretty accurate based on my experience with the ebikes. Note that Ride1Up also sells replacement batteries, both the 13 Ah battery ($299) and a much larger 17.5 Ah battery ($429).
Moving on to the cockpit the 500 Series comes equipped with a simple black and white display that provides all of the information you need. This includes battery level, odometer, max speed, avg speed, current speed, trip, time, and even wattage output. Wattage output is a handy metric to have since you can see in realtime how many watts you are pushing to the motor. You do have the option of upgrading to a color display. Ride1Up sells two options, one for $60 and one for $80. The included display has all of the information you'd need so this is one upgrade I'd personally skip. Like all of the other RIde1Up ebikes, the 500 Series has a thumb throttle located on the left side.
The 500 Series has a Suntour XCT 100mm coil spring front suspension fork. While it is a budget choice I was actually surprised how nice it felt while riding (see video below). If you plan to ride on anything but paved trails and roads then you likely want an ebike with a front suspension fork.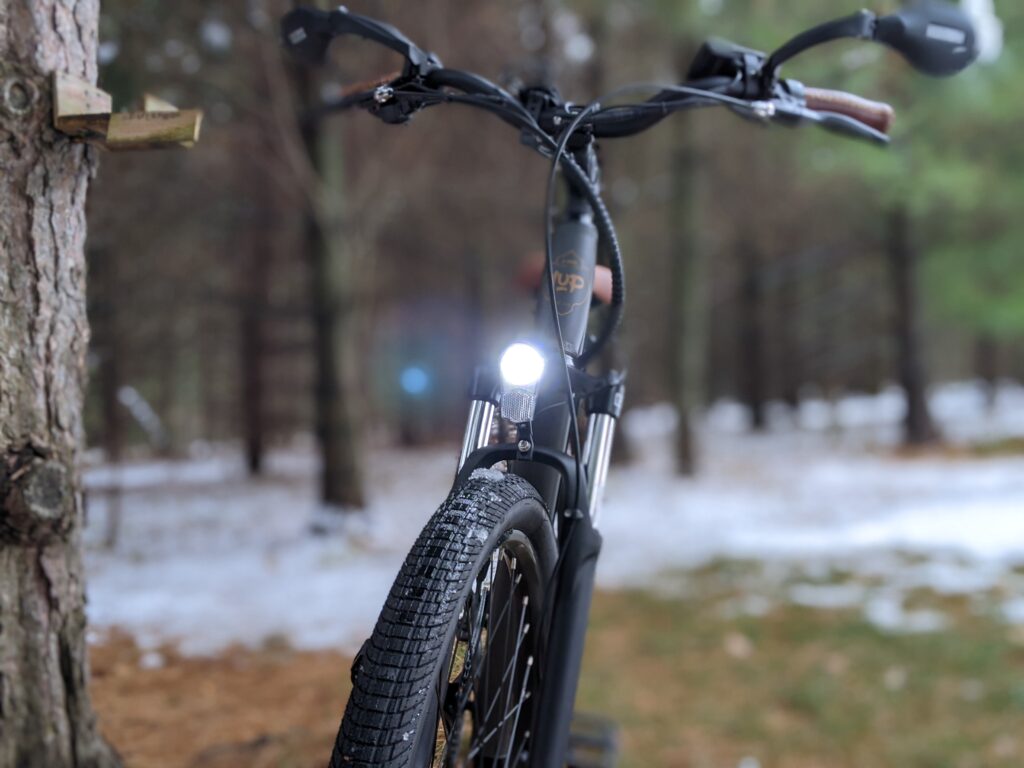 The 500 Series also includes an integrated front headlight. While it would be nice to have a brighter included front headlight, it does increase visibility on the road. If you're riding at night often you'll want to consider a secondary handlebar-mounted light.
For stopping power, the 500 Series sports Tektro Aries mechanical brakes with 160 mm rotors which is common for a budget-friendly ebike. Rear shifting is provided by a Shimano Acera rear derailleur which ranks fairly high (as far as entry-level shifters go) on Shimano's groupset ranking.
Included on the 500 Series are 27.5″ by 2.2″ Kenda Kwick Seven-5 tires set up for city riding. You also get a decent Selle Royal gel seat and Wellgo pedals which are standard on many electric bikes. You can view the full specs on Ride1Up's website.
Ride1Up Core-5 vs 500 Series
In my opinion, there is a pretty strong case for spending $100 more for the 500 Series compared to the Core-5. You get the front suspension, larger battery (13 ah vs the 10.4) and not to mention other minor improvements: pedals, brake levers, gel seat, adjustable stem, quick-release front skewer, and improved shifter. You also get 8 speeds on the 500 Series versus 7 on the Core-5. I highlight all of these differences in the video below.
There are a few other considerations though. Firstly, the battery on the 500 Series protrudes slightly from the frame unlike the Core-5, LMTD and the 700 Series so if you prefer a cleaner look you may want to look at the other models.
Secondly, the Core-5, at least the step-through version without a doubt feels like a smaller bike. If you are on the shorter side and you think size might be an issue then you may want to consider the Core-5. Weight is a smaller consideration, but should still be factored in. In my unscientific weigh in the 500 Series step through weighed in at 60 lbs and the Core-5 at 51 lbs.
Check out my full Ride1Up Core-5 review if you want to learn more.
Ride1Up 500 Series vs 700 Series
Going up from the 500 Series to the 700 Series is more of a stretch. The 700 Series is $300 more or $220 if you plan to get the rack/fenders since the 700 Series includes these accessories. With the 700 Series, you get the lockout on the suspension, an integrated rear light, color display, slightly larger battery (14 Ah) but perhaps the most noticeable difference will be the hydraulic disc brakes. Hydraulic disc brakes certainly are nice, but mechanical brakes work just fine. The brakes along with the battery and whether you want the accessories are going to be the biggest factors in your decision between the 700 Series versus 500 Series.
Going up from the 700 Series you can go up to the LMT'D at $1795. The LMT'D which I have covered quite extensively has a torque sensor, is lighter than the 700 Series, and has a few other upgrades. Be aware that the LMT'D doesn't come with fenders or a rack so you'll have to outfit the bike yourself.
Should you buy the 500 Series?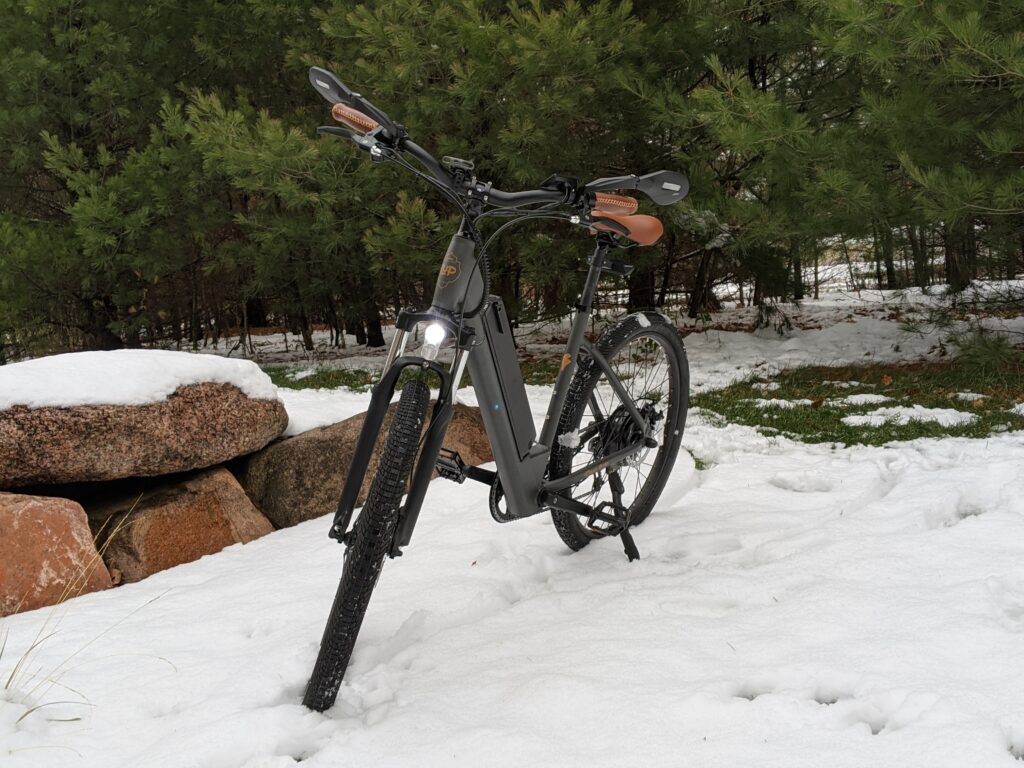 It's hard not to recommend the 500 Series for its tremendous value. It should be high on the list of anyone looking to get a decent ebike without spending $1,500 or even more. Especially for those new to ebikes. The 500 Series proves that you don't need to spend a lot to get a lot of great features in an ebike. For those that are already familiar with bike components or ebikes I could certainly see the desire to pay more for some nice-to-haves mentioned in this article but these luxuries come at a cost. On top of the great value, you have Ride1Up's support which in my experience is very responsive when you consider they are a smaller electric bike company. Check out their Facebook group to hear from other owners.
Looking to purchase any Ride1Up electric bike and want to support Ebike Escape? Use my affiliate link before making a purchase – it makes reviews like this possible.