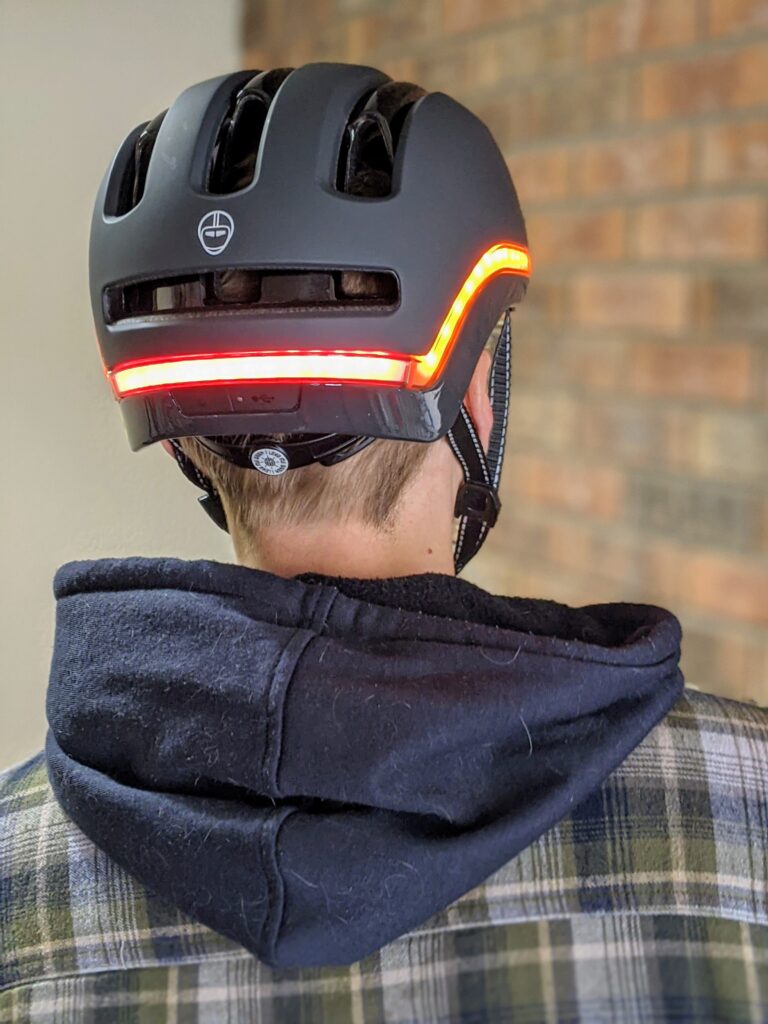 No other helmet has gone for it quite like the Nutcase Vio MIPS helmet: The Nutcase lighted helmet has not only a rear light, but a pretty powerful front headlights to light your path. With rear lights that stretch all the way around the rear of the helmet, the Nutcase Vio is like having 360 degrees of lights on your head as you ride.
Nutcase Helmets specialize in more urban-style all-purpose helmets that can work for skateboard, rollerblading or bicycling, and don't have the salad bowl shape of more traditional bike helmets. But their newest line adds a front headlight plus a rear orange-colored taillight encircling the rear of the helmet.
Nearly every adult helmet Nutcase sells features the MIPS — Multi-direction Impact Protection System — system. MIPS helmets feature two pieces that are meant to rotate in the event of a crash, reducing the impact to the brain by allowing the helmet to absorb the rotational force instead of your noggin.
Nutcase Vio: The Specs
The Vio (Spanish for "traveler") features a 200 lumen headlamp and a 65 lumen rear light strip. It's bright enough to be seen in daylight and definitely got some attention as I made my way through the neighborhood, even while the sun was still up. Although Nutcase sort of hints that it could serve as a standalone lighting unit, and it is surprisingly bright for 200 lumens, it might not be best to use it as your only light. My current headlamp is 500 lumens, and it's far from the brightest of headlamps available.
However, extra light at night is never a bad thing, and could serve in a pinch should your main light's battery die mid-ride. With a boasted three hours of battery life, it should help you get home in the dark. The Nutcase Vio has three light modes: solid, flashing, and glowing (or breathing if you will).
The Fidlock magnetic buckle is a joy to use, and the helmet fits smooth as butter with its Xstatic microbial pads. It was easy to forget I was wearing it if it weren't for people marveling at the lights. I was able to fit a thin ski hat under the helmet with no problem, making it wearable in fall/winter.
The Vio comes with a visor that detaches, and a matte black finish with adequate venting. It's also available in light and dark blue, maroon, and matte and gloss silver. It also comes in two sizes: small/medium and large/extra large.
How does it compare? Nutcase Vio vs. Thousand Chapter
If you're looking for a helmet with lights, there isn't much to compare to the Nutcase Vio. One of the closest is the Thousand Chapter (pictured on the right below). Thousand helmets, probably better than any other company, produce helmets that look decidedly unhelmet-like — most of them look more like a hat.
The Thousand Chapter is a less expensive helmet — $135 retail vs $150 for the Nutcase. But that's because the Vio has front and rear lights, and the Chapter only has rear lights. And even those rear lights are less powerful than the Vio's, at only 50 lumens. It also doesn't run as long — only 1 1/2 hours, vs. three hours for the Vio's lights.
Some advantages of the Chapter? Its rear light is detachable, so you can use it on your helmet or your bike. And, Thousand helmets have the Poplock system, which allows for a secure way to lock your helmet to your bike.
Both are MIPS helmets, as are nearly all Nutcase helmets, and without the lights, many are quite affordable (around $80). Thousand's other helmet, the Heritage, is pretty affordable at $89. Thousand backs up their helmets with a theft guarantee (they will replace it if it is somehow stolen while locked to your bike), and a crash guarantee (they replace the lid if you're in a crash while wearing it). Thousand also has a $20 friend referral program.
Which helmet is right for you?
If you really like the idea of a helmet light, both for visibility (Nutcase claims from 500 feet away), it's hard to go wrong with the Vio. It's built so that the lights aren't at all obvious — if you didn't turn the light on, a person would assume it's a normal helmet. The helmet is comfortable, attractive, and definitely will keep you safe.
If you just want a little bit extra lighting for visibility, the Thousand Chapter offers a similar design at a lower price, with the referral program to potentially save more money, plus the poplock anti-theft system and the theft and crash guarantees. And if the light is more of a novelty, the Heritage might be a better, more affordable choice, though you also give up the MIPS system.
If you're looking to purchase a Nutcase helmet please consider using my affiliate link which makes reviews like this possible.