The Ride1Up Rift was a pleasure to ride and review. While there are plenty of fat tire ebikes on the market, the Rift has been able to set itself apart. Not only does it sell at the reasonable price of $1,895, it has higher-level specs than we would have expected for the price point. There is a powerful 750-watt rear motor, a 48V, 20 Ah battery, and high-quality 4-piston hydraulic brakes. Read ahead for more details, or check out the video below.
If we helped you decide that the Rift, or any other Ride1Up ebike, is right for you, do us a quick favor and use our link. It's a free way to support Ebike Escape directly, and we greatly appreciate your support.
Ride1Up Rift Video Review
Frame Options
The Ride1Up Rift is a fat tire ebike that handles off-roading, riding in the woods, and other rough and tough trips. It also does just fine cruising on the streets.
Like many ebikes, it comes in step-over and step-through frame options. The standover height for the step-through is 19 inches, and for the step-through frame, it is 29.5″. The recommended rider height for the step-over frame is 5'6-6'4″.
The step-through frame is for a slightly shorter crowd and is recommended for riders between 5'1″ to 6'2″. I usually prefer the step-through for ease of mounting but to each their own. Both frame styles come in three colors: forest green, arctic white, and graphite gray.
The front fork has a hydraulic lockout with 120mm of travel for increased comfort. This beast of a bike can carry up to 350 lbs. The bike itself weighs 84.5 lbs which is on the heavier side for most ebikes but certainly in line with what we tend to see for fat tire ebikes. The tires are Kenda Krusade puncture-resistant tires sized 26″ x 4.0″.
Ride1Up had cargo hauling in mind with the design of the Rift. The rack, welded right to the frame ensures that you'll likely never have to worry about overloading it. It's rated at 150 lbs and Ride1Up even includes bungees for keeping items in place. Pannier hangers are built in for side-storage. For those looking for people hauling as opposed to cargo, the Ride1Up passenger kit is compatible. This adds a wheel guard, pegs and a rear seat.
Ride1Up Rift Motor Power
On paper, the Ride1Up Rift seems comparable to many fat tire ebikes, but during our review, we were pleasantly surprised with how well it did on the hill test. This is one of the most powerful ebikes we've ridden in this class. A sustained 750-watt geared hub motor with 95Nm powers the bike. The battery is a 48V 20 Ah (960 watt-hours) pack using LG cells and is hidden nicely into the frame. Range quoted from Ride1Up is 45-60 miles per charge though if you're traveling at high speeds you'll hit the lower end of the range.
A small colored display shows speed, battery remaining, and pedal assist level. Like other Ride1Up ebikes, the Rift allows you to change how much motor power you receive in each pedal assist level. You choose how many levels from 0-9 you want and how much more power you get at each level. This underrated feature allows you to customize the bike to your liking.
The Rift uses a cadence sensor which means it provides power depending on what pedal assist it is in, regardless of how much effort the rider adds. Feeling a like you need a rest? A left-hand thumb throttle can power the Rift without any pedaling needed up to 20 mph. In the advanced settings the Rift can be changed into a Class 3 electric bike which allows for pedal assist up to 28 mph.
Ride1Up Rift Components
One of the higher quality features of this bike is the 4-piston hydraulic disc brakes with 180 mm rotors. Almost every other comparable fat tire ebike will only have 2-piston brakes. And that stopping power is important when you're leveraging the full power of the motor. The Rift also features motor cut-offs, a helpful safety feature that cuts power to the motor when brakes are applied.
In the rear is a Shimano Altus derailleur paired with a better than average Shimano trigger shifter in the cockpit. You also get 8 gears, instead of the usual 7. The Rift also sports a 11-32T cassette where we normally see freewheels.
Integrated lights that run off the battery are included front and rear. These will do the job for a basic ride, especially the front light but we suggest upgrading the lighting if you plan to do much after-dark riding.
Alloy front and rear fenders are included to make a more pleasant ride in the rain or in the mud. Optional accessories include a quick connect basket for $60 or you can also add a front rack for $55.
The included is saddle is basic, so check out our list of accessories for more recommendations.
View the full Ride1Up Rift components list.
Concluding Remarks on the Ride1Up Rift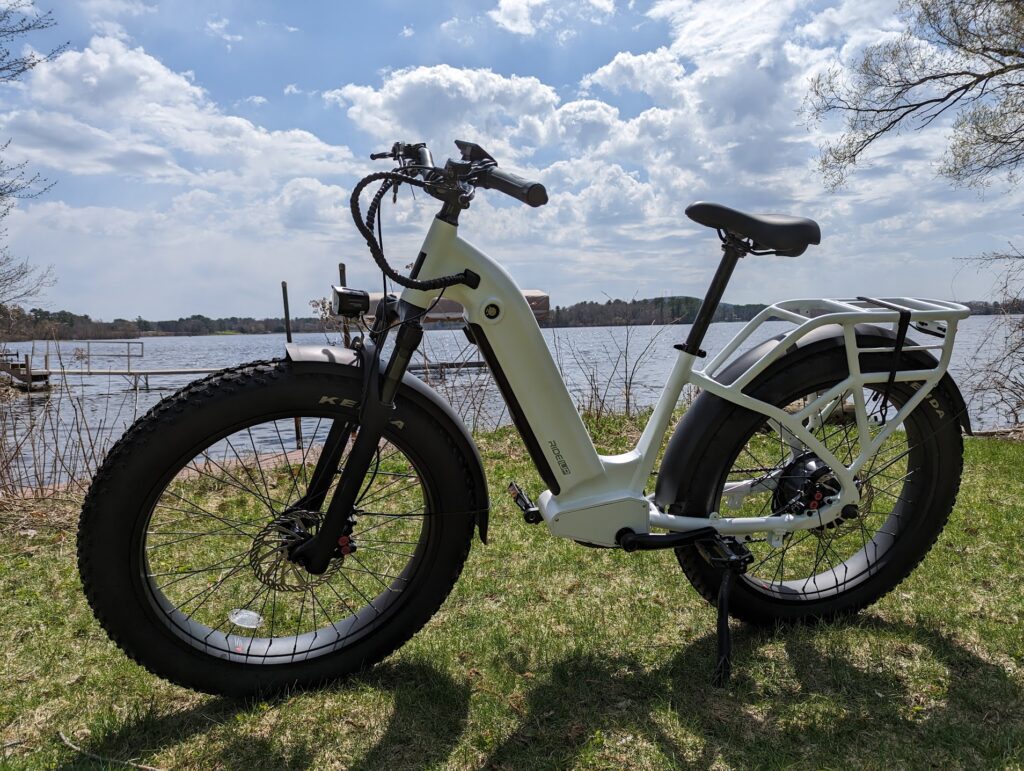 If you are in the market for a direct to consumer fat tire ebike, then the Ride1Up Rift is one that's worth considering. At $1,895, it is a great price point for its features. Main differentiators are the ability to travel at 28 mph with ease, the 4 piston brakes and the sturdy rear rack.
While Ride1Up has traditionally focused on commuters, their Revv 1 and now the Rift are great additions to the market. Ride1Up continues to deliver on their goal of delivering the best value electric bikes. If you like Ride1Up but aren't sure you want a fat tire ebike, check out our reviews of other Ride1Up ebikes.
If you want to look into similar ebikes, consider the Juiced RipCurrent S, the RadRover 6 Plus, the Biktrix Juggernaut, the Himiway Zebra, or the Aventon Aventure. Our list of best fat tire ebikes is also a popular resource.
Electronics (Battery, Motor, Display)
9.5
Components (Shifter, Derailleur, Fork)
8.5
Ride1Up rift pros
Two Frame Options
Powerful 750-watt
Rear Rack with 150 lb max
4-Piston Hydraulic Brakes
Customizable Pedal Assist Levels
Sub $2,000 price tag
Trusted brand
Large battery with LG cells
Ride1Up rift cons
No option for swept-back handlebars like on other Ride1Up models
Dim rear light
No front mounts on the headtube for a front rack