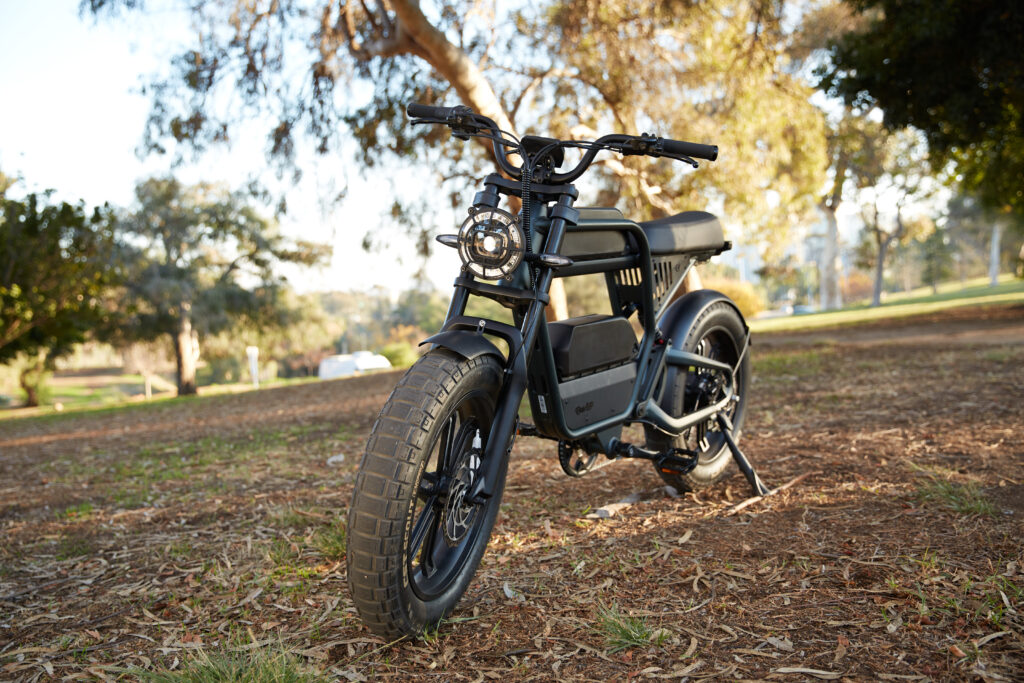 Ride1Up, known for their quality value-priced electric bikes has released its most exciting ebike to date. Enter, the Revv1 moped style electric bike. It's a departure from their focus up until now on commuter-style ebikes. But an affordable moped-style ebike? We're not complaining.
The Revv 1 comes in two different offerings. The Ride1Up Revv 1 Hardtail or HT is priced at $1,895 and a full suspension offering at $2,395. There are more differences between the two models than suspension which we'll outline below. The hardtail offering is especially compelling given many moped-style ebikes today are priced $2,000 and above.
Check out our video review below, read on for our written review, or check out our unboxing.
Ride1Up Revv 1 Video Review
Ride1Up Revv 1 Frame Design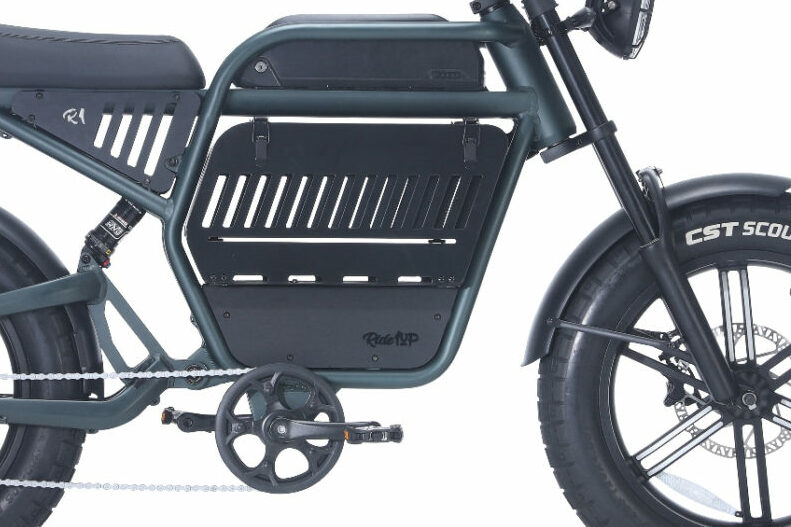 If you removed the pedals, the Revv 1 could be easily mistaken for a small motorcycle. We've seen many different takes on this style of ebike, but the Revv 1 is one of the best looking in my opinion. It even hides the battery in a spot where a gas tank could otherwise sit. A dual crown suspension adds to the aesthetics on the full suspension version.
For those looking to close the gap in the center of the frame (or simply add storage), Ride1Up offers the Revv 1 center storage cage for $100.
The Revv 1 has a weight capacity of 400 lbs with a standover height of 32.5". It's a higher standover height than a typical ebike and the seat is not adjustable so be sure to measure before you buy this ebike. Another consideration is the weight. At 93 lbs the Revv 1 is on the higher side of ebike weights. Both the full suspension and hardtail Revv 1 come in two colorways: moss green and graphite gray.
Battery and Motor – 52V System with High Peak Output
Let's start off with the fun part, the power of this ebike. The Revv 1 is advertised as having a Bafang 750 watt sustained motor. Ride1Up went with a 52-volt system for more power. Here's where things get interesting. The full suspension version comes with a massive 28 amp controller (18 mosfets) and the hardtail version comes with a 25 amp controller (12 mosfets). Peak power will be 1456 and 1300 watts respectively.
In order to abide by Class 2 regulations, the Revv 1 ships as a Class 2 electric bike. This means a top speed of 20 mph while using the throttle or pedaling. For off-road use or use on private property, the ebike can be unlocked for speeds 28+ mph. The Revv 1 includes a right-hand twist grip throttle.
Moped-style ebikes need large batteries. The hardtail comes with a 52V 15Ah (780 watt-hours) battery using Samsung 21700 cells. This is a good size for the price, especially taking into account the 52V system. For those looking to maximize range, the full suspension variation has a larger 52V 20Ah (1040 watt-hours) battery. The range is estimated at 30-60 miles, highly dependent on rider weight, speed, terrain, throttle usage and pedaling.
In the center of the handlebars is a monochrome LCD display with a 3.5" screen. It allows for some customization which we'll outline in our review video.
Revv 1 Components
Another area where the Revv 1 stands out is the components. As is typical with Ride1Up they take a bit more care in selecting higher quality components.
On the Revv 1 full suspension is a double-crown air suspension fork. It has 120 mm of travel with preload and rebound adjustments. It can also be locked out for smooth pavement riding. In the rear is a DNM AOY-38RC. It too is an air shock and has adjustments for rebound and lock-out. This rear suspension can be found on Amazon for $99 if you're curious to look at reviews. This is certainly a step up from the basic spring suspensions we see on some moped-style ebikes.
The hardtail variant still has an air suspension fork though it resembles a typical ebike front fork. It has 100 mm travel with rebound adjustment and hydraulic lockout.
Another choice we like: hydraulic disc brakes. Both models have 4-piston hydraulic disc brakes with motor-cutoffs. It's a rarity to see 4-piston hydraulic brakes on still relatively affordable electric bikes. The brakes are private labeled, meaning they aren't name brand but they are designed with a moped-style ebike in mind.
Moving on to the tires, the full suspension Revv 1 sports CST Scout eMoped tires compared to the more ebike standard 20×4″ Kenda Krusades on the hardtail. Both models use mag wheels, and while they add weight, they will never need to be trued.
For simplicity sake, the Revv 1 is a single-speed with a 42T front chainring and 24T in the rear. While most people buying this ebike likely aren't to be pedaling the Revv 1, it can be done. The motor is engaged with a cadence sensor while pedaling (or the throttle of course). Note that at higher speeds you'll experience ghost pedaling where it's difficult to provide human power.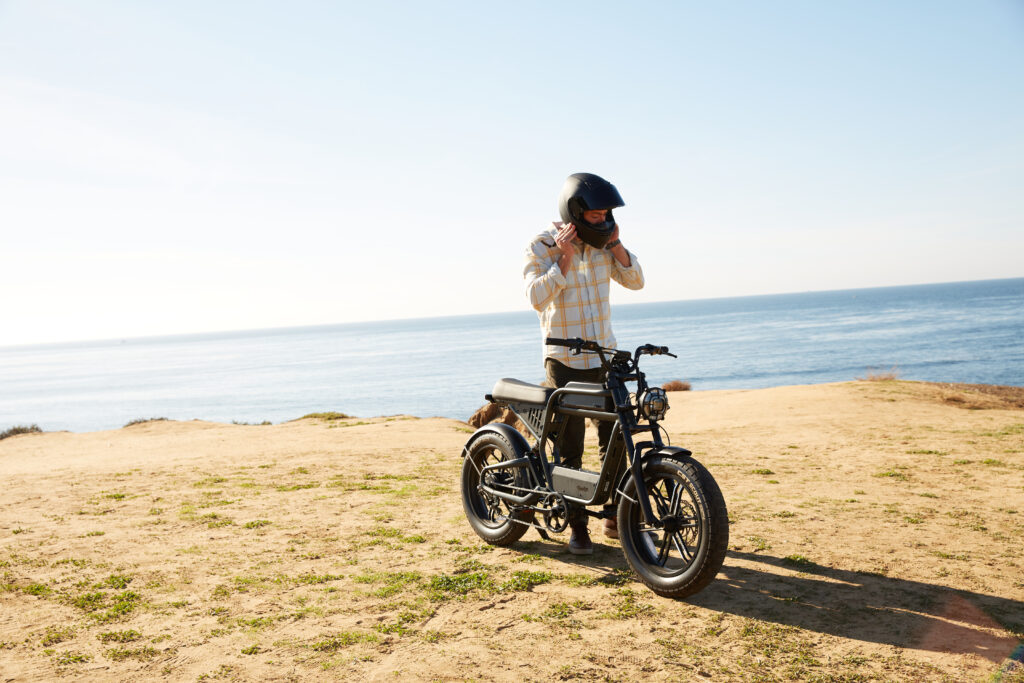 Revv 1 Accessories
The Ride1Up Revv 1 comes nicely outfitted. Metal fenders front and rear as well as integrated lights. The full suspension Revv 1 also adds turn signals. A kickstand is located on the rear out of the way of the pedals. The Center Storage Cage is available for $100. Other accessories we'd recommend for this ebike are mirrors and a cell phone mount. Recommendations can be found on our electric bike accessories list.
Our Take
We didn't expect a company that has strictly put out amazing commuter ebikes to enter the moped-style market. But given Ride1Up is known for offering a compelling product at a great price we're happy to see more competition, especially in the lower price range. It also is a sign of Ride1Up maturing into an ebike brand with a full lineup of ebikes that cover each use case. Learn more about the Ride1Up Revv 1 or check out the other models offered by Ride1Up.
Electronics (Battery, Motor, Display)
9.5
Ride1Up revv 1 Pros
Two offerings at solid price points
Four piston hydraulic brakes
Quality Air Suspension
High output motor
52V battery
Integrated lights and turn signals
US-based custoemr support
Ride1Up revv 1 Cons
Non-adjustable saddle
Heavy