Aventon just released their Aventure 2 (and Aventon Aventure 2 Step Through) at only $1,899! The original Aventon Aventure launched in 2021 and made a big splash in the competitive field of fat tire ebikes. It is well known for its clean look and integrated lights.
The Aventon Aventure 2 is selling for less than its predecessor with some serious upgrades. The new features provide a more natural pedaling experience, increased utility, and better safety features.
Check out the original Aventon Aventure with our previous written review here or YouTube review here or read ahead for all the awesome updates and a refresher on the original features of this fat tire ebike.
If you are considering buying the Aventon Aventure 2 please consider using our affiliate link. This helps Ebike Escape continue to review bikes and doesn't cost you a thing. If you are looking for advice on other brands, check out our list of top ebike brands, and don't miss out on our electric bike accessories page.
Aventon Aventure Video Review
Torque Sensor with the Same Great Motor and Battery
The biggest change in the Aventure 2 is that it has a torque sensor instead of a cadence sensor. This is great if you are looking for a more natural-feeling ride. The more effort you put into pedaling, the more assistance you will get from the bike. A cadence sensor in comparison simply acts as an on/off switch with the motor giving you the same power as long as your legs are spinning.
While the pedal assist sensor changed, the motor and battery are the same as the original Aventure. The motor is a 48V and 750-watt nominal brushless hub motor. Peak output is 1,130 watts. The battery is a 48V, 15 Ah (720 watt-hours) battery housed in the Aventure's downtube for a clean look. Aventon is known for their realistic range estimates and states a range of up to 60 miles in "eco" pedal assist on a single charge! This is over a 30% increase compared to the original due to increased efficiency with the torque sensor. Throttle only range is 30 miles with a 165 lb rider.
This fat tire ebike is shipped as a Class 2 ebike with a 20 mph max speed using pedal-assist or throttle. But it has the potential to be a Class 3 ebike. To make the adjustments you will need to go into the advanced settings by connecting the bike to your phone and changing the top speed. Once the settings are changed, the top speed is 28 miles per hour. Around 20 mph is easy to achieve even with a leisurely cadence though with the torque sensor the rider does need to put in more effort to reach 28 mph. Regardless of the top speed setting, the throttle only top speed on the Aventure 2 is 20 mph with the left-hand thumb throttle.
Aventon Aventure 2 Display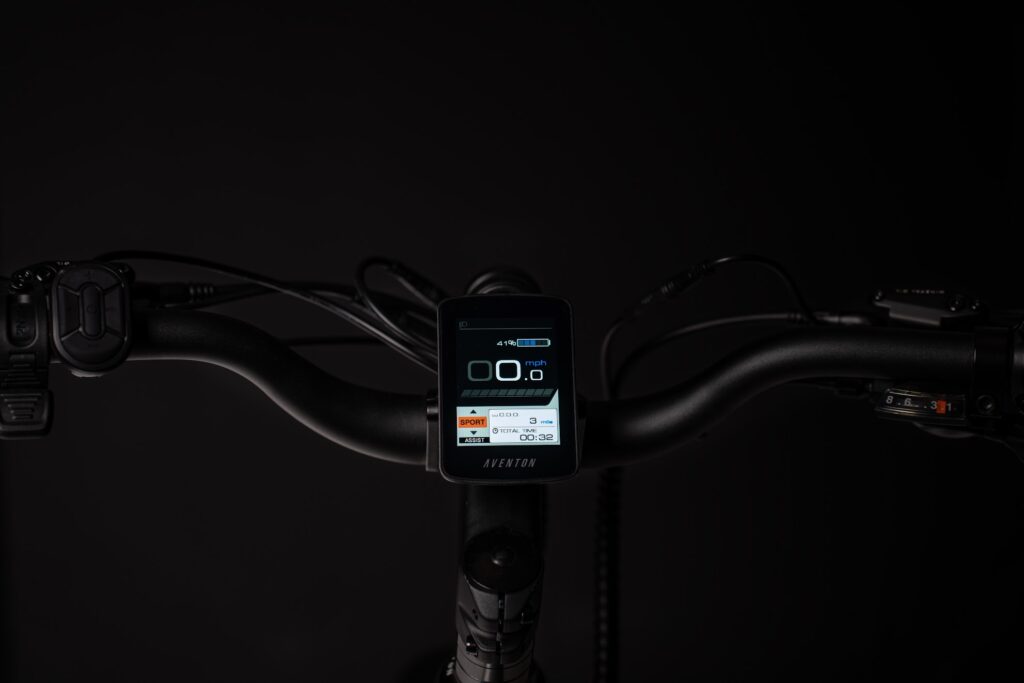 Aventon stayed with the same screen, the BC280-colored LCD display. It provides all the essential information you would expect including battery remaining, speed, odometer, and pedal assist level. One thing they changed was the name of their pedal assists.
They used to have 5 levels of pedal assist whereas now they use Eco, Tour, Sport, and Turbo modes. The app provides all the information you get on the screen as well as makes it easier to get into the advanced settings. It has a "social" feature that helps you find other Aventon riders, lets you track your riders and even includes a gamification aspect providing "medals" after a certain amount of miles are ridden.
One final piece of information on the display is "sum trees saved" which provides a potential number of trees that were saved when you chose to ride your ebike instead of driving. While this is a bit gimmicky, they did put some real effort into making their packaging more sustainable. Compared to other ebikes, and the prior packaging, the Aventon Aventure 2 has very minimal plastic used in its packing. Nearly all the shipping material is recyclable. For a closer look, check out our unboxing video.
Aventure 2 Components
The Aventon Aventure 2 has Tektro hydraulic disc brakes with 180 mm rotors. While the original Aventure used Zoom-branded brakes, the Aventure 2 uses Tektro HD-E350 hydraulic disc brakes. This should be considered either a small upgrade or a lateral shift depending on personal preference.
The drivetrain is an 8-speed Shimano Altus with 12-32T gearing in the rear. The crankset is 170 mm with a 48 tooth front chainring. Shimano components were also used in the original Aventure. There has been a minimal downgrade with the use of the Altus rear derailleur compared to Acera. but overall performance is similar and the shifting difference is indistinguishable between the two. Aventon continues to utilize a trigger shifter in the cockpit which is a higher-quality component than we often see from other brands.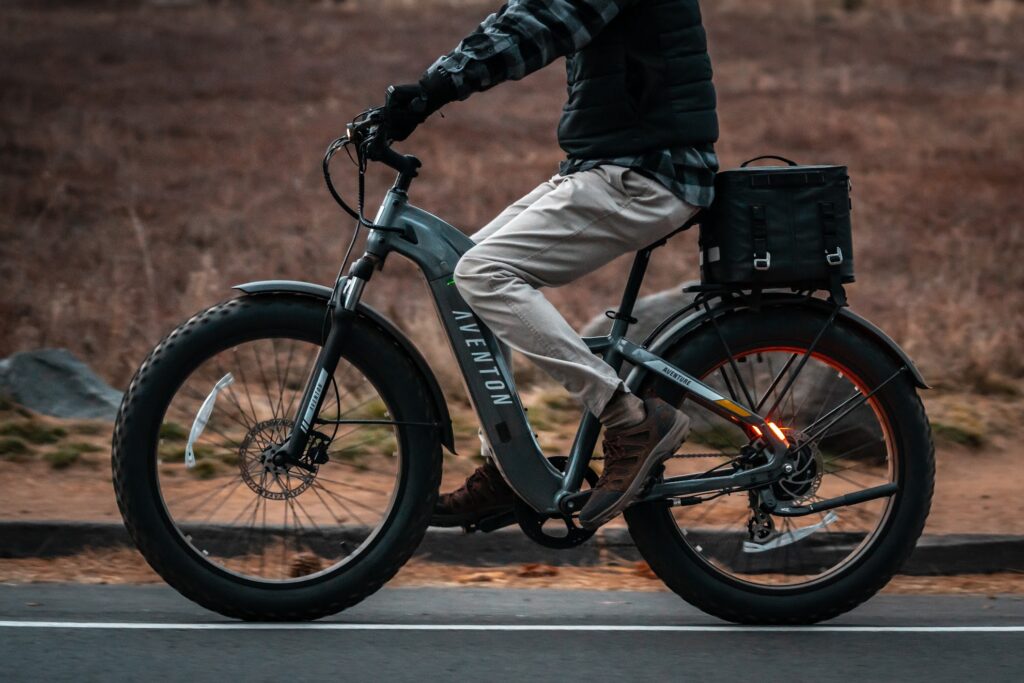 For tires, the Aventon Aventure 2 has 26″ x 4″ tires. They are a different brand than the original but have a similar tread pattern and are still puncture resistant. The Aventure has metal front and rear fenders and now included is the rear rack. It was also redesigned and fits more naturally onto the rear wheel. Aventon plans to release custom accessories made to fit the Aventure 2 rear rack.
The Aventure 2 includes not only the integrated front and rear lights, well placed in the rear stays, but also rear turn signals. Whether having turn signals is an advantage or not probably depends on your riding style and riding environment but it never hurts to have the option.
View the full list of components.
Aventon Aventure 2 Frame Options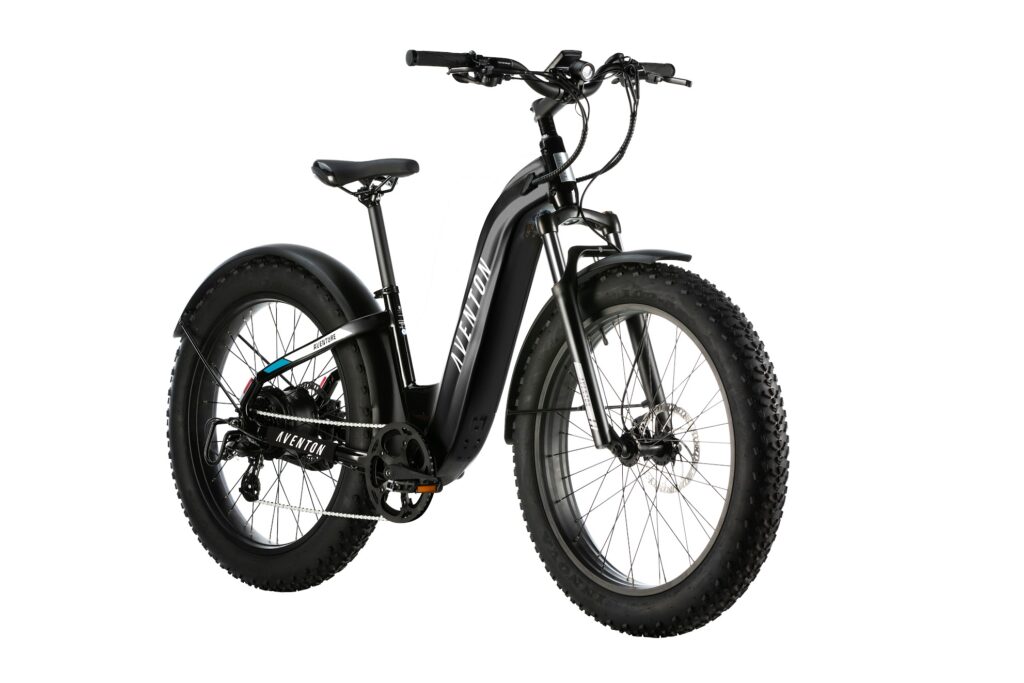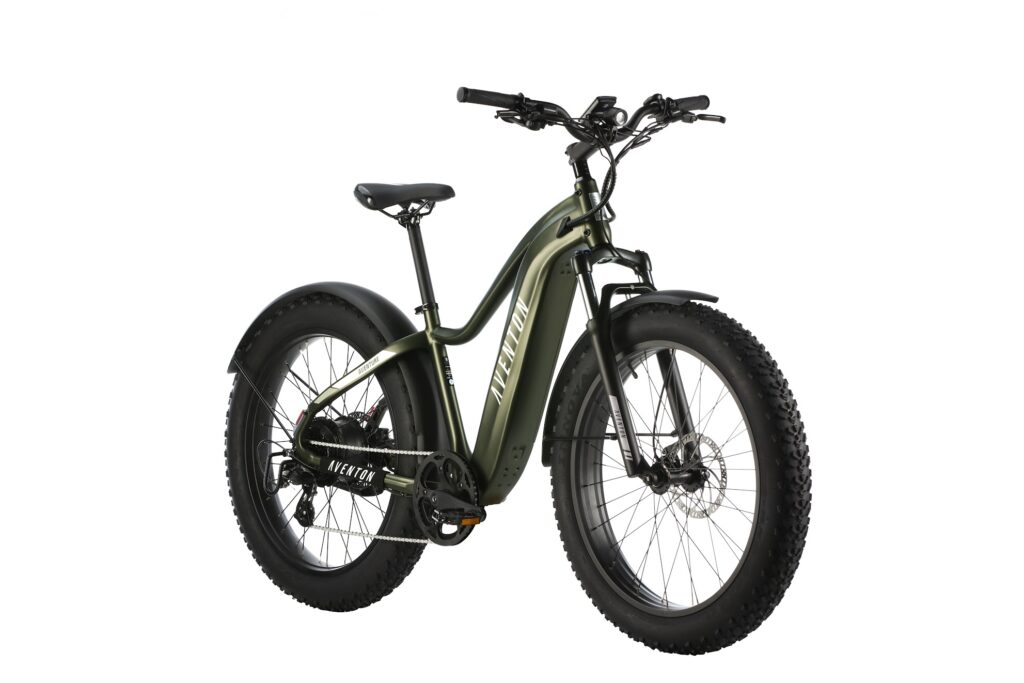 The Aventure 2 comes in both a traditional frame as well as a step-through. Overall it is very similar to the original Aventure. The main change is that whereas before the traditional frame was offered in three sizes, now both traditional and step-through frames are offered in two sizes.
The traditional frames fit a slighter taller crowd (regular from 5'3″ to 5'10" and large from 5'10" to 6'4″) and are offered in camouflage and slate.
The step-through fits a slightly shorter crowd (regular from 4'11" to 5'7″ and large from 5'7-6'1″) and comes in the colors midnight or cobalt. The standover height for the step-through frame is only 19″. The total weight of the bike is around 77 lbs with a weight capacity of 400 lbs.
Just as in the original, the Aventure 2 is a sleek-looking bike. The welds are smooth offering a premium feel. Another nice touch is the battery is integrated and is removed from the side rather than the bottom. This makes it easier to get the battery in and out.
One great thing about Aventon is they have lots of dealers throughout the United States. If you aren't sure what size to get or which frame you prefer, check out Aventon's site and use their dealer locator. Being able to take the bike for a test ride, especially for new ebike users, is a huge advantage in getting the right bike.
Our Take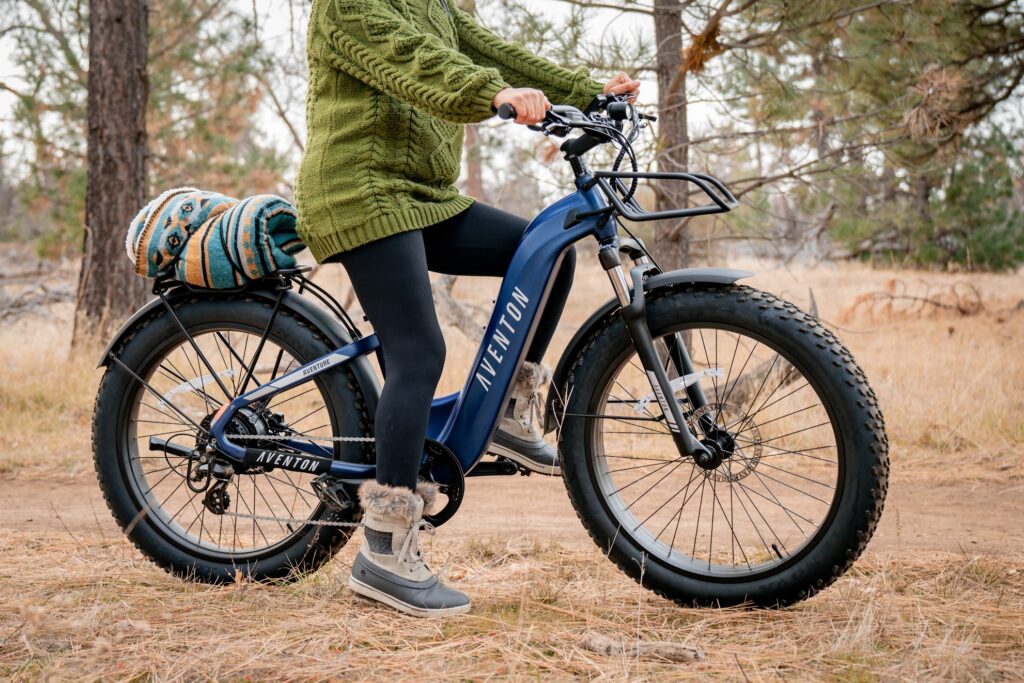 The Aventon Aventure 2 fat tire ebike builds upon its popular predecessor. It keeps many of the great features of the original including a large rear hub motor, sleek-looking frame, hydraulic disc brakes, and integrated lights. The main changes include upgrading from a cadence sensor to a torque sensor, including the rear rack in base pricing, more sustainable packaging, and adding turn signals.
Aventon has been a company that continues to impress and Aventure 2 does not disappoint. If you are considering this bike, we would really appreciate your show of support by using our link. Enjoy your ride!
Aventon Aventure.2 Review
Electronics (Battery, Motor, Display)
9
Components (Shifter, Derailleur, Fork)
9
Aventon Aventure.2 Pros
Powerful 750 watt motor
Step-through option
Integrated lights
Turn signals
Hydraulic Brakes
400 lbs weight capacity
Clean welds
Bike shop network
2 size offerings
Cheaper price
Aventon Aventure.2 Cons
Average-size battery
Turn Signals don't have auto-off
Downgraded derailleur
More forward-leaning riding position (consider an adjustable stem)
If you are in the market for a fat tire ebike but aren't sure the Aventon Aventure 2 is a good fit, check out our list of top fat tire ebikes. There are plenty of options in this category of ebikes.