It seems like Lectric is tackling every category of ebike, leading with price. The Lectric XPedition, Lectric's new cargo ebike is not only affordable, but also pushes the boundaries of what you can expect out of a value-priced ebike. More people are going to experience what a cargo ebike is capable of thanks to the $1,399 price point for the single battery version. Even the $1,699 cost of the dual battery version is less than almost every other cargo ebike on the market. But what else does the Lectric XPedition have to offer besides a good price? Read on for our written review or get a detailed look in our Lectric XPedition video review.
Lectric XPedition Video Review
Lectric XPedition Frame Design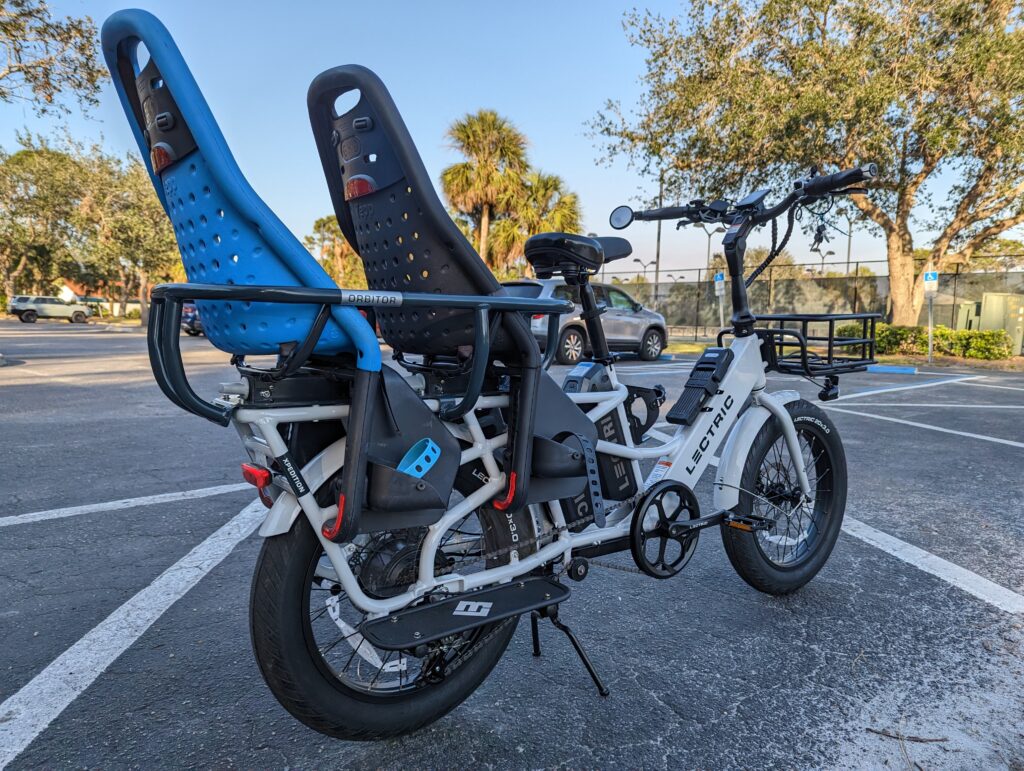 The Lectric XPedition comes in one frame size and one color: fog grey. It's more white than anything and Lectric has accented it with black graphics throughout. Its step-thru frame design helps keep the bike accessible to riders all the way down to 4′ 11″. This is made possible by the stand-over height of just 18.75″.
Since this is a cargo ebike, Lectric went out their way to make the bike capable of hauling more than the average cargo ebike. Load capacities are as follows:
Max Payload Capacity: 450 lbs
Max Rider Capacity: 330 lbs
Max Load for Rear Rack: 300 lbs
Max Load for Front Rack: 35 lbs
In total, the XPedition is 72″ long and 46″ high though the handlebars are foldable which can bring the height down to 32″. A nice touch is the adjustable and quick-release stem. Simply slide the button up and the handlebars can be both lowered and raised. This is a handy feature if you have multiple riders who plan to ride the same ebike.
A rigid front fork can be found up front so buyers may want to consider a suspension seatpost for additional comfort. These are available from Lectric. Or check out our recommendations on our electric bike accessories list. Two sets of bottle cage mounts adorn the XPedition, one set on the downtube and one on the seat-tube. This is perfect for a folding lock or bottle cage (shown below).
Insanely Powerful Battery and Motor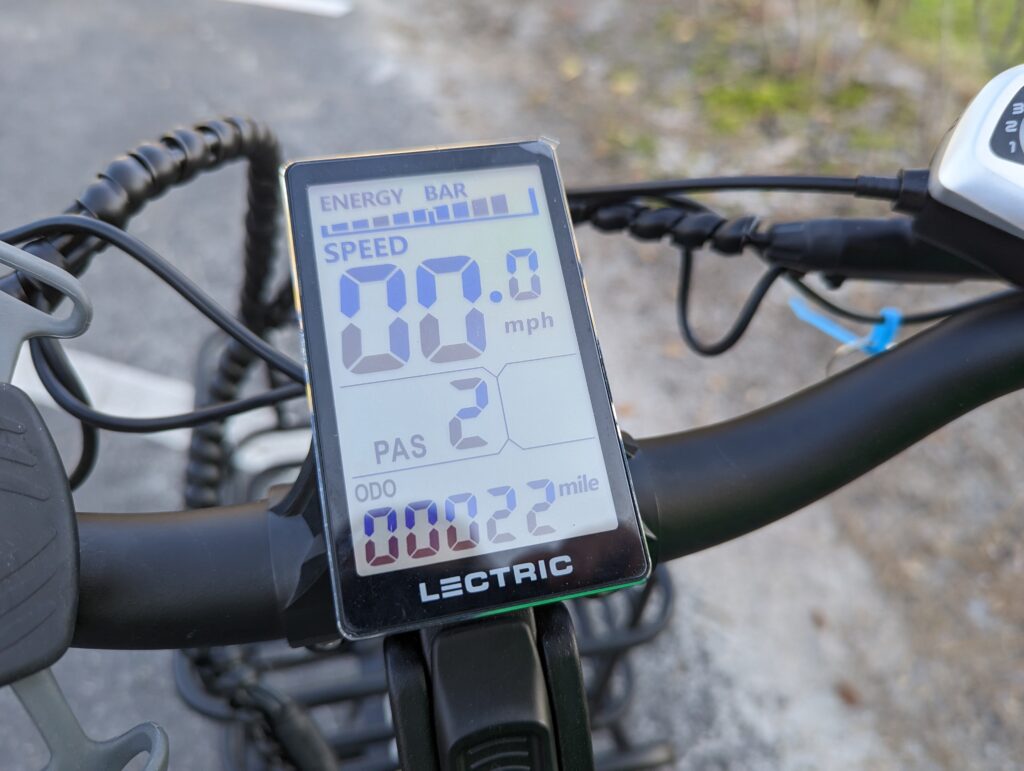 We're not being hyperbolic here, the motor on the XPedition is exceptional. Not only will the 750-watt nominal/1310-watt peak motor handle any hill but it will do so with ease. This motor power is especially handy when loading up the bike. The Lectric team explained how they tested the XPedition up some of the steepest hills in San Francisco and it's clear they're proud of the result. The bike is using a 24 amp waterproof controller mounted beneath the frame.
A powerful motor is nothing without a battery and here's where it gets interesting. The 48V 14Ah single battery XPedition is priced at just $1,399 making it the most affordable electric cargo ebike on the market. For those long haulers, a dual battery variation is just $1,699. This 28Ah total capacity is unheard of at the sub $2,000 price point. Lectric is quoting a range of up to 75 miles on the single battery and 150 miles on the dual battery version. I'd estimate the way most people will ride these bikes to get around half that, which is still impressive. Worth understanding is that the batteries drain simultaneously with the bike running off the more full battery and switching between them until empty. 
Like other Lectric models, the XPedition comes with the same LCD screen, controls and right-hand twist grip throttle. It ships as a Class 2 ebike with a top speed of 20 mph with the throttle or pedal assist but can be changed to a Class 3 ebike with speeds up to 28 mph (pedaling only). The motor is engaged with a cadence sensor for pedal assist.
Lectric did a nice job wrapping the cables both up by the handlebars as well as those that run along the frame. Just one note that some cargo ebikes do have internal cable routing which aesthetically looks nicer but on the other hand may make maintenance more difficult. This is a matter of personal preference.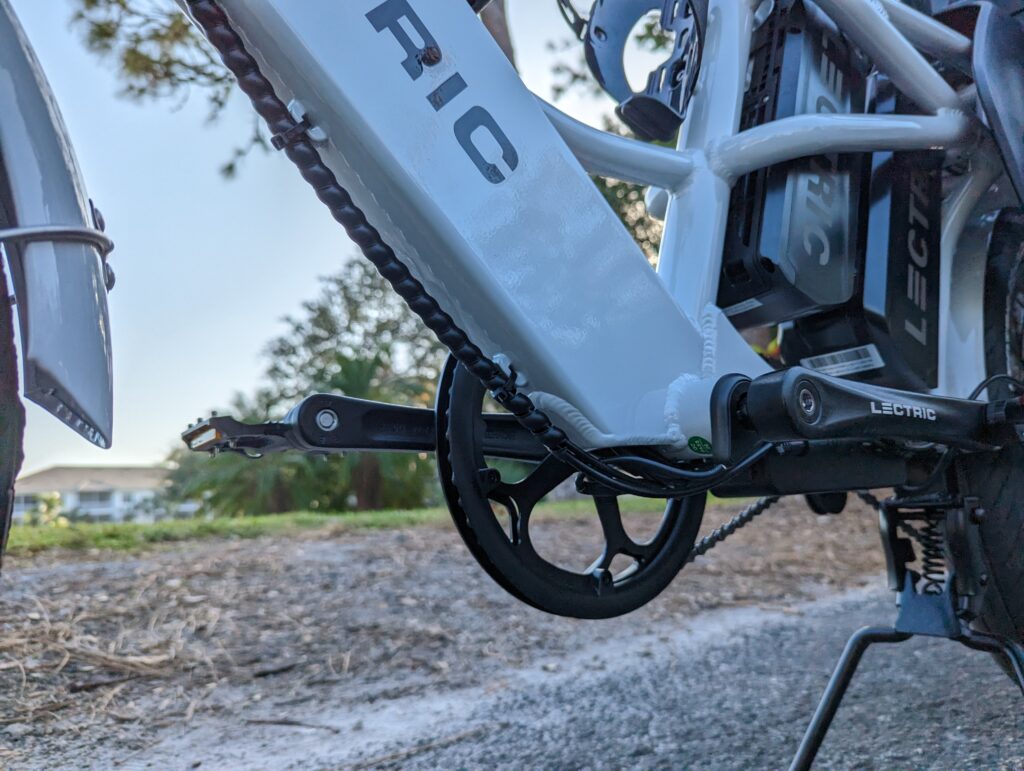 XPedition Components
One surprise is that the XPedition comes with Zoom hydraulic disc brakes which are easier on the hands, but also help bring large loads to a stop faster compared to mechanical disc brakes. A majority of cargo ebikes have hydraulic disc brakes but cost $2,000 or more. A basic Shimano 7-speed thumb shifter can be found in the cockpit, paired with a Shimano Tourney rear derailleur. Basic Shimano components, but it's hard to fault Lectric given the price.
The bike is geared nicely with a 11-28 rear freewheel and an extra large 52T front chainring. A chain tensioner ensures that the chain doesn't bounce around while underway.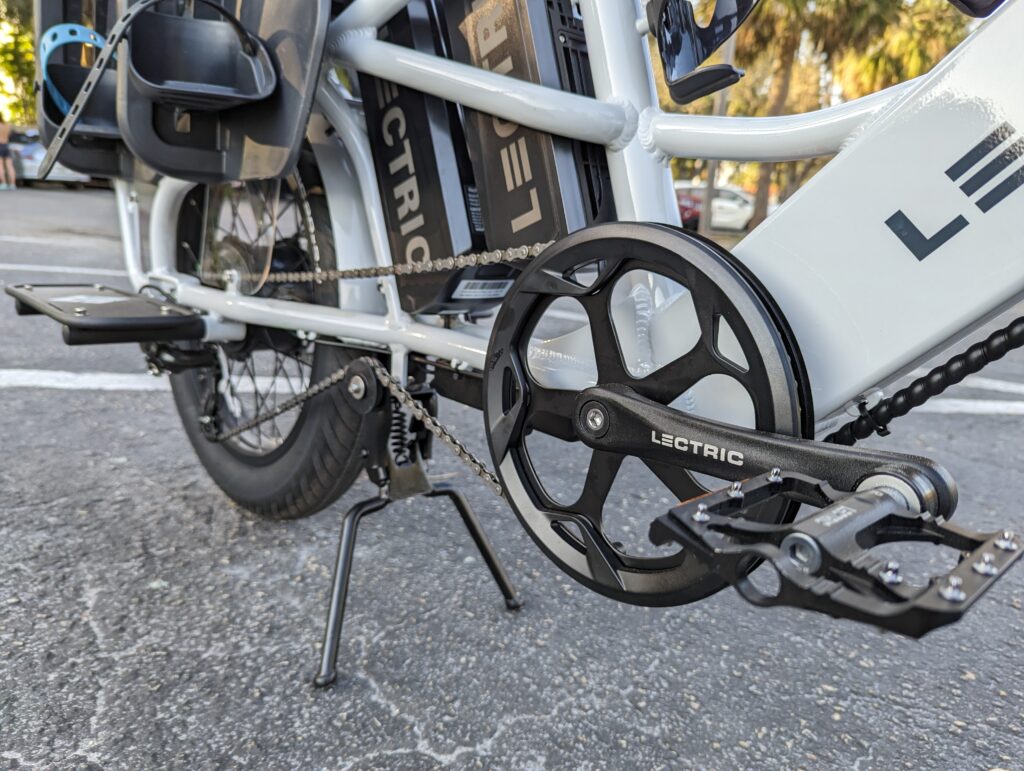 Lectric went with their sporty Lectric saddle on the XPedition. For those seeking additional padding, you may want to consider the most popular seats on our electric bike accessories list. Something we haven't seen before on an ebike are quick-release pedals. These not only make assembly easier (no wrench!) but also allow the bike to have a slimmer profile if desired – such as when loading two ebikes on a bike rack. A dual kickstand beneath the ebike keeps the bike stable on a hard surface. We would have liked to see some wider feet to prevent the bike from sinking into the ground on softer surfaces. View the full XPedition components list.
Lectric XPedition Accessories: A Plethora of Options!
Cargo ebikes really shine with accessories and Lectric has gone above and beyond with the amount of accessories – especially considering this is a brand new model. The rear rack is compatible with up to two Thule Yepp Maxi seats. Parents of younger children may also want to consider the "Orbitor" for additional protection which doubles as a place for kids to hang on to.
For older kids, running boards are a must. Another seat option is the "Plus One" which offers a backrest. Other accessory options include a barrow bar, cushions, and XL panniers.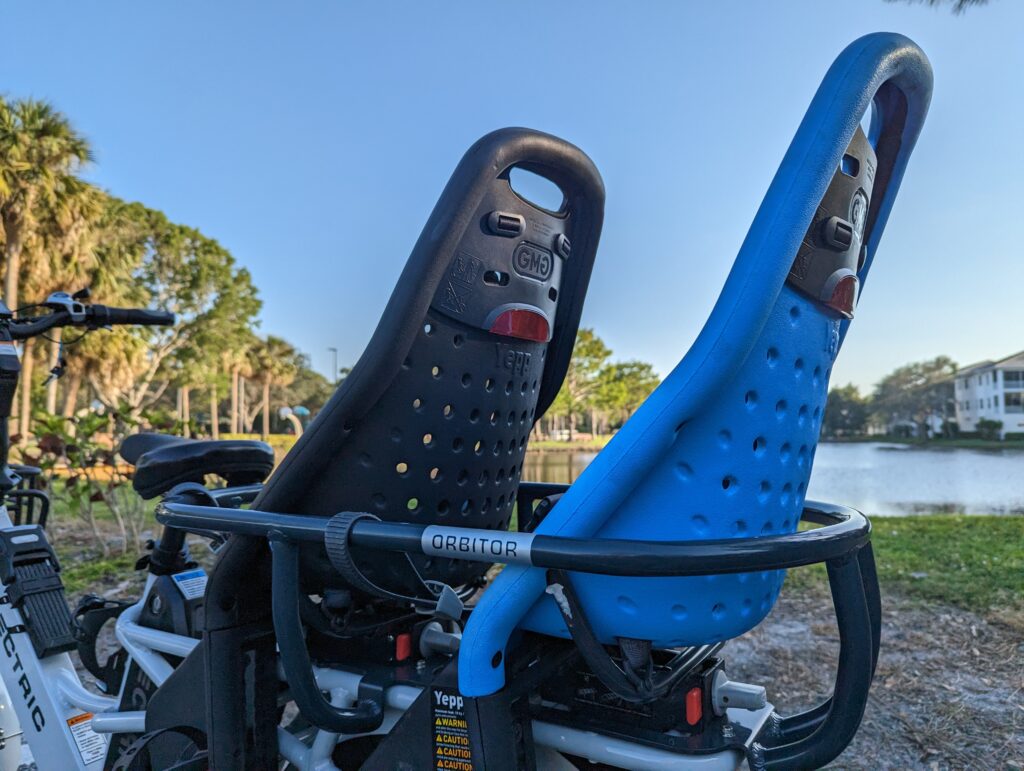 Our Take
As a channel that prioritizes cargo ebike reviews, we're excited to see Lectric enter the market. And in true Lectric fashion, they've created a cargo ebike at a price that didn't exist until now. We now have a favorite in the Lectric lineup in the Lectric XPedition. If you want to learn more about cargo ebike offerings be sure to check out our post about the best cargo ebikes.
If cargo ebikes aren't your thing, check out our reviews of their other popular models: Lectric XP Lite, Lectric XPremium, Lectric XP 3.0 and the XP Trike.
Electronics (Battery, Motor, Display)
10
Lectric Xpedition pros
Great price
Large cargo capacity
Dual battery version
Hydraulic disc brakes
Powerful motor (up to 28 mph)
Ships nearly assembled
No ghost pedaling
Variety of accessories
Easy assembly
Lectric Xpedition cons
Kickstand digs into soft ground
Handlebars might be too low for taller riders
Only one charger included on dual battery version