Introducing the most transportable and lightweight Lectric ebikes model to date: the XP Lite ($799). This foldable ebike integrates many of the features that Lectric's popular XP 2.0 (see our review here) offers, but at a lighter weight and lower price.
Lectric eBikes is a company that knows how to make a quality electric bike affordable through a strategically small ebike product line. Unlike other brands that may offer a multitude of styles, colors, and models, Lectric narrows its focus solely on the XP model. And what an excellent anchor model they chose.
The XP 2.0 and XP 2.0 Step-Thru (released in 2021) have sold very well (It's our favorite ebike at the $1000 price point). Now, with the Lectric XP Lite added to the mini fleet, Lectric eBikes can serve an even wider ebike enthusiast base at a truly impressive price.
Keep reading for our full review on the new Lectric XP Lite or check out our Lectric XP Lite review video below.
Lectric XP Lite Review
Frame
The Lectric XP Lite is the perfect two wheeled vehicle for the traveler. RV warriors, campers, and road trippers would all benefit from this folding frame and lightweight design. This is also a great ebike for folks who do not want to invest in heavy-duty ebike rated rack for transport. Simply fold it and pop it into your vehicle. Bottom line: this bike is all about convenience.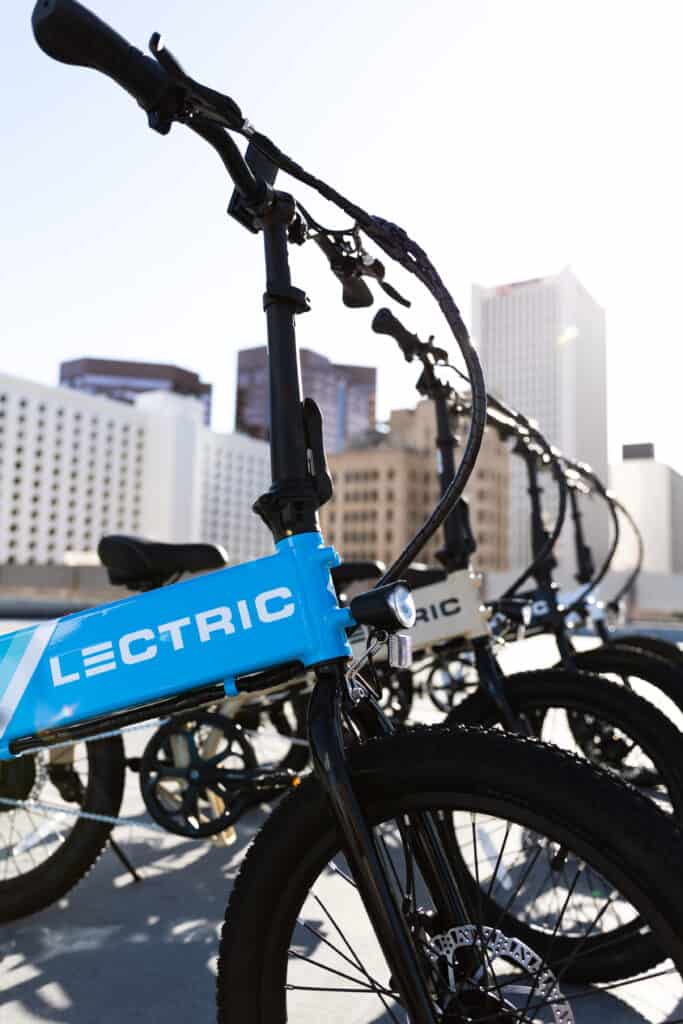 Lectric XP Lite vs. Lectric XP 2.0
Frame and Weight
Lectric used the general frame design from the very popular Lectric XP 2.0 to build the XP Lite. Then they made it more affordable ($999 vs $799). A notable difference between the two versions: tire size. The XP 2.0 is a fat tire ebike (20×3 in) while the XP Lite has a slimmer Chaoyang or CST tire (20×2.4in) which helps reduce weight and make the ride more nimble. The XP 2.0 weighs 64lbs while the XP Lite lives up to its name at 46lbs. For an ebike, that is truly light!
Dimensions
The unfolded dimensions of the Lectric Lite is 64x25x46in. The XP 2.0 is slightly larger at 67x25x47in.
When folded, the Lectric XP Lite measures 35 x 18 x 27.5 inches which Lectric eBikes claims is one of the smallest in the ebike world. Again, this ebike was made for travel!
The XP 2.0 is slightly larger folded at 37 x 18 x 28 inches. Although this difference is slight, the weight difference still makes an impact on the greater ease of traveling with this ebike.
Payload
This could be a dealbreaker for some folks when deciding between the XP versions. The XP 2.0 has a payload capacity of 330 lbs. Significantly lower, the Lectric XP Lite has a maximum capacity of 250 lbs.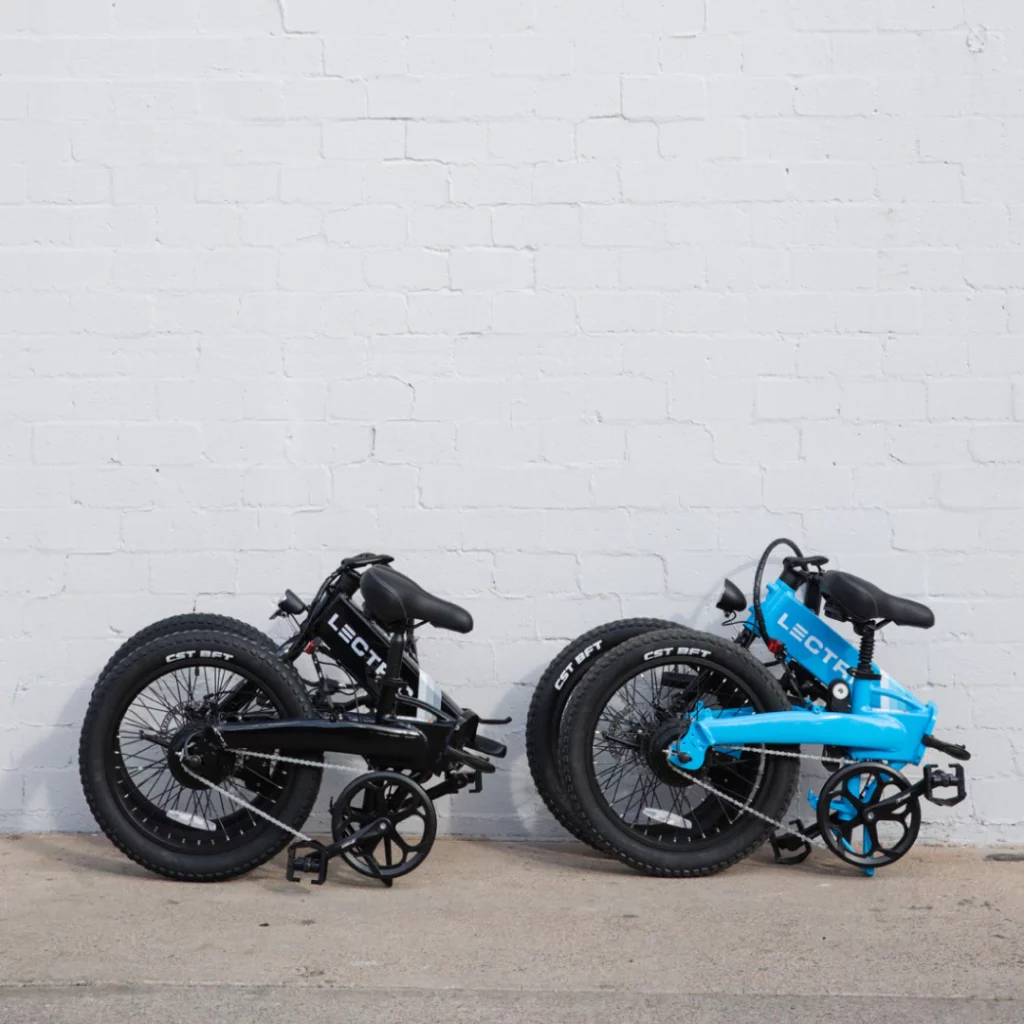 Motor and Battery
Another way to reduce the weight and cost: the XP Lite has a smaller motor (300 watt nominal, 720 watt peak), which makes it less powerful than the XP 2.0 (500 watt to 850+ watt peak). We are impressed that Lectric ebikes still choose to make the XP battery 48v 7.8 AH (374 watt-hours). For comparison purposes, the Lectric XP 2.0 boasts a 48v 9.6 Ah battery (460 watt-hours)
Typically, ebikes in this price range are downgraded to a 36v battery. Lectric advertises the Lite range to be up to 40 miles for a single battery charge (XP 2.0 is listed similarly at 45+ miles). Check out the the chart below for an accurate idea of range on the Lectric XP Lite. Even utilizing the right-hand twist-grip throttle exclusively you'll get a reported 15 miles of range which is pretty impressive for an $800 ebike.
One nice thing about the Lectric battery packs is they are affordable if you want a spare. You can pick up a Lectric XP Lite battery for just $249.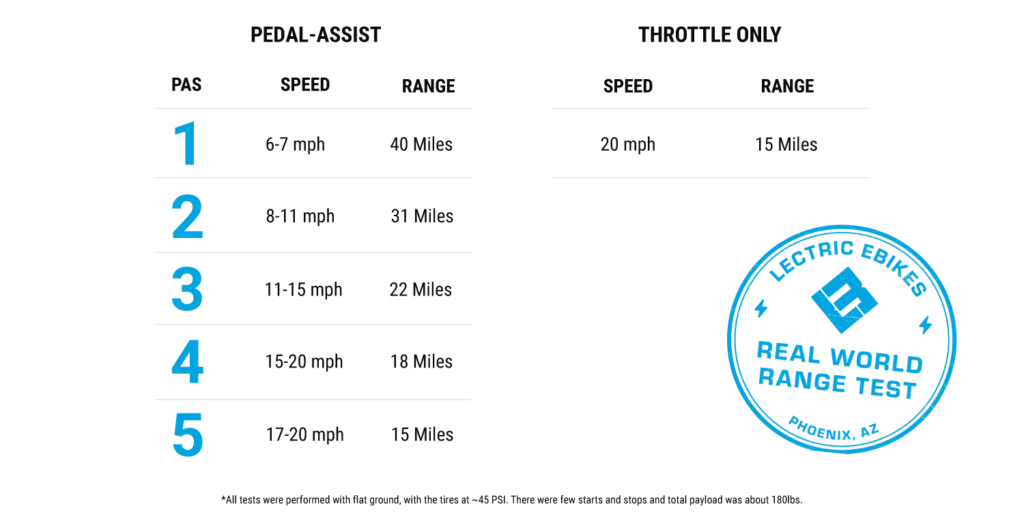 Lectric XP Lite Top Speed
The Lectric XP Lite is sold as a Class 2 electric bike. A Class 2 electric bike has a top speed of 20 mph with a throttle or pedal assist. The Lectric XP 2.0 was able to be adjusted in the advanced settings (at your own risk) to reach speeds up into the 20s. Check out our Lectric XP 2.0 top-speed video to learn more.
Notable Differences: Gears and Suspension
The XP Lite has shed its gears. The XP 2.0 offers a 7-gear drivetrain while the XP Lite is a single speed. If you do not plan on climbing hills often, then it won't be much of a concern. And even the 720-watt peak motor on the Lectric XP Lite should be plenty capable for a wide range of use cases.
The XP 2.0 has an adjustable front fork suspension in addition to its fat tires. This will certainly make the ride smoother than the XP Lite which doesn't offer the front fork suspension in order to prioritize affordability. There are ways to help alleviate the lack of suspension though. We would recommend checking into a suspension seat post if this is a concern. Check out our suspension seat post list of recommendations.
Color and Features

Lectric deviated from its previous color offerings by expanding outside of its black and white comfort zone. Two additional colors have been added to their palate for the XP Lite: Sandstorm and Lectric Blue. Fear not, Classic Black and Arctic White are still options too.
Lectic did not cut corners on little features that easily hit the chopping block on comparably priced ebikes. The XP lite offers an LCD display, integrated front and taillights, and mechanical disc brakes (160 mm rotors), just like the XP 2.0. Another feature many will appreciate, the Lectric XP Lite is IP-65 rated for water and dust resistance. And finally, something we don't see often – the Lectric XP Lite ships to your door fully assembled (folded)!
View the full specs on the Lectric XP Lite.
Accessory and Package Options for the XP Lite
Something new with the XP Lite is some interesting options at point of purchase. Most notable is the Slime tire sealant option for $29. No other ebike company we're aware of is offering this service. We highly recommend this if you live in an area with goat heads though it generally will offer piece of mind. You can also add a helmet ($70), mirrors ($39), or a spare battery ($249). Fenders will also soon be available here. Like the XP 2.0 you can also purchase various packages outlined below.
Check out the full accessories offered on the Lectric XP Lite or check out other options on our own electric bike accessories list.
| | | |
| --- | --- | --- |
| Package Option | | Price |
| Commuter Package | Bike Lock, Premium Headlight, Phone Mount, pre-installed Slime sealant | $89 |
| Carry Package | Front Rack, Rear Rack (75 lb capacity), Pannier Bags | $99 |
| Comfort Package | Suspension Seat Post, Giant Seat | $99 |
Final Thoughts: The XP Lite
We are pleased to see that Lectric eBikes is making their ebikes even more affordable and convenient. An even more affordable ebike is not something we expected from Lectric but the team has packed a lot of features into this ebike. Purchasers should also take comfort in buying from a company that has a proven track record. Learn more about the Lectric XP Lite.
For more popular ebike brands, check out our Top Ebike Brands list.