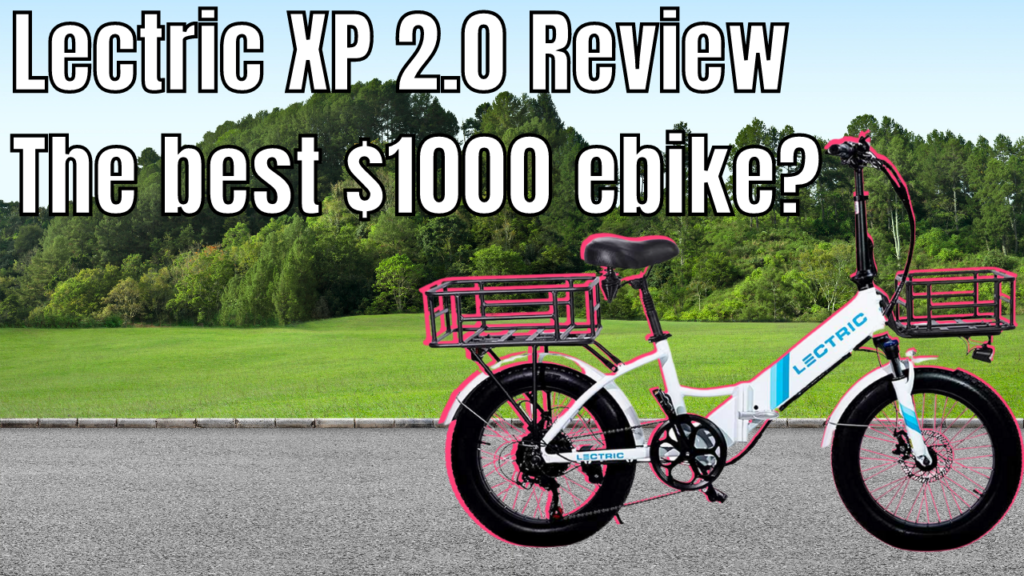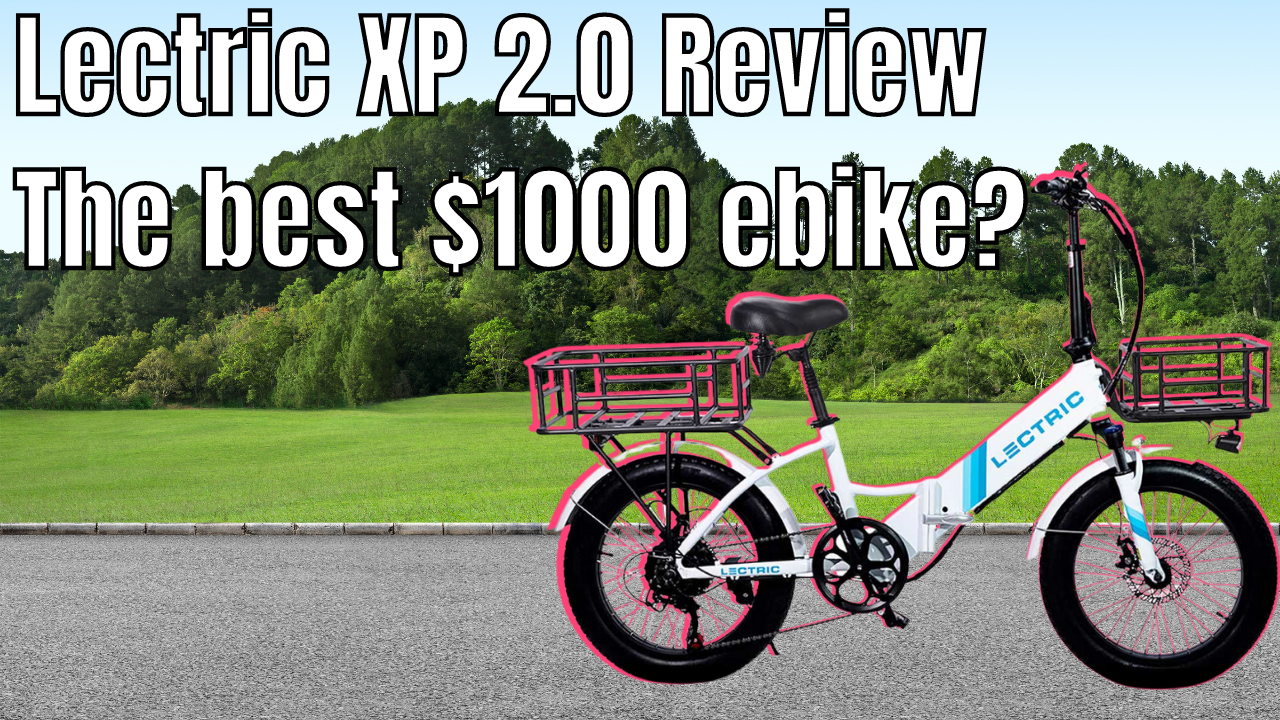 Folding electric bikes are not new and neither is the ebike company called Lectric. They made waves in ebike space when first launched the Lectric XP at an astounding $899. The value pricing spoke to consumers and the original Lectric XP became one of, if not the most popular folding ebike on the market. Now the Lectric team is back for round two in 2021, launching the $999 Lectric XP 2.0.
We've been impressed with Lectric's progress so far it's pretty cool that Lectric was founded by two natives from Minnesota, which is just one state over from the home state of Ebike Escape. Even better is that you get a compact, accessible ebike packing a whole lot of power for a ridiculously low price. It even folds! Let's take a look at the Lectric XP 2.0. Check out our video review below or continue reading for our Lectric XP 2.0 written review.
Lectric XP 2.0: The frame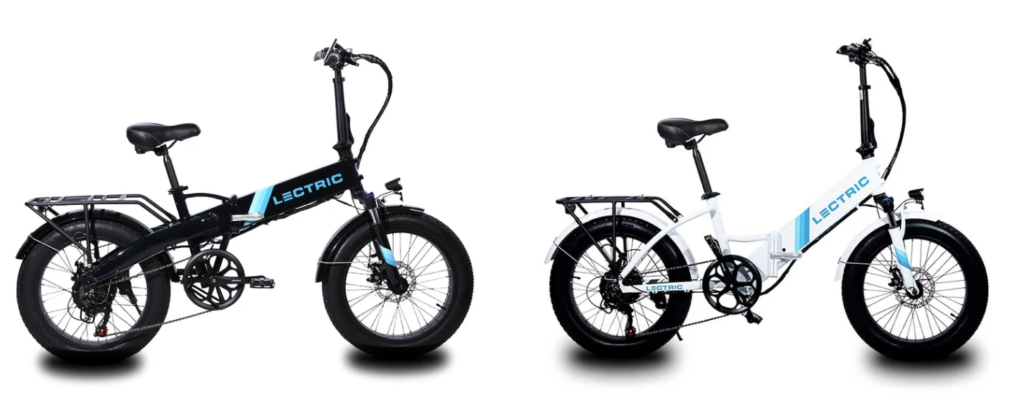 The XP 2.0 is an unusual-looking ebike if you haven't seen these frames before but they are becoming increasingly popular. It's smaller in stature, similar to a Brompton.
But let's be honest. The coolest part of this bike is that it folds into a square for easy transport. Even more, the bike is offered in two different frame styles, a higher step and a step-thru – though both models are going to be plenty accessible for most riders (compared above).
The folding on the Lectric XP is simple, with the main pivot point in the center. After that, the handlebars fold down. The dimensions when folded are 37 X 18 X 27 in. though keep in mind the ebike is still heavy at 63 pounds. This is a typical weight for ebikes in this class.
Note that while this bike can fold, there are riders who never use this functionality. And that's ok! Said another way, don't let the folding feature dissuade you from purchasing the Lectric XP 2.0.
The drivetrain
For a bike that can be had for just a touch under $1,000, It's impressive that the Lectric XP comes equipped with a 500-watt rear hub motor that peaks at 800 watts. It's powered by a 48v 9.6ah battery that boasts 45+ miles on a single charge. Though this will be highly dependent on how much work you are putting in. Higher end range estimates usually assume the lowest pedal assist level with the rider providing plenty of their own leg power.
It ships as a class II ebike (max 20 mph) but can be modded to run as a Class III ebike (up to 28 mph). The power of this ebike is one standout feature as there aren't many ebikes on the market at $1000 that can reach speeds over 20 mph. A search for Class III ebikes under $1000 will yield few results.
In the rear is a 7-speed Shimano Tourney derailleur. This will serve most riders who just want to cruise around well though it is on the lower end of the entry level components from Shimano. Nonetheless, they still went with a name brand here and at $999 this is to be expected.
Lectric XP: The components and accesories
The Lectric XP comes pretty tricked out for the price. Included with the XP 2.0 is a suspension fork, fenders, a rear rack, and ships fully assembled (you just have to remove the packing material and unfold it). This is another huge selling point since you won't have to make a trip to a bike shop or assemble it yourself. Though we do recommend you going over the bike to make sure all nuts and bolts are secure. Also included are integrated front and rear lights.
The tires are 3×20-inch CST or Chaoyang tires (according to the Lectric website, you will get one or the other). Brakes are Tektro 160mm disc brakes which are popular choice of ebike brands and perform well in our experience. The LCD screen allows users to choose between five pedal assist modes, and a twist-grip throttle provides pedal-free acceleration.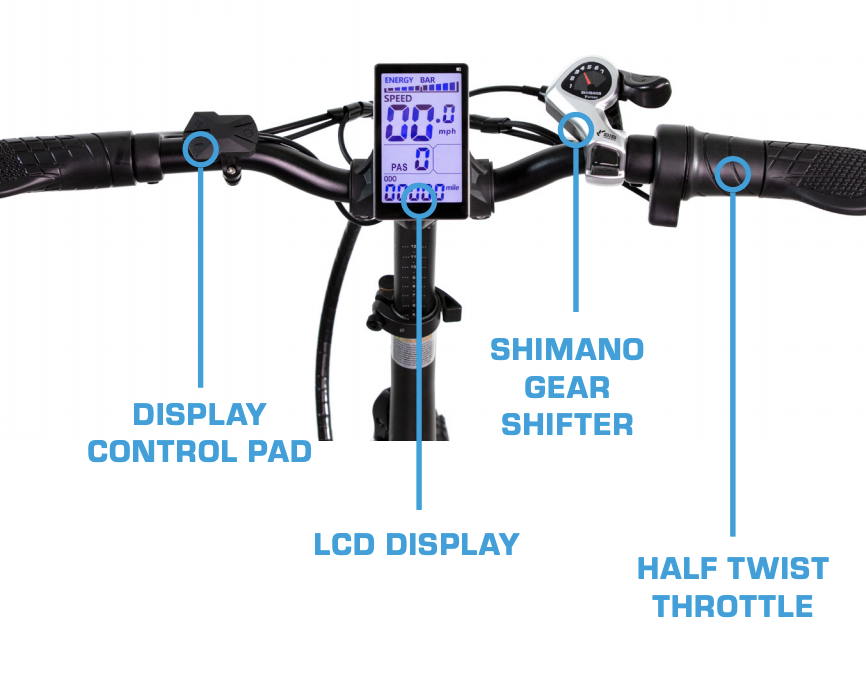 Other accessories available for purchase include a premium headlight ($49), branded bike lock ($49), pannier bags ($49) among other odds and ends to make your ride more comfortable.
What's new about the Lectric XP 2.0?
We did mention that this is the second generation of the Lectric XP. So what, besides the $100 price increase has changed?
Variable front oil suspension for exceptional shock absorption (A popular request among gen 1 owners)
Mounting points for racks, baskets, and a bike lock
3-inch tires for heightened agility (The original Lectric XP had wider 4-inch tires)
Wider handlebars, allowing you to add mirrors, phone holders, and have a more comfortable riding position
New paint job
IP-65 rated electrical components for greater water and dust resistance – so you can conquer the elements
Also new are optional accessory packs including the comfort pack which includes a giant seat and suspension seat post for $99. For $149 you can add the cargo pack, which includes a front rack, small basket, and large basket. A fully tricked-out Lectric XP 2.0 will set you back $1,247.00. Our recommendation would be to skip the comfort pack and opt for a higher quality suspension seatpost like the ones found on our ebike accessories list (add a seat if desired).
Lectric XP 2.0 vs Rad Power Bikes RadMini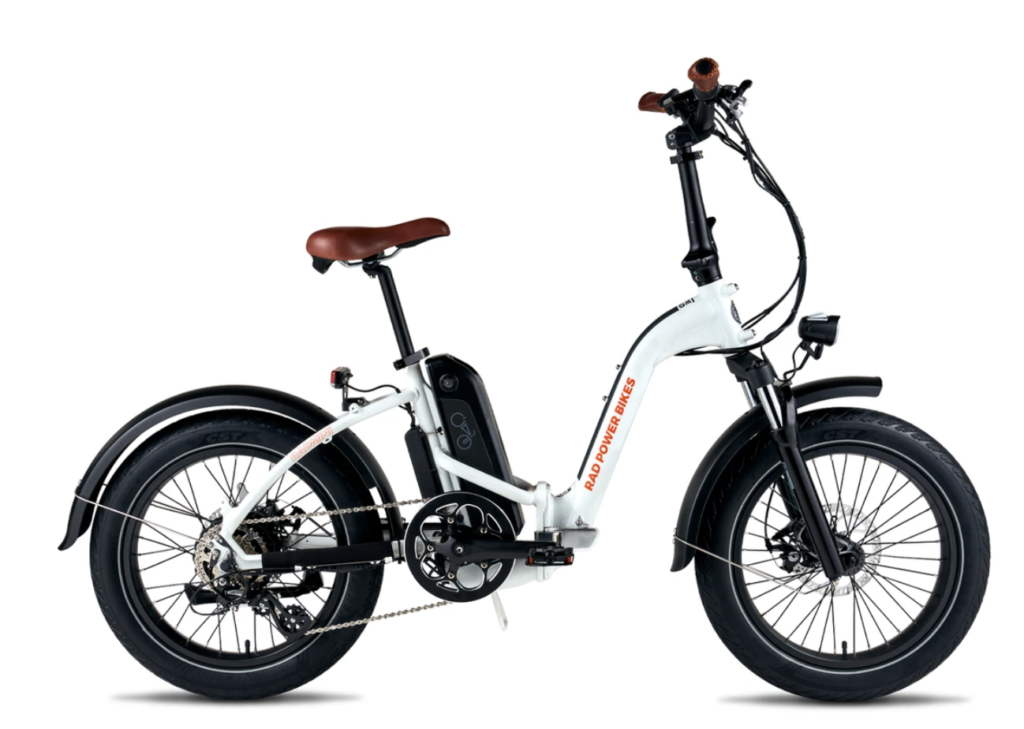 If you're considering the Lectric XP 2.0 you're undoubtedly looking at other folding ebikes too. One contender is the Rad Power Bikes RadMini, priced at $1,499. The RadMini step-thru 2 is shown above but it also comes in a higher step variation for the same price.
The biggest differences between the Lectric XP 2.0 and the RadMini are the motors and battery size. The RadMini has a 750-watt peak motor and is a Class II ebike. It will top out at 20 mph though settings can be changed to reach speeds up to 22-23 mph. The Lectric XP is capable of reaching 28 mph speeds in Class III mode. Lectric clearly wins on motor performance.
Comparing battery capacities, the RadMini has a 48 V 14 Ah battery (672 watt-hours) compared to the Lectric XP 2.0's smaller 48 V 9.6 Ah battery (460.8 watt-hours). Above you'll notice that the RadMini's battery is externally mounted compared to the integrated, but still removable battery on the Lectric XP 2.0.
On the RadMini is a slightly nicer 7-Speed Shimano Altus rear derailleur. The RadMini does not come with a rack, though one can be purchased for $79. Both bikes have 20″ x 3″ tires and come with fenders so you can expect a very similar riding feel. Finally, the RadMini Step-thru 2 is slightly heavier at 69 lbs compared to 63 lb Lectric XP 2.0.
Final Thoughts
It's hard to beat a folding electric bike at the $999 price point, and the overwhelming majority of Lectric owners love them. There is something to be said about a company focusing on one thing and doing that thing extremely well. And that's what you get with the Lectric XP 2.0. When I think of $1000 ebikes, there are few I recommend, but the Lectric XP 2.0 is certainly on the list.