If you love belt-driven electric bicycles, then good news for your today: Vvolt e-Mobility launched its ebike line today, with four separate ebike models, and all of them are belt driven.
The four ebikes Vvolt launched as part of their Stellar series are the Alpha, the Alpha S, The Proxima, and the Sirius. They range in price from $1,399 to $2,699 and offer a range of options and features. All of them have belt drives, hydraulic disc brakes, and electronic components created by Acer. That's an interesting aspect that sets this company apart. Most know Acer from its place as the No. 6 largest computer company in the world. According to info from Vvolt, they are the first in the U.S. to feature Acer electronics.
All of their models appear in the upright, mountain bike style frame configuration, with regular and step-through models for easier mounting, particularly for shorter riders. All of them save the Proxima offer 27.5″ wheels, giving the best of both worlds between the standard 26-inch mountain bike tire and the 29 inch wheels some mountain bikers swear by. The Proxima stands alone as the only road bike/hybrid style ebike.
All come equipped with rack and accessory mounts.
The Vvolt ebikes
The Alpha: Vvolt advertises the Alpha and the Alpha S entry level models. The Alpha features a single-speed, belt-driven drivetrain powered by a 350-watt rear hub Acer/Xplova motor. Frames come in two sizes, S/M and L/XL, and two colors. It's powered by a 10.4ah battery made by Celxpert. Price: $1,399.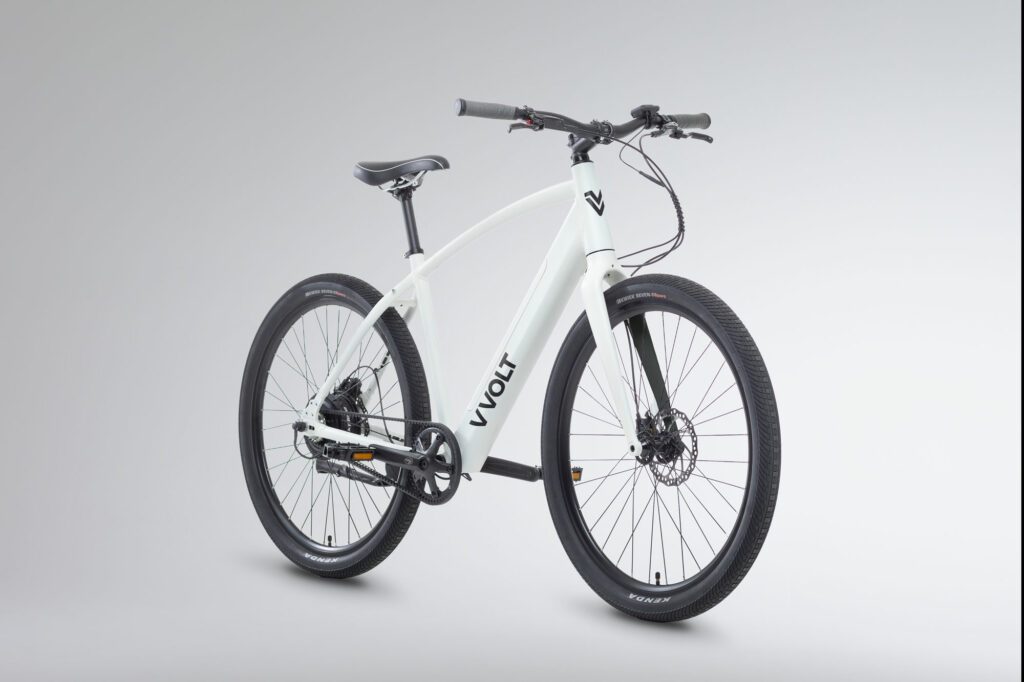 The Alpha S: This bike is nearly identical to the Alpha but features a step-through model which some riders prefer. Specs are otherwise identical. Price: $1,399.
The Proxima: The Proxima steps it up a little in terms of power, with a 250-Watt nominal, 500-watt max power MPF Drive motor. That gives the bike 80 nm of torque versus the 45 nm of torque of the Alpha ebikes series. Unlike the other Vvolt ebikes, the Proxima comes in a narrower tire with a 700cc size similar to a road bike. Same two size configurations as the Alphas but with three color options, white, red, and grey. Price: $2,599.
The Sirius: The Sirius features the same mid-frame motor as the Proxima, but is the only Vvolt bike to feature a lock-out air-sprung suspension fork with 100mm of travel. It has the same 27.5″ tires as the two Alphas, and like the Proxima has an Enviolo CVP gear hub with 380% gear range. Price: $2,699
An intriguing new ebike company
We at Ebike Escape are big fans of belt drive ebikes. They're smooth and functional, and there is just something cool about them, so it's exciting to see a company embrace them like Vvolt has. We're also fans of single-speed ebikes for their simplicity, such as the RadMission.
Founded in the bike capital of Portland, Vvolt says it's drawing on decades of experience in consumer products, bicycles, and fashion to create the Vvolt line of bicycles. The company says they are advocates of promoting bicycle adoption and infrastructure. Starting an ebike company is a pretty good move in that direction.
The price for the Alpha, giving you a single-speed with belt drive and hydraulic disc brakes, is a good deal in our opinion. It will certainly challenge the few single-speed electric bikes we've reviewed on our YouTube channel. Even the Proxima and Sirius mid-drive ebikes seem fairly priced given their higher end components. Needless to say we can't wait to get our hands on these ebikes to test them out for ourselves in person.
They've already got some less typical ebikes coming in 2022, including a 20 inch V Bike that resembles a funky looking folding bike (though it doesn't appear to be one) with front and rear cargo modules and 360-degree LED lighting; and a trike model that looks like something out of Tron, or something out of Boston Dynamics' labs. It is appropriately called the Beluga.
You can learn more about Vvolt including estimated shipment dates for their ebikes on the Vvolt ebike website. This will be an interesting company to watch going forward.