Thousand helmets are a hit with many in the ebike community. Their helmets are cute, fun, and comfortable (read our full reviews on the adult helmets: Thousand Heritage and Thousand Chapter). Recently, Thousand has expanded their line to include kids with their Thousand Jr. helmets ($60). They upped the fun and comfort elements in this smaller sized helmet. We were lucky enough to snag two for our nephews to try out. Read below for our full Thousand Jr. helmet review.
Oh, and just to note: You can get 15% off a Thousand Helmet purchase through the Refer a Friend program.
Thousand Jr. Kids Helmet Review
Sizing and Recommended Age
The Thousand Jr.'s fit head circumference sizes of 49-53 cm (XS size). If your child's head size is closer to 54 cm or higher, then you will want to look at the small adult helmets instead. You can still purchase the add-on stickers if this is the case and your child wants to customize their shell. Thousand recommends their Jr. helmets for riders ages 5-11.
Increased Ventilation for Added Comfort
Thousand added 6 long vertical vents to increase airflow for the kids helmet. This was an excellent upgrade. The adult Heritage helmets only have three short horizontal vents, while the adult Chapter helmet has more vents like the Jr Thousand Helmet.
Adjustable Dial Fit System
The Thousand Jr. uses a dial in the back that allow you to make sure your child's helmet fits snugly and comfortably. We highly recommend watching a helmet fitting video with your child so that you can work together to make sure it is worn properly for maximum protection.
No Pinch Magnetic Buckle
One of our favorite features of Thousand helmets is the magnetic buckle. It might take your kiddo a few practice attempts to get the hang of the magnetic closure, but they will love no longer fearing the pinch of a traditional buckle. The buckle can also be removed with one hand and we love that magnetic buckles are found on all Thousand helmets.
Safety
As far as safety goes these helmets are CPSC, ASTM, and CE certified for biking, roller skating, and skateboarding in the US and Europe. They do not offer a MIPS version in their kids helmets. For their adult helmets, the Chapter helmet offers MIPS protection so perhaps this on the product roadmap for the company.
Colors!
Besides the Blazing Blue and Going Green colorways featured on my nephews, Thousand also offers Standout Sparkle and Power Pink. Thousand advertises the Jr helmets as having premium finishes and we would agree. These feel and look like well made kids helmets. Surely there is a color that your kiddo will enjoy! Thousand also opted to use vegan leather straps, which are also found on the Thousand Heritage helmet. Not only do they feel nice on the skin but they also look great compared to the simple nylon straps most companies use.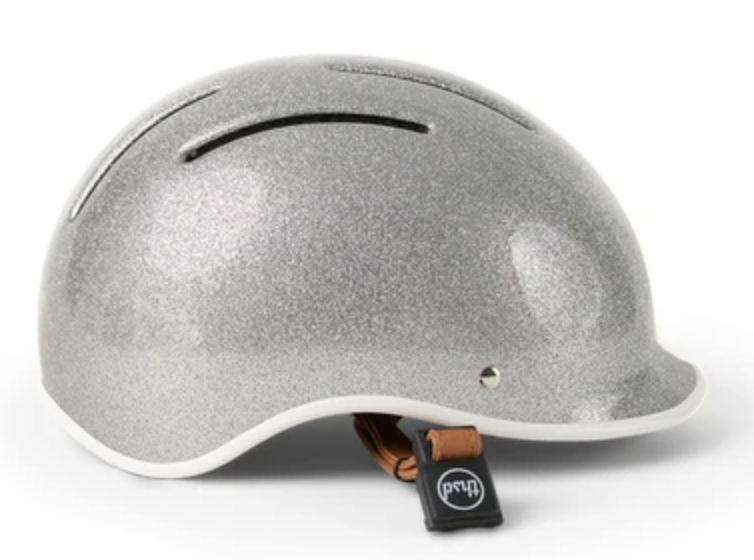 Thousand Jr. Add-Ons
Each helmet includes one pack of reflective stickers so your child can make their helmet their own. We recommend adding another sticker pack onto your Thousand Jr. helmet order for $7. Note that the "Thousand Jr." pack is included. Other sticker pack options include, letters, shapes and the "Jr Activist" pack. The stickers were a huge hit with our nephews. They loved being able to customize their shells with their names and other fun stickers. We also added Thousand bells that match their helmets ($16). These add-ons really increases the fun factor of a helmet!
Thousand Jr. Helmets: A Great Addition to the Thousand Line!
We love our adult Thousand helmets. My nephews love that they now own a cool helmet like their dad. We love that the Thousand Helmets are now available for a wider age range. Our 16 month old son is too young to fit into the Thousand Jr., but we hope that the company comes out with a Jr. mini version soon! Thoughts, Thousand? 🙂
You can check out our full Thousand Jr. helmet video review below where I recorded my nephews' reaction and the fun they had customizing their helmets.