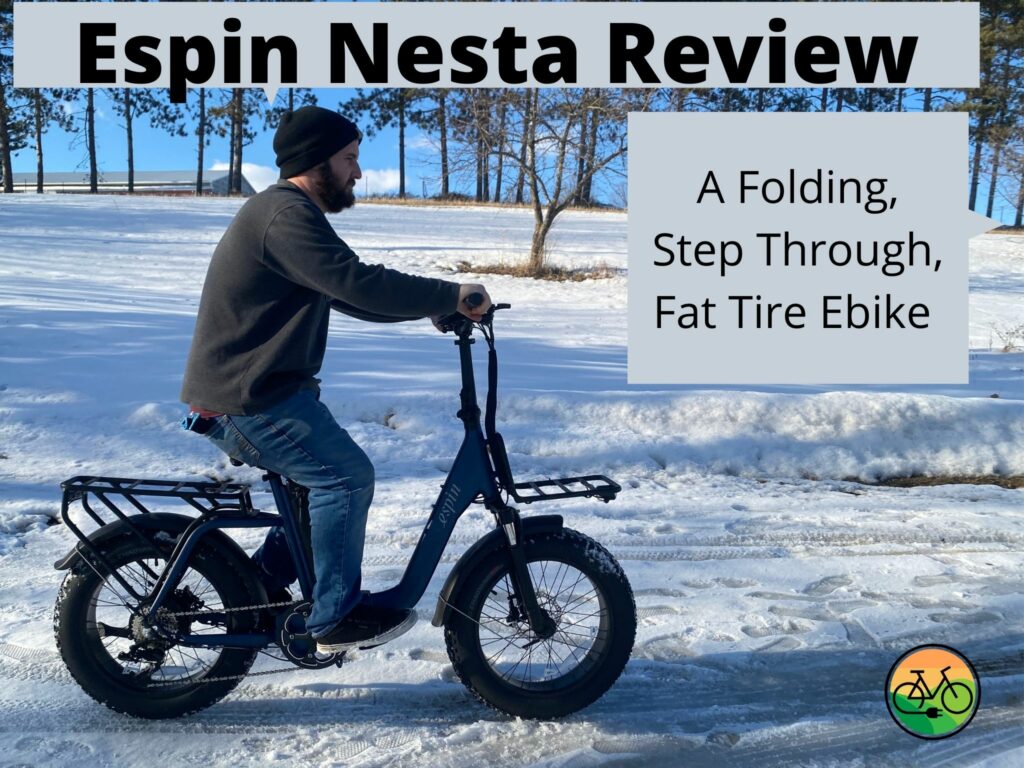 The Espin Nesta is the flagship offering in Espin's lineup. Espin may be less known than some other brands of electric bikes but here at Ebike Escape we have been impressed with their other bikes, see our Espin Sport review here. They tend to have great value for the cost and we were excited to check out Espin's folding, step through, fat tire electric bike-the Nesta.
It is priced at $1,799 and if you use our link you can save an extra $50 (discount automatically applied at checkout). Read on for our written review or check out our Nesta review video below.
Espin Nesta Review
Espin Nesta Motor and Battery
This bike comes with a 750-watt nominal motor that peaks at 1000 watts. This powerful motor can help you climb hills and get you wherever you are going. There is a 13-32 teeth freewheel (the website states 11-32) in the rear with a 48 tooth (website states 46) single-walled chainring in the front.
Check out our above video review for riding footage including a climb up a steep hill test. The throttle is controlled by the left thumb and a bit different than most other bikes. It requires a softer touch which is easier to maintain pressure on. It needs to be pushed forward rather than down. If you are familiar with the controls for the Espin Sport, they are the same on the Nesta.
On Ryan's road test of this bike, it had pretty good pick up. For the throttle only test, it peaked at a speed of 25 mph per the display but his independent GPS reported it closer to 23-24 mph. The motor kicks off when the bike is going faster than 25 mph. Be sure to follow all local laws and regulations as they relate to electric bikes.
It has a shark style 10.5Ah battery (504 watt hours). The charging port for the battery is accessible whether the battery is on or off the bike. The position of the battery makes it fairly easy to remove and it goes back into place with ease. You need a key to unlock the battery but you don't need them to ride. There is an indicator at the bottom of the battery that gives you an idea of how much charge it has. The battery pack case is Reention which is standard on many bikes meaning this isn't a proprietary pack. It is not quite as big of a battery as we would like to see at this price point but you should be able to get 20-40 miles out of the battery.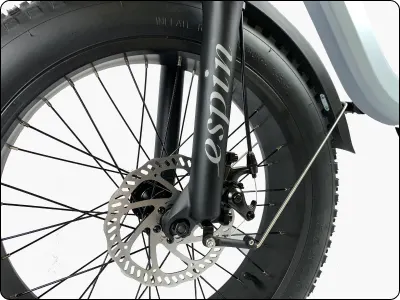 Brakes
The Espin Nesta boasts Zoom Hydraulic Disc Brakes which is a rare find in this price range (especially if you buy the Nesta on sale). They are a budget brand and they don't feel quite as nice as Tektro brakes but they do have excellent stopping power. It also comes with an integrated motor cut off so when you apply the brakes, even if the throttle is still held down, the motor cuts off. The website advertises these hydraulic disc brakes as having 180mm rotors though the Nesta we have, is equipped with 160mm rotors.
LCD Display and Pedal Assist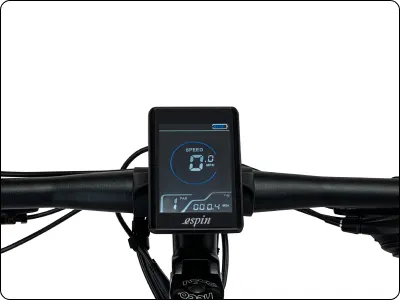 To get started, turn on the battery and the display comes on. It looks nice at night but we do wish it was a bit brighter during the day. It is a large center-mounted display that includes battery indicator, speed, pedal assist level (0-5), a trip odometer or average speed, max speed, and current speed. You have the option to cycle through other options including things like the number of watts going to the motor. There is a USB port right below the display which is helpful if you want to charge your phone on the go.
The shifter, which is on the right, is an S-Ride 8 speed trigger shifter which is also the same one included on the Espin sport model. It is an off brand shifter which makes it more affordable. Overall we have been very impressed with the quality of this trigger/thumb shifter. The pedals are Wellgo brand which is popular and common with electric bikes.
There are 5 levels for pedal assist. For our test ride, pedal assist level 1 went at a pace of 10mph, level 2 at 13 mph, level 3 at 17mph, level 4 at 20 mph, and finally, level 5 at 22-23 mph. At that point, it required quite a bit of push from the rider to avoid ghost pedaling, where the motor is doing all of the work. A
nother cool feature is that in the advanced settings, you can change the power output that is provided at each pedal assist level. Keep in mind that technically a class two bike should not allow you to use the throttle over 20 mph. Follow local laws and regulations and change settings at your own risk.
Espin Nesta Included Frame and Racks
This a 15 inch step through frame and we really like the design which makes it accessible to a wide variety of riders. It's advertised to fit riders from 5'2″ to 6'4″ with a weight limit of 275 lbs. The cables run under the frame giving it a clean look. The down tube has bottle cage bosses as well to make it easy to add a water bottle cage or folding lock. The sleek-looking and well-designed fixed rear rack is large and longer than most others we have seen. Its dimensions are 20″ x 6.5″ and it has a weight capacity is 66 lbs . You could easily attach a basket for additional storage space. The front rack has dimensions of 13″ x 10″ and a capacity of 22 lbs.
The front rack is included but if you install it, you need to move the headlight on the bike. Keep in mind the headlight will no longer turn with the wheel. The light on the rear rack doesn't have to be adjusted. It is centered and includes a brake light which is a nice safety feature when riding after dark. Overall the lights are nicer than you would for this price range and they will help you be seen. We recommend considering external rechargeable lights if you ride a lot.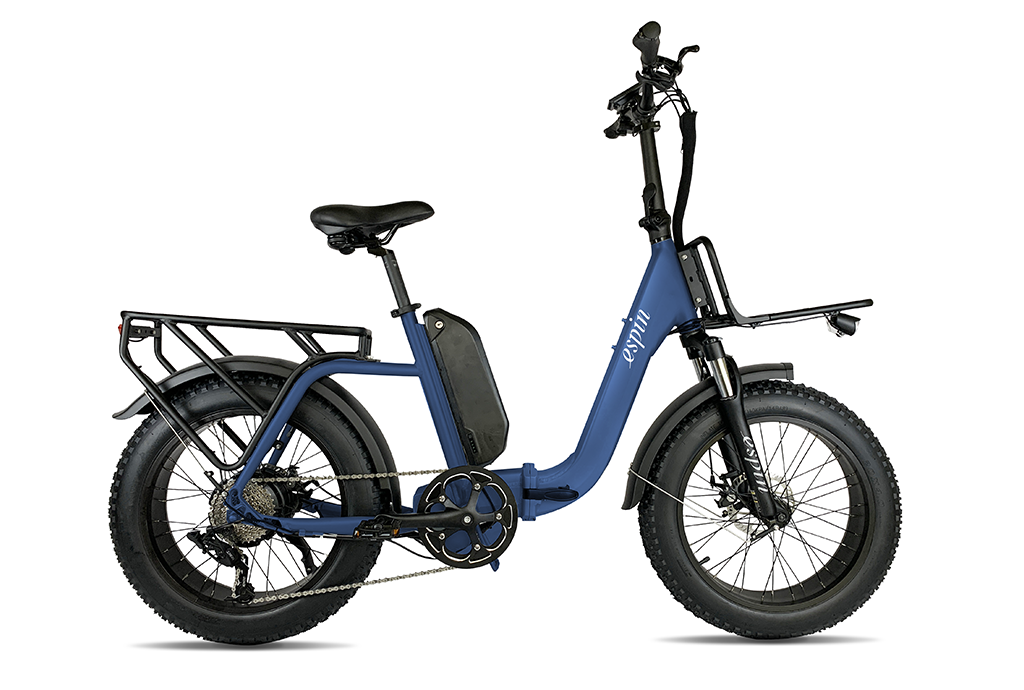 Other components
The saddle is pretty standard. It is not super firm or super soft. It would be easy to upgrade to a seat that fits your preference. We would also recommend upgrading to a suspension on the seat post. Check out our electric bike accessories list for our recommendations. There are locking grips that include a palm rest which is a nice and rare feature on the more affordable bikes. You'll also find Included full plastic fenders which is always nice in inclement weather. They offer plenty of clearance so no issues with scraping. The included protective tape helps protect the bike from chain slap.
The bike's suspension has preload adjustment with lockout. It feels pretty decent and will help soak up bumps. Being that the bike has 20×4 inch fat tires, will also make the ride smoother. You can run them at lower pressures as well to smooth out the ride. The tires will offer traction if you decide to go off road though the wider tires do add some rolling resistance.
There are two color options Glacier Blue (in photo above) and Smoke Gray (in photo below). Check out the full specs on the Espin Nesta.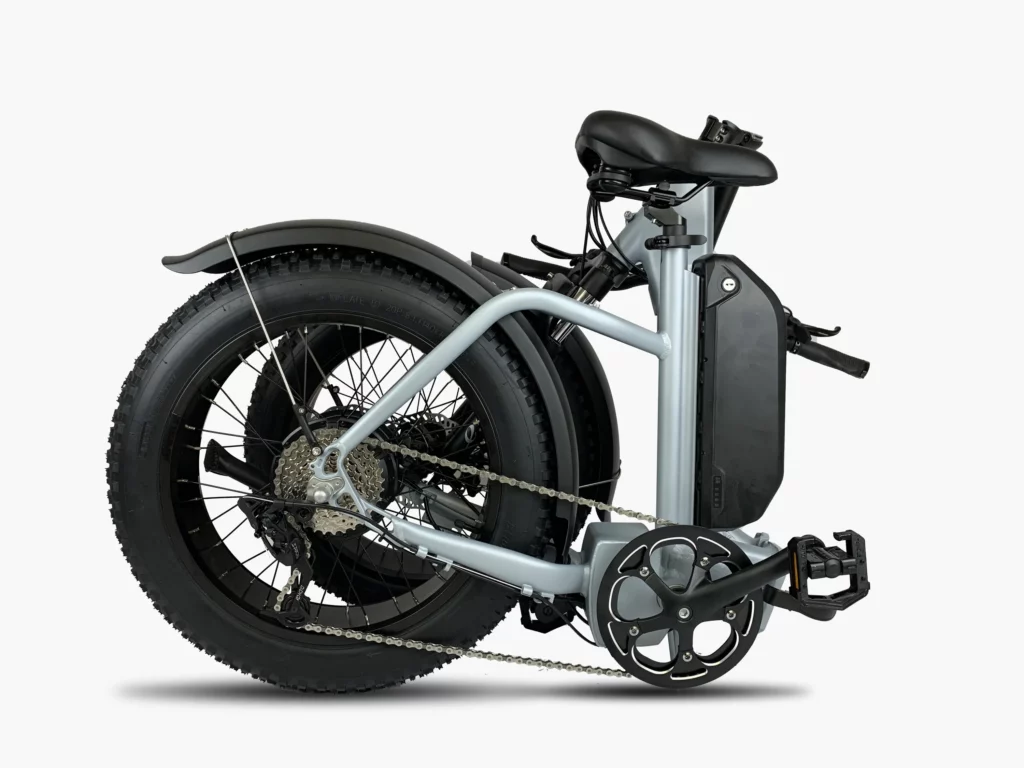 Easy transport
Don't have a bike rack or a truck? Need to be able fit your bike in a small space for your RV? Don't have a lot of storage space? With a folding bike none of that is an issue. We recommend getting a large tote to help with ease of moving it once folded. A tote that is 20″ x 41″ x 18″ works well. The handles on the tote make picking it up easier. The bike weighs 65 lbs which is fairly standard for this type of bike. The large front and rear rack conveniently do not interfere with the folding. Like most folding bikes, there is a stand that helps the process. There is also an included kickstand. Watch our video review to see exactly how quickly the Nesta folds/unfolds.
In Conclusion…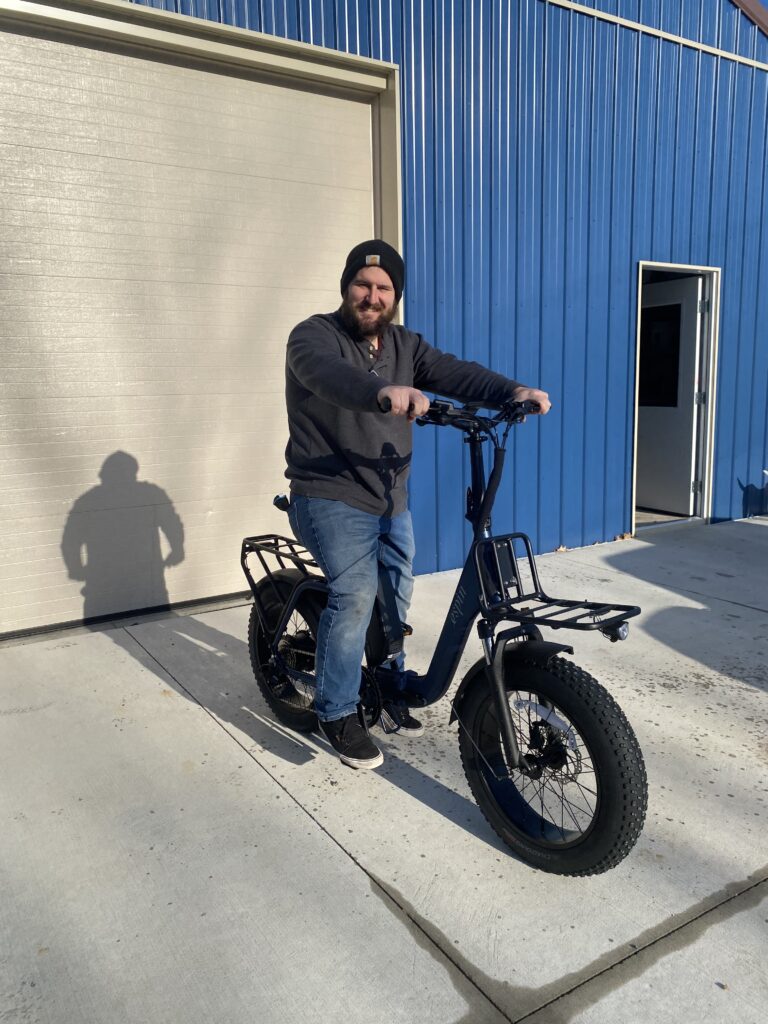 In summary, the Nesta boasts a powerful 750-watt motor which should be able to tackle the steepest of hills. The included 10.5Ah externally mounted battery is easy to remove. Espin says it is good for 40 miles but that is likely in ideal conditions and 20-30 miles is likely a better estimate.
Having a front rack included is rare and if you plan to haul cargo, it's a big bonus. It is foldable and easy to travel with even if you don't have a bike rack. The 4″ fat tires aren't quite ready for single track but paired with the front suspension this bike should do a great job on most adventures including some off-the-road paths and trails.
Where the Nesta really shines is with the hydraulic disc brakes. This is a rare feature on a $1,799 ebike that isn't usually seen until you are closer to the $2,000 price point. We've been happy with the S-Ride trigger shifter and derailleur. Overall the Espin fits nicely into the market when you consider all of the specs.
This bike is a great value, especially if you can grab one while they are on sale. If you are planning to purchase an Espin Nesta, please use our link. Not only does this support our site but it can also save you some money.