Every time Lectric launches an ebike they surprise in one way or another. This time it's an ebike with not two, but three wheels. Enter the Lectric XP Trike with a price of just $1,499 which joins the Lectric lineup. And yes, like every other Lectric ebike, it still folds for easy shipping, assembly and transport. Read on for our written review and stay tuned for our Lectric XP Trike video review.
Lectric XP Trike Video Review
2023: The Year of The Electric Trikes?
Before we get into specs, it's worth commenting on the electric trike market. Late 2022, Rad Power Bikes announced their own take on an electric trike with the Rad Power Bikes RadTrike (see our RadTrike review). But its price is much higher at $2,499.
Still, electric trikes can fetch $3,000 or even higher so affordability is all relative. Some other trikes are offered by brands like Eunorau ($2,499), Pedego ($3,495) and AddMotor sells various options starting at $2,799. There are even dedicated electric trike brands such as Trivel and Liberty Trikes.
But the Lectric XP Trike makes a statement at $1,499, proving that three wheels ebikes don't have to cost a 3x premium compared to their two-wheeled counterparts. The Lectric XP Trike might even be the electric trike that really kicks off the entire category in 2023 and beyond. Let's dig into the specs.
Lectric XP Trike Frame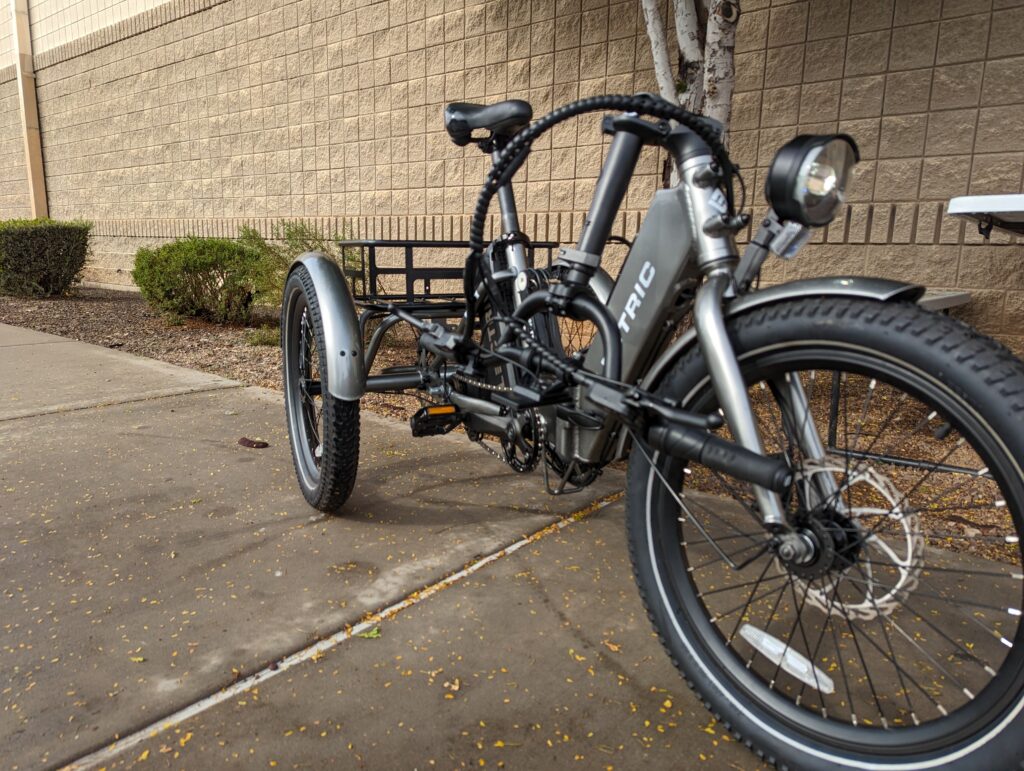 An etrike is all about accessibility and thus the XP Trike has the lowest standover height of the Lectric lineup at just 13.8 inches. It's a step-thru design that takes nods from the popular Lectric XP 3.0. Due to the trike's aluminum frame, it weighs in at just 64 lbs with the battery removed. This is lighter than most electric trikes on the market today. With the battery installed, the XP Trike will weigh just over 70lbs. This is in line with many two-wheeled ebikes with similar batteries and motors. Up front is a steel rigid front fork.
Like most of the Lectric lineup, the Lectric XP Trike is foldable. The handlebars fold down similar to what we see from nearly every folding ebike. Next, the frame folds in half, tucking the front wheel in front of the rear left wheel.
A less noticeable change are the BMX-inspired handlebars. This allows for customization either toward the rider or further away depending on comfort and preference. the handlebars can also be raised or lowered depending on rider height. The dimensions of the Lectric XP Trike when folded are 38.5″ x 30.5″ x 30″. In the unfolded position the XP Trike is 63.5″ x 30.5″ x 43″ at the lowest handlebar position.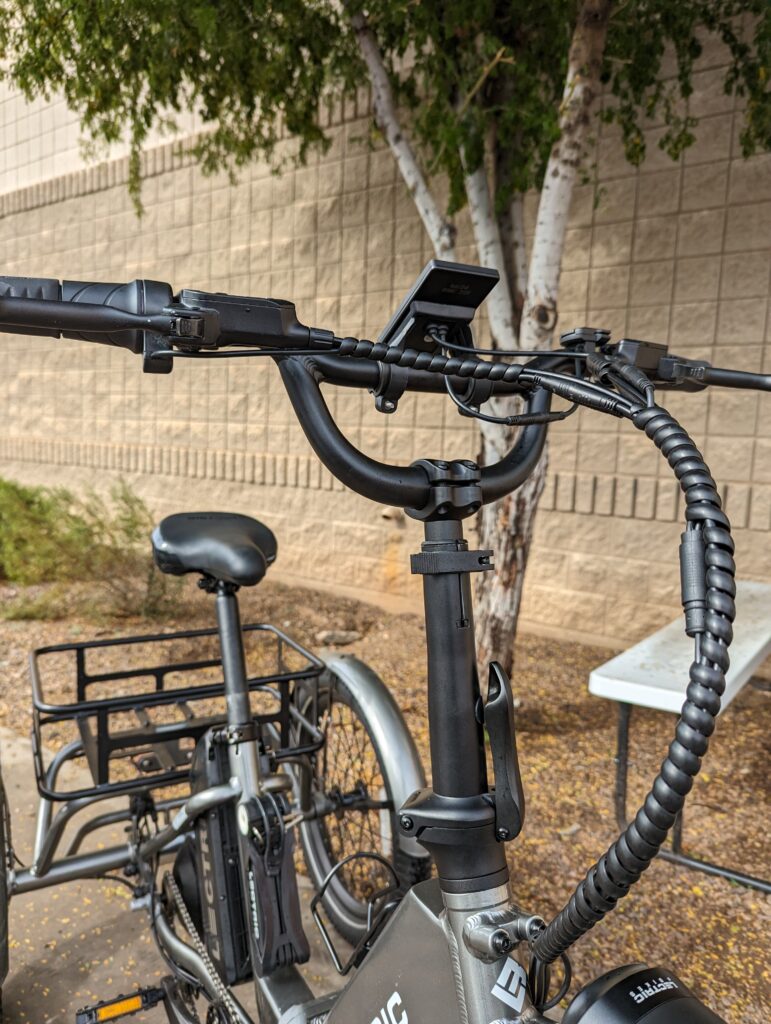 Lectric XP Trike Motor and Battery
The XP Trike is powered by a 500-watt nominal, 1092-watt peak motor. Unlike most electric trikes, the motor is located in the rear instead of in the front wheel which allows for more traction. Lectric has included a 20 amp controller with sensors to eliminate damage due to overheating. The battery is an average-sized 14Ah battery, that is mounted externally behind the seat tube. For those who already own a Lectric XPremium, the batteries are cross-compatible.
Due to moving to a current-based pedal assist (as opposed to speed-based) and the lower top speed compared to most ebikes, the range is estimated at 50+ miles.
Like all Lectric ebikes, there is a right-hand twist grip throttle paired with a large LCD display. Riders have 5 pedal assist levels and the motor is engaged with a cadence sensor. The electrical components are IP-65 rated for water and dust resistance.
Is the Lectric XP Trike Safe?
Ebike companies are carefully considering the design of these new electric trikes to ensure safety. Lectric has decided to go with a dual differential axle. This means that each rear wheel can spin independently to ensure safe turning. Another key safety feature is top speed. Trikes can be extremely safe when ridden at reasonable speeds. At high speeds the chance for tipping increases which is why the XP Trike has a top speed of 14 mph.
Components
Because of its low top speed electric, electric trikes are the perfect use case for a single-speed. Plus they're simple and low maintenance. The XP Trike has a 36 x 16T drivetrain. A guide wheel helps keep the chain taut.
This trike sits on 20″ x 2.6″ inch tires with reflective sidewalls for increased maneuverability and visibility. For stopping power Lectric equipped this trike with 5 Star Hydraulic disc brakes. They perform well and both the front and rear have parking brakes since trikes do not have kickstands.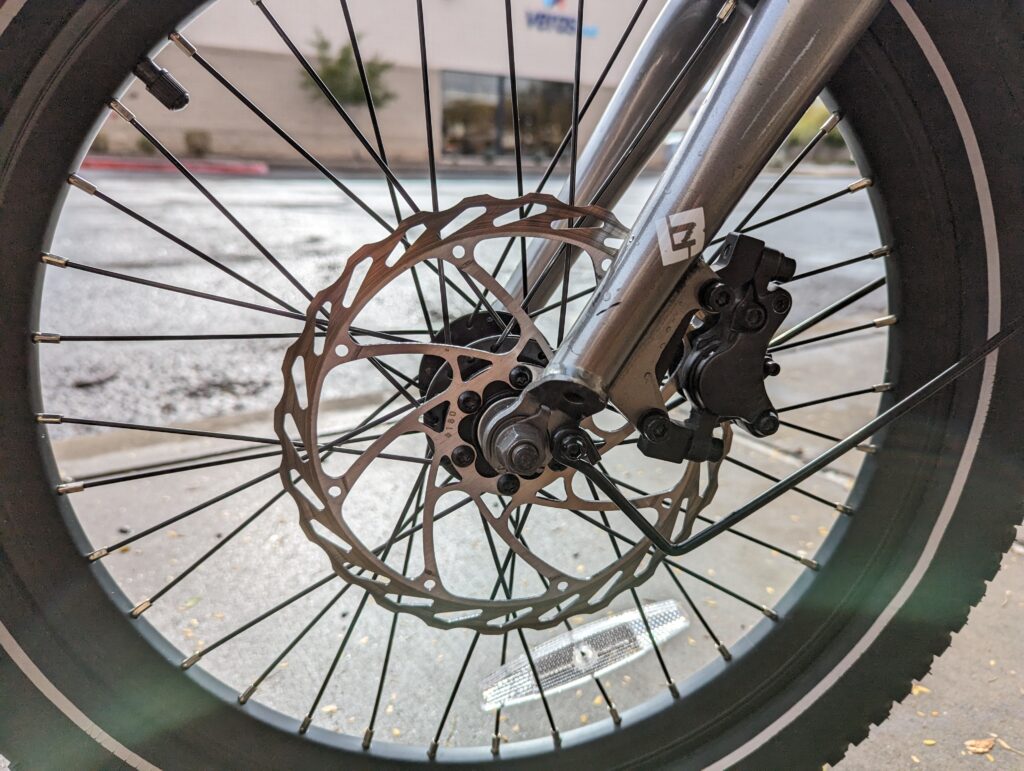 A sleeker saddle is included which will be sufficient for some riders. Others may want to consider other options such as those on our electric bike accessories list or the seat with back which will be offered from Lectric.
Paint-matched fenders give the Lectric XP Trike a finished look and Lectric is even including its brighter integrated elite headlight. In the rear, there are three LED lights for increased safety. One in the center which operates as a brake light and one on each fender.
Accessories
Trikes lend themselves to hauling cargo due to the space between the rear wheels. Lectric has you covered as they are including the cargo package for those that preorder the XP Trike. This includes the front rack, front basket, and rear rack, all pictured below. The rear of the trike was intentionally built up to make it slightly easier to load cargo.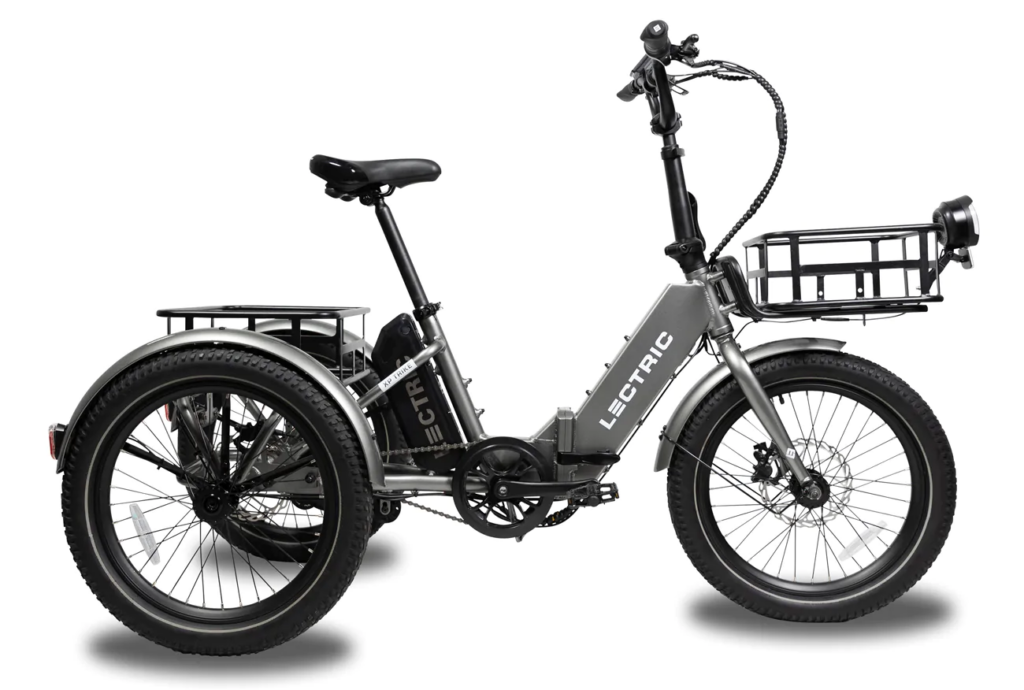 Pet lover? Lectric has you covered with a small welded mounting plate in the center rear of the Lectric XP Trike. This allows for connection to their Wag-Along pet carrier. View all of the available Lectric XP Trike accessories.
Our Take
While it isn't completely surprising to see an electric trike from Lectric, it is surprising that they are offering it at such a low price. In fact, $1,499 is what you can expect to pay for the average ebike, let alone one with three wheels.
Part of Lectric's challenge will be helping customers understand that a low price doesn't equate to low quality. It's simply in Lectric's DNA to offer ebikes at affordable prices instead of inflating prices for larger margins. Given the price and specs, we anticipate the Lectric XP trike will be the best-selling electric trike on the market. And given this only gets more people outside on bikes, this is something we'll be happy to see. Learn more about the Lectric XP Trike.
Electronics (Battery, Motor, Display)
10
Lectric XP trike Pros
Incredible value
Hydraulic disc brakes with parking brakes
Powerful motor
Included accessories
Foldable
Easy to read LCD display
Ships fully assembled
Aluminum frame
Rear differential
Lectric XP trike cons
Comfortable saddle not included
One colorway