Everyone has seen the original Radio Flyer little red wagon but did you know Radio Flyer has a way for the whole family to really cover some ground? We've seen lots of Radio Flyer items come out over the years such as the push-trikes and deluxe wagons but I had no idea until recently they also had a cargo ebike capable of hauling the kids around town.
Our family recently got the chance to review the Flyer L885 ebike and let me tell you, the kids LOVE it! They insisted on taking the bike to school until the snow was on the ground. The Flyer L885 cargo ebike comes in at $1,999 and was recently named the best ebike for families by Bicycling Magazine.
As always, if you plan to buy any model from Flyer please consider using our link. It's a free way to help support us so we can keep reviewing bikes and keep you up to date on the latest and greatest. For riding footage and a hill test, check out our YouTube review.
Flyer L885 Video Review
Frame Design and Carrying Capacity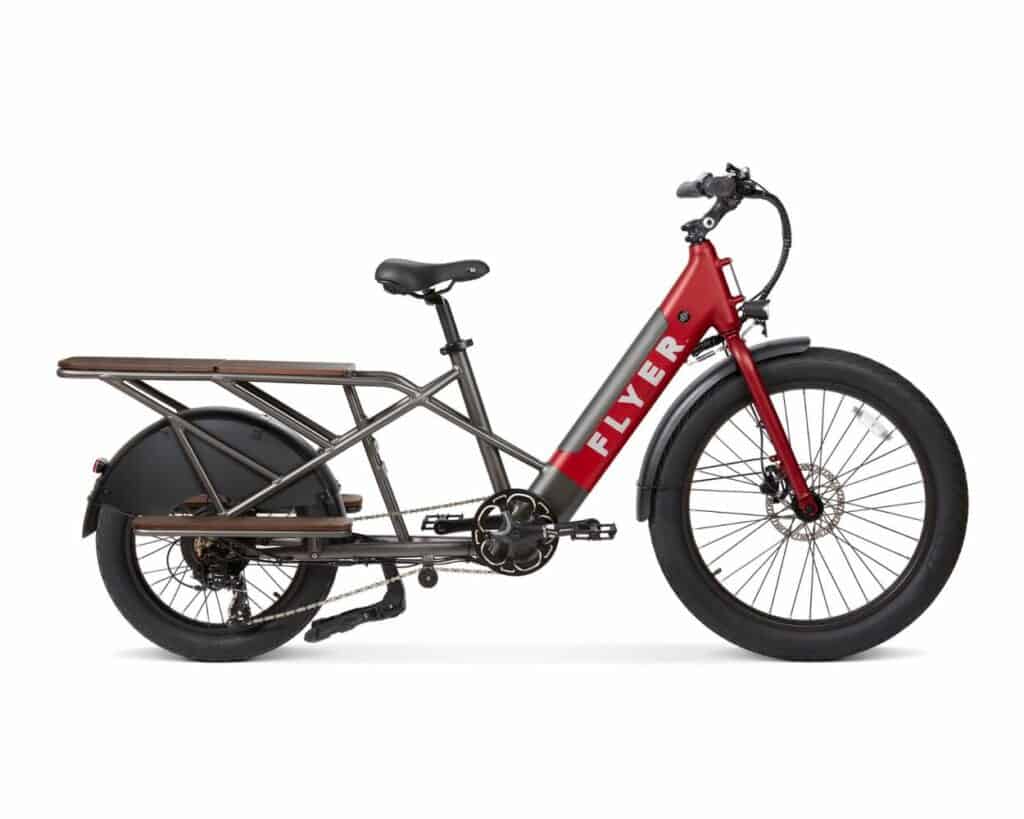 The Flyer L885 has a payload capacity of 400 lbs and 150 of those pounds can be on the rear rack. It is a longtail bike and can carry up to two passengers on the integrated rear rack. As this is the Radio Flyer little red wagon company we tested this bike with kiddos but it is also more than capable of toting around less mobile cargo.
There are three adult-size options for the frame which is a unique option in the cargo ebike market. The small is designed for riders from 4'10" to 5'8″, the medium for riders from 5'1″ to 6'2″, and finally, the large is for riders from 5'8″ to 6'6″. The Flyer has a step-through design and has a standover height of 19″. You can adjust the angle of the handlebars to customize the fit. The bike itself weighs 73 lbs.
This ebike comes in four colors: black, red, white, or blue. We considered the beautiful blue. but in the end, decided on classic red. This is Radio Flyer, the original little RED wagon company after all!
Radio Flyer L885 Ebike Electronics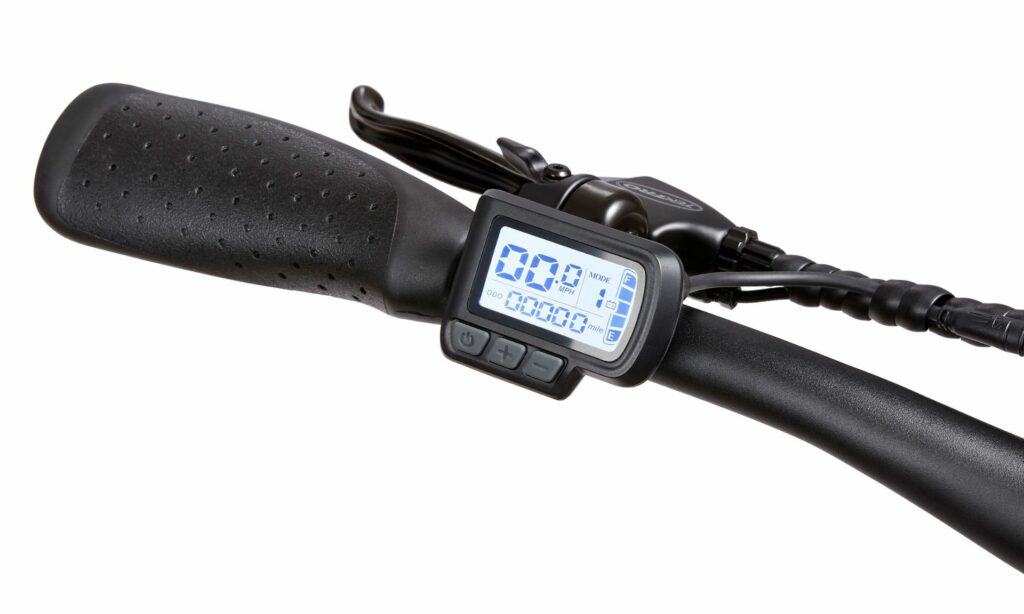 The Flyer L885 comes with a 48V 15Ah battery (720 watt-hours) housed nicely in the frame. The company reports this will get you 30-50 miles in ideal conditions. If you want some additional range there is an option for an additional battery of the same size which should make it easier to get over 50 miles on a single charge. The extra battery is $499 and has a well-designed integration on the frame. The motor is a 500-watt brushless rear motor. While a slightly bigger motor might be nice, sticking with the reasonable 500-watt size follows through with the Radio Flyer's commitment to safety over speed.
The basic LCD display shows a speedometer, odometer, battery charge, pedal assist level, and light indicator. There are the standard five levels of pedal assist that operate with a cadence sensor. There is a throttle, which is always helpful to get moving, especially when you have some heavier cargo on the back. The bike will go up to 20 mph with the throttle alone (Class 2 ebike).
Safety Features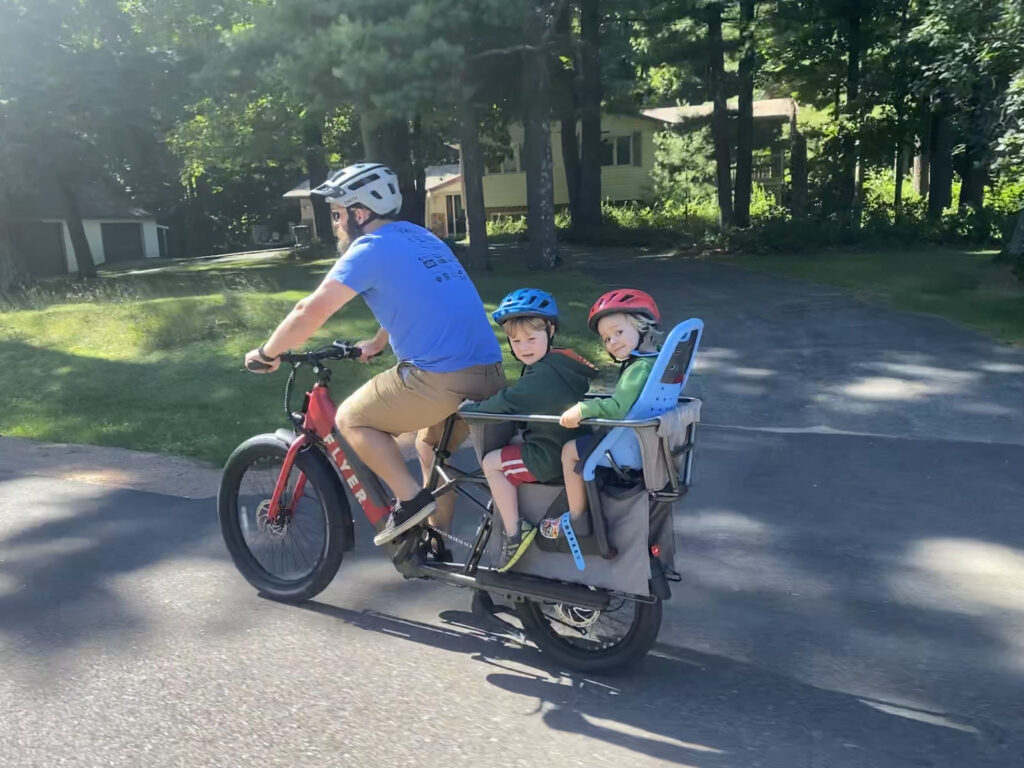 One nice feature the Flyer L885 comes with is different-sized wheels meant to increase stability. The front wheel is 26″ and the rear wheel is 20″. This helps lower the center of gravity making the bike feel easier to manage. The tires are 3″ wide and include a puncture-resistant liner.
Another nice safety feature is the motor cutoff. This cuts power to the motor when the brakes are applied. It is becoming a more standard feature but is always important to see, especially when you are carrying such precious cargo.
Being seen when you are on the road is a really important safety feature as well and the Flyer L885 comes with a high-intensity LED headlight to help make sure others see you. It also has an integrated tail light with brake lights.
There is a dual-legged kickstand. Don't think a kickstand is a safety feature? Try loading two young kids on a heavy bike, believe me when I say you want to know that bike will stay where you put it!
Components
The Flyer L885 comes with a standard 7-speed Shimano shifter and derailleur. There are Tektro mechanical disc brakes with 180 mm rotors. There is a 44-tooth double-sided front chain ring with a 14-28 tooth freewheel in the rear. The gearing is designed for slower speeds and we ended up "ghost-pedaling" over 15 mph. So at higher speeds, it becomes difficult to provide human power.
The bike comes with full-coverage plastic fenders to help keep you dry if you are riding in puddles or while it's raining. The fenders also attach to a rear wheel guard to keep clothing and feet out of the wheels. Running boards are included in the base price which is a nice perk and something that makes it stand out from similar bikes. View the Flyer L885 full components list.
Optional Accessories for Flyer L885 Ebike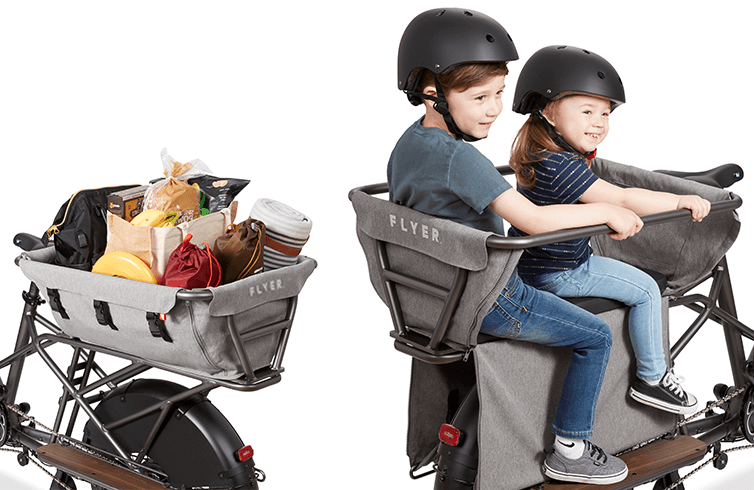 For cargo carrying, there are multiple different options depending on the number and size of kids. We have a squirrely 3-year-old and an almost 5-year-old so we have the Kid & Cargo Carrier with the addition of the Thule Yepp Maxi seat.
The Thule Yepp Maxi seat is for kids 9 months up to 6 years or up to 40 lbs. The Kid and Cargo Carrier is designed for kids between 5-10 years and has a weight limit of 130 lbs. When you're not hauling kids, the sides fold up for ample amounts of storage capacity.
There are several more affordable basket options for both the front and rear racks depending on your needs. Some of them are waterproof as well. Overall the accessories are well thought out and some of the best we've found. Nice work Flyer!
In Conclusion…
We love our Flyer L885 Cargo ebike. The kids are always asking to go for a ride. Being able to have such an established brand name is comforting. While this is a cargo bike and can be used to haul a variety of things, Flyer has some built-in accessories making it easier to get rolling with kids.
The remaining accessories are thought out and allow for a custom cargo ebike. Overall we felt the gearing can be improved to allow pedaling at higher speeds. The motor should be sufficient for most use cases. If you aren't sure, the company does offer a 30-day trial (some limitations apply so be sure to read the fine print). What are you waiting for? Check out this amazing "upgrade" from the little red wagon!
Electronics (Battery, Motor, Display)
8.5
Components (Shifter, Derailleur, Fork)
9
FLYER L885 Pros
Well-designed and outfitted
Wheel sizing for increased stability
Great options for accessories
Included safety features
Established company with great customer support
Three frame sizes
FLYER L885 Cons
Mechanical disc brakes
Geared for slower speeds
If you are in the market for a cargo ebike but aren't sure about the Flyer L885, there are lots of other options. Check out our list of the best cargo ebikes (all with accompanying video reviews).