The Biktrix Juggernaut Classic Duo fat tire ebike is a great option if you are looking for a reasonably priced mid-drive ebike with a good range. The Classic Duo has a base price of $2,799 (currently $2,499) and features a powerful mid-drive motor with a throttle and cadence sensor. This company allows customers lots of customizations to make the perfect bike. Thus the price can change depending on what you pick. If you are considering buying this bike we'd really appreciate a show of your support by using our link. It's a free and easy way to support Ebike Escape.
Biktrix Juggernaut Video Review
Biktrix and the Juggernaut Series Review
Biktrix launched its first ebike on Kickstarter in 2014 and has a solid footing in the business of ebikes. As they have been around for nearly a decade, they have several models. Let's break them down.
Biktrix delineates their off-road bikes by including them in the Juggernaut series (15 in total!). The Hub Duo is their entry-level rear hub-drive ebike, the rest of the Juggernaut ebikes have a mid-drive. The "duo" part of the name means you have the option to add on a second battery.
A mid-drive motor directly drives the crank rather than the rear wheel which means the mid-drive motor takes advantage of the gears. The most affordable Biktrix mid-drive is the Classic 9. The next bike in the series is the Classic Duo which is featured in this article.
If you want a little more than the Classic you can upgrade to the Ultra Duo 2 or 3. The Ultra ebikes are an upgrade in that they have torque sensors and the motor size jumps up from 750 watts to 1,000 watts.
Step-thru frame designs are available on the Hub Duo, Hub Duo Small, Classic Duo and Ultra Duo 3.
If you don't mind a step-over, still want more, and have a little extra cash to spend, you can check out their higher-end models! That includes the Ultra FS Pro, Ultra FS Pro 2 and 3, and finally, the Juggernaut XD Duo which features a massive 2,300 watt motor!
For those more on a budget, Biktrix offers tons of other models including city-oriented ebikes and even a folding full suspension ebike with the Kutty FS (check out our review).
Biktrix Juggernaut Classic Duo Frame
The Classic Duo comes in both step-thru and step-over frame designs both of which are advertised to fit rides from 5'2″ and taller. The step-thru has a standover height of 15.7 inches and comes in two frames sizes, 17″ and 19″. It has a 265 lb load capacity. The bike weighs 69 lbs without the battery in place. It comes in several bold color options including electric blue, tangerine, cherry red, and emerald green.
The step-over frame ebike weighs about the same as the step-thru but has an increased weight capacity of 330 lbs. It comes in 17″ and 18.5″ frames. While both frame styles are offered in electric blue, the step-over also comes in black, reptalian, and copper. Not sure what frame size to get? Here is Biktrix's link to answer that question.
Battery and Motor
The Juggernaut Classic Duo features a powerful 750-watt Bafang mid-drive motor (BBS02) that peaks at 1000 watts. The website advertises that this bike will do well on "moderate" hills but we thought that undersold the motor's power. This bike had no trouble zooming up our hill test. When buying the ebike you can choose between having it shipped as a Class 2 ebike or as a "no limit" ebike for off-road use. With our bike set as "no limit" we got up to 30 mph!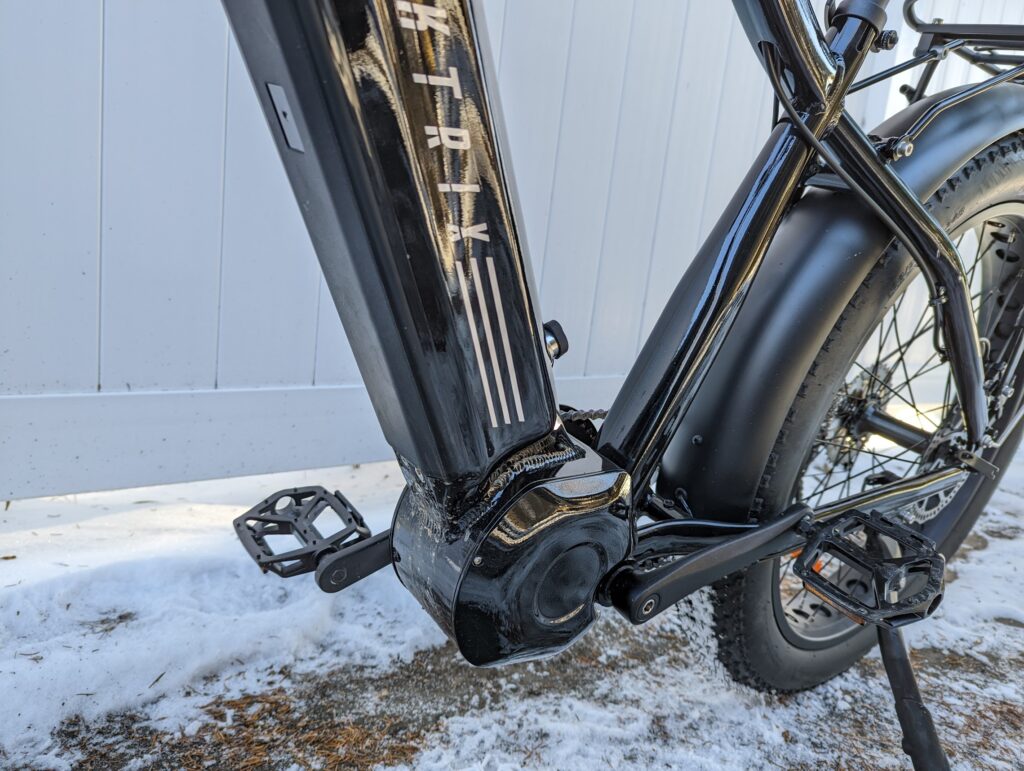 The bike comes with a 52V 17Ah battery for a total of 910-watt hours. The company offers a range estimation of 45 miles in ideal conditions which does seem reasonable. For either the step-over or step-thru you can add an extra 52V 14Ah battery or an extra 52V 17Ah battery for more range . The price is $499 or $699 respectively and the battery gets mounted on top of the downtube. Need to go even further? For the step-thru, you also have the option to add on a huge 52V 21Ah battery ($899).
The option for a secondary battery is a standout feature for those looking to get out on long adventures.
Sensor and LCD screen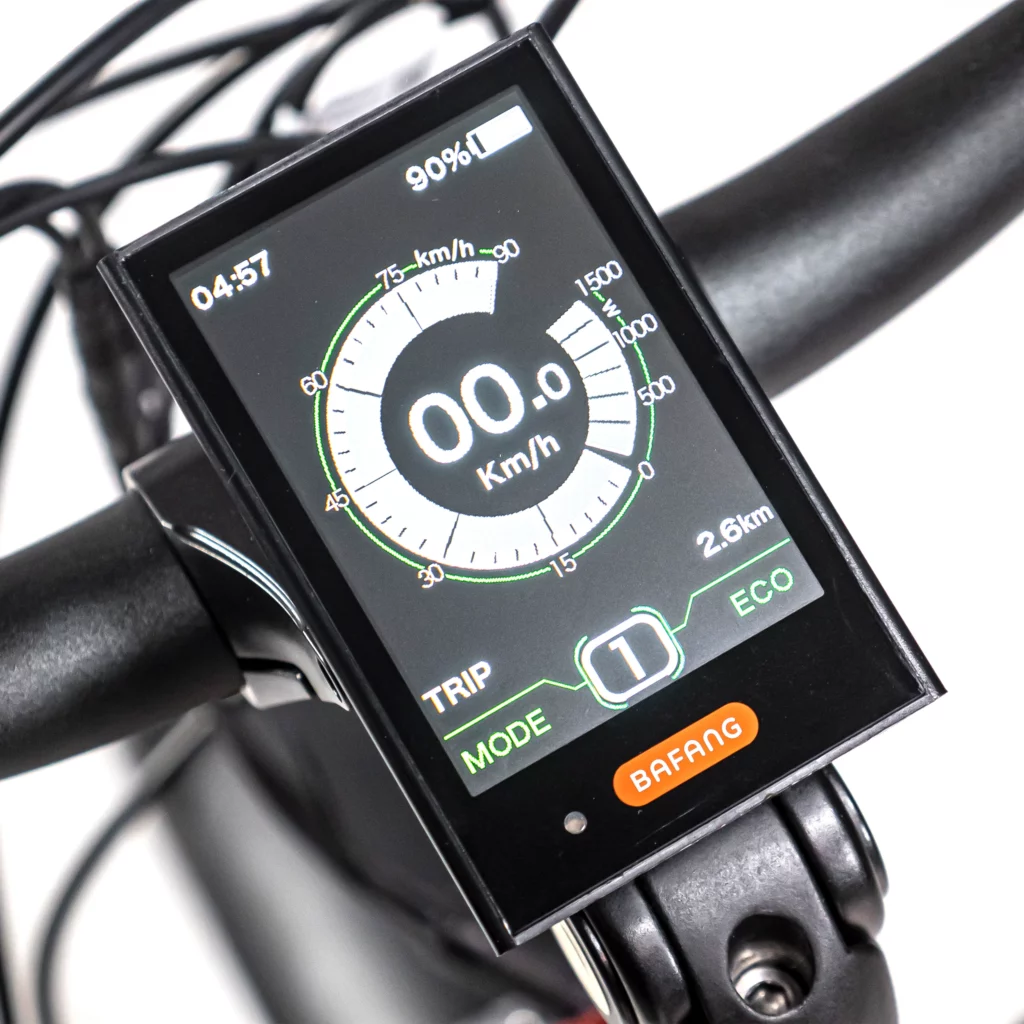 The Juggernaut Classic Duo comes with a cadence sensor. While a cadence sensor can often mean less pedal effort and a higher chance for ghost pedaling, we did not find that to be an issue on our test rides. Riders were able to put in as much effort as they chose to and with appropriate gearing ghost-pedaling didn't seem to be a problem. If a torque sensor is important to you, check out the Ultra Duo 2 or 3.
There is a color LCD display screen that features the standard information including speed, battery life, range, odometer, pedal assist level, and more. Pedal assist levels include 0-5 and you can choose between eco and sport mode. While many mid-drive ebikes do not feature a throttle, the Classic Duo features a thumb throttle should you need it.
Components of the Classic Duo
Next, let's talk about components. Both frames have a 9-speed Shimano Alivio trigger shifter paired with an Alivio derailleur. We were happy to see the Alivio groupset given the price of this ebike. It also should stand up better over time compared to the more basic Shimano components found on many more affordable fat tire ebikes.
There is a 44T front chainring and a 12-36T rear freewheel. The included brakes are dual-piston Tektro hydraulic brakes with 180 mm rotors. You also have the option to upgrade to Magura MT5e quad-piston hydraulic brakes ($499).
For tires, Biktrix includes 26″x 4″ fat tires though if you choose the step-over you also have the option to switch to 27.5″ x 3″ tires for more of a mountain bike tire. There is an RST Guide front fork suspension with 80 mm of travel. While the RST Guide fork is adequate it would have been nice to see an air fork on a bike at this price point. If you want full suspension, there is the option to add on a Cane Creek Thudbuster suspension seatpost.
There is an included and integrated front and rear light with an option to upgrade to a much brighter headlight for an additional charge. The bike comes equipped with front and rear metal fenders and a rear rack. Some optional accessories include pannier bags, a water bottle mount, a bike bell, a cell phone mount, or an upgraded saddle. If you would like some ideas on more accessories to modify your ebike to your taste, check out our electric bike accessories list here.
Concluding thoughts on Biktrix's Juggernaut Classic Duo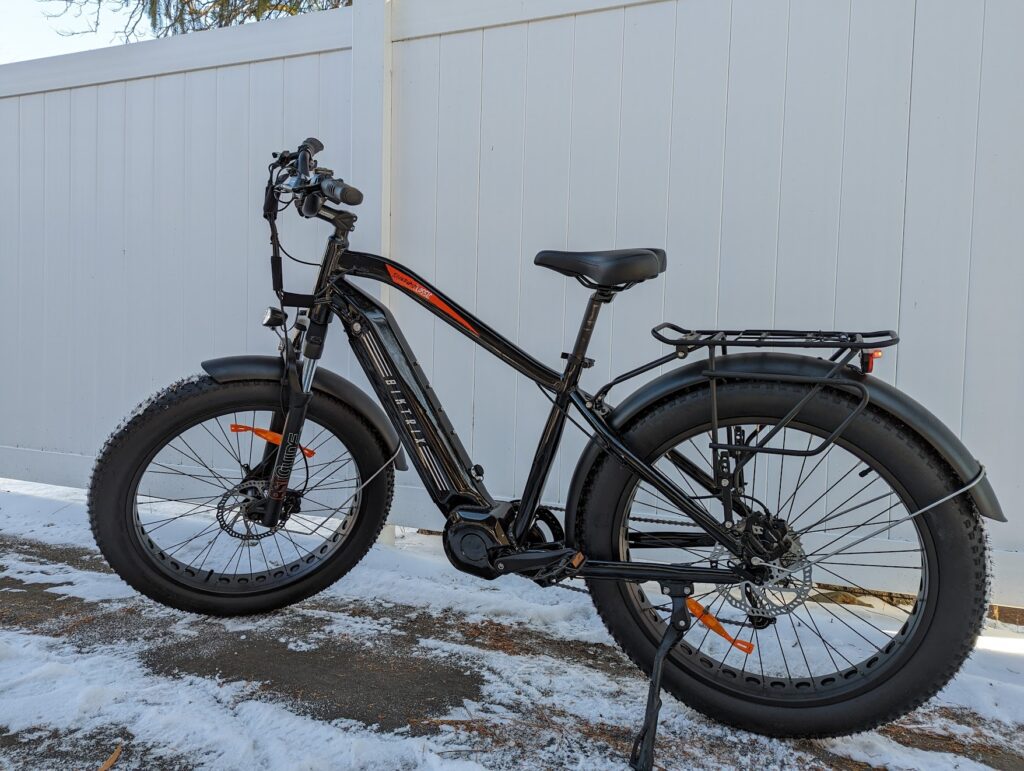 It is always comforting to work with an established company and Biktrix is just that. Not only have they been around for almost a decade, but they also have lots of great options so you can get the perfect bike. We liked the Juggernaut Classic Duo. It has a strong motor and great gearing to provide a natural and powerful riding experience.
It's nice to have several options for adding a secondary battery though even the standard 17.5Ah battery is above average. Overall, we can happily give Biktrix's Juggernaut Classic Duo our stamp of approval. It's a great price for a mid-drive ebike.
Biktrix Juggernaut Classic duo
Electronics (Battery, Motor, Display)
10
Components (Shifter, Derailleur, Fork)
8
Biktrix Juggernaut Classic duo pros
Powerful mid-drive 750 watt (1000 watt peak) motor
Both pedal assist and throttle
Step-thru or step-over frames
Established company
Optional secondary battery
Hydraulic brakes
Customizable
Biktrix Juggernaut Classic duo Cons
Cadence sensor
Basic front fork
So many options!
Comparable ebikes
For affordable mid-drive fat tires, we really like the Juggernaut series. If you'd like to do some comparison shopping you can check out our article on some of the best fat ebikes here. For other mid-drives, you can check out the Vvolt Sirius or the Lectric XPremium. If you want a higher-end mid-drive you can check out our review of the Watt Wagon Hydra.