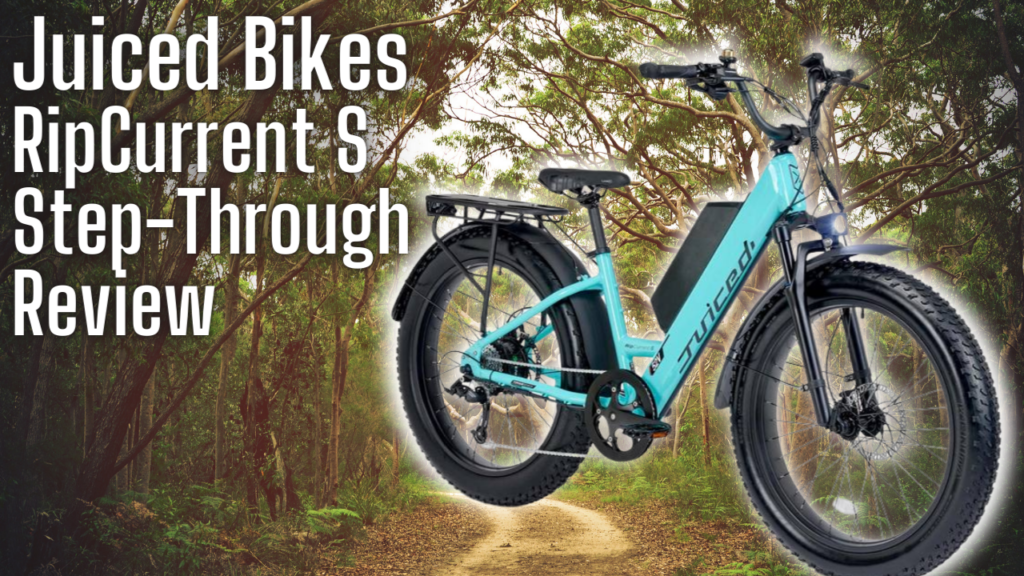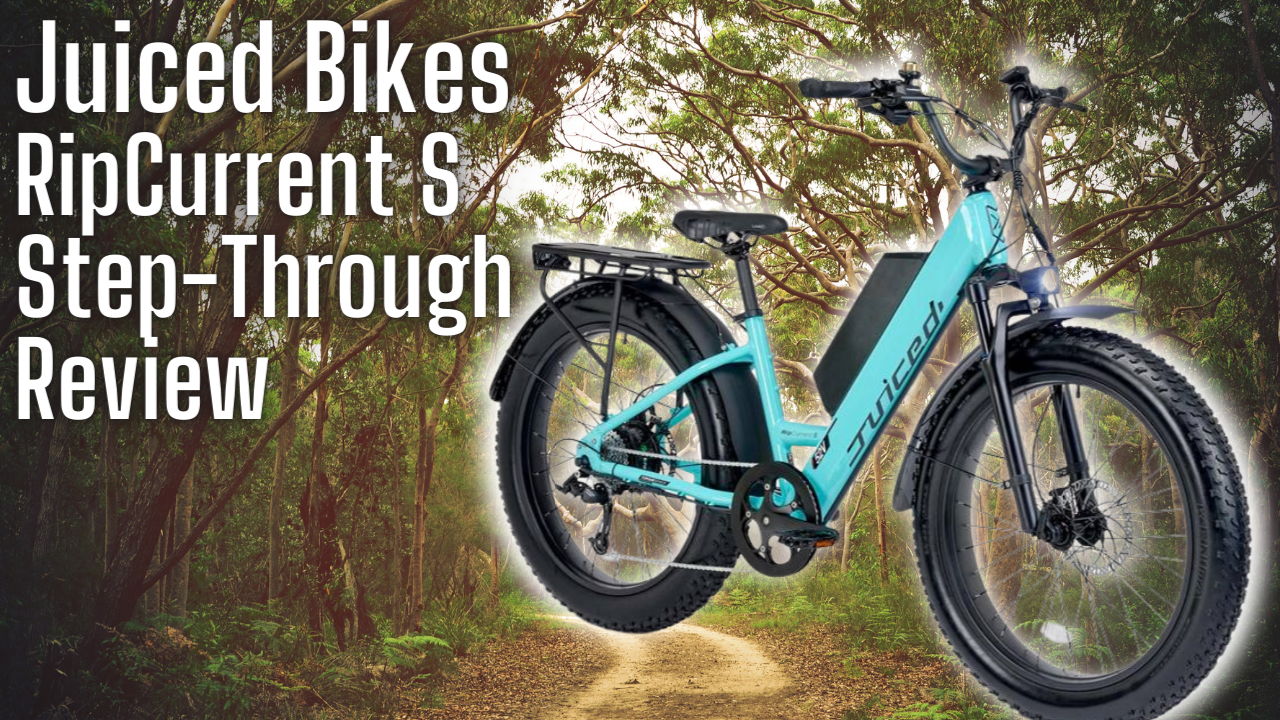 Juiced Bikes is well known for its battery packs and moped-style electric bikes. The models that get less attention are the CrossCurrent commuter bike and the RipCurrent fat tire bike. But with the introduction of the Juiced RipCurrent S Step-Through it is obvious that the company isn't striving to be a one-trick pony. The RipCurrent S Step-Through launches officially on May 19, 2021 for $2,699 but as an Ebike Escape reader, we have an exclusive discount code. Simply use the discount code "ST100" at checkout for $100 off.
RipCurrent S Step-Through Motor and Battery
The RipCurrent Step-Through is only offered in the 'S' configuration which means it has better specifications than the base model RipCurrent. As noted above it is also more expensive. For starters, the RipCurrent S Step-Through comes with a massive 52 volt, 19 Ah battery (994 watt-hours). Juiced has long been known for its 52-volt battery systems with large packs. Juiced Bikes pegs the range on the RipCurrent S Step-Through at an impressive 70 miles. You'll be hard-pressed to find a fat tire ebike with a comparable battery pack.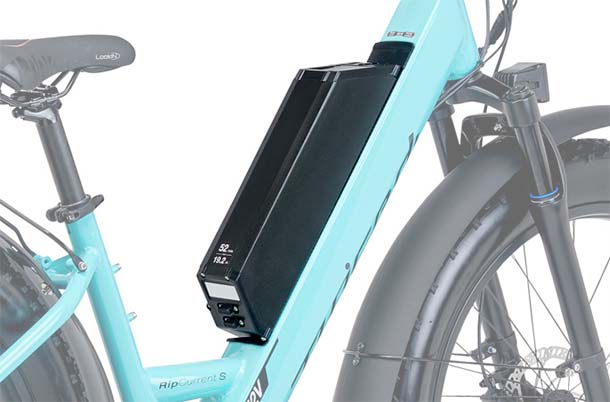 Powering the fat tire ebike is a 750-Watt Bafang Hub motor that peaks at 1300 watts and provides 80 Nm of peak torque. No doubt this bike will have plenty of power to get you wherever you need to go at speeds up to 28 mph (Class III electric bike). For an extra boost, you can use the left-hand thumb throttle.
The Specs
The RipCurrent S Step-Through includes the components you should expect on an ebike costing $2,699. This includes Tektro hydraulic disc brakes, trigger shifter, locking grips, front and rear fenders, and an included rack with a 50lb capacity. It comes with a 9-speed transmission with a 52 tooth chainring upfront which will allow you to still pedal the bike even at higher speeds. For tires, you'll receive either 26″ x 4″ Kenda Krusade K1188 or CST C-1752 tires, depending on inventory availability.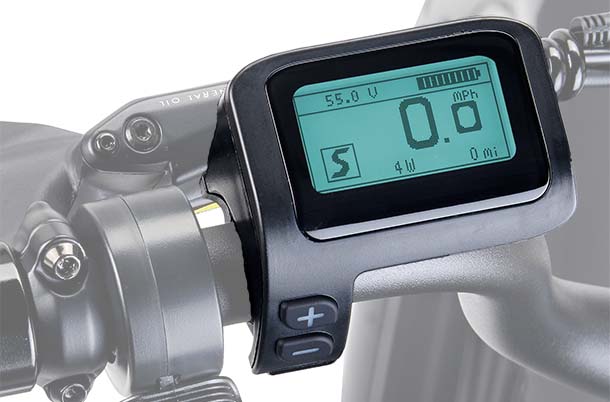 Upfront you have a 1,050 lumen integrated front light though in the rear you'll find a battery-operated light. There is also a monochrome backlit display, with five modes of assist. Speaking of pedal assist, unique to Juiced Bikes is their pedal sensor technology which includes both torque and cadence sensors. It is meant to reduce the lag time felt on traditional 12-magnet cadence sensors. The RipCurrent S Step-Through will provide more power to the motor as you put more effort into pedaling. We liken this to a more traditional riding experience, only electrified, compared to simple cadence sensor systems. View the full specs over on the Juiced Bikes website.
The Look and Sizing
The new model comes in two unique colors including yellow and beach blue. For a more understated look, you can opt for arctic white or black. All colors are glossy with 3 layers of paint. The Juiced Bikes graphics are placed under the final clear coat.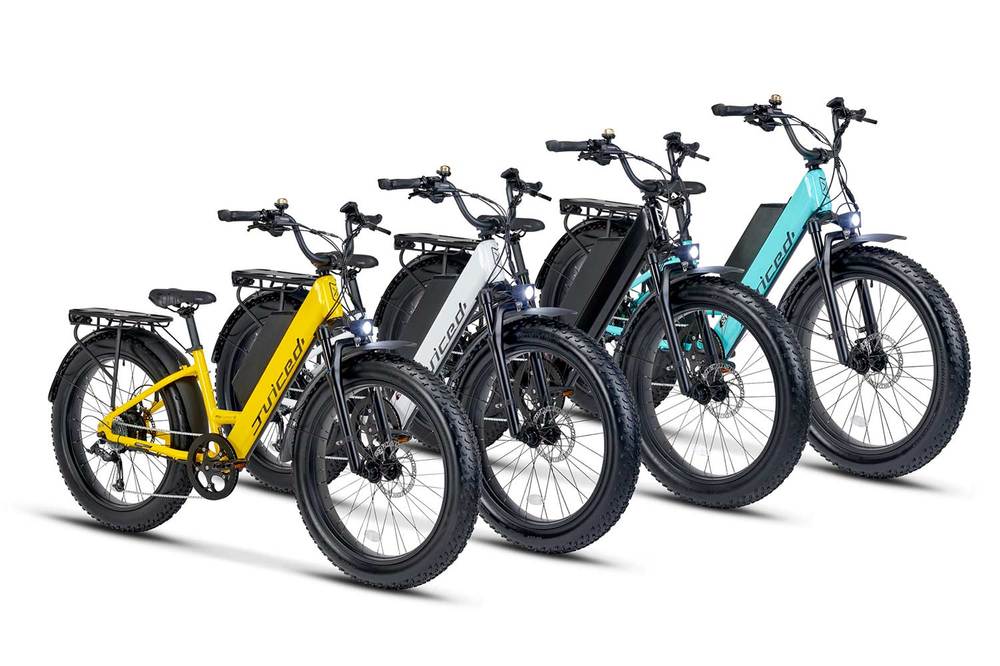 Unlike the high-step RipCurrent S which is offered in 3 frame sizes, the RipCurrent S Step-Through is only offered in one frame size. Fewer options are common with step-through models as frame rigidity becomes a concern. It's pretty clear that the bike is meant to be accessible to a variety of riders. The minimum seat height is 33″ and the standover height is 27.5″. To complete the increased accessibility of the step-through model, there are upright handlebars that also put the rider in a more upright riding position (shown below). For those with wrist sensitivities, the higher grip position will be a welcome feature.
Riders 5′ 3″ to 6′ 1″ should feel comfortable on the RipCurrent S Step-Through. Check out the full measurements on the Juiced Bikes website.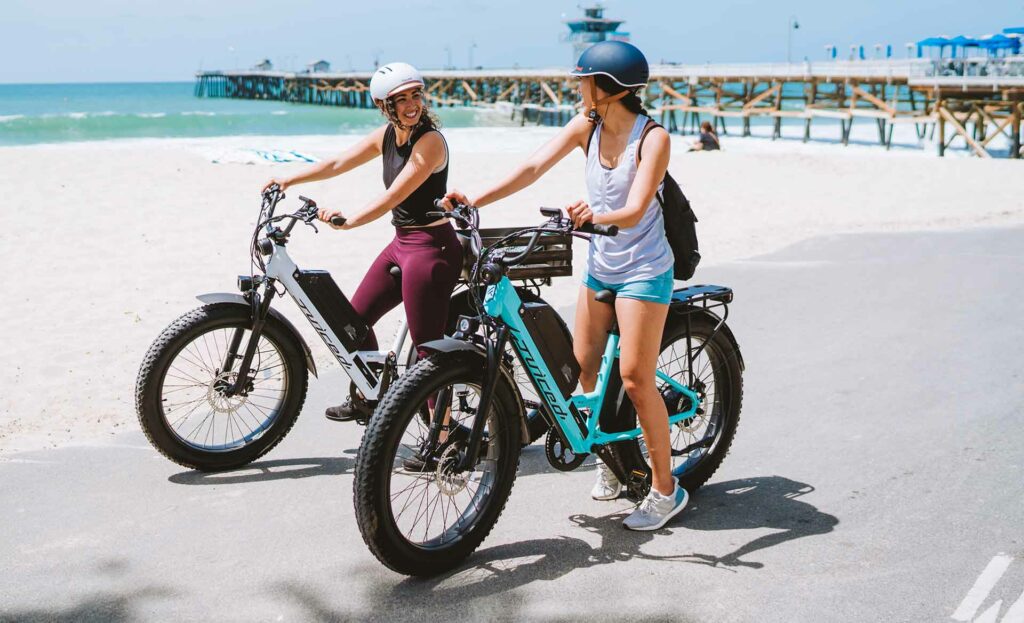 So Many Fat Tire Ebike Options!
It is worth mentioning that the fat tire ebike space is crowded. But that's good news for consumers as there are plenty of options at different price points and specs so you can get the fat tire ebike that fits you the best.
You can check out our recent review of the Aventon Aventure which offers tremendous value. Like the RipCurrent, the Aventure is also offered in a step-through variation. We also reviewed the Rad Power Bikes RadRover Step-Thru 1 which is a popular choice you should also consider. And if you don't need a step-through then take a look at our Eunorau AWD fat tire bike video review. Finally, we like the fat tire ebikes that Bolton Ebikes has to offer.
RipCurrent S Step-Through Promo Code
When you use code "ST100" checkout, you will receive $100 OFF your new RipCurrent S Step-Through electric bike. This brings the price down to $2,599. Note that the high-step RipCurrent is priced at $2,699 and the standard RipCurrent (without the 'S') is $1,999.
Final Thoughts
Juiced Bikes is a reputable ebike brand and buying from the right ebike brand can make a world of difference. While the RipCurrent S Step-Through certainly doesn't fit into the value priced category of fat tire ebikes, you still get a lot of nice features for the price. We like the large 52-volt battery, the hydraulic disc brakes, the included accessories, and the attention to detail in other areas of the bike. We'd recommend thinking about what features you value the most and making a decision on what brand and model fits your needs the best. Learn more about the RipCurrent S Step-Through.