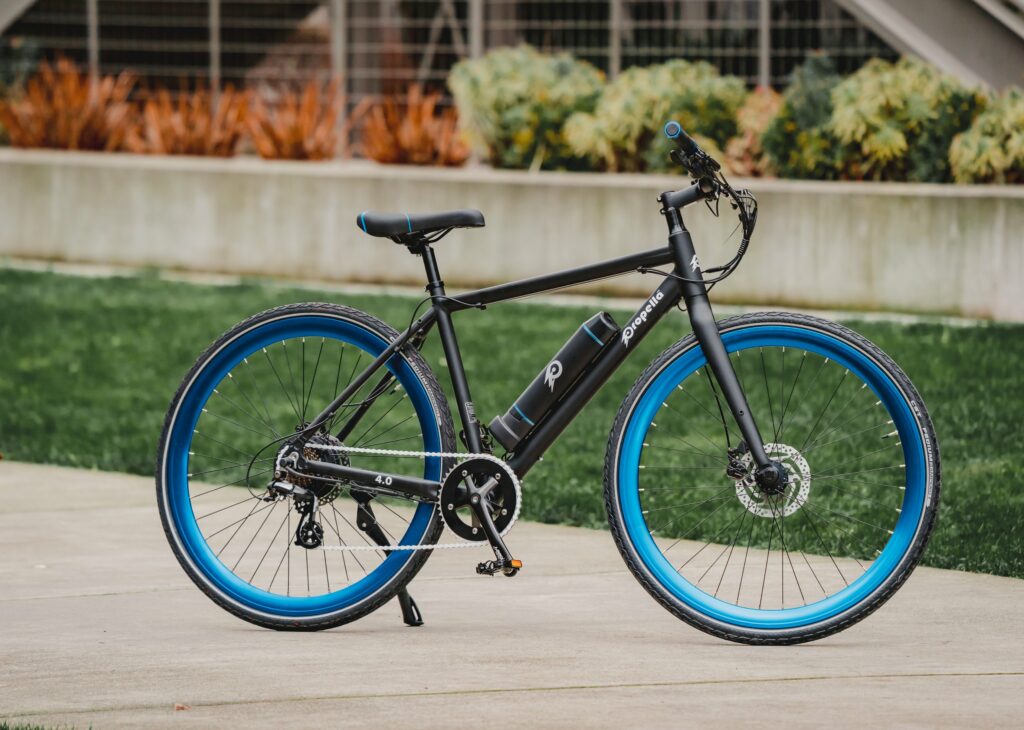 One thing that standas out right away with the Propella 7S ebike – it's one slick looking machine. This city-style ebike has a stylish black frame with blue rims and blue accents around the bike that make this ebike pop. Even the Thermos-shaped battery, though not hidden like on some ebikes, is styled such that it doesn't detract from the bike's look.
How does it stand up? It's an ebike for those who want less assistance and thus, less weight in an ebike. We break down the Propella 7S stats so you know what you're getting into. Read on for our full written Propella 7S review or check out our video review below. We also did a full Propella 7S assembly video.
Propella 7S motor
The Propella 7S is in the category of ebikes that are mostly designed to keep you pedaling. The 250-watt rear hub Bafang motor (400-watt peak) will definitely help you out but won't do the work for you. It's similar to the Ride1Up Roadster V2 in some ways and will take you to a top speed of 18.5 miles per hour. Not exactly slow, but far from the fastest ebike we've tested out. But speed really isn't the point with any of the Propella models.
Battery
The removable 36 volt 7Ah, 250-watt-hour Samsung battery looks, unlike any other battery we've seen on an ebike. It looks like a large coffee thermos or a small canister vacuum. It charges in only 2.5 hours, according to Propella's specs, and should provide a range of 20-40 miles. The Propella 7S battery weighs next to nothing at 3.5 pounds. And if you're worried about range, a second battery can be purchased for $249.
LCD and pedal assist
The Propella 7S comes with a basic monochrome display, showing battery level, speed, odometer, and time. Five levels of pedal assist help you choose the right amount of assistance as you make your commute.
Frame and drivetrain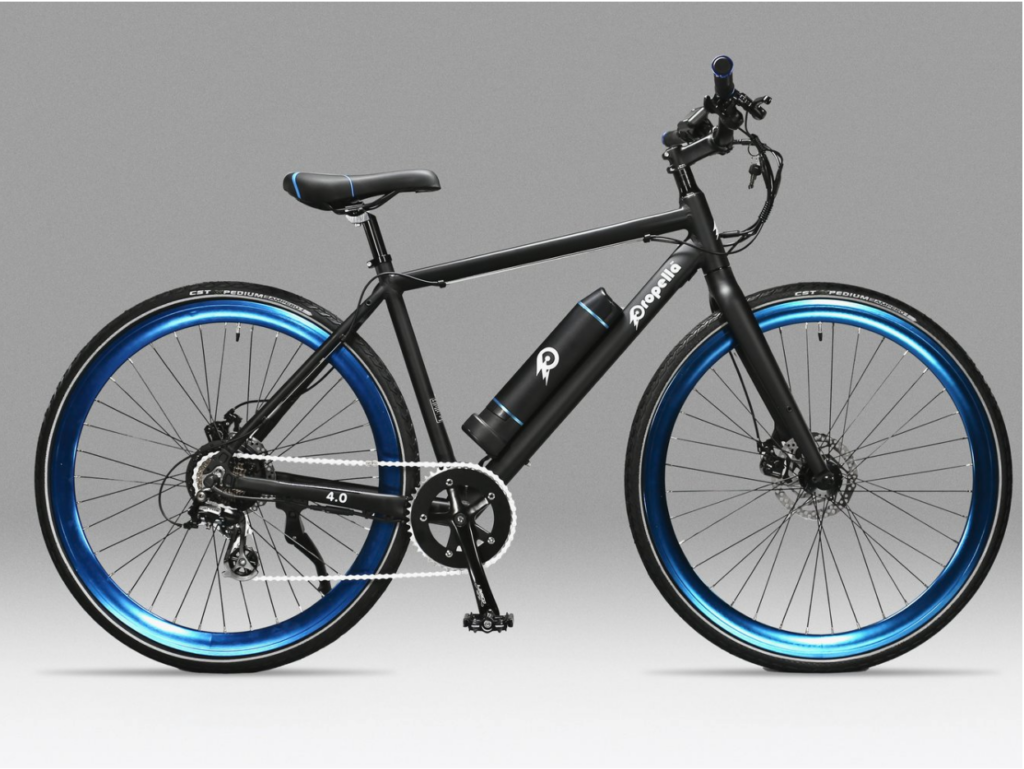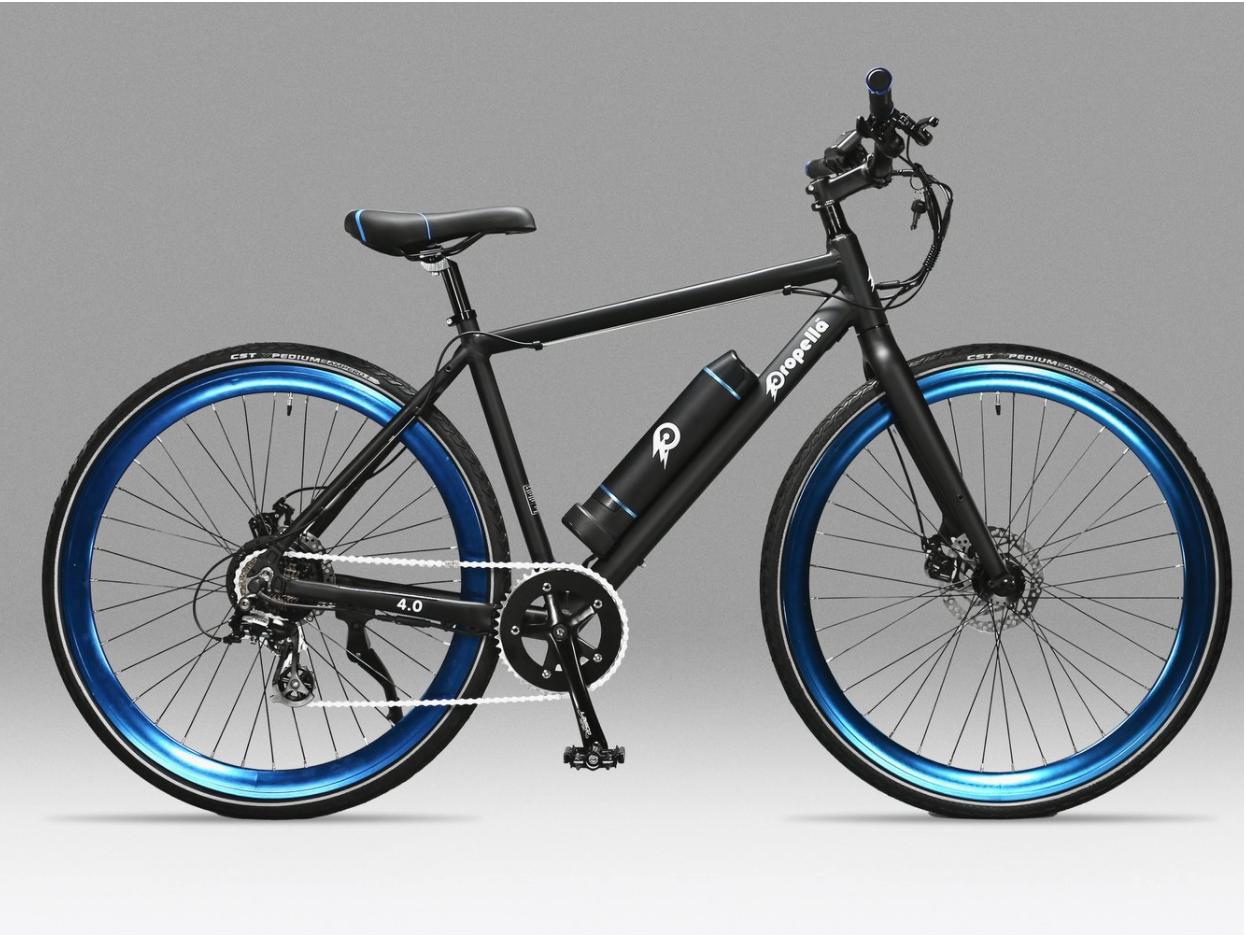 The aluminum alloy frame and fork allow for a light but stiff ride, built for speed. Shimano Tourney TX-805 mechanical disc brakes are a nice touch on this commuter. Shimano mechanical disc brakes are rare on affordable ebikes and not only do the levers feel great, but they also perform extremely well. The Propella 7S is driven by a Shimano Altus 7-speed derailleur.
This drives the CST Xpedium 700C road bike wheels but with a 35mm width for better stability. It helps that the tires are puncture-resistant. The whole setup weighs only 37 pounds, which is incredibly light for an ebike. It is one of the lightest ebikes we've reviewed.
The ideal height range for the the Propella 7S is 5′ 4″ – 6′ 2″ though Propella states that riders all the way down to 5′ 2″ and up to 6′ 4″ should fit.
Propella 7S vs Propella SS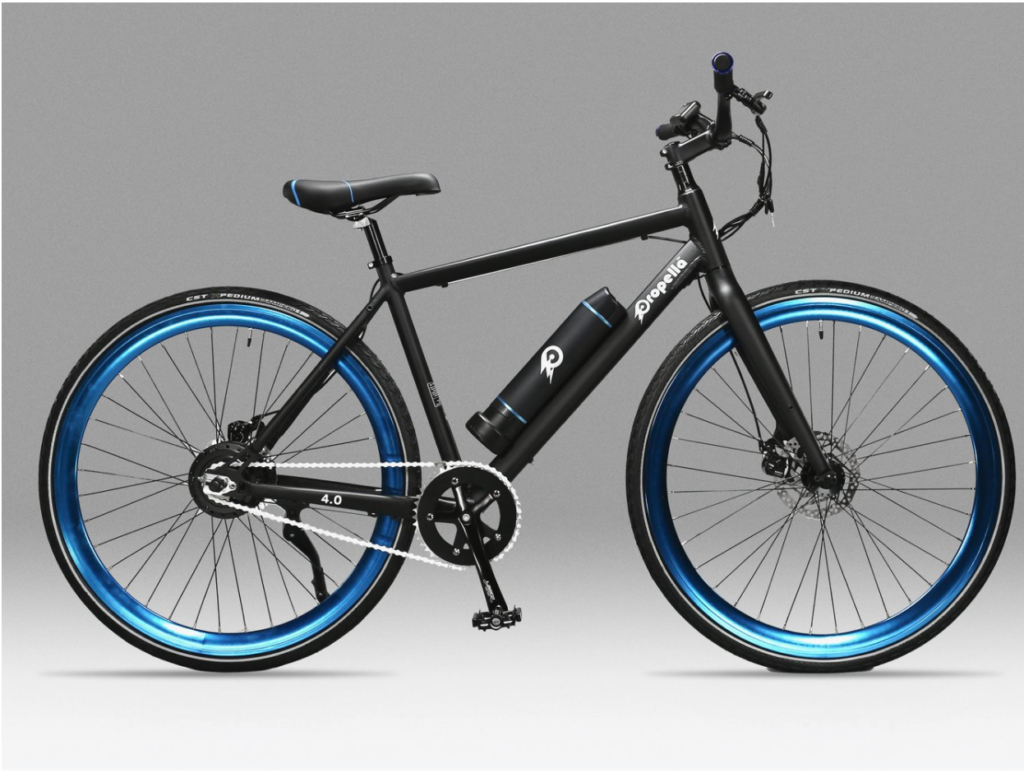 If you don't care much for shifting, Propella offers the SS, a single-speed version of the same bike. The specs are pretty much identical but of course, there is no derailleur or shifter. Losing these components drops the weight down to 35 pounds, and it costs $200 less. You might not be able to tackle quite the same level of hills as on the Propella 7S, but the company says even 10% gradients are doable on this road machine.
Propella 7S vs Propella Mini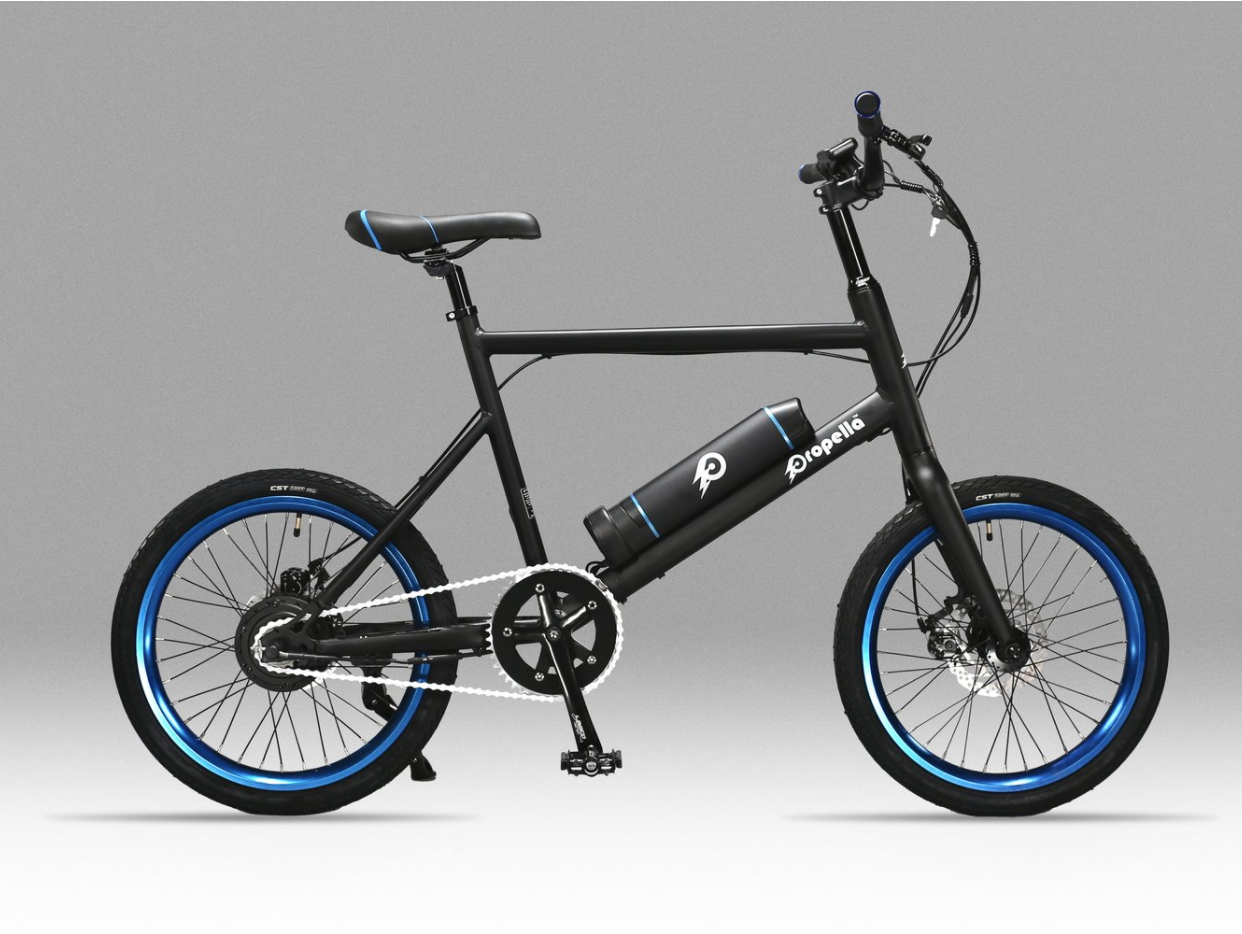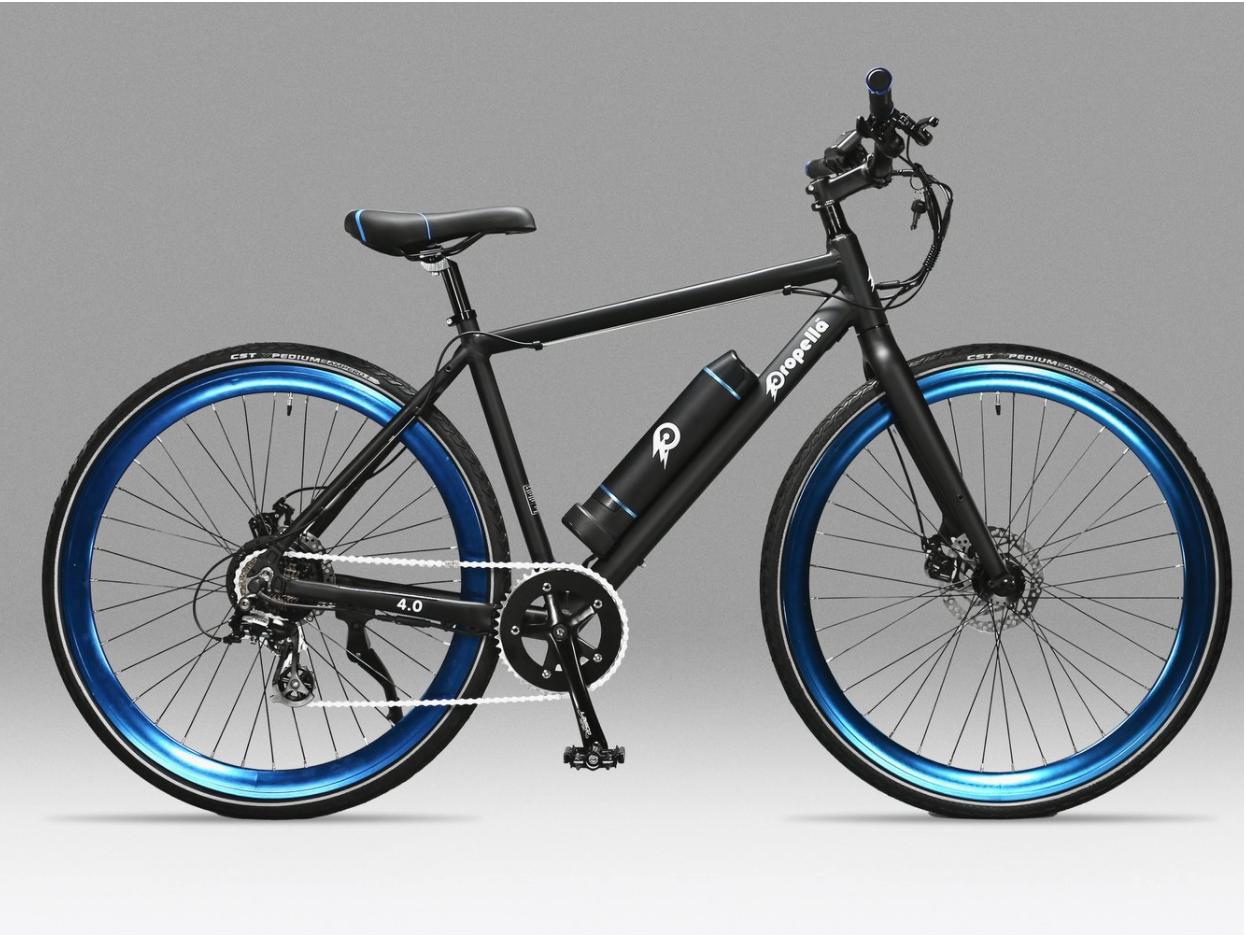 The Mini drops even more off the price. It's currently priced at just $999. The Mini is ideal for shorter folks, down to 5 feet tall according to Propella's sizing charts (5′ 2″ – 5′ 10″ is the ideal height range). It's a unique fun-sized ebike with smaller 20-inch wheels and is also lighter at 33 pounds. It too has a single-speed drivetrain like the Propella SS and has a top speed of 18 mph (slightly less than the other two).
Propella Shipping
Something to keep in mind is shipping cost. While at time of writing this Propella review, Propella is offering free shipping it is normally $50. Shipping to Canada is $100 USD plus an additional 10-20% import tax.
Conclusions about the Propella 7s
The Propella 7S is one of the most stylish ebikes we've reviewed. They certainly spent some time making this ebike look great. It's an ebike ideally suited to experienced riders looking for a little speed boost. And single-speed enthusiasts will love the SS or the Mini. It's not an ebike for everyone, but those looking for a stylish ride to work or the store with a bit of a boost have likely found their ebike. Check out the specs and full Propella lineup.