We recently had the opportunity to review the Himiway Pony. The compact Himiway Pony is lightweight and small enough to bring on a bus or a train. It has no pedals, so can you call it a bike? Well, it looks like a bike and coasts like a bike, but I will let you decide if you can call it a bike. Some might call this a seated scooter. Regardless of what you call it, you will have fun riding it. The Pony sells for as little as $499, and if you need something small to zip around on, this just might fit the bill.
If you decide to try the Himiway Pony, we would love it if you could use our link. It helps us continue to review cool ebikes, pedals or not.
Himiway Pony Video Review
Frame Size: A Compact Mini Bike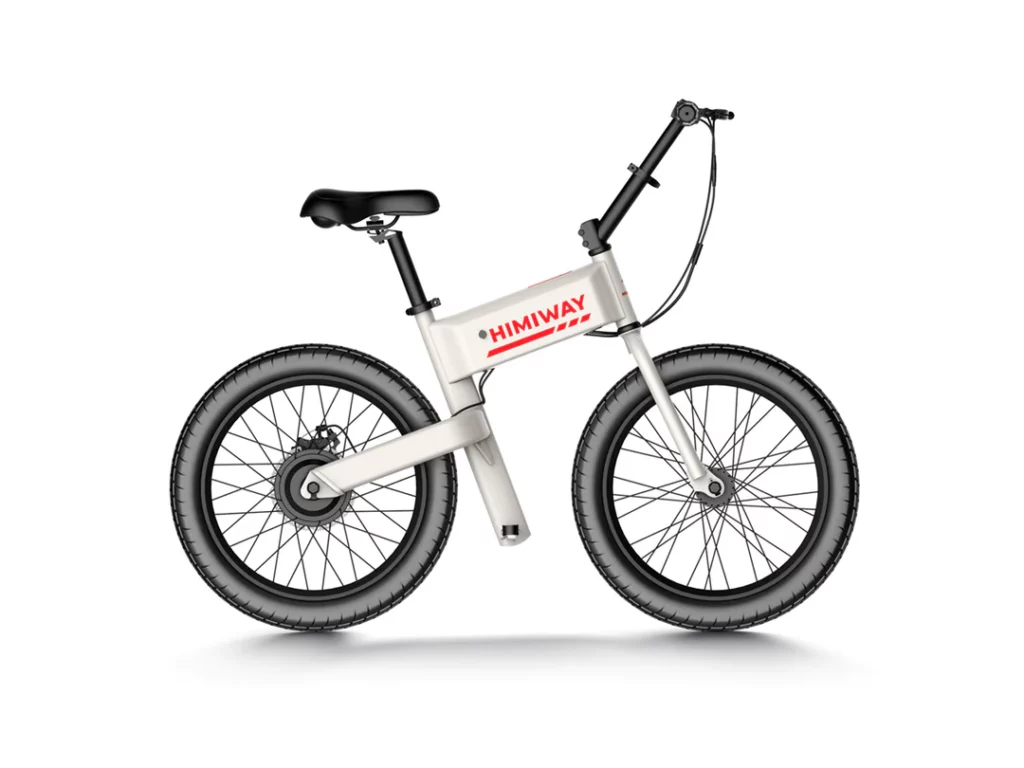 A huge selling point of the Himiway Pony is its small size. This "bike" may be a perfect choice if you are limited in space. It can go on a train or metro, get thrown in the back of a vehicle, and roll right into a house or apartment. While folding ebikes such as the Lectric XP lite, or Lectric XP 3.0, the RadExpand 5, and the Aventon Sinch are popular with RVer's-the Himiway Pony has the advantage of being a small size without any folding and unfolding. Pull it out, and it is ready to go.
Its total length is less than 50 inches. It has a handlebar height of just under 42 inches. The standover height is 23.6 inches. The frame only comes in one size. It is designed for riders between 4'1″ and 6'2″, so it can fit a wide range of heights.
The payload capacity is 240 lbs, and the bike itself only weighs 33-35 lbs! That is similar to the weight of an average mountain bike and is super light for an ebike! If you are looking for a more traditional ebike that includes pedals but still want something lightweight and affordable, check out our list of the best ebikes under 50 lbs and less than $1,600.
There are five color options for the Himiway Pony, from the neutral-appearing pearly white and Himi grey to a bold midnight forest. If you are looking for something brighter, try midsummer or mint green.
Battery and Motor on the Himiway Pony
While this bike is tiny, it still carries a 300-watt geared hub motor. Speed is controlled with a half-twist throttle on the right side of the handlebar. I would have loved to see this bike have a bit more oomph up the hills, but it does well on flat ground.
The maximum speed for this little ride is 16 mph. Based on speed alone, one could categorize this as a class 2 ebike; however, without pedals, it probably qualifies more as a seated scooter. Be sure to check your local regulations.
That 300-watt motor is powered by a 36V battery. You can choose between a 5Ah battery for a total of 180 watt-hours ($499) or a 10Ah battery for a total of 360 watt-hours ($599).
The bigger battery adds $100 dollars to the price tag, but it also doubles the range upgrading from an estimated range of 10 miles to 20 miles. Keep in mind that ranges are generally tested in ideal conditions, and the average rider will likely see less range. Most people will opt for the 10Ah battery, but remember if your battery runs out; there are no pedals to get you back home.
An LED on the right turns red when the power is greater than 5% or less than 20%. When the battery is less than 5% capacity, the red light begins to flash.
Additional Components
The Himiway Pony has 20″ x 2.4″ tires which make it a more capable last-mile seated scooter. I loved the feel of the larger wheels. Braking power comes from a single rear mechanical brake with 160 mm rotors. Per Himiway's website, the choice for a single rear brake was based on safety to help prevent flipping over the front wheel. There is also a motor cut-off switch which is common in ebikes and, in my opinion, essential for safety. It stops power going to the motor if the brakes are applied.
As one would expect with such an economical price, there is no suspension. There is also no kickstand, fenders, racks, or lights, and of course, no pedals. Depending on how you plan to use the Pony, adding some basic lights for visibility might be a good idea. A kickstand could be added with a minimal increase in weight to increase convenience. Our recommendations for accessories can be found on our electric bike accessories list here.
Concluding Remarks for our Review of the Himiway Pony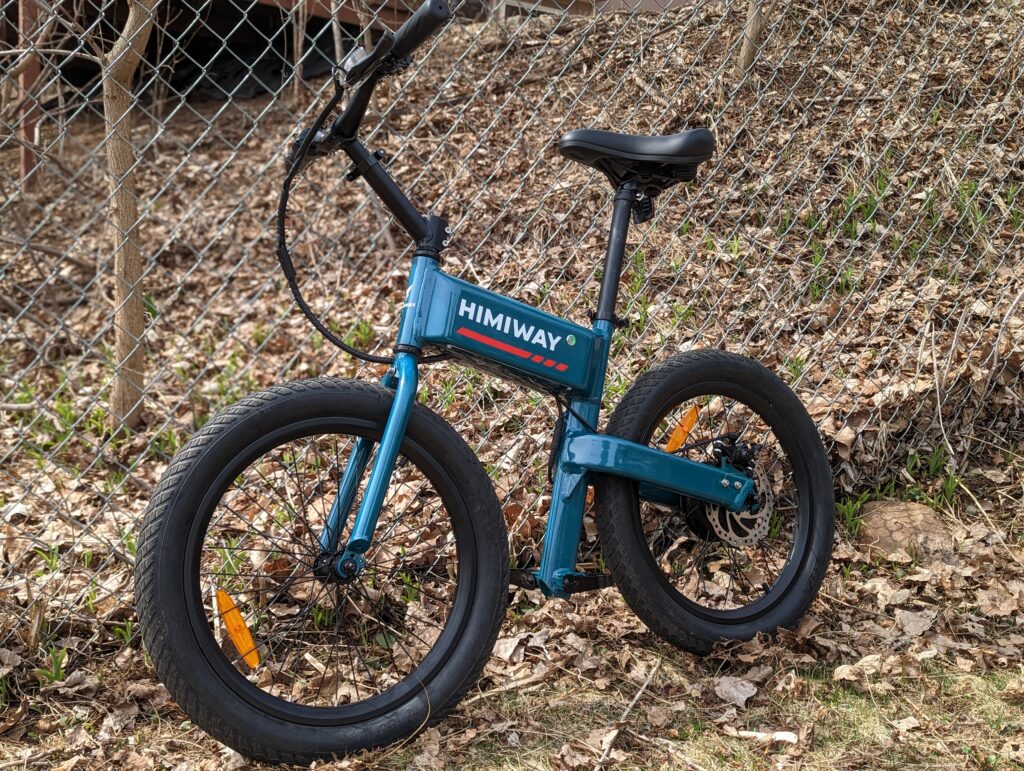 The Himiway Pony is certainly not an ebike. Regardless, it may be a good choice for those who are looking for a compact and convenient mode of transportation. It is affordable and easy to ride. Its small size allows it to go in places that some traditional ebikes may be too big for, such as buses and apartments. With a 300-watt motor, it is not the most powerful or fastest way to get around, but it packs a decent punch for the price, weight, and size. If nothing else, it is fun to ride and could make for a fun neighborhood scooter. Everyone that sees us riding it wants to take it for a spin.
If you decide to get a Himiway Pony, let us know your thoughts in the comments below.
Himiway Pony Pros
Compact size
Lightweight
Affordable
Fun to Ride
Competitive specs compared to alternatives
Battery size
Himiway pony Cons
Small 36V motor
No lights
Kickstand no included