This Euphree City Robin Ebike is a bike built for comfort with a premium feel and beautiful design. It is most at home on city streets and would be an ideal commuter bike or bike to get you around town. Its front suspension and hybrid tires can handle the occasional off-road jaunt. Looking at everything this bike has, it is a great value at $1,998. Euphree has a US based support team and really focuses on customer support. If you are looking for an ebike that's comfortable, easy to ride, and well-backed, this might be the right fit. And if you do decide to buy, add the bike lock to your cart and use code ebikeescape to get it for free (it also supports Ebike Escape!).
Read on for our written review or check out our Euphree City Robin video review below which includes walkaroumd, riding footage and a hill climb test.
A frame built for comfort
The frame is built for comfort and is perfect for an urban commute. It has a step-through design that so many people are looking for these days. This makes it easy to get on and off. Euphree opted for swept-back handlebars which allow for an upright riding position. The stem is adjustable which allows the handlebars to go up or down allowing you to customize them for the perfect position. Brown faux leather grips on the handlebars match the brown seat for a classy look.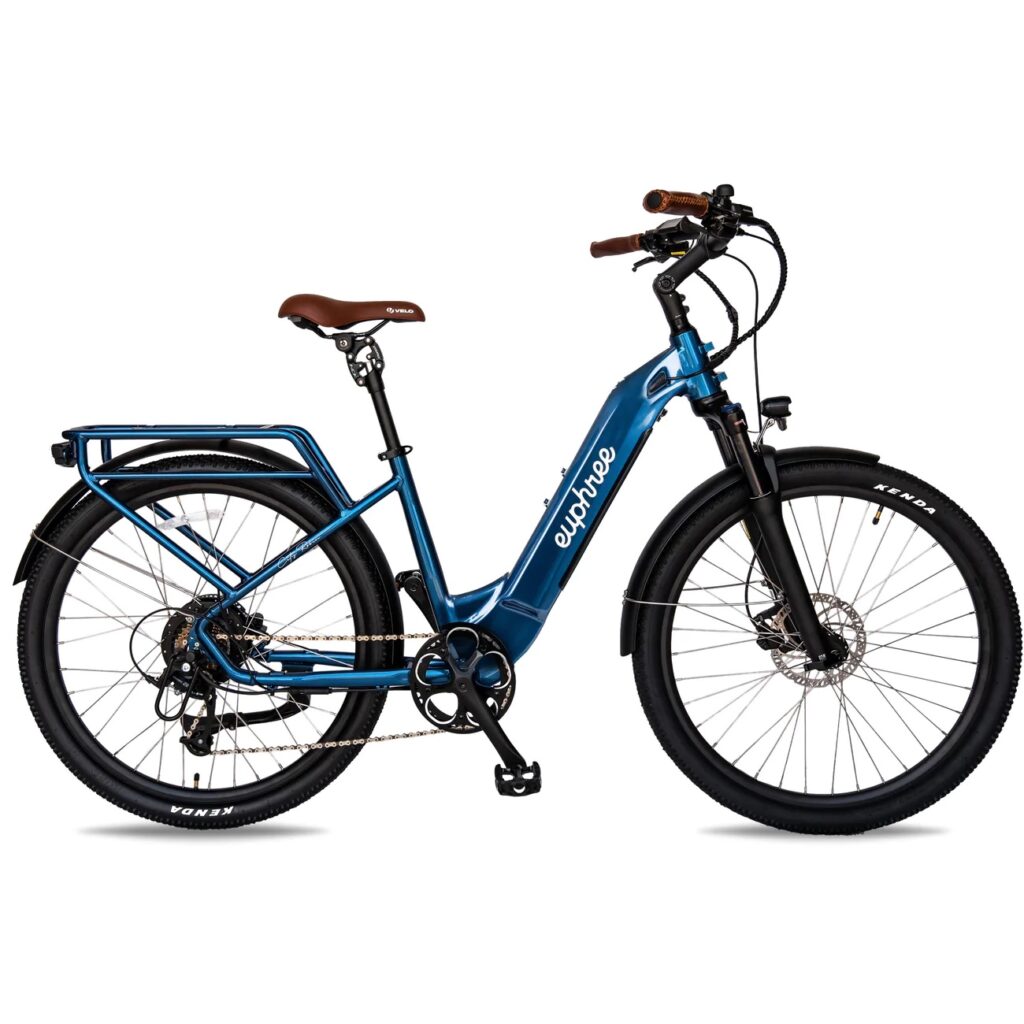 The frame colors include Rebel Blue, Emerald Green, Pearly White and Midnight Black. The standover height is only 16″ and the frame size is advertised to fit riders ranging from 5'3″ to 6'4″. The bike's weight is 58lbs plus another 7-8 pounds for the battery. The payload capacity is 275 lbs.
Another way Euphree is helping with comfort is that they include metal fenders. These offer full coverage on both front and rear wheels. This helps keep you dry when riding on wet roads. The metal fenders look more sleek than plastic and will hold up well. However, they can cause a louder ride compared to plastic fenders if you are kicking up rocks.
Full suspension
The combination of the front fork suspension and the seat suspension make this a full suspension bike allowing for a comfortable ride even on a bumpy road. In the front, there is an SR Suntour front suspension fork. It has 100 mm of travel. The suspension does include a preload adjustment on the left and a lockout on the right.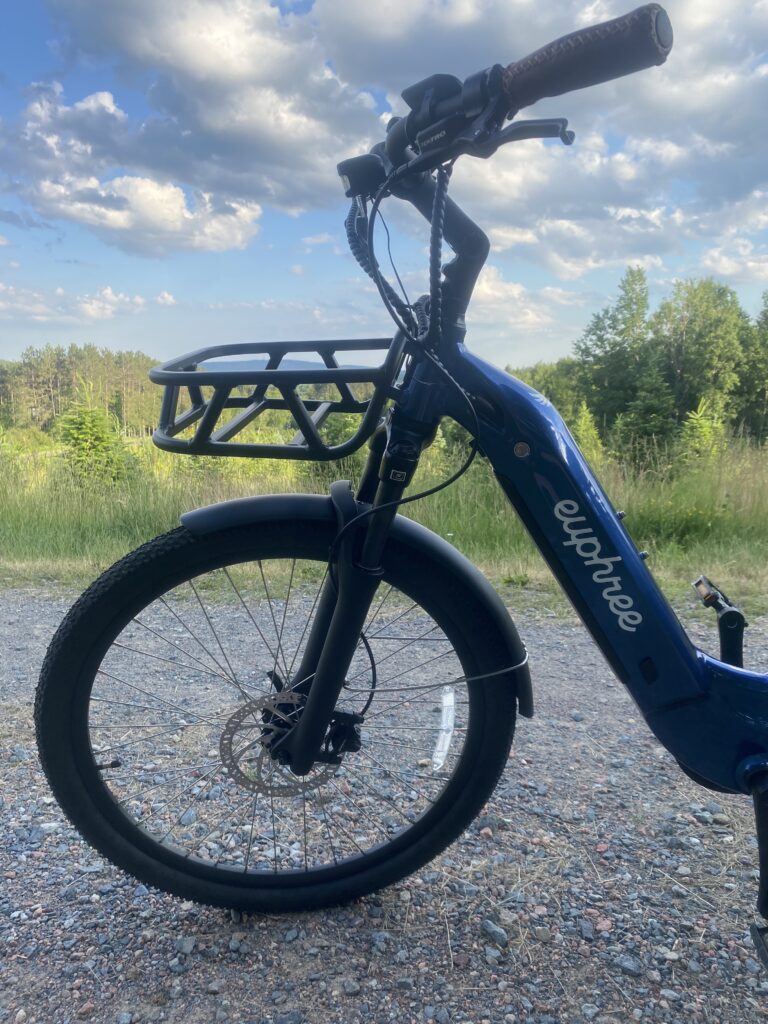 The rear suspension is an SR Suntour NCX suspension seatpost. We are huge fans of this feature and often recommend it as an upgrade but with the City Robin it comes standard. This really adds value and makes for a smoother ride. Once you bike with a suspension seatpost like the SR Suntour NCX, you won't want to use an ebike without one. Check out our video review for a closer look.
Euphree City Robin Battery and Motor
The City Robin features a 48v 14Ah battery for a total of 672 watt-hours. This is the average size battery we see on ebikes today. It is a lithium-ion Samsung battery. The smart charger operates with a US 110v AC power outlets and can be charged on or off the bike. The estimated range from the company is 48-60miles in ideal conditions. Range of course is highly dependent on a variety of factors. We would expect closer to 30-50 miles for a 14-amp battery. It has a brushless Bafang rear hub motor with 500-watt nominal and 850-watt peak power.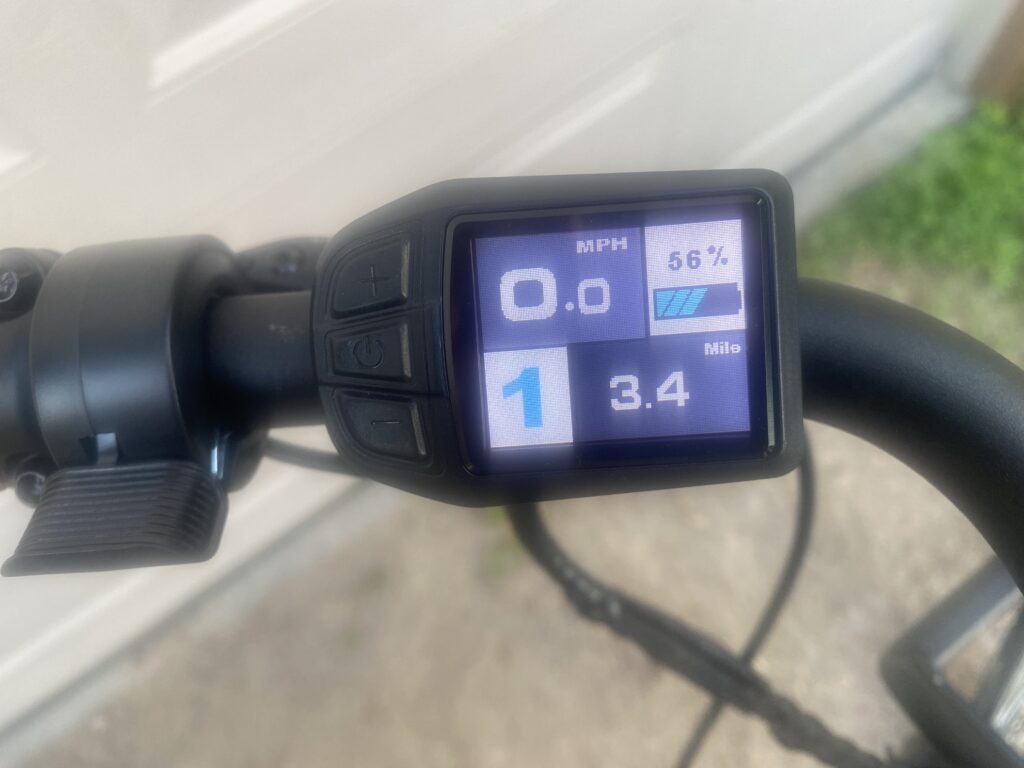 The LCD is colored and backlit. It is a bit smaller than some but that gives more space for other accessories. The screen can be hard to see if you are riding in direct sunlight. On the display, you can see the current speed, battery percentage, pedal assist level, and the odometer. We always like seeing the battery in a percentage instead of simply a bar as it gives a more accurate idea of the battery life remaining. If you hit the power button you can see the trip odometer and the time.
If you go into the advanced settings you can adjust brightness, system, power system, power indicator, auto assist, and auto-off as well as wheel size. You can also adjust the max current to the controller depending on how much power you want to get from the motor. It starts at 15 amps but you can increase it to 20 amps.
There are 5 levels of pedal assist, engaged with a cadence sensor. The top speed of the bike is 25-26 mph. There is a left hand thumb throttle for times when you don't want to pedal or just need some extra more. Watch our video review for more details.
Components
The Euphree City Robin Ebike boasts a 7 speed Microshift derailleur with thumb shifter. In the rear, it has a 14-28 tooth freewheel. In the front is has a 42T double sided chain ring.
Brakes are Tektro hydraulic disc brakes with 180 mm front and rear rotors. The hydraulic brakes are a step up from the mechanical disc brakes and this is an expected upgrade at this price point. In our testing, the brakes perform very well. There is a motor cut-off switch on the brakes which cuts power to the motor when braking.
The tires are Kenda 27.5″ x 2.2″ with a hybrid city/gravel tread. While this bike is most at home in the city, it will hold up to crushed gravel or some light off-roading. We love that this increases the versatility of the bike. There is an option to upgrade to Tannus tire liners. These are 15mm inserts that go inside the tire to help prevent punctures. The nice thing is that if you order liners as part of your order, Euphree will install them for you so when you get the bike it's ready to go.
Included Accessories
Front and rear LED lights are included with the City Robin. The front light has 100 lumens and is a fairly bright light, it is better than most of the lights we see on this type of ebike. There is an integrated rear light which is not as powerful as the front.
The pedals are Wellgo branded platform pedals with rubber grips that have side reflectors, perfect for the city. There is a heavy duty aluminum kickstand with a wide plastic foot. It doe not interfere with the peddles. The seat is pretty standard and we imagine most people will choose to upgrade or customize the seat. If you'd like to upgrade right away, Euphree offers a wide comfort saddle for $58. If you're looking for other seat suggestions or more ways to customize your ebike check out our list of favorite accessories here.
Optional Accessories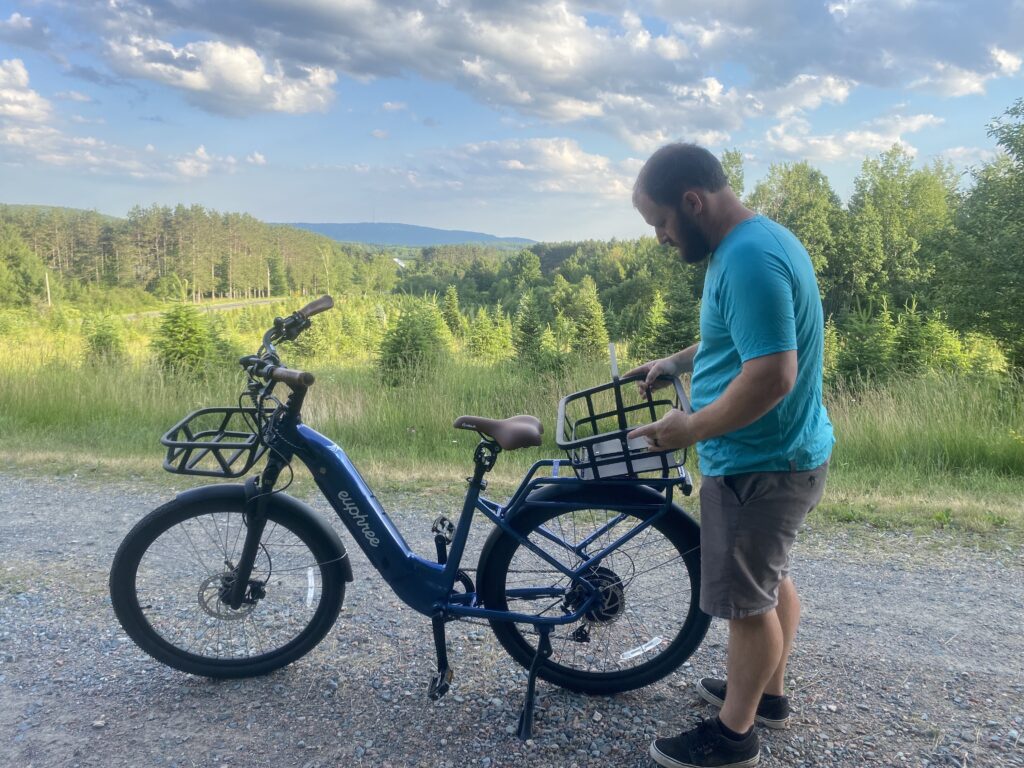 Our favorite option accessory is the rear rack. It has a quick release at the bottom and a handle on top providing a great way to carry a few items. It is an extra $119 but certainly adds to the convenience. If you are only going to get one basket, we recommend the rear basket as it is larger but you can also get a front one. The front basket is quite shallow but you could place a bag inside it. Keep in mind if you get the front rack you will need to move the front light to the handlebars.
In Conclusion…
This is a dream bike for a city rider as it is designed to maximize comfort. The step through frame, the swept-back handlebars, and the adjustable stem all add together to give each rider the best positioning possible. The full suspension will smooth out bumps providing a more comfortable ride.
The City Robin is a great value at just under $2,000 when you factor in the comfortable frame and features in addition to the Tektro hydraulic disc brakes. It has a premium feel with the paint schemes and integrated cable design. The metal fenders will help keep you dry and the sturdy rear rack is perfect for commuting, grocery getting, or even adding a child seat.
The rear basket is worth considering as an optional add-on with its quick connection design and handle. We also recommend upgrading the seat. We really like their decision to go with more hybrid tires which are perfect for city riding but also the occasional off-roading experience. If you do find yourself on a rougher road, the suspension will add comfort.
Euphree is a new company to Ebike Escape but we were quick to agree to this review (click here for our video review) because the bike has good specs and the company really seems to be prioritizing customer support. You can schedule a virtual demo or you can take advantage of their chat or phone support. We'd encourage you to give them a call if you are on the fence or have questions about this bike. If you use our code, ebikeescape, add the bike lock to your cart and you will receive the lock for free and also support Ebike Escape. This is currently the only model Euphree is selling but we are looking forward to seeing what you come up with next. Let us know what you think of the ebike in the comments below.
Learn more about the Euphree City Robin.
Euphree City Robin Review: A Commuter's Dream
Electronics (Battery, Motor and Display)
9
Components (Shifter, derailleur, fork)
9
Step-thru frame design
Suspension seatpost included
High top speed
Hydraulic disc brakes
Premium Look
Comfortable ride with adjustability
Nice accessory options
US-based support
Better seat could be included
Screen is hard to read in sunlight
No chainstay protector